Taking information from a source and writing it in your research project without sharing where you found it is called plagiarism. And this can get you into trouble at times. Although you can use information from other sources in your assignments and projects, along with that, you need to share where you initially found the information and use something called CITATION in your research project or task. So, this post racks up some of the best MLA Citation Generator websites online.
A Citation is an abbreviated alphanumeric expression encapsulated in the body of research or other written work that adds up an entry in the bibliographic references system of the work to accede the relevance of the works of others to the topic of discussion at the spot where the citation appears. For help with writing articles, check out this software for writing articles.
If you want to do Citation in your Projects, you can follow the guidelines prescribed in The Handbook given by MLA (Modern Language Association) for Writers of Research Papers.
It is very much crucial for the eLearning content developer to keep in mind that they are not stealing content from others. Therefore, they now rely on the Bibliography and MLA Citation generator tools. But, for using such a tool, you have to pay a good amount of money, which you, of course, wish to be free or less expensive.
See Also: 6 Best Email Spoofing Tool With Advance Features
So, hold your breath, we are here to give a list of the 17 best online MLA Citation Generator tools that you can use for free.
Top 16 MLA Citation Generator Tools in 2023
Here are the top 16 MLA citation generator tools you can use to your benefit in 2023.
Scribbr
This website not only offers free citation generation in MLA, APA, Chicago formats among others but its mother site also has its own plagiarism and grammar checker and offers a Proofreading and Editing Service.
The best part, however, is yet to come. It offers its own MLA format checker which can check intext citations. Intext citations are very easy to mess up and very hard to spot and this site has come up with a one-stop solution to this ever-lasting problem.
Visit: Scribbr
 Mybib 
A hub for students in academia, Mybib is a lifesaver when it comes to bibliography. It provides over 1000 formats of generating citations and it has its own Google Chrome extension.
It not only enables you to generate references at the touch of a button, but it also shows whether the source from where you are citing is credible or not. You can work on multiple projects and organize them on the website itself.
Visit: Mybib
Bibliography.com
This citation generator is free and generates citations in MLA, APA, and Chicago formats. It also has its own Google Chrome extension that can be added to your browsers. The citations generated can be copied directly into the assignment or the paper. This makes one's work incredibly faster and easier.
The site also suggests similar sources related to the citations for a better, well-researched article. You can even work together with your peers and mentors and generate citations together and create collaborative bibliographies.
Visit: Bibliography.com
Zotero
Zotero describes itself as your personal research assistant and very rightly so. It helps you research, organize and cite all in one click. It has its own Google Chrome extension and you can use it to save sources and create your personal online library.
Not only does it provide 1000s of formats for citations, but it is also capable of adding those directly to your Microsoft Word or Google Docs.
Visit: Zotero
See Also:9 Best Book Writing Software for Beginners | Updated 2023
Opendemia
This site is a lifesaver for a messy student in academia. It not only offers to generate references and citations in multiple formats, but it also saves all the sources that have been cited essentially making a library that you can access at any point in time. There is a notepad attached in case you want to save notes or quotes for future use. The site saves all the information to your account.
See Also: Top 12 Free Writing Software of 2023 | Create Better Content Faster
So, in case you ever need to access and read a paper or cite one on an unknown laptop, all you have to do is log in to Opendemia and you'll have access to your own library without hassle.  The website has a free and paid version and they even offer discounts to students.
Visit: Opendemia
BibGuru
This site has over 1000 formats of citation formats for you to choose from. You can generate your own citations and organize them on the BibGuru site itself.  It also provides citation guides and alternative options to Noodle Tools.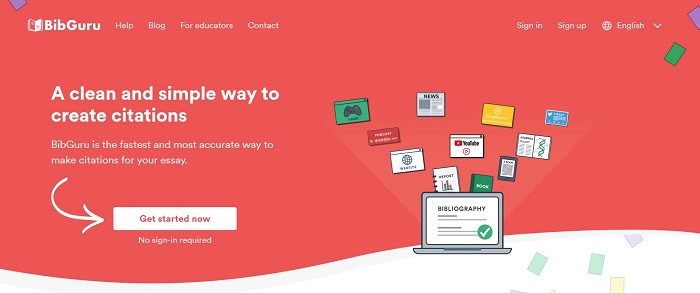 Not only is this site very user-friendly and well designed, but it also has its own blog section where you can read educational articles. 
Visit: BibGuru
BibMe
BibMe is an automatic MLA citation engine that creates a citation in MLA, APA, and Chicago formatting. It started in 2007 as a student project in the Information Systems Department of Carnegie Mellon University.
They also have got an in-built Plagiarism Checker that checks whether your content has words or sentences that have already been used by others. Not all of its features you will enjoy for free but most of its essential functions you can handle being a free user. You can also check out alternatives of Grammarly here.
Features Of Bibme
It provides citations in MLA, APA, Chicago, and many other styles.

It gives citations for various styles such as website, book, journal, video, and 58 other styles.

Provision to add an annotation for citations.

Helpful tips for Citation of multiple articles.

The paid version of the site is available for an amount of $9.99 for monthly access.
Visit: Bibme 
Citation Machine
This is an MLA format builder website, started in the year 2000, is one of the most widely used sites for citation generation. It uses the 7th ed. of MLA, 6th ed. of APA, and 16th ed. of Chicago. (8th ed. Turabian) It is super accurate about detecting various elements from the source. Its Citation services are free of cost, but it provides some paid services as well.
It has got a vast database of journals, websites, etc. that helps you for reference, and it also checks if your content contains any copied words or phrases, but for that, you need to subscribe to their site first.
Features Of The Website
It provides citations in MLA, APA, Chicago, and many other styles.
It contains quotes for various types such as books, magazines, newspapers, websites, journals, films, and 58 different types.
Provision for editing citation elements.
Provision for adding annotations to citations.
Detailed information about all the Citation Formats.
It contains blog articles for tips and information on writing, citing, and school life.
The paid version of the site is available for an amount of $10 for monthly access.
The Benefits Of This Subscription
Cite in all styles, MLA, CHICAGO, and 7000 more.

Remove all ads on site, faster Citing.

Save and Update Citations Online.

Download your Bibliography to Microsoft Word.

5 Plagiarism checks every month
There are many premium and advanced features that you can enjoy in the paid version of this MLA citation generator but, at the same time why waste money when you get most of its important features for free.
Visit: Citation Machine
See Also: Top 10 Best Free Online Bookmark Managers [2023 Updated]
Citavi
This free MLA generator tool offers you to perform multiple operations. It can manage all your tasks and at the same time provides you with a vast database of references. It is also a citation manager and a task control platform.
The site also gives you full freedom to choose your references either automatically or manually, along with which you can also add a reference for barcode and PDF.
Research Process Management
From implying sources, referencing them correctly, and then shipping them, to maintaining content and designating tasks in a team, this open-source online bibliography and citation medium does a lot more than assist you in creating a works-cited page.
Multiple Options To Supplement References
Citavi provides you the opportunity to pick the way you want to attach references. It features 35 possibilities to include automatical or hand-operated referencing which comprises a bar code scanner or PDF referencing.
Knowledge Organizer
Two great choices that are Citavi exclusives allow you to order knowledge efficiently. Keywording and a hierarchical division system will assist you in supplementing your ideas to the program.
This MLA citation generator tool guides you to frame your work more attractively. You will be able to use the first hundred recommendations for free, and after that, you will have to switch to their premium schemes for further continuing with the tool.
Visit: Citavi
See Also: 5 Best Book Writing Software for Beginners | Updated 2023
Citefast
While having a condensed UI, this MLA Citation Generator platform allows all the essential functions of an excellent free online bibliography and citation accessory.
The user interface of the site is very simple. Despite being the most straightforward UI, it does not lack in including all the significant functionalities like any other MLA citation generator tool. For beginners, this tool would be the best for them to use.

It supports only three types of citation styles; APA, MLA, and Chicago, whereas other tools offer four. Apart from that, they have a massive source of references which includes online video too. You will get all its features for free.
Good Quality Of Sources
Webpages, books, journals, etc., and online videos with several other digital and print references.
Custom Guides For All of the 3 Citation Styles
Full list of style hints for APA, MLA, and Chicago.
Highlights And Methods
No Agreement Programs. Citefast extends all of its specialties for free!
Visit: Citefast
Citelighter
Citelighter is an award-winning online MLA Citation Generator tool. It is a multi-tasking website that lets you do your work more efficiently. Along with this you are also getting a lot of functionalities that would reduce your effort and enhance your writing.
One good thing that the tool offers is it automatically creates the bibliographies for your content, reducing your burden. It also provides writing template which helps you to frame your content.
Though it is a paid tool, you can also use many of its features as a free user. And if you want to get the Premium membership, you will have to pay a reasonable amount which is much lesser than other tools in the market. It is a very reasonable MLA Citation Generator.
Visit: Citelighter
See Also: Top 10 Free & Paid Log Management Tools of 2023
Docear
Docear is Open-source academic literature management and free MLA citation tool. It has lots of exciting features that can assist eLearning content developers in referencing their eLearning materials. It has Single-Section User Interface and has an Easy-to-use layout that allows users to organize documents and categorize annotations.
Docear also enables multiple viewing of various annotations in different documents. It is available In Various Platforms like Windows, Linux & Mac to suit the needs of any eLearning content developer. It also requires no Premium Subscription making it a perfect Citation Generator.
Single-Section User Interface
A simple layout that enables users to create documents and classify annotations. It also allows added viewing of numerous annotations in diverse materials.
Prepared For Multiple Platforms
Windows, Mac, and Linux to satisfy the needs of any eLearning content writer or developer.
Highlights And Methods
No Added Subscription is necessary.
Docear doesn't have any incentive association options, but it does present you the chance to bestow for its running and sustaining costs.
Visit: Docear
Cite This For Me
This is an easy and reliable MLA Citation Generator. Its free to use but some advanced features are unlocked in the paid version of the website.
Compared to Citation Machine, it has a better user interface and provides more editing features after generating the Citation. But it isn't as accurate as Citation Machine in detecting elements from the source.
 Features Of The Website
It provides citations in APA, MLA, Harvard, Chicago, ASA, IEEE, AMA, and many other styles.

It gives citations for various types such as websites, books, journals, and 30 different types.

Allows change of style even after generating the Citation.

Provision to attach quote for references.
Detailed Information About All The Citation Formats
One-click Citation Generation with Cite This For Me Chrome Extension.

The paid version of the site is available for an amount of $6.99 for monthly access.
Benefits Of This Subscription
Save your Bibliographies for longer

Ad-free Superfast and accurate Citation program.

Create and edit multiple bibliographies.

Extensive Premium features like Word add-on and many others.

5 Plagiarism checks every month
Visit: Cite This For Me
Recipes4Success
Recipes4Success is a free online bibliography and MLA citation generator tool that provides you with the opportunity to reference sources like sound effects, music bits, pictures, and emails. You will have to type in all the information, but Recipes4Success will automatically format the content.
It is very Manageable, Easy & User-Friendly Interface to sort all your needs. Recipes4Success requires no fee for users to use its features making it a great MLA Citation Generator.
Visit: Recipes4Success 
EasyBib
EasyBib is a free online bibliography and MLA citation generator tool that establishes an operative way for people wanting to reference various types of content. No matter the content is digital or print, it references both. EasyBib provides a perfect solution for all your citation needs.
Content sources vary from traditional types like books and journal articles to live performances and newsletters. Although Easybib provides automatically formatted citations, you also have the option to cite your references and even add annotations manually. As the name suggests, it is very easy to use MLA Citation Generator.
Visit: EasyBib
Ottobib
A relatively primitive website compared to the others, Ottobib specializes in generating citations of books.
All you have to do is add the ISBN of the books and it will generate a reference either in MLA/APA/Chicago Formats. 
Visit: Ottobib
FAQs
How do you cite an article with an unknown author?
In the reference list, in the absence of the author, the title comes first. In intext citations, the"headline-style" format is used followed by capitalization and year.
How do you cite an online article?
You mention the name of the author then the year of publication followed by article title, name of journal/newspaper, date, and finally year.
Conclusion
These 16 websites are the best MLA Citation Generator tools available on the internet and no matter which one you will prefer, it will serve your purpose, and if you want to buy one for advanced features, you can compare the price and features and subscribe the one that best suits your needs.
See Also: [Updated] 7 Best Duplicate Content Checker Tools (2023)