Monitoring the kid's activity on their mobile phone is the dream and duty of every parent to ensure that their child is not peeking into the dark side of the web, to ensure that is entirely safe and legally using the internet. Thus, you must know about the best Snapchat Spy Apps out there. Moreover some Vault Apps can be helpful for maintaining your privacy.
But with the innovation in technology, it has been tough to be able to do so without installing an application, etc. on the kid's phone and on yours too. Doesn't it defeat the whole purpose of the use of spy applications if you have to install an app on the target phone? It does, right?
See Also: 9 Tools to Generate Snapchat Usernames | Snapchat Username Generator
But don't worry anymore now. We have come up with a fantastic article which lets you use these spy applications like Highster Mobile almost without the need of any installations. The best part is that they are mostly very cheap and affordable and some are even free. So let us get straight into it.
To know how do whatsapp spy apps work, click here!
NOTE: – Before you read any further and install or use any of the listed spy applications, please check the rules and regulations of your city or state and many states and cities don't see this as a legal activity and may land you in jail. So be careful.
P.S. – We are in no form or case responsible if any event or activity takes place which might be illegal for you and land you in trouble. We in no way promote the use of this kind of apps. Thus, this article is solely for educational purposes.
13 Best Snapchat Spy Apps to Use in 2023
Here is the list of top 13 best snapchat spy apps.
XN Spy
XN Spy is one of the most fantastic spying apps present out there. You can easily spy any application including other messenger applications along with Snapchat etc. The user-interface in extremely easy and friendly and can be used without any hassle.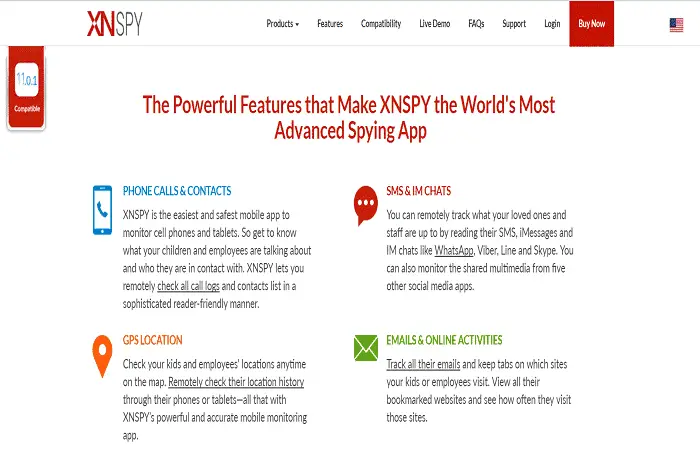 Priced affordably, this application is a must-have for spying purposes. It has received the best reviews and leads the industry leaving behind its competition.
Price: – $8.33 per month for the basic plan.
$12.49 per month for the premium plan.
Spy list: – With this application, you can spy on Call history, WhatsApp, Viber, Facebook Messenger, Snapchat, Kik Messenger, Instagram, Email and even record calls. With the use of premium version, you can access even more features without jailbreaking which must be done in the basic version.
Visit: XN Spy
See Also: 3 Easy Ways to Turn off iMessage on Macbook
OwnSpy
OwnSpy is a relatively new application in this industry but has managed to make a massive reputation in a very short span of time. It is incredibly affordable and manages to spy almost every application in the targets mobile.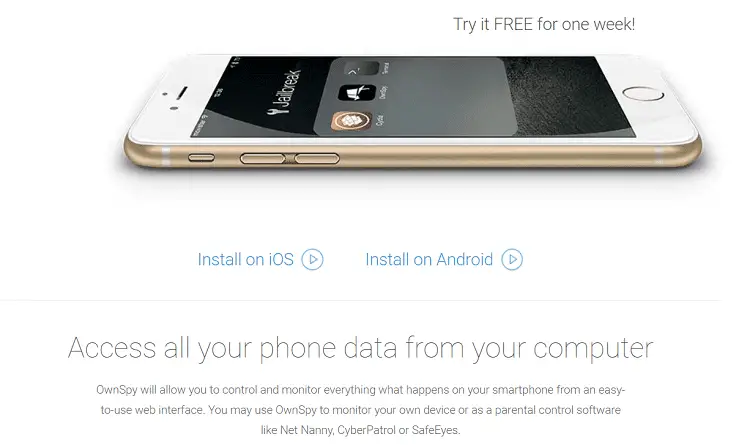 The best part is that you can try this application for free for a week, if you like it and want to continue, you have to pay. If you don't, then you can simply discontinue.
Price: – Basic version – 19.99 euro per month
Gold version – 59.99 euro a month
Premium version – 29.99 euro per month
Spy List: – You can track WhatsApp, Skype, Snapchat, QQ Chat, etc. You have full control over the incoming and outgoing calls, with a view of browser history as well. Recording calls, SMS, MMS and email tracking are some of its other features.
Visit: OwnSpy
Minspy
Minspy is one of the easiest to use spying applications. It works for both android phones and ios phones making it compatible and easily accessible. It monitors a huge number of different types of apps.
The Premium version allows a user to spy over snapchat and other similar platforms securely and effectively. And, the best part? The premium version is available on a huge sale and is one of the best deals you can find right now.
Price:- Basic Version – $39.99/Month
Premium Version – $49.99/Month (and $9.99/Month for sale period)
Family Version – $69.99/Month
Spy List:– Snapchat, Messenger, Instagram, Whatsapp, Skype, etc. You can go through the call logs, The GPS location, SIM card location, and the browser's history.
Visit: Minspy
Spyera
Spyera is one of the heaviest and powerful spying applications available in the market. Not only it helps in spying on Mobile cell phones but also Windows PCs and Mac OS. Be it your kids or your business employees. It allows you to securely access important data.
Spyera is an award-winning spying application that its users extremely trust. It is easy to install and control.
Price:- Monthly plan – $89/Month
Annual plan – $389/Year
Spy List:- Most Social Media platforms like Facebook, Snapchat, etc. It also provides call recording options and access to all media and App history. It also provides a visibility option for apps.
Visit: Spyera
Phone Sheriff
Phone Sheriff is among the reasonably popular Snapchat Spy Apps which can be seen as a mix between the super-expensive paid applications and the cheap ones, meaning that it is a medium priced application which has a ton of decent features. Its continuous updates regularly keep the app moving towards the top of the list.
The best part is that you need not install it on the target mobile phone. The applications pricing is straightforward and has 2 options.
For 6 months: – $49.00
For 1 year: – $89.00
You can spy on the list of inbound and outbound calls, web history and complete call logs. Applications like WhatsApp, Skype, messengers, Snapchat, etc. can be spied without the knowledge of the other person.
Visit: Phone Sheriff
See also: 6 Best Spy Camera to Get in 2023 [Detailed Review]
Spyier
Spyier app is a commonly used spying apps these days. It can be installed and set up on your system within a matter of minutes.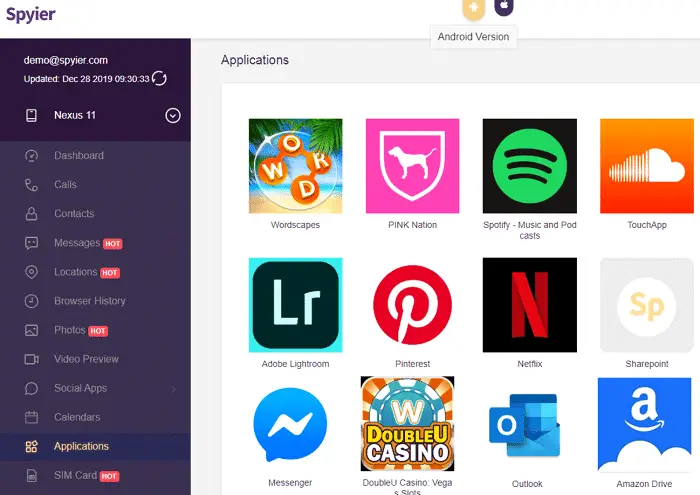 This app will let you keep tabs on your target user and help you find the root cause of the problems. It will give you Snapchat data like chats, media files, friend lists, etc. Spyier app is also on sale like Minspy right now, and you should surely not miss the chance to get your hands on it soon.
Price:- Basic Version – $39.99/Month
Premium Version – $49.99/Month ($9.99/Month for sales period)
Family Version – $69.99/Month
Business Version (for ios only) – $399.99/Month
Spy List:- Tinder, Whatsapp, Tinder, Snapchat, LINE Messenger, etc. Like other spying as well as monitoring apps, it will also provide you with access to all calls, media files, and application history.
Visit: Spyier
MobiStealth
MobiStealth is one of the top Snapchat Spy Apps available that is very easy to use and is user-friendly. You just need to install this application on the target persons mobile phone and register. The application will start spying and send you updates on every movement along with site links and date and time.
You can track GPS location, Snapchat messages, calls, email, SMS and other applications too.
Pricing: – iPhone – Premium $33.33 per month
Premium Plus $40 per month
ANDROID – Pro $16.66 per month
Pro X $26.66 per month
Visit: MobiStealth 
iKeyMonitor
iKeyMonitor floats decently between the expensive and the cheap Snapchat Spy Apps. It is a mediocre ranged application which gives you all the features of a costly application at a much lower price.
You can track instant messengers, Snapchat, WhatsApp, Skype, etc. SMS, Email tracking, and remote tracking are some other features of the app. It is compatible with both Android as well as the iOS operating systems.
The best part is that this app is 'undetectable.' It means that the target person will never be able to find out that this application is installed and spying on them (isn't it amazing?). You can download this application for free for a 3-day trial.
Price: – iKeyMonitor – $49.99 per month
EaseMon (employee monitor) – $29.99 per month
Visit: iKeyMonitor
Flexispy
This is yet another powerful all-in-one spying application which not only works with phones but also PCs and Laptops (both Windows and ios). This application lets you monitor and see through all that happens in a phone or computer system.
It is majorly used for parental control for kids and Employee monitoring by business purposes. The premium version allows the user to gain access to all Snapchat and other similar popular social media accounts and its history and media.
Price:- Lite Version – $29.95/Month
Premium Version – $68/Month
Extreme Version – $199/Month
Spy List:- all kinds of call recordings, chats, and application history along with location tracking and visibility options.
Visit: Flexispy
See also: Snapchat Failed To Send To One Person | What Could Be The Reason
HoverWatch
Out of all those Snapchat Spy Apps, this is exclusive app allows you a wide range of spying functionality. With this, you could practice Snap chat spy to observe your child's liveliness on social networks or to build surety that your workers are not using their corporate devices to chat with friends or view the latest celeb gossips online.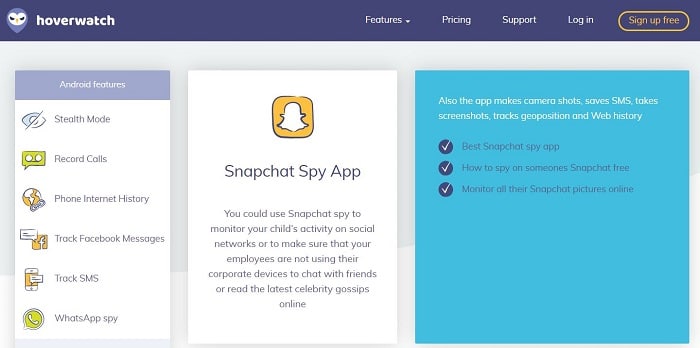 The app also features camera clicks, caches SMS, captures screenshots, records geoposition, and Web history. To access and utilize this app, you need to sign up to your online free account by entering email and password.
Once you're done registering your email and password, now move on to download the phone tracker app from an online account. Cheers! Now you can easily monitor all entered data and logged calls in your online workspace.
Key Features:
Visit: HoverWatch
See also: 10 Best Facebook Spy Software to Track Your Friend
Neatspy
Neatspy is a perfect solution for specifically those users who have no clue about handling and using spy applications. Its interface is specially designed for beginners as it sets up in just a couple of minutes.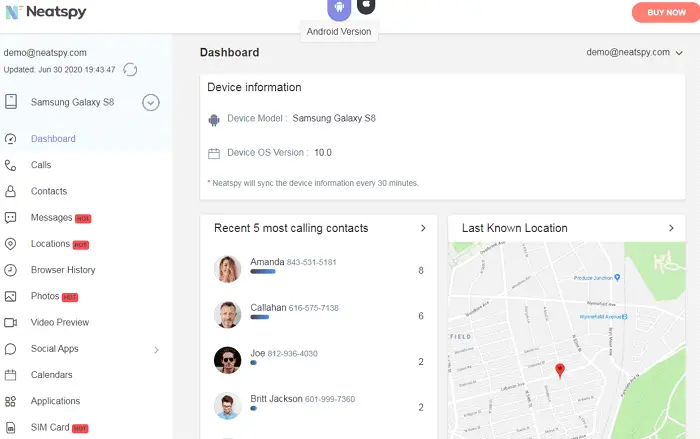 It also provides parents with location sharing so that they can keep tabs on their kid's location all the time using GPS, Wifi, and SIM cards.
Price:- Basic Version – $39.99/Month
Premium Version – $49.99/Month ($9.99/Month for sales period)
Family Version – $69.99/Month
Business Version (for ios only) – $399.99/Month
Spy List:- All the basic mobile application-tracking including call logs, messengers, social media apps like Snapchat, Instagram, etc.
Visit: Neatspy
The Spy Expert
Due to the algorithm of social exchange of Snapchat, the application matches a definite channel of leaking of confidential data for business and for youngsters who screens their ties from parents. But don't worry. Snapchat tracker is one of those Snapchat Spy Apps which is an excellent solution to counter information leakage from your department and to shield your children from undesired contacts.
Snapchat spy is observing each action of a participant in the app and allows you to block a device when a precarious activity is holding on (for example, a message is sent to unwanted contact or a new connection).
Snapchat spy app blocks your business for any possible leakage of business-sensitive documents which are readily scanned with a cell phone camera and sent to contenders in a click. In 10 seconds the span will be unavailable in the chat, and any proofs of leaking information will vanish.
Visit: SnapChat Spy Expert
Fone Tracker SnapChat Spy
Out of all Snapchat Spy Apps, FoneTracker allows you to view all the SnapChat texts being sent and collected via the target phone. With FoneTracker, you can watch the target phone's SnapChat texts. View the contents of each message.
Receive the titles and numbers of all SnapChat receivers and senders. Receive the time and date marks of all SnapChat message. Every SnapChat messages received falls into your online FoneTracker control panel that you can reach from wherever you have an internet connection.
It is software to spy any electronic device like a smartphone, PC, or tablet. It let you undergo spying distinctively and uniquely. The question arising in your head maybe that "What is the call to spy snap chat?".
Well, I am not saying that you doubt your friends, kids, or employees. The website's goal is to keep a person familiarized about the harmful effects that their children may suffer from conversing to a person with the wrong intention.
Visit: FoneTracker
See also: How to Post Gallery Pictures on Snapchat | Complete Guide
Conclusion
So these were the best Snapchat Spy Apps that can be downloaded to track Snapchat as well as other applications. If you have any other Snapchat Spy Apps, please feel free to comment them down in the comment section. If you want to know whether someone blocked or deleted you on snapchat, click here.