Kodi skins are best when it comes to add utility to your Kodi browsing experience. The Kodi media player (which was previously known as XBMC) is arguably one of the most influential, open source and free media player that works well with many of the devices such as Linux, Mac, Windows, Android, Raspberry Pi, Amazon Fire TV and so on. It also lets its users play their latest and favorite movies, music, TV shows. You can also record live TV if you use Kodi.
However, the actual power of Kodi lies in its Add-ons which enhance the overall experience by providing what you need in the best layout possible. Some of the common cool Kodi Add-ons include Genesis, Neptune Rising, Project M, Cerebro, etc.  How is this done? Well, the Kodi skins that you use on your media player are what makes it satisfying to look at. They give you that extra feel if you scroll through the list of available music files or while reading through the description of a TV show.
See Also: How to Install Netflix on Kodi (Best Method) – TechWhoop
Today, we will show you the way in which you can enhance your favorite media player's look with the help of various freely available skins up for download. But first, let us first show you how you can change Kodi skins in the settings. After this, we will move on to see some of the best Kodi skins available for download.
How to Change Your Kodi Skin?
When you install your Kodi for the first time, the default skin that has been set is Confluence, which also turns out to be one of the best skins out there. However, if you do decide to change Kodi's default skin, to something more graphically pleasing or catchy to look at; follow the steps given below.
Steps for changing the Kodi Skin:
Open your Kodi.
Go to "System" and then click on Settings.
Find the option named "Appearance" from the list and select "Skins" under the drop-down menu.
This option may be available in a different format if you are using another version of Kodi – it has been shown below:
Visit the official website of Kodi.
Choose the "Add-ons" option which is available in the top portion of the screen.
A new page will start loading now. Under the "Category" column, choose "Skins" and click "Go."
The Best Kodi Skins Available Till Date
Kodi has a community like no other. Their forums are overflowing with questions, answers, tips, and guides from around the globe. There are many Kodi Skin add-ons created by the Kodi community. You may not want to personally search and use each one of them so we will present to you some of the best Kodi Skins to try today and see if the fuss is worth the hype. Are you ready to give your media center a brand-new look? Let's begin!
See Also: 26 Best Free Movie Streaming Sites (No Signup Required)
Aeon Nox
This Skin is one of most recommended Skin after Confluence (which is Kodi's default skin). It works quite well with all the devices since its lightweight and doesn't hang up the system frequently. Its a rare combination of ease and beauty of a customization.
It is an excellent combination of the comfort of customization and beauty to look at. It boasts a modern look while still retaining the classic Aeon feel.
Visit: Aeon Nox
ReFocus
The Skin ReFocus is a beautifully designed, feature rich skin and offers a lot of customization options in general.
ReFocus lets users customize artwork downloader, gives touch support, skin widgets inside, and home items, etc.
Visit: ReFocus
Mimic
Mimic Kodi Skin is a feature vibrant skin with a few touches of ReFocus and Aeon Nox. It also has a lovely and bright approach.
Mimic works well on every device. Its available in many different colors, and lets users customize home items, extra fanart and uses touch support and TV shows logos.
Visit: Mimic
Xperience1080
As you may have already guessed from the name, Xperience1080 is a full width (1920 x 1080) panel based skin.
The skin's features include horizontal home menu, custom home items, TV shows logos, etc. Its only drawback is that it partially supports touch.
Visit: Xperience1080
Metropolis
It holds a place in the list of Best Kodi Skins because of its fantastic appearance and a more attractive interface.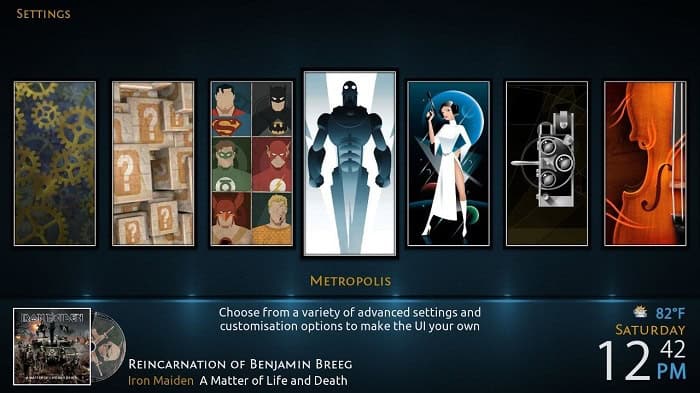 Despite all of that, Metropolis is a Heavy skin, and hence it will take some time to download and install this skin on Kodi media Player. After you install this skin, Metropolis will ask you to install "Add-on Helper." The group has done a lot of updates in their latest version of the skin.
Visit: Metropolis
See Also: How to Install Kodi on Roku: The Complete Edition
Chroma
Chroma is one of those Crystal Clear Kodi Player. If you like a Crystal Clear Kodi Player, then this Skin will be the best skin for you.
Chroma is designed entirely for Full HD TV screens. The Chroma Skin is up for download from Kodi Website itself.
Visit: Chroma
Black Glass Nova
The Black Glass Nova skin is kind of similar to the Chroma Skin. Green is the theme color of Chroma Skin whereas, in Black Glass Nova, multi-colors are used extensively.
Other than that, the skin is light and can be downloaded an installed in a much shorter time.
Visit: Black Glass Nova
Confluence
Confluence stayed Kodi's default skin from the year 2009 to the year 2017.
Definitely, it doesn't have the quality of some of the more attractive skins. Nevertheless, since it is the Kodi developers' skin of decision for such a prolonged time, you can be sure that its plan and layout is working to be user-friendly.
The skin itself utilizes blues and blacks; it generates cable TV-Esque feel mostly. Menu items are shown with a unique level bar that goes through the center of the home screen.
Visit: Confluence
Nebula
You must have seen a continuous appearing theme in all the Kodi skins we have highlighted so far. And that is that they are all dark.
That's not a characteristic of our collections. The substantial majority of Kodi skins out there practice deeper colors, tones, and shades. People appear to favor them.
If you'd want to use a light theme, we suggest Nebula. Off-whites and bright shades govern the interface and menus. A dark variant of Nebula is also available.
Our most significant criticism of Nebula is its urge to fit lots of table items on the screen together. If you desire a more streamlined experience, you might not approve it.
Visit: Nebula
Grid
Grid is a different theme that completely changes the appearance of Kodi. It doesn't repeat a form of the low center bar.
The developers have concentrated on minute details rather than countless features. For example, the main menu is clear and presented on the left-hand side of the screen. And when you scroll through your content, the whole background image shifts to reflect the correlated artwork. It all seems entirely professional.
Visit: Grid
Conclusion
Did you like our list of the top 7 Kodi Skins? If you tried these Kodi Skins and you like them, leave a comment in the comments section so that others can know about it too. Do you have any suggestions that you would like to add to this list of top Skins? Thanks for reading our guide, we hope to see you again!