If you are an enthusiastic gamer and looking for a decent username for your Steam account, then you should not settle for an average joe name. Good players live forever and more importantly, their usernames live forever. This article is all about some of the nest hand-picked steam name generator tools out there.
Top 5 Steam Name Generator
Here are the 5 best steam name generator tools on the net.
Genr8rs
If you have been browsing for a cool Steam name generator, you will find the genr8rs website to be in the top search results. This is an indication of the effectiveness of the website.
The site has a tool that generates a unique and sensible username at random for several game types, such as First Person Shooter games, action games, Multiplayer Online Battle Arena (MOBA), Science fiction based cool steam names settings or any general game. You can find some of the funniest steam names on this website.
The genre influences the cool steam names as the tool can tailor the feel and alliteration of the name to suit the genre. For example, action results in names like Old Dollah, which sounds like a code name for a famous soldier.
The First player shooter option results in names like Darth StaBBer, indicating that the tool knows that alternative use of capitals and puns are in style.
Best Username Generator
If you have a vague sense of what kind of name you want for your Steam username, for example, regarding themes, celebrities or mythical creatures and you do not want your tool to generate a username randomly, then the bestusernamegenerator website is the tool for you.
This random Steam name generator lets you type in a name or thing that you happen to like so that it can include it in your resultant username. It also enables you to type in your desired length of username.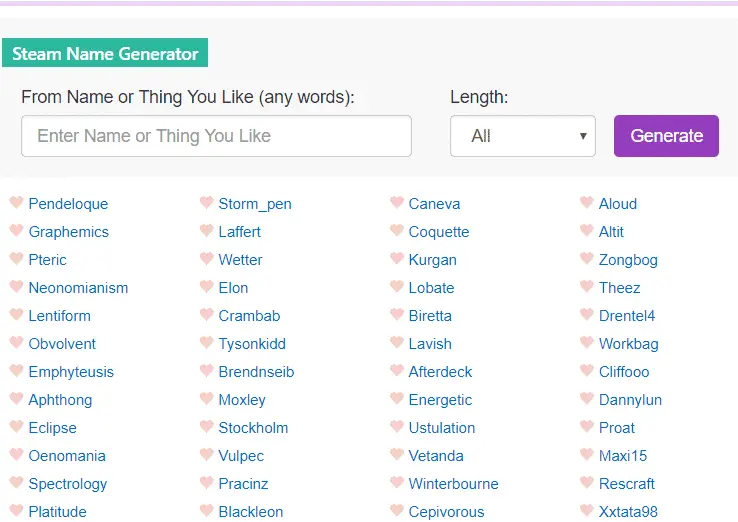 It goes on to list some themes for you to type in and a few sample usernames. You could use their suggested names for your Steam account or even for various social networking sites such as Facebook, Twitter, Reddit or Instagram, as the site gives you quirky names that suit your theme. The website also lists other username categories, such as music usernames.
SpinXO
Spinxo is easy to use Steam name generator with a friendly user interface. The website lets you type in a time, name or keyword, and does its best to generate a name that is both sensible and random.
One beautiful thing about this Steam username generator tool is that it lists around 20 recently generated usernames, to give you an idea of the kind of quirkiness you can expect. The cool steam names website also lets you start a Name Contest on the site so that you can talk to people with some good steam name ideas.
This is a unique feature as it is convenient and unique to get personally generated names from actual people, who will probably understand your tastes better than an online tool.
Spin XO lets you choose usernames for a variety of social media appropriate situations, and also has categories such as Funny steam names, Good steam names, Cool Usernames, Good Usernames, Creative Usernames, Unique Usernames and Cute Usernames.
Jimpix
If you are looking for cool steam names with "organized randomness", then Jimpix is definitely the site for you.
The website allows you to generate a username using four tabs. The first tab is the type of figure of speech for the first component of your username. (this could be brands, adjectives, collective nouns, countries, emojis. Creatures, food, Jobs, pet names. And even bizarre things like silly words, insults and noisy words)
The second tab has the same options as the first tab. So that you can choose a category to complement the first tab. The third tab is a letter of your choice. And the fourth tab is for the order of your username- reverse, standard or random.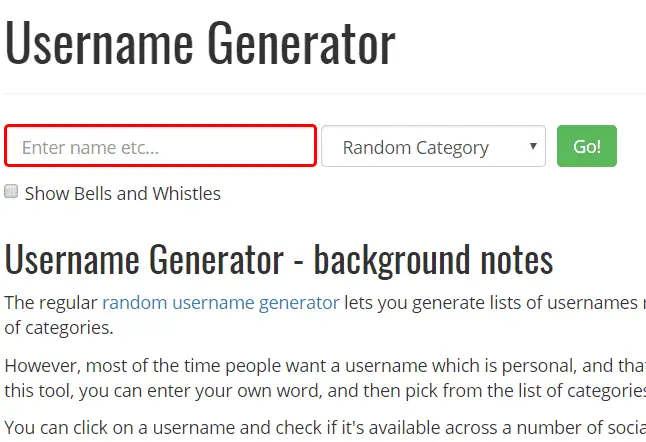 However, you will want not to take some of the cool steam names suggestions too seriously, as the thoroughly organized Steam name generator often creates hilarious usernames that are more comical than cool. Of course, if quirky is your style, you will love this website.
You should avoid setting the first and second tabs to the same category. As the steam username generator sometimes sets up the same word twice. As a result, you might get a username like "moistmoist".
Fantasy Name Generator
Regardless of the type of games you play, you can never get tired of fantasy themes in usernames. They suggest an air of culture, gaming experience and have any of us started gaming without starting with fantasy? If you are open minded about fantasy themes, the Fantasy Name Generator website will give you a majestic and mysterious name.
This website, as the name would indicate, gives you suggestions that are not only meant for Steam. But also for any gaming or social media platform. The site offers two "radio" buttons, constituting the first part and second part of your fantasy username.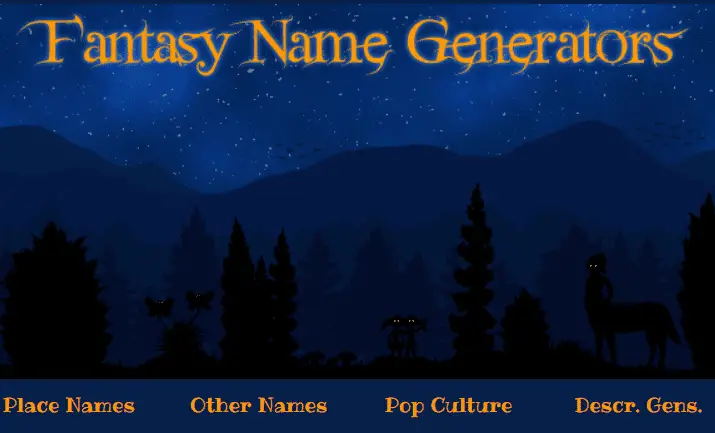 You can tick one of the radio buttons. And type in a word that you wish to include in that component (first or last) of your Steam username. When you click on the generate button, you will receive a list of 10 random names.
Final Words
You should just keep in mind that the cool steam names suggestions are random. And besides the inclusion of one word of your choice, you don't get to customize much. The website also displays recently generated fantasy names. And some of them are cool like SpottedWalker, while others are deliberately humorous, like PhonyPony.
These are some of the Steam name generator tools. You should only use Steam name generators if you are prepared for the specific degree of randomness.
Most of these cool steam names generators do not assign random numbers to the username suggestions, so there is also some degree of genuine creativity in their opinions. You should even consider using these tools to generate your other gaming platform usernames or social media usernames.