Money speaks in various languages. Often while dealing with international money related business or while travelling, we need to translate or precisely, convert currencies. There are several apps that promise to do the job of currency conversion. Here are the finest Currency Converter Apps. With these apps on your phone, there is no need of pen and paper for conversions.
Top 10 Currency Converter Apps
This is the top most trending app in the list of currency converter apps. It is famous for the facilities and options provided to the user for easy conversions. The download size of this app is 43.5 MB. It has a rating of 4.5 stars and requires iOS version 9.0 or later.
Available in different languages, this app also has a paid version called XE Currency Pro. The app ensures to keep its first place whenever the user puts in "Currency converter" in the search option of app store.
This is a free, multiple use app that can perform conversions over 150 currencies. The five rated software has a download size of 64.1 MB. This app supports languages like English, French and Spanish only. It requires iOS 8.0 or later.
The interesting feature in this app is that it supports conversions involving BitCoin, LiteCoin and DogeCoin. Thus, cryptocurrencies also have it's inclusion. Overall, this is a great multipurpose app that does all the conversion jobs.
Amongst all the currency converter apps, CalConvert supports the maximum number of languages. Its size is 121 MB and has a compatibility of iOS 8.0 or later. The 4.5 star rated app has a built in advanced scientific calculator too.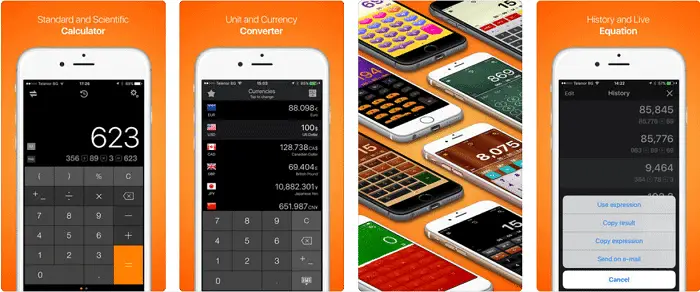 It is available with various (paid) Skin Packs. Complex mathematical problems can be solved using this app. It is a very efficient tool for currency conversions with attractive UI.
Also see: How to Convert MP4 to MP3 File (8 Methods) – TechWhoop
This application has a small download size of just 36 MB. It has a very attractive logo that grabs the attention of the users. Besides being attractive in looks, this is a multipurpose app. It has a five star rating.
This app is very basic and easy to use application. The compatibility of this app is iOS version 8.0 or later. People find it as a very basic and simple working utility app amongst all other currency converter apps.
Currency converter apps are supposed to have compatibility of supporting various currencies. With this app in your phone, you may rarely come up with issues like "Currency Unidentified" or "Currency Not Supported". The app supports over 160 currencies and has a small download size of just 14.7 MB.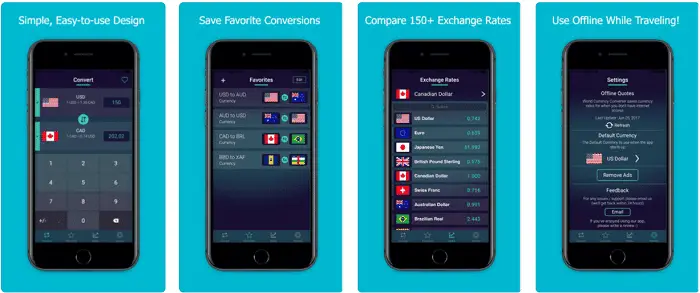 Though it supports only English language, it has some interesting key features that make this app very useful. It allows you to save your favorite conversions and also compare different rates at the same time. The 4.5 rating app requires iOS version 8.0 or later. Not so user friendly but this is a really simple and convenient app for currency conversions.
It is one of the most basic currency converter apps. The download size for this app is just 60.3 MB. It supports popular languages. The 4.9 rated app has a compatibility of iOS versions 9.0 or later.
It does not have much facility. The UI is also very cliché. I won't recommend using this app because it lacks some of the key features of a currency converter app.
Also see: 10 Best Free & Paid Weather Apps for iPhone
Appealing from the name itself, this app has the smallest download size amongst most of the currency converter apps. You just have to download this 5.7 MB app and it will carry out all the conversions. One can even personalize the list of frequently used currencies or the currencies that is liked by an individual.
The app is really attractive and the features add more light to its glow. For some reason it is difficult to find on the app store. If you go to utility and then search for this app, you can surely spot it out. It is an ideal app for both, home and commercial use. For all the iPhones with less storage space, this app is the best from the rest.
This app supports over 150 currencies and is quite user-friendly. It has a download size of 37.1 MB. The rating of 4+ tells that it has been loved by various users. The compatibility of this app is iOS 7.0 or later.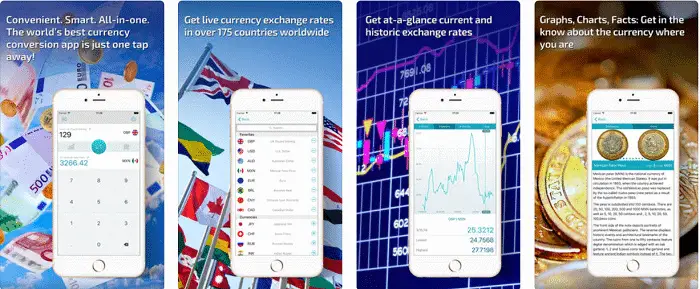 It can tell you about the trending facts with related to currency. Not only this, with this app you can even locate a nearby bank. All these attractive features make this app popular in the market.
This is a gorgeous app with a download size of 35.5 MB. It is a very generic app for currency conversion. It comprises all the features of a basic currency converter. What makes it stand parallel to others is the amazing UI.
Technically, it has a compatibility of iOS version 8.0 or later. The 4.5 rated app supports most of the popular languages. Considering the other currency conversion apps, this one is the last option in my list.
Amongst the first 500 applications launched on the app store, this one is a 24.4 MB all in one tool. It has a compatibility with iOS version 9.0 or later. The app got updated recently, and amazing features came up with this upgrade.
Though not the best still this 4+ rated app is good for the purpose. It supports various languages. In the coming future this might become the most trending app because of its present evolution.
With all these currency converter apps, I wish you smooth transactions and exchange.
Also see: How To Convert Youtube Video To WAV File – TechWhoop