This is like a dream come true, isn't it? Wearing a formal government authorized uniform equipped with a belt which holds kind-of lethal weapons, tasers and what not. You guessed it accurately; I am talking about a police uniform. This was a dream of a majority of children to become a law-enforcement individual when they grow up, to maintain peace in the streets or to be the first person to reach a crime scene and investigate, mostly chasing after the criminal and catching him red-handed. Thus, you must know about the best Police Scanner Apps out there.
All this accelerates the adrenaline, doesn't it? Although some of you may have fulfilled this dream many of us have not. This is when these police scanner apps come in.
You can listen to thousands of stations, hear police conversations, get to know everything that is going on in your city and satisfy the policemen in you. Below listed are the best police scanner apps segregated according to iOS and Android.
NOTE: Before we go any further, please make sure that you are allowed to use these apps in your city as they are illegal to quite a few of the cities.
Best Police Scanner Apps You Can Use
Police Scanner Radio
Police scanner radio is one of the top rated apps that is why you find it on the first position. This application gives you access to more than 5000 radio stations where you can hear live conversations between the police, the firefighters and other emergency services.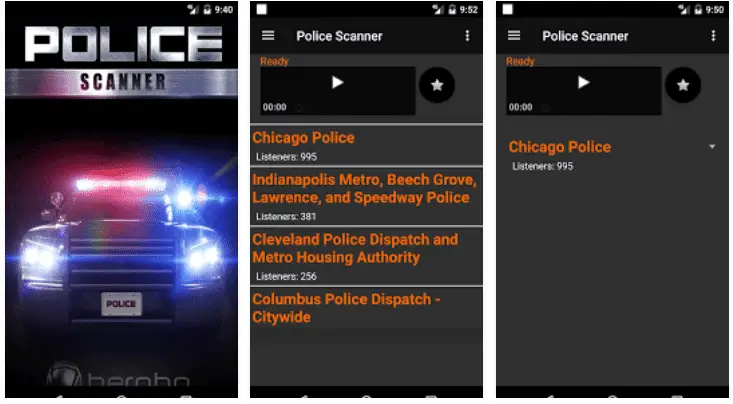 You have an option to choose from over 10 countries and listen to any of the feed you like and be updated on the top news and actions of the emergency response departments taking place in different sections of your city/country.
You can get a normal version for free from the play store and upgrade it to premium/pro in just $3 and enjoy added features.
Broadcastify (Android)
With over 5700+ stations in use, Broadcastify accounts to be one of the largest scanner application. You can choose your country/city and listen to unlimited feed from all the stations.
A feature that distinguishes this app from other is that you can create your account and save channels to 'My favorite list' and listen to your chosen top feeds. You can even change the settings after logging in and make it more convenient to use.
Other than the police you can listen to feeds from the fire department, aviation department, rail marine, and others.
IScan Application (iOS)
As the name suggests, iScan is a scanner app for the iOS users only. You can listen to police as well as fire department feeds in your country/city and be on top of things. This application lets you listen to feeds from all over the world.
The best part about this app is that you get alert messages whenever there is an issue on the mass level. You will be the first set of people that will know about the problem, forget searching T.V. or watch hours of the news channel to assess the situation, now you and get updates on this app.
The app is loaded with a 'night mode' as well. This enhances the visions and optimizes the apps use in the dark as well.
Police Scanner (iOS)
Police Scanner is a free iOS application that is guaranteed to amaze you in the first look itself. The design of this application is quite amazing and actually, provides a great experience. This application is very user-friendly and can be used by every person irrespective of the level of knowledge etc.
The additional feature that you will get in this application is that you can record the conversations/feed that you listen to.
Police Scanner 5-0 (Android)
Police Scanner 5-0 is one of the oldest apps of this industry that currently exists. You can listen to over two thousand five hundred stations (2500) or feeds and know the latest updates of departments like the police and the fire.
The application is also equipped with a GPS system which automatically detects your location and shows you the feed accordingly; you can disable the GPS and enter the location manually too.
Police scanner 5-0 is a completely free application and can be downloaded from Google Play Store.
NOTE: – A similar application by the name of 5-0 Police Scanner is also available for iOS users and can be used on every iOS supporting device.
Scanner Radio California (Android)
As the name suggests, Scanner Radio California is one of the Police Scanner Apps only focuses on the radio feeds and frequencies of California only. It does not use much of your battery life and easily operates without causing any lag or hassles.
The latest update of the application even save battery and enhances the performance of your phone.
There are a bunch of applications available designed on the similar lines, but the ones that are listed above are the elite of the elite, they have been used and reviewed by millions of people.
If you think there are other Police Scanner Apps that we missed/gives you a more relatable feel of an officer, do let us know in the comment section below.