Ever wondered if the car you are using or the mode of transportation you use on a daily basis have their performance measure using Mileage Tracker Apps. There are ways to track down the distance traveled per unit of fuel that are also popularly known to us as mileage.
It is the measurement of traffic that is about to prolong for how much amount of time. The amount of fuel consumed every second, the time required to reach a particular destination from its source, and eventually conclude the classification of the trip traveled. Thus, you must know about the best Mileage Tracker Apps out there.
There are loads of such mileage Tracker applications that can help you to get access to all of the above-mentioned features. As fascinating as it sounds, to experience them is a whole different level of adventure you are about to perform. So, let's quickly dive into the amazing world of Mileage Tracker Apps with the best features to come across ever. You can also check out some cool VIN decoder tools for cars here.
See Also: Best 10 Digital Compasses For Cars | Complete Guide
Top Mileage Tracker Apps of 2023
Here are some best Mileage Tracker Apps of 2023.
Hurdlr
Hurdlr is one of the best mileage tracker apps that are capable of tracking your mileage amongst the variety of services that it offers. The user can use this app to link it to the Savings banks to keep track of their monetary expenses as well as track their income.
It offers a wide variety of features. This app allows you to automatically track your car or bike and note when it was started and when it was stopped and the distance that was covered by it. It can also differentiate between business and pleasure. This means you can designate which of the trips were business trips and which of them were personal. 
It offers three versions, a free one, a premier one, and an enterprise one which you can opt for according to your own needs.
Visit: Hurdlr
QuickBooks Self Employed
QuickBooks Self Employed is another one of the mileage tracker apps that you can easily use. Not only does it help with tracking the distance covered by your vehicle, but it also keeps a track of your business expenses as well does a good job of keeping a record of your taxes.
It offers a wide variety of features like keeping a track of your distance covered with the help of GPS. However, in case it doesn't work because of a glitch, you can also input your trip manually. You can also have a work-life balance and keep a track of it by differentiating between your business trips and personal ones inside the app very easily. It provides you with intricate details of the mileage covered and even gives you an approximation of your pending taxes. 
Visit: QuickBooks Self Employed
TripLog
Both Android and iOS owners can use this compatible one of the Mileage Tracker Apps for tracking their mileage count. TripLog is mainly designed to track and save records of the trips, fuel refueling, and other maintenance of the car.
It works with almost every type of category, be it an ambulance, commercial car or private car. Distance and locations are being determined using the GPS technology of the cell phone via any cellular network or any WiFi access.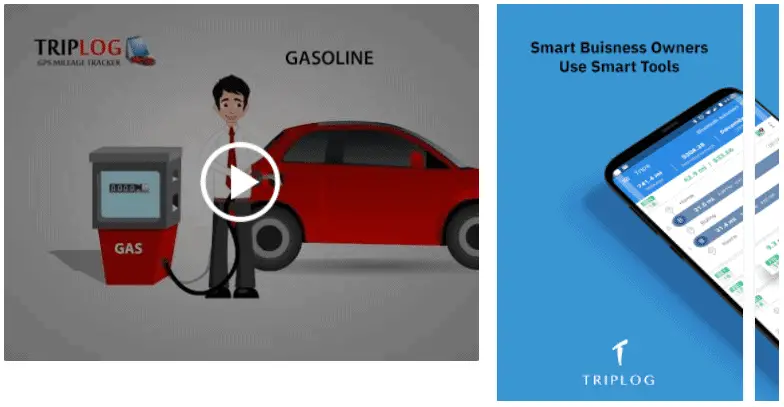 For a new user, one can take the first ten pictures of the receipts for free using their device's camera and can store them in the Amazon cloud.
There is also a built-in calculator which can calculate and predict the fuel consumption and hence can give the accurate mileage of the car. The app is faster and more reliable, and that's what makes it top the charts.
Visit: TripLog
See Also: Top 8 Car History Report Generator Tools Of 2023
Mileage Log GPS Tracker
This belongs to the new category from Mileage Tracker Apps but works effectively on devices. If you're concerned about apps that track your movement, you can rely on this app. The interface is kept minimal and provides genuine/important/necessary information whenever you need but overall, it is on the simplistic side.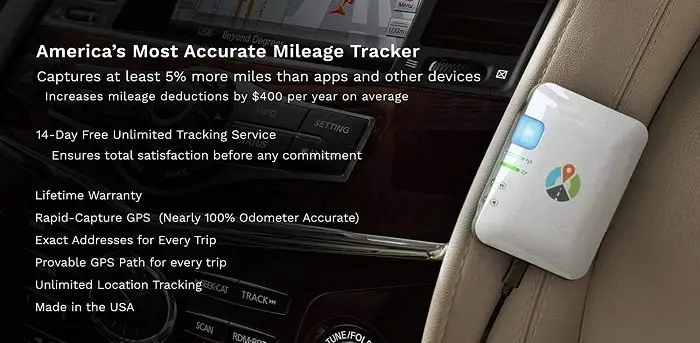 This is the automatic mileage tracker that detects when you are in a vehicle moving. So there comes no doubt of mileage coming wrong. Another fantastic thing about this app is that it stores the aggregate data on the cloud. If you lose your cellphone, you still have the records stored with you.
Visit: Mileage Log GPS Tracker
See Also: 3 Best Android Optimizing Apps | Best Android Optimizer
Fuelio
This is a from the straightforward Mileage Tracker Apps for one to use as well as understand. Very easy to answer when the question arrives of tracking the mileage, costs of gas, and your gas consumption. With the help of this app, you'll be easily able to track the expenses of your car and for which everybody thinks about, save your costs and save money in the long run.
Another perfect thing about this app is that it helps you in finding the nearest gas stations. Easily track your fill-ups, costs of the gas, GPS location, as well as the economy of the fuel.
Visit: Fuelio
See Also: Top 5 Free Voice to Text Apps for Android (2023)
Stride TAX mileage tracking app
This kind of Mileage Tracker Apps allows recording the mileage when you drive. You can start and stop tracking according to your trip, by simply tapping on the start button when you begin your drive. You can also it up to record automatically. So no tension in tapping the button every time. This app includes pre-loaded lists for rideshare drivers.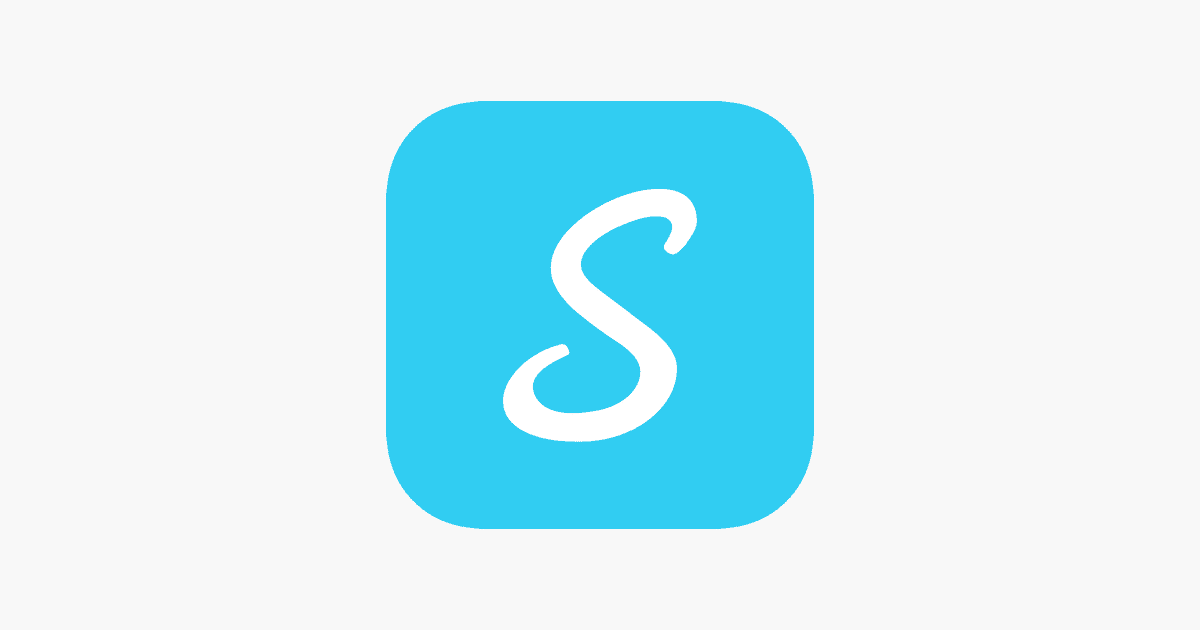 Now you know which expenses to log. Another great thing about this app is that it keeps a record and shows an individual where I drove while it records my miles.
Visit: Stride TAX mileage tracking app
Everlance
A mileage tracker app that categorizes trips such as a personal trip or a business trip or a medical trip saves the receipts and also compiles expense reports.
A very reliable app that manages the taxes. It uses GPS for free. This app works pretty smoothly for everybody's needs and is a very user-friendly app.
Visit: Everlance
FYI Mileage
FYI Mileage app is the easiest and simple one of the Mileage Tracker Apps to use for any Android or iOS user. The application is evident of simplifying the process of controlling of the mileage of a personal as well as a commercial car.
The reports or the data about drivers and cars can be stored in the device's memory along one can also share those data through e-mail or Wi-Fi sharing.
Visit: FYI Mileage
See Also: 4 Best Free & Paid iPhone Cleaner Apps [Latest]
Mileage
Mileage is one of the most promising Mileage Tracker Apps that can calculate the exact amount of fuel to be consumed by a car, also providing various statistics as output. The statistics help the user to monitor and control the fuel consumption by the car easily.
It can support multiple cars at a time, providing the user for entering input values that can be customized. The statistics provided by the app are very powerful.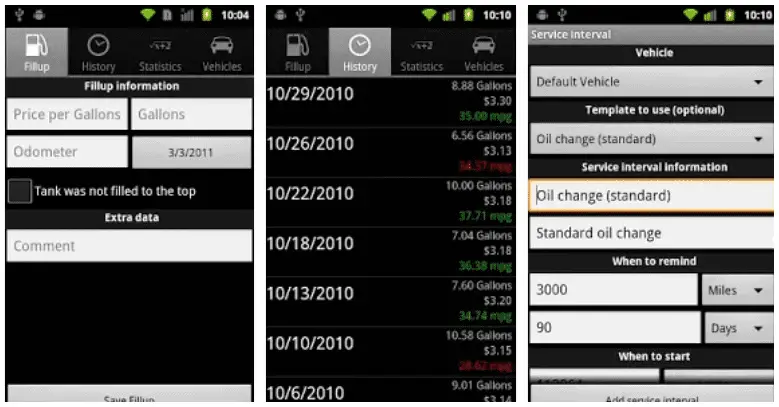 It supports automatic backup of the data that can be stored either in the device's storage or the SD card. In case it needs to retrieve data, the process known as CSV is used.
The user interface of the application is simple where the user will have to enter a very minimal amount of data to track the mileage and expenditure for operating the maintenance of the car.
Visit: Mileage 
SherpaShare
SherpaShare is the most efficient and fastest app for any Android and iOS users. The app uses the latest technologies to simplify the efforts of the user. By providing a very less number of inputs, the app with the help of its algorithm can itself calculate the tax deduction.
The cost for each trip concerning the distance and traffic along that route and mainly it can keep all the records stored in the cloud. Not only this, but it can also track and contact to other drivers who belong to a specific community.
Not only this, but it can also track and contact other drivers who belong to a specific community. The algorithm at its back end uses the latest technologies and logic to make it the most efficient app for the users.
Leading cab services like Uber and Ola uses SherpaShare for calculating the expenses, distance from a source location to the destination address. The traffic or the shortest route available for reaching in less time, the amount of tax for the fare, etc.
The app also provides a classified trip for the users. This is an application for your device and your transport as well. Don't miss out on this amazing app and get it now on your Android and iOS devices by downloading them from their respective online stores.
Visit: SherpaShare 
MileIQ
The fast and effective app settings make this one of the Mileage Tracker Apps stand out of the box. The user can track every mile of the trip (either personal or commercial) with very fine accuracy.
One can get registered for every mile and can classify trips to track and keep the personalized records stored in real-time using GPS technology. MileIQ can accurately report the tax for each trip and can accurately keep records of all the data.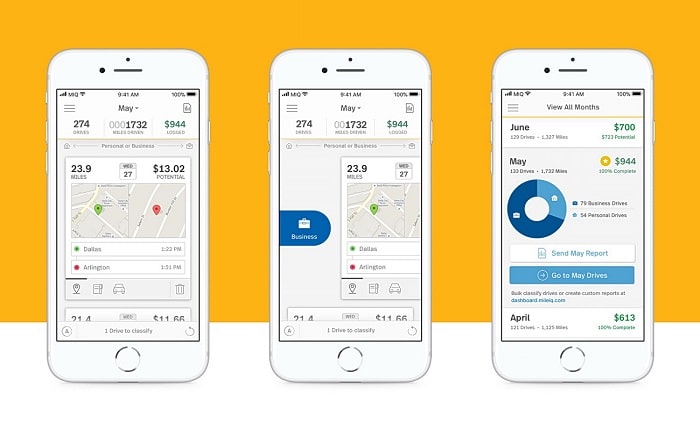 The built-in purchase is also available in this app. The GPS helps the app to track the mileage automatically. Some miles traveled, to classify the trip that makes it easier for the user to use. And the built-in purchase that helps in enhancing the capabilities of the user.
IF you are searching for a straightforward yet handy app for tracking your mileage, this is the one you should go for. While the primary interface may be straightforward for daily usage, advanced users may find some additional information about tracking.
This is the thing that makes this app so versatile and useful. I will highly recommend professionals who will get a tax rebate on mileage, who will also need to log miles for business/personal reasons. The best thing is you do not need to start the tracking.Get a new vehicle, and the monitoring begins automatically.
Visit: MileIQ
FAQs
How I can track my mileage in the easiest possible way?
There is a wide variety of ways by which you can do this. Most cars have an in-built odometer that keeps a note of the distance covered by the vehicle. You can use it along and keep a spreadsheet to keep track of your expenses. You can also use a paper logbook, or alternatively a sheet solely dedicated to expenses to keep yourself updated in these matters. But the best possible way in this digital era is to use a mileage tracker app that does everything for you- from tracking distance to keeping your taxes.
Can you use Google maps as a Mileage tracker?
Technically, google maps can calculate distance but in essentiality, it cannot track the mileage of your vehicle. To measure distance, you first have to tell google the beginning and the end of your route by selecting each point on the map. Google will automatically calculate the distance between the two points and the best possible road to travel by. But even though this is not ideally what you can consider as mileage tracking, you can have a preliminary idea about the distance your vehicle will cover while traversing this path. Once that is done you can use any of the mileage tracker apps mentioned above to do whatever is required.
Conclusion
To wrap up the entire fun you had with these mileage tracker applications, it eventually had to end. But the fun is not over yet. Experience the entire enjoyable ride on the roller coasters of the mileage tracker application. You can check out how to know if a car is new or used here. Make sure to download them on your Android as well as iOS devices.