Everyone loves the spooky stuff we read about them, hear about strange things and occurrences and discuss them on late nights to creep ourselves out even more! Thus, you must know about the best Ghost Hunting Apps out there.
There are plenty of applications for Android and iOS which celebrates the bone-chilling sensation of fear and paranormal panic. So read our list and find out who is living with you and don't forget to check under your bed.
Top 10 Ghost Hunting Apps
Here are the top ten amazing paranormal apps that you can use to hunt ghosts. Do read about all of these Ghost Hunting Apps!
Real Ghost Detector – Radar
Real Ghost Detector – Radar is a fun Ghost Hunting App, which can make you feel like a ghost hunter. With this application, you can measure the presence of electromagnetic radiation around and scare your friends.
The app uses your device sensors to check the presence of these radiations around. It also gives indications to you about any unusual activity around. Show your ghost hunting skills by finding out the paranormal activities and spirits near you.
Download: Android
SpecTrek
SpecTrek is one of those Ghost Hunting apps which will help you live your dream of being a mighty ghost hunter and finding the scariest ghosts around. Well, no vacuum cleaner is required, like that used in 'Hunter of Ghosts.' However, you can still be those tough ghost hunter uncles, and also, make your friends believe in the existence of spirits in the world.
SpecTreck uses your GPS to track down the paranormal activities. It also has magnificent design, and the classic clock, with the colorful transmission of the terrain, will keep you amazed. SpecTreck creates an illusion of reality so that you can have a blast with the creatures of the dark world. 
Download: Android
Ghost Hunting Tools
Ghost Hunting tools is one of the finest Ghost Hunting apps, and you can get, with its super-sensitive microphone, and ghost radar. It comes with a built-in camera, a photo analyzer, and also a quantum flow detector. This app lets you detect the directions, more accurately, with its colorful readings.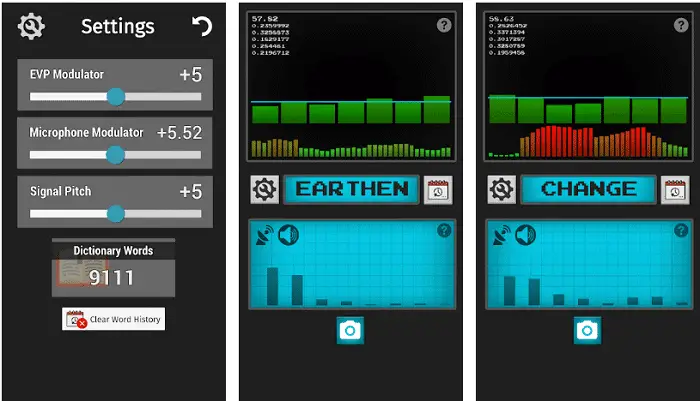 Ghost Hunting Tools is a great application for real ghost lovers and will keep in awe. You will get access to EMF meters and EVP detectors to enthrall your ghosts, and spirits' hunting sessions. The app will keep you intrigued with the presence of spirits with its strong dictionary, including several thousand words. 
Download: Android
SV-1 SPIRITVOX CLASSIC
With the SV-1 Spiritvox, you can turn your mobile device into a mysterious spirit box. Amongst the other Ghost Hunting apps, this application is carefully designed by ghost hunters to serve its purpose well. Thousands of paranormal experts have approved of this magical application. It generates two sets of random carrier sounds, with the help of your device audio playback algorithm.
SV-1 SpiritVox Classic creates a real-life atmosphere of the darker world. Its demonic sounds will surely get you goosebumps all over. 
Download: Android
Paranormal Window
The Paranormal Window application doesn't necessarily check if you have any strange spirits around you somewhat it is catered to give information about ghosts, spirits and other paranormal beings.
If you are one who doesn't believe in all, this  application is surely made for you. It'll clear your doubts and also has an active archive which has the latest news, proofs video, the photographic and audio on the particular searched subject matter. So go ahead download this application and upgrade your paranormal knowledge.
Ultimate EMF detector Free
The most primitive yet widely popular machine to detect paranormal was the EMF meter. Ultimate EMF Detector has a reasonably accurate EMF meter which shows the changes of the magnetic field measured the in different units: microTesla, guess and milliGauss and auxiliary field H in ampere meter with a needle and LED's using the sensors of your device.
With its new design, it has impressive graphics and high accuracy which very simply show fluctuations of a magnetic field at different places. Also, one thing to note is that if your phone doesn't have the magnetic sensor this app will not work.
Download: Android
Ghost Detector Radar
This application, to begin with, does not guarantee the real-life experience but if you are looking for fun then go ahead and download it. If you want to show to spoof a friend, for instance, Ghost Detector Radar app is perfect for you just download it and move with your camera and this app will detect the entity in front of you.
You will know its type and can ask any question you want. This app is purely made for fun purposes so go ahead and walk around and enjoy.
Ghost Camera Photo Prank with Paranormal Effects
Again the name is kinda descriptive itself. This ghost hunting app is for fun so if you are looking to click an unusual picture or probably add some ghosts to spook people out then with this app you can create the best paranormal pictures ever!
Ghost Camera Photo Prank will look incredibly scary and gory then you can share it with your friends and the world. First of all, you need to choose the ghost sticker to add to your photo then pick a filter to make your picture scary. The added feature is that you can choose the pose for your ghost and spirit and you are good to go.
Ghost Radar: LEGACY
Ghost Radar (Legacy) is an upgraded version of the previous app with multi-language support, new cool graphics and interfaces. This Ghost Hunting App's release will definitely win your heart.
Some enhanced features are that it can translate the energy into words and numbers and can also be displayed graphically. The settings are more advanced so you have more possibilities to play with your app. So have fun looking for ghosts.
PAIRS Spirit Box
Now, this is the real spooky app. PAIRS Spirit Box created by various developers spread across Spain, UK, India. Different modes are available: A, B and C. The developers of Ghost Hunting Apps took the inspiration from an ancient Indian scripture for creating Spirit box app. The dominant feature of this app is that you can seek a spirit from a distance. The display enhances your feel and experience.
It is essential to set your phone on flight mode with Bluetooth off and set the mode beforehand. Then you can interact with the ghost and see the levels of activity by different lights on your screen. The interface is pretty primary so don't forget to apply specific setting before use.
Download: Android
EVP Recorder-Spotted Ghosts
The EVP Recorder is one of those Ghost Hunting Apps which is principally used for paranormal investigation an exciting thing to note about this app is that it never guarantees that ghosts will directly speak to you so no miracles should be expected.
All the recordings will save on the ''EVP recording folder''. Later convert them into MP3 format listen and share. The app is quite easy to use and is popular in a TV show celebrity haunted hotel. All you need to do is install it, launch it and then start recording. Fluctuations will show on the diagram.
Download: Android
Paranormal EMF Recorder and Scanner
If you like investigations of the paranormal, then this one of the Ghost Hunting Apps is for you. This EMF detector is fun and super easy still one thing to note is that it's not just a game, the readings are real using the magnetometer of your phone.
The observations will record so that you can analyze it later. With this one of the Ghost Hunting Apps, now you have a chance to use your special equipment for paranormal investigations.
Download: Android
Ghost Finder – Paranormal Discovery Tracker Hunter
The ghost Find is basic and only goal is to provide you with loads of fun.
One interesting thing about this app amongst the other Ghost Hunting Apps is that you can choose yourself how to use it as you launch it. You turn on the camera and view the world around. At a given moment, Ghost Finder app creates a vision which identifies some paranormal activity around someone or something.
Download: Android
Ghost Detector Camera
Ghost Detector Camera is one of the Ghost Hunting Apps has garnered a lot of attention lately due to the atmosphere it can create and also it's true. Using this app, even the ones who do not believe in ghosts will be scare out of their wits. It is super refreshing because this ghost detector knows how to make the experience truly an authentic one.
Like other Ghost Hunting Apps, this ghost app uses real EMF readings, but along with it, the graphics are phenomenal along with remarkable sounds. Just switch on the camera, move around and enjoy the show.
See Also: Top 10 Mirror Apps for Android & iOS (Updated 2020)
So go ahead choose your favorite Ghost Hunting Apps and enjoy tonight. Also, don't forget to look under your bed, behind your back and on the ceiling over you!