Don't you get annoyed when you have to perform some boring, tedious, yet necessary task on your computer again and again? You sometimes even think of hiring people to do such tasks. You do not have to repeatedly perform this tedious task by yourself, nor do you have to hire someone to do it. Thanks to modern technology, all you have to do is download and install macro recording software. These Free Macro Recorder Tools analyze your type and click pattern and can automatically do the task you repeatedly do.
Let's check out some of the top macro-making software
Pulover's Macro Creator
AutoHotKey
AutoIT
Easy Click Macros
Tiny Task
See Also:- 8 Best Free CPU Temperature Monitor Software
Some great macro recorder tools are free and can do your task.
14 Best Free Macro Recorder Tools
Here's the list of the best free macro recorder tools.
Pulover's Macro Creator
Pulover's macro creator is a high-end automation and script-writing software. It records your continuous keyboard and mouse movement.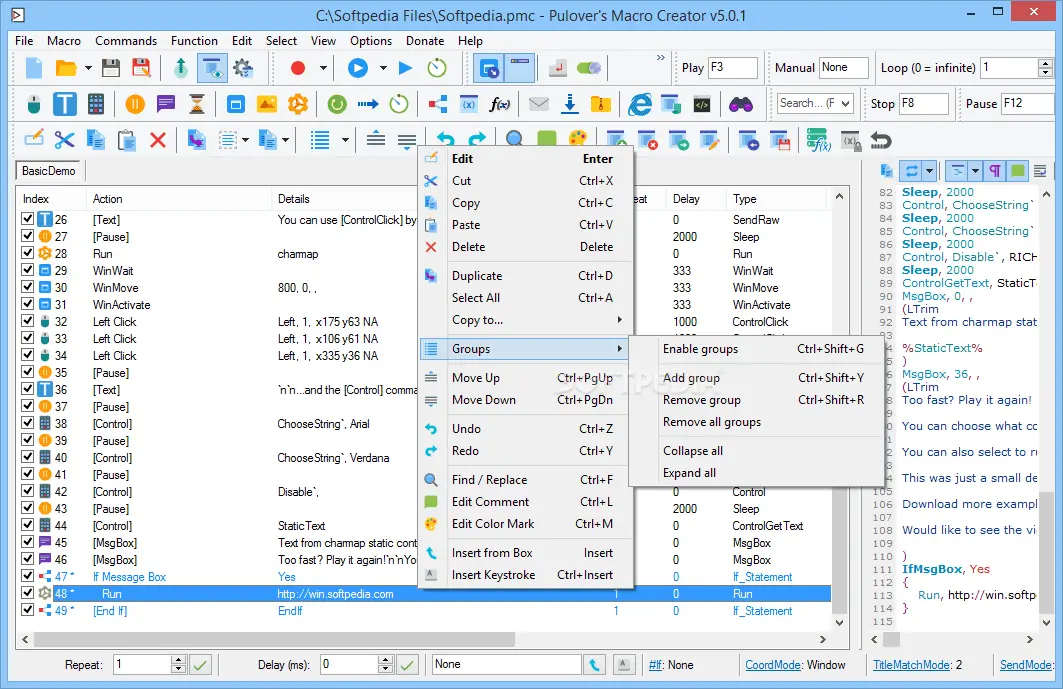 It has a built-in recorder. This software can record a wide range of automation commands. This software has a user-friendly interface and is very easy to use.
The memory requirement for this software is shallow.
Visit: Pulover's macro creator
See Also:- 10 Best Free Movie Catalog Software for Windows | Updated (2023)
AutoHotKey
AutoHotKey is one of the leading macro softwares out there. It is entirely free and open source. This ensures that both publishers and the community continually update the software. This is one of the more versatile softwares out there, owing to its open-source nature. 
This software is touted as the most efficient to integrate mouse and keyboard actions for commands performed in a loop. The UI is highly efficient and easy to use. It allows you to create several hotkeys to enable seamless integration.
It also allows you to store and feed acronyms that automatically expand when you type, significantly reducing the time required in drafting lengthy documents. AutoHotKey is available only on the Windows platform.
Visit AutoHotKey
AutoIT
This software has a variety of automation options. This is a straightforward software that can be used by any person easily. This is a very lightweight app. AutoIT records the user's keyboard and mouse movement, which helps them do the assigned tasks efficiently.
Further, it has a specific script that lets the software run the DOS command or Windows apps. It can also operate Windows activities like minimizing, maximizing, closing, hiding, etc.
Visit: AutoIT
Easy Click Macros
Easy click macro is one of the Free Macro Recorder Tools available. This is a dynamic tool that lets you run multiple macros at the same time. The novel feature of this software is that it has provided various keyboard shortcuts for the quicker performing of a task.
If there is no keyboard alternative for the task you want, you can assign a new key for the same task.
Visit: Easy click macro
Tiny Task
The Tiny task is one of the Free Macro Recorder Tools available. It has a straightforward and easy-to-understand interface. Just like the name, even the size of the software is tiny. This software is hardly 400 KB.
It is a straightforward app that performs recording and playback very efficiently.
The resolution of this software is tiny; it is so small that it might become a little blurry if you have a high-resolution monitor.
Visit: Tiny task
Mouse Recorder Premium
Don't let the word premium in the name of Mouse Recorder Premium think that it is expensive software. It is free of cost. This is excellent software for performing repetitive tasks on your computer.
This software records your mouse movements and reads your keystrokes. This software provides you with unlimited recording and playback for absolutely free.
Visit: Mouse Recorder Premium
Mini Mouse Macro
Mini mouse macro is one of the portable Free Macro Recorder Tools. You can even store it on a USB or a pen drive and use it on another computer. This means you don't have to install this software on your computer.
Mini Mouse MacroWhen you use it on another computer, this will show no past trace. This is pretty simple and easy-to-use software. It records and playbacks the actions that you want to do efficiently. Along with recording and playback, it also shows you the animation of the recorded action.
Visit: Mini mouse macro
Perfect Automation
Perfect automation is one of the best and most robust Free Macro Recorder Tools. This software does not need to be installed on your PC. You don't have to install each application differently; all the actions can be performed by clicking just one icon.
This software is helpful for both experts and amateurs. It has lots of pre-recorded scripts to choose from. You can also write your script with this software.
Visit: Perfect Automation
Macro Maker
Are you tired of doing the same task on your computer again and again? Just use the macro maker to do the work for you. It records your mouse movement and keystroke action, which can be played anytime.

The user interface is not as manageable as all the other macro software. There is a detailed user guide that will help the user understand how to use the software in a better way. Macro maker lets you assign keyboard shortcuts for various actions.
Visit: Macro Maker
Mouse Recorder Pro
As the name suggests, this Free Macro Recorder Tools software is a real pro for performing automated tasks. You can edit or write a script using this software.
The unique feature of this software is you can assign a future script to play by this software automatically via the calendar.
It records your actions efficiently for the quick automatic performance of the task later. This macro program is available for free.
Visit: Mouse Recorder Pro
Auto Mouse Clicker
As the name suggests, Auto Mouse Clicker is a program that automates mouse movements and clicks. It is a relatively bare-bones software with minimal keyboard functionality, making it less appealing than others on the list.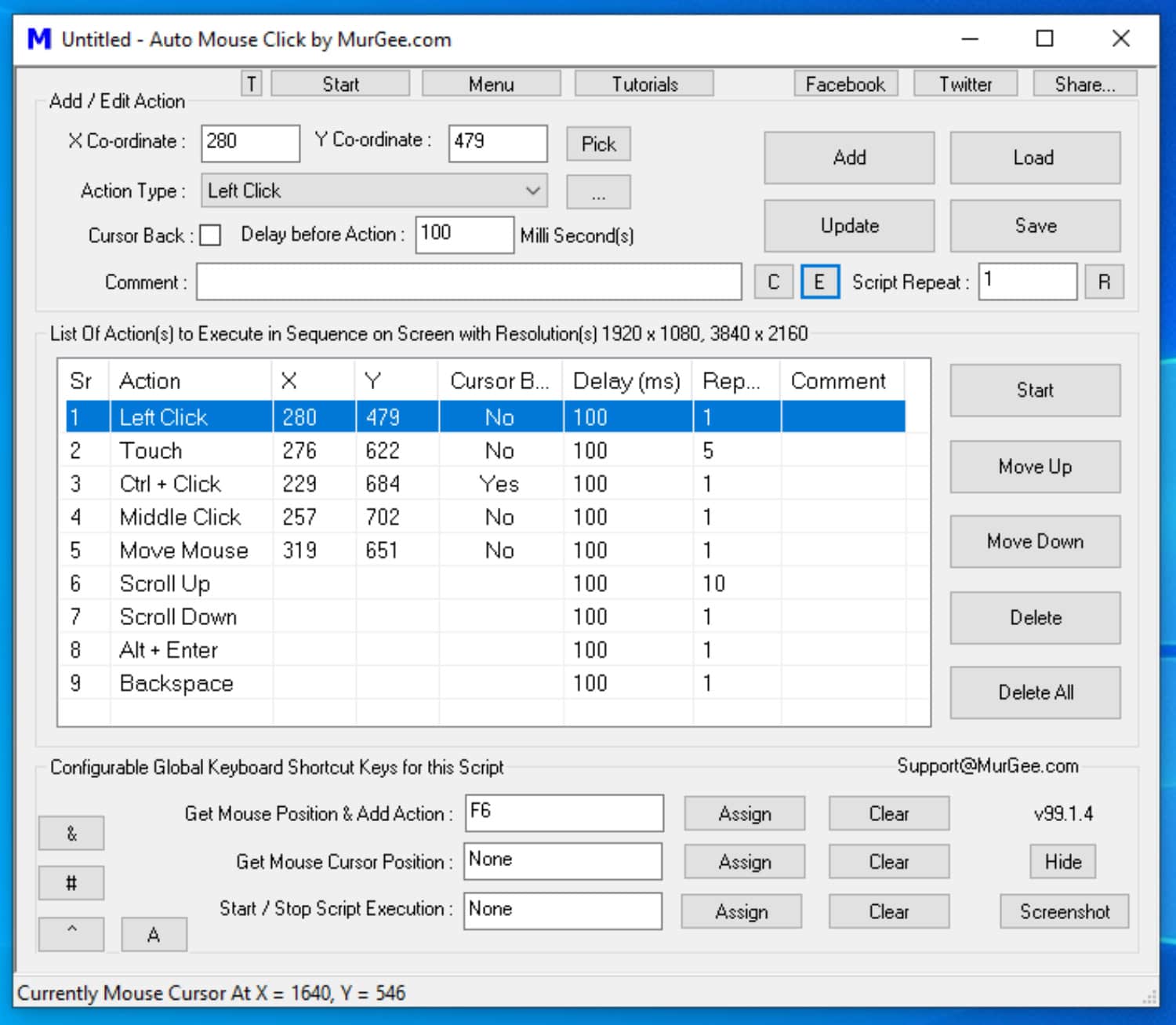 However, it automates your mouse seamlessly and is very simple to work with. The app itself is very lightweight both in terms of its size as well as its RAM usage. Auto Mouse Clicker is the way to go if you require straightforward software and only want your mouse movements recorded.
Visit: Auto Mouse Clicker 
Xnee
Another open-source offering. Xnee is being touted as a robot that manages all your actions.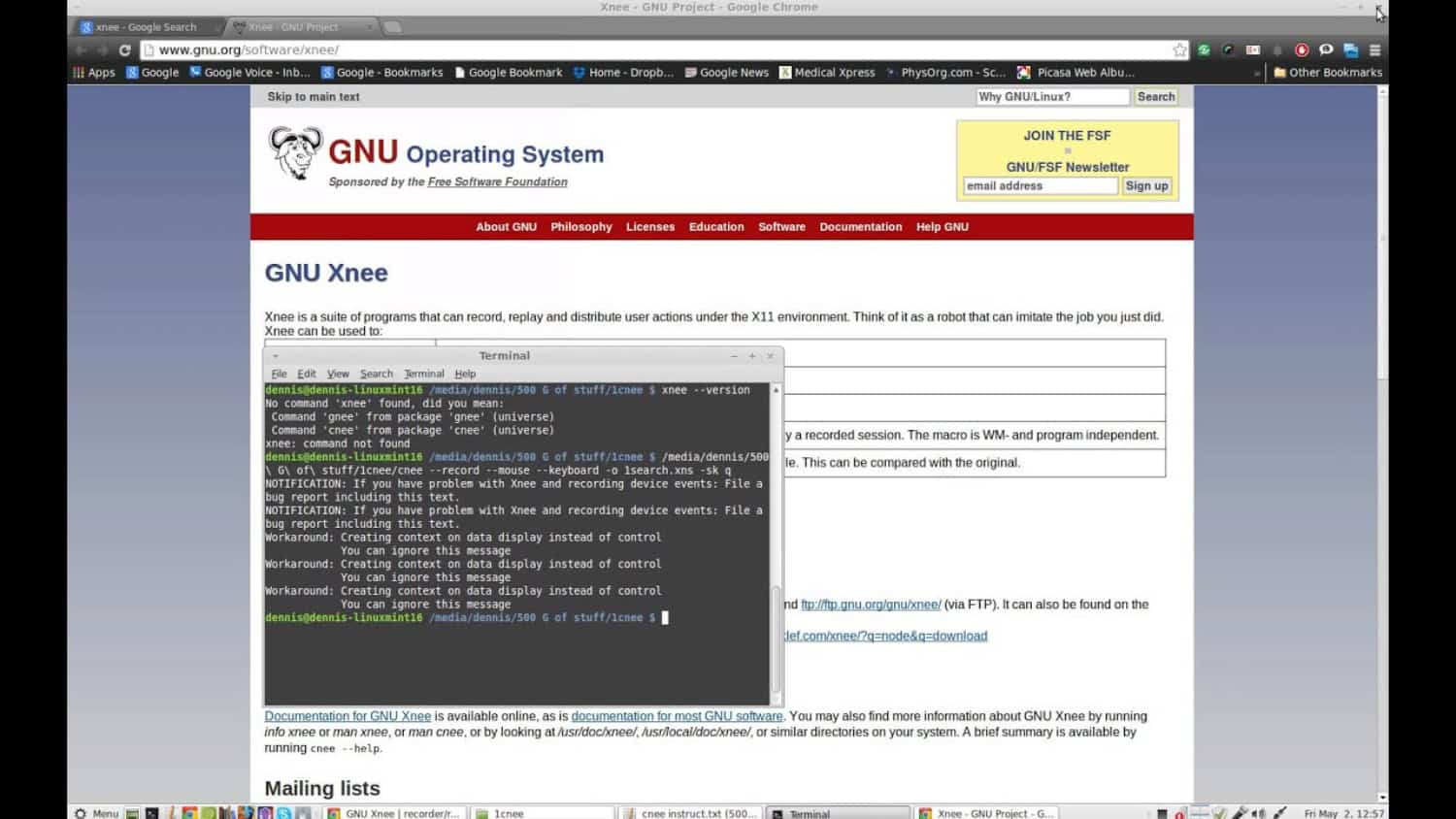 It is worth noting that Xnee is not a single application per se but a host of programs working in sync on the X11 platform. This Macro recorder can even manage two systems at one time! 
Visit: Xnee
Please do it Again.
Do it Again is a free macro recorder for Windows. This program keeps things simpler; it lets you feed in your tasks and enables you to store all of them to play on-demand.
It is a complete pilot, allowing you to log on as the administrator and parlay with mail servers' anti-virus software. It makes multitasking on a single system easier by doing many tedious repetitions. 
Visit: Do it Again
Ghost Mouse
 Ghost Mouse is one of the most user-friendly and easy software out there. There isn't much to do regarding the setup; you're good to go. The window itself is the simplest, with just a couple of buttons.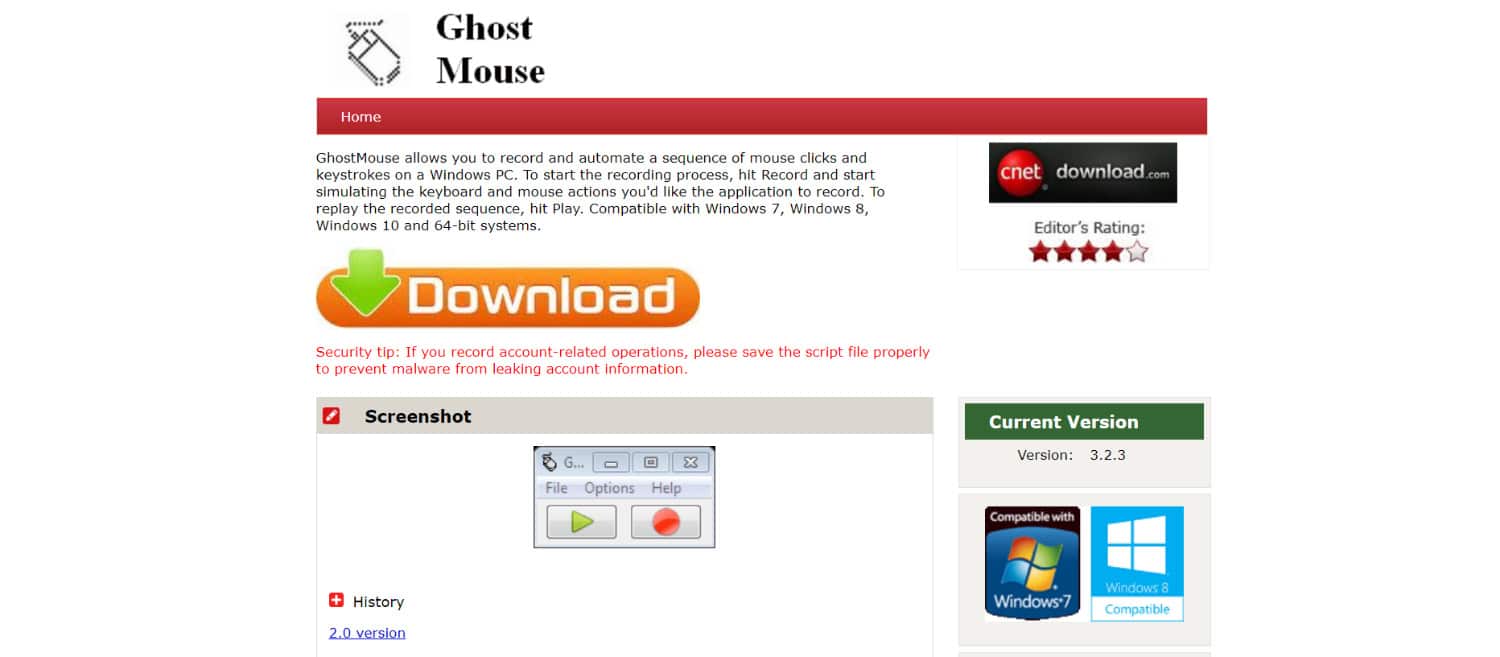 Ghost mouse would help you automate and streamline your entire process while keeping the setup clean, simple, and bare-bones. It's worth noting it will only record mouse actions but does so beautifully.
Win Macro
Perhaps the second most easy-to-use software. The setup process only has a trio of steps that all can easily follow and understand.
It is also very efficient in doing tasks, recording, and playing them back. Among its features, you can specify the file directory where you want to store your files. There is ease to play and stop the recordings with just a single tap or click. 
Visit: Win Marco
FAQs
What do macro-recorder tools do?
Macro recorder tools generally make our work easier. They help us complete a task by doing repetitive tasks. You can customize the usage so that they work where it is necessary.
What is a macro keyboard recording?
They track the usage of the keyboard to know the functionalities and predict what you are going to do next, and make it easier for us to do a particular task.
Is Macro Recorder safe to use?
Macro recorder, so sees it does not contain any viruses or malware that can harm your device.
How do you use a macro recorder?
Open the macro recorder app that you are using and tap on the record button that you see in the tab; now, it records your activities. You can stop by using those options on the screen.
Conclusion
This is our list of the best Free Macro Recorder Tools. We hope you liked them all. If you have any queries, feel free to comment below.