The 21st century is the era of technology, and we keep our faith in the information and suggestions provided by the 5-inches screen that resides in the pocket of our trouser. The advancement of technology has made our lives cozy and comfortable. Thus, you must know about the best Psychic apps out there.
There are many apps which we use diurnally to get daily updates, connect and communicate with our friends and dear ones. We have become slaves of the technology, and we rely on it for almost every task of our lives. But eventually, they make our living easier.
Ten Psychic Apps for your Android and iOS Device
My Psychic Reading
YouNow you can have access to the most well-known psychics right on your device. This app will let you contact to various psychics. They will tell you wantever you wish to know and whenever you wish to know. They claim to have the psychics which celebrities personally consult to. That's pretty dope.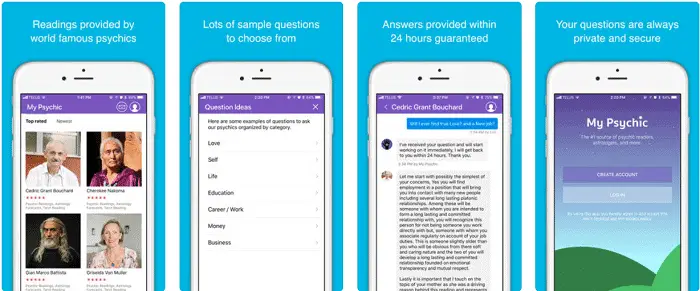 All you need to do is create a profile and ask the question. They're providing the first question for free. It could be about your love, future, career, etc. There are lots of possibilities.
Psychics 24/7
Do you need some help or clarity in your life? With the Psychics 24/7 iOS & android psychic app, you can reach a psychic 24 hours a day 7 days a week. Perhaps you have issues in your relationship, financial status, or just need some general guidance in your life.
The Psychics247 app has some of the best psychics standing by ready to help answer your most pressing questions. As always, your first question is free.
Live Psychic Reading
Well, it is very much obvious from the name that the performance of this app will be live. Live Psychic Reading lets you interact with best astrologers, healers, psychics and taro masters. This app helps you to find out factorial results for your queries.
If it's your marriage, job or business or some personal matters and you are struggling to find out answers this one of the Psychic apps will be at your rescue.
Bonus Ball – Psychic Self-Defense
This app tests your mental strength to tackle the mental instability and calm your mind to overcome any mental attack. Suppose you are in a situation where your mind is being tested, and you are on the edge of losing your mental control and decision-making ability might be taken away from you.
This app makes intelligent use of technology to test your mind and also helps you to identify your falls and then overcome them and fortify your brain.
Psychic Pyramid
In Psychic Pyramid, you will have to build a pyramid using your Psychic powers. You simply need to guess which symbol is hidden in the magic box and if you guess, correctly you will begin construction. If not you must keep trying to see if you can channel your inner strength over time.
This app is accessible on the Play Store for ₹85, and the total size of the app currently is 620K. The size might vary with timely updates, and it might be available for free later, it solely depends on the creators of the app.
Tarot & Numerology
Tarot & Numerology app is for the iPhone users, and you can find it in the App Store. The name of the app suggests that it is related with Numerology. This app brings in use the ancient technology of Numerology to sort out your problems.
This app is free of cost, and one enticing fact is that this app utilizes a standard 78 tarot card deck and Pythagoras Numerology Calculators.
Purple Ocean Psychic Reading
Purple Ocean Psychic Reading is  one of the Psychic apps connects you to advisers who give you a hand in your trouble. With this app, you can consult non-judgmental, accurate and relationship psychic advisers to share your problem with.
Purple Ocean is the spot to come for a top-notch psychic reading by tarot, astrology, meditation or palmistry. You can submit your questions to a community of talented and experienced psychics using your device's video camera or just type your doubt. It is available on both Play Store and App Store for free.
Zodiac Touch Psychic Reading
Zodiac Touch Psychic Reading is the best horoscope app that is available on both Play Store and the App Store for the Android and iPhone users respectively and it is free of cost. With this app, you get quick and accurate answers to your questions. They can be about love, relationship, angel cards, tarot, daily horoscope, numerology, money health.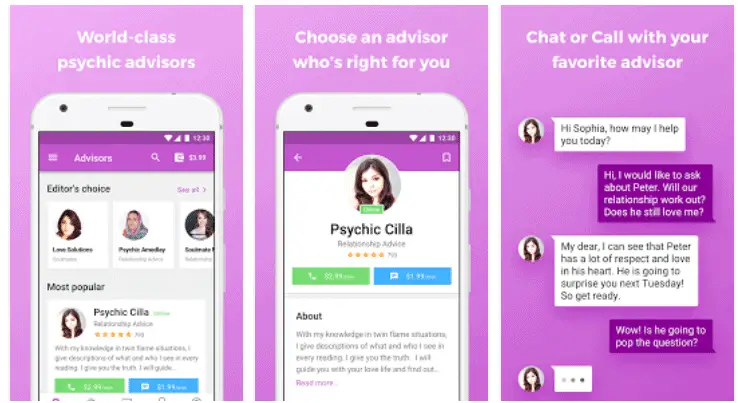 You can chat with tarot card experts, karma masters, psychic readers, mediums, aura cleansing, soul mates, love, daily relationship advice, astrology and online tarot readings. If you are a tarot card reader, fortune teller, psychic, love expert or astrologer then you can shower your advice in the Zodiac Touch's active client community.
Oranum
Oranum is the very first Global Esoteric Community with free chat that connects you with the world's most renowned Psychics like astrologers, tarot masters, healers and many other gifted experts. It is available for both Android and iPhone users free of cost.
Oranum lets you free chat with the best Psychics and provides over 30 different esoteric services like Vedic astrology, tarot reading, palmistry dream interpretation and much more. It lets you enjoy video and audio feed with over 200 experienced Psychics waiting for you and 24/7 live support chat, e-mail support, phone support and extended FAQ.
Psychic – Live Reading & Love Predictions
Psychic is the best astrology app that gives you immediate and insightful answers to all of the life's questions with the help of Numerology and the Tarot of Marseille if you download Psychic App. This user-friendly app makes it easy to chat, from anywhere around the world. 24 hours a day seven days a week.
Using this app is very simple. Just choose your psychic then enter your question and then you will get an immediate response from the psychic.
Live Psychic
Live Psychic has many features that ensure positive and confident about the direction your life. This app provides 24/7 psychic service to answer all your queries. This app is accessible for Android users on the Play Store for free of cost.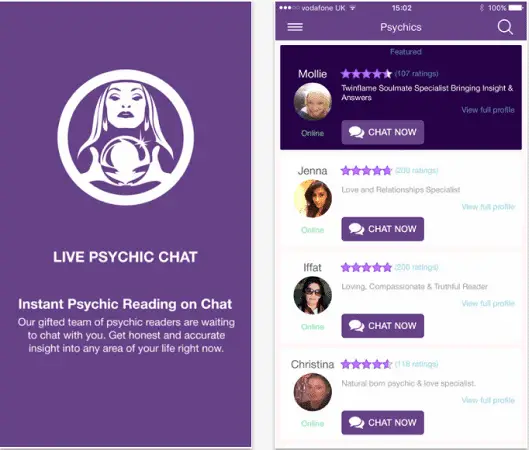 Kasamba
Kasamba is a leading psychic adviser service provider. This one of the Psychic apps is available for both iPhone and Android users. On the Play Store and App Store free of charges, and currently, it has over 3 million clients.
The Kasamba clients get insights and guidance from the world's leading psychic readers and advisers.