vThe 21st century is the era of technology, and we keep our faith in the information and suggestions provided by the 5-inch screen in the pocket of our trousers. The advancement of technology has made our lives cozy and comfortable. Thus, you must know about the best free psychic apps out there.
Some of the Best Psychic Apps for Android And iOS are Tarot & Numerology, Live Psychic Reading, Fortunica, Psychic Txt, California Psychics, My Psychic Reading, etc.
We use many apps diurnally to get daily updates, connect and communicate with our friends and dear ones. We have become slaves of technology and rely on it for almost every task. But eventually, they make our lives easier.
See also: 14 Best Ghost Hunting Apps for Android & iOS
Ten Psychic Apps for Your Android and iOS Device
Here is our list of the Top 16 Psychic Apps For Your Smartphones.
My Psychic Reading
Now you can access the most well-known psychics on your device. This app will let you contact to various psychics. They will tell you whatever you wish to know and whenever you wish to know. They claim to have the psychics which celebrities personally consult to. That's pretty dope.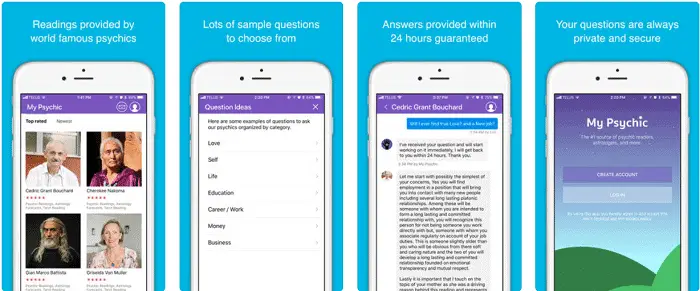 All you need to do is create a profile and ask the question. They're providing the first question for free. It could be about your love, future, career, etc. There are lots of possibilities.
Psychics 24/7
Do you need some help or clarity in your life? With the Psychics 24/7 iOS & Android psychic app, you can reach a psychic 24 hours a day 7 days a week. Perhaps you have issues in your relationship or financial status or need some general guidance in your life.
The Psychics247 app has some of the best psychics standing by ready to help answer your most pressing questions. As always, your first question is free.
California Psychics
California Psychics is one of the best free-to-use psychic readings. Outlook Amusements should be credited for making such an excellent psychic and horoscope app. This app is straightforward. It is one of the apps that offer free psychic readings online or start an online psychic chat. You can even send messages to your family and relatives using this app. Come here daily to read your horoscope and find out about your luck! You can even meet your psychic twin on this app.
It allows you to enter your information and find someone with a psychic like you. Isn't it wonderful? One more feature we should talk about is the auto-reload. It helps you read without being distracted. You can find this app on both Android as well as an iOS platform.
Psychic Txt
What do the lines embedded in your palms tell about you? Will you be filthy rich or find the love of your life? Don't waste time going to those suitable for nothing palm readers. Scan your palm using Psychic Txt and learn about your luck without wasting a penny. These free psychic apps available for Mac and Android devices. This app is packed with simple-to-use features that can be accessed anywhere, anytime on your device.
This is also a psychic app for android ios. It provides day-to-day horoscopes according to your zodiac sign. One main feature of the popularity of this app is the Zodiac Calculator. It calculates your future life, like love, marriage, profession, etc., with reference to your astrological sign.
Keen
Do you have any questions about your future? Are you worried about your job, love, or other things? You don't need to see a fortune teller for this. Just download Keen and leave your worries to the highest-rated psychics. Keen consists of a never-ending network of perfect psychics listening to and sorting your problems accordingly.
Ingenio, LLC developed this physic reading app for both Android and Mac devices. The main motive of this app is to provide its user with the utmost privacy. This app keeps your matters confidential. You and the free psychic advisor assigned are anonymous in the app. It is safe to use this app.
Purple Garden Psychic
Purple garden psychic is another veteran psychic app that is available for Android as well as iOS devices. It is considered the most accurate psychic reading app on the market. It also has an extensive network of expert psychics who are experts in answering your queries.
The best part is that you can video call the talented psychic advisor and talk to him face-to-face using your smartphone camera. Now we know why this app is flawless. You can join any psychic community you like and video calls the experts to ask about career, love, relationship, etc.
Fortunica
Fortunica is a free psychic reading online psychic readings online and straightforward app that authorizes its users to live psychic reading. This app even provides Tarot Card reading, which is fantastic. It is an all-in-one app offering options from horoscope to card reading to palm reading to astrology. You can easily find solutions to your problems with the help of the highest-rated psychics. It is one of the popular psychic apps android ios.
You don't need to pay for them. Ask for your career, love, future, etc., and they will tell you using clairvoyance.
Live Psychic Reading
Well, it is very obvious from the name that the performance of this app will be live. Live Psychic Reading lets you interact with the best astrologers, healers, psychics, and taro masters. This app helps you to find out factorial results for your queries.
If it's your marriage, job or business, or some personal matter and you are struggling to find out answers, this one of the Psychic apps will be at your rescue.
Psychic Pyramid
In Psychic Pyramid, you must build a pyramid using your Psychic powers. You need to guess which symbol is hidden in the magic box, and if you guess correctly, you will begin construction. If not, you must see if you can channel your inner strength over time.
This app is accessible on the Play Store for ₹85, and the total size is 620K. The size might vary with timely updates and be available for free later; it solely depends on the app's creators. It is one of the best psychic apps for android ios.
Download: Android 
Tarot & Numerology
Tarot & Numerology is one of the best psychic apps for iPhone users, and you can find it in the App Store. The name of the app suggests that it is related to Numerology. This app uses the ancient technology of Numerology to sort out your problems.
This app is free of cost, and one enticing fact is that this app utilizes a standard 78 tarot card deck and Pythagoras Numerology Calculators.
Download: iOS
Purple Ocean Psychic Reading
Purple Ocean Psychic Reading is one of the psyshic reading apps that connects you to advisers who give you a hand in your trouble. This app lets you consult non-judgmental, accurate, and relationship-psychic advisers to share your problem.
Purple Ocean is the spot for a top-notch psychic reading by tarot, astrology, meditation, or palmistry. You can submit your questions to a community of talented and experienced psychics using your device's video camera or type your doubt. It is available on both Play Store and App Store for free.
Download: Android 
Zodiac Touch Psychic Reading
Zodiac Touch Psychic Reading is the best horoscope-free medium readings online app available on both Play Store and the App Store for Android and iPhone users, respectively, and it is free of cost. With this app, you get quick and accurate answers to your questions. They can be about love, relationship, angel cards, tarot, daily horoscope, numerology, money health.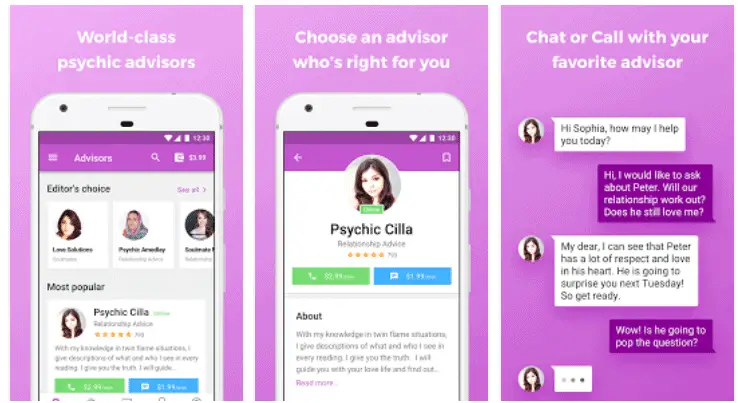 You can chat with tarot card experts, karma masters, psychic readers, mediums, aura cleansing, soul mates, love, daily relationship advice, astrology, and online tarot readings. If you are a tarot card reader, fortune teller, psychic, love expert, or astrologer, you can shower your advice on Zodiac Touch's active client community.
Download: Android
Oranum
Oranum is the very first Global Esoteric Community with free chat that connects you with the world's most renowned Psychics like astrologers, tarot masters, healers, and many other gifted experts. It is available for both Android and iPhone users free of cost.
Oranum lets you free chat with the best Psychics and provides over 30 different esoteric services like Vedic astrology, tarot reading, palmistry dream interpretation, and much more. It lets you enjoy video and audio feeds with over 200 experienced Psychics waiting for you and 24/7 live support chat, e-mail support, phone support, and extended FAQ.
Download: iOS
Psychic – Live Reading & Love Predictions
Psychic is the best astrology app that gives you immediate and insightful answers to all of life's questions with the help of Numerology and the Tarot of Marseille if you download Psychic App. This user-friendly app makes it easy to chat with free psychic advisors from anywhere worldwide. 24 hours a day, seven days a week.
Using this app is very simple. Just choose your psychic, then enter your question, and then you will get an immediate response from the psychic.
Download: Android
Live Psychic
Live Psychic is the best psychic app for iPhone. It has many features that ensure positive and confidence about the direction of your life. This app provides a 24/7 psychic service to answer all your queries.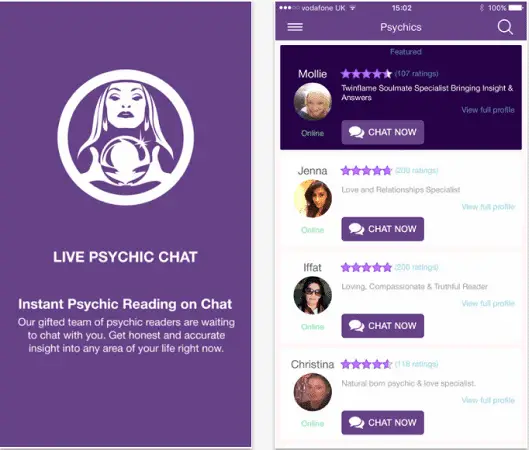 This app is accessible for Android users on the Play Store free of cost.
Download: iOS
Kasamba
Kasamba is a leading psychic adviser service provider. This one of the Psychic apps is available for both iPhone and Android users. On the Play Store and App Store, free of charge, it currently has over 3 million clients.
The Kasamba clients get insights and guidance from the world's leading psychic readers and advisers.
Download: iOS
FAQS
Can psychic apps predict the future?
Psychic apps may provide insights and predictions based on the information provided by the user, the psychic's abilities, and the tools used, such as tarot cards or astrology charts.
Are psychic apps secure and confidential?
Reputable psychic apps prioritize user privacy and employ security measures to protect personal information. They typically have strict privacy policies and secure communication channels.
How much do psychic apps cost?
The cost of psychic apps varies depending on the app and the specific services offered. Some apps charge per minute or session, while others may offer subscription plans or in-app credits. Prices can range from a few dollars to higher amounts, depending on the reputation and expertise of the psychic practitioner.
Can psychic apps replace in-person psychic readings?
Psychic apps provide a convenient alternative to in-person psychic readings, especially for those who prefer remote access or have limited availability for physical appointments. While in-person readings may offer a different atmosphere, psychic apps can provide similar insights, guidance, and spiritual connections through digital means.
Are psychic apps suitable for everyone?
Psychic apps can suit individuals seeking spiritual guidance, clarity, or entertainment. However, personal beliefs and preferences may vary; not everyone may resonate with or find value in psychic readings.
Conclusion
So here we conclude our list of Top 16 Online Psychic Apps; android ios. Download the one you like and know the secrets about your future life. We hope you found this article informative.