AAC stands for advanced audio coding. AAC is an audio format which is far better than the traditional Mp3 format (performance wise). The specialty of AAC is that even in low size, the audio will be of much better quality as compared to Mp3. Thus, you must know how to Convert YouTube to AAC.
As we all know, YouTube is a video sharing platform. But, thanks to various converter tools and plug-ins. Converting YouTube videos to an audio file is possible. But the thing is that majority of these converters, and plug-ins convert these videos into the traditional mp3 format. Mp3 is a fairly good format to store audio files but let's be honest; AAC is a much better. What if you want to convert YouTube videos into AAC format? Don't worry; we have got your back.
We have formed a list of the best converter tools for converting YouTube videos to AAC files. By choosing AAC format over Mp3, you will be able to have the best quality audio in the smallest possible size. You can save a lot of MB's and GB's by switching to AAC from Mp3 and also get better quality too.
Tools to Convert YouTube to AAC files
Bigasoft total video converter is a perfect all-around video converting tool. You can easily convert YouTube videos to AAC format using this software. This software also has the capability to convert videos to other formats like Mp4 and Mp3. The conversion speed of the software is very good. The best feature of this software is that you can extract a song from a movie that you are watching using Bigasoft total video converter.
This whole process of converting videos into different formats takes just a few seconds. You can try the free version of this software and decide if you want to purchase this software or not. You can also use this software as an audio editing tool.
Clip Converter is a website that provides free online video converter to its users. This is a fundamental and straightforward website. It does the job of converting videos to different formats easily and efficiently. On its homepage, you will see a video-URL bar. All you have to do is copy-paste the URL of the video that you want to convert, choose the format that you require to convert it to and press enter.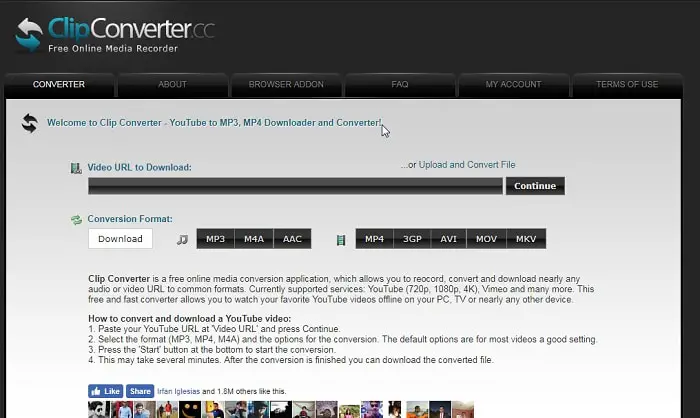 It is that simple. If you want to convert a video that you have it on your computer, then you can upload it and then convert it too. Clip converter easily converts YouTube videos to AAC format. The conversion speed is pretty normal. Once the video has been transformed, you can download it to your computer.
Apwersoft is a website that lets you convert videos into almost all formats to your device. It works smoothly on PC, Mac, and Android devices. It has a free and a paid version. You can try the free version for sometimes and decide if you want to pay for the paid version of the website.
This website can easily download videos from YouTube and other similar websites after converting it into the format of your choice. You can convert YouTube videos to AAC format using this software. The conversion takes just a few minutes. You can convert the video by copy-pasting the link of the video on the URL bar on its home page and clicking on the download button.
Convert to audio is another website which you can use to Convert YouTube to AAC format. This is a very simple website with a very basic layout. This website has a lot of ads. This is understandable as the income from these ads help the owner of the website provide the services of this website for free to the people.
You can convert the video by entering the URL of the video that you want to download on the URL bar given on the home page of the website. You can select from a wide range of formats that you want to convert your video to. The excellent part about this website is that you can convert videos from other sites like Dailymotion and Vimeo too.
You can convert YouTube videos to AAC format using this website. This website is a very basic site with just a URL bar, and some instructions are given on how to convert videos. The process of converting the videos into different formats is the same as other websites mentioned above.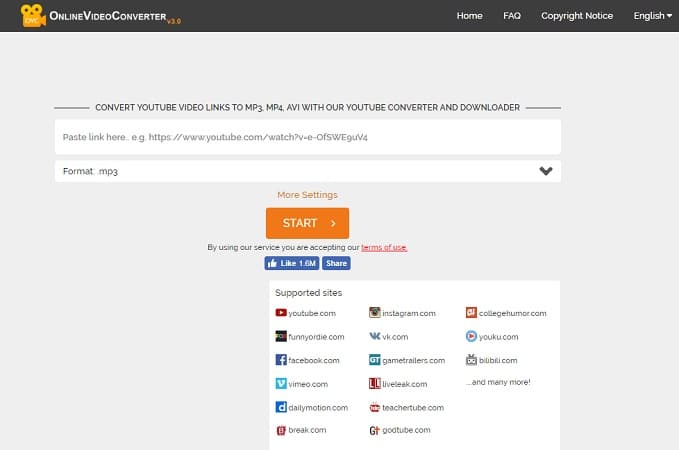 This website is pretty awesome and can convert videos from YouTube, Vimeo, CollegeHumor, LiveLeak, Dailymotion, etc. The best thing is that this is free. The only negative thing about this website you can mention is the annoying ads.
As its name suggests, Any video converter is a video converting software. You can convert videos from various website or upload your video and convert it to a format of your choice. Convert YouTube to AAC is just one of the many available features of this software. The trial version has many limitations.
You can purchase the paid version for $59 USD. The conversion speed is pretty good as compared to the other free websites mentioned above. This is one of the best software for converting videos.