Ever thought of how those beautiful and mesmerizing T-shirts, for sale over the internet or in the Malls, are made. Previously only those T-shirts were made which the maker wanted to make. But now we can find ourselves design and make our custom T-shirts. The T-shirt designing industry is on a huge rise. Now, websites are also present in which you can provide your design, and they will ship it to you. So, when you see a special T-shirt and do not know how to get it, you can make it yourself with the help of these T-Shirt Designing Software.
There are tons of designing software in the market which claims to design best T-shirts but believes me; only a few live up to their expectations. Many images designing tools are in use to make T-shirt designs nowadays. After much research, I have found out a few T-shirt designing software which lives up to their claims.
See Also:- Crello Review: Easy to Use Free Online Graphic Designer Tool
10 Best T-Shirt Designing Software for Windows:
Here is the list of top 10 Designing softwares for windows.
CorelDraw Graphics Suite
CorelDraw Graphics Suite is one of the best designing tools present in the market. The tool is also used to design posters, and logos apart from making attractive T-Shirts. The software has plenty of features which helps to create beautiful T-shirt designs.
This tool has been in use by graphics designers for plenty of years. The colors, clipart, and the designs present in this tool are sufficient to create a work of art T-shirt. This software is initially a bit hard to use, but gradually everything falls in place. This tool is free of cost.
Visit:- CorelDraw Graphics Suite
Design T-Shirt Creator
Create loads of T-shirts with this tool by your side. This tool has a load of features. It contains lots of color shades, fonts, clipart, shapes and so on. Use this tool and bring your creativity to full use
After creating a design store, save, and share the design. This tool is also free of cost.
Visit:- Design T-Shirt Creator
Smart Shirt Designer
Smart Shirt Designer is a T-shirt designing tool mainly for jersey designing. So, the tool contains features like collar color, bottom stripes, brand logos, etc.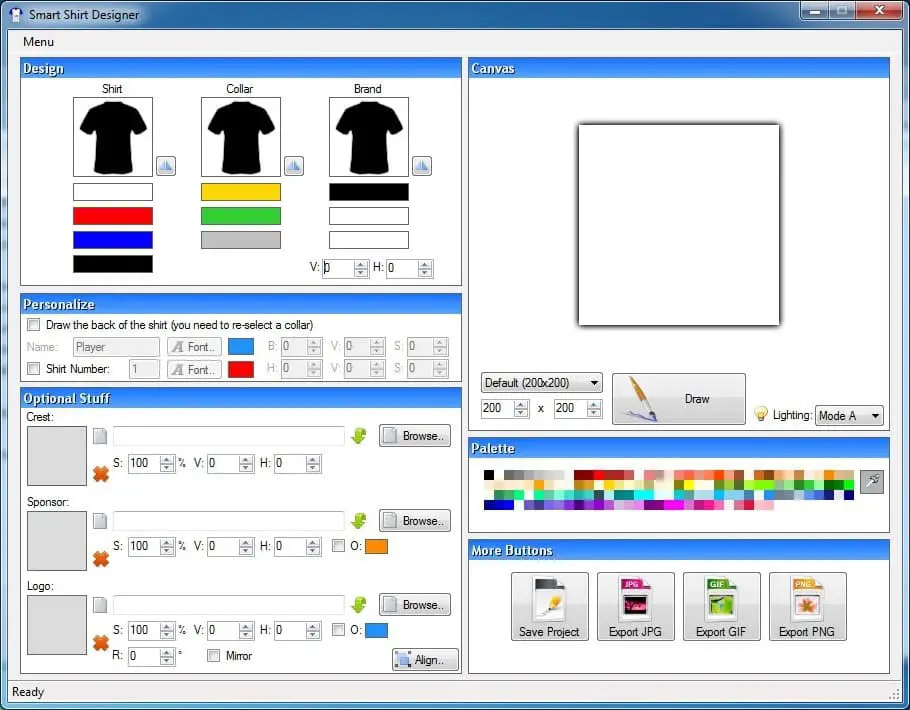 The software is free of cost, so no need of spending a single dime of money for designing your T-shirt. You can always save you design in any image format for further use.
Visit:- Smart Shirt Designer
Flash T-Shirt Design Software
A flash interface based T-Shirt Designing Software which utilizes many color, clip art, and shapes to create T-shirt designs. The interface is very straightforward and comfortable to use. The features are high end and the product is good. You can also customize the layout according to the basic shirt color.
See Also:- 7 Best Free Home Design Software for Windows (2018)
This tool is must have for those who are thinking of starting their own T-shirt designing company. This tool can be found on the market free of cost.
Visit:- Flash T-Shirt Design Software
Free T-Shirt Maker
Another tool to the list of T-Shirt Designing Software. This tool helps in designing great T-shirts. With loads of clipart and categories like buildings, nature, etc., designing becomes a great fun. The user interface is very simple and easy to use. So, no need of prior Tech-knowledge to operate.
You can import your images and stuff for designing. You can always rotate, resize the clipart to suit the design.
Visit:- Free T-Shirt Maker 
T-Shirt Designer
T-Shirt Designing Software is a powerful yet simple tool for T-shirt designing. The tools allow users to design clipart in layers. There are a load of fronts which can be used for designing Quotes on a T-shirt.
The interface is very simple to use. It supports most of the image formats for storing and editing the designs. This tool is free of cost.
Visit:- T-Shirt Designer
Custom Ink
Custom Ink is more of a T-Shirt Designing Software site. Here, we can design T-shirts using the T-Shirt Designing Software present. The service has a lot of different sections like animation, plants, nature, parties, buildings, transportations and much more.
See Also:- 8 Best Free E-Book Download Sites Without Registration
You can design with numbers, shapes, colors and much more. Here you can also design a jersey for a team with jersey number on the back. After designing, if you like the T-shirt, you can buy it too. You can share your design with your friends.
Visit:- Custom Ink
Almamaster Store
Like CustomInk, Almamaster Store is an online utility. Design your T-shirt share with friends or even buy it. With a load of features design you T-shirt and show it off to your friends.
See Also:- 10 Best Car Design Software for Professionals [Updated]
You can design front, back, and sleeves of the shirt. For designing T-shirt, many additions like colors, brush, text, note, name, and number are available.
Visit:- Almamaster Store
GIMP
GIMP is an image designing tool as well as T-Shirt Designing Software. It is also used for designing T-shirts. All the tools required for T-shirt designing are present here.
Designing using this tool is simple and easy. The only thing you need is a T-shirt outline. You can also use your outline.
Visit:- GIMP
Tee Designer Master
Tee Designer Master is a PHP based software with its local server. So, no need of installing. Design T-shirt and even hoodies using this software.
You can add photos or images, text, number, or name in the back and front of the T-shirt. Add pictures and brand logos in the design as per your wish.
Visit:- Tee Designer Master
Conclusion:
There is a lot of craze among the young generations to wear funky dresses. So, a whole new world of custom made garments has evolved. To mix with the masses, more T-shirt designing tools are coming in the market. Each one is getting better by the day. So, feel free to add to the list any new tool for T-shirt designing. The list created is solely my opinion. Give pressure to your gray cells and create a great T-shirt design. Enjoy designing.
See Also:- Checklist by Serpstat Review | Get Top SEO Services Now