If you are in the IT sector, you will definitely know that nothing goes well and is always good for your career if you do not have any certification in that particular field. You need to have a good certification to have a good position in the IT industry. Thus, you must know how to convert VCE to PDF files right away!
In this article, we will look into what a VCE file format is, why is it used and where is it used. However, it is not always favorable as sometimes you have some trouble opening it. Converting a VCE file to a PDF can be a little help. Here are some steps to covert it:
Download and Open DoPDF on your system
Import the VCE File to it
Choose PDF as the file format you want to convert your VCE file in.
Press convert 
DoPDF will convert your VCE File to PDF. In this article, we mentioned a few other methods for you as well. 
Read this article through and you can convert VCE to PDF with any method mentioned below. Check out CleverPDF Review.
What Is VCE File Format?
VCE is an acronym for Virtual Certification Exam file, and it is associated with Visual Cert Exam software. It is the most popular tool for practicing certification exams online, and it also provides you with features to create, open and edit the certification tests.
Why X.VCE File Format?
Most of the files are in the X.VCE format because it provides a very interactive format where you can choose the keys for exam queries and you can solve the questions in a very interactive form, and you will not get bored while solving these exams.
Generally, when you study from a PDF, a text file, or a document, you tend to get bored because it is very boring to read whatever is just written in paragraphs and the VCE to PDF files transform that same test into a very interesting and interactive exam.
The VCE files change your usual exam preparation process into more suitable and spirited and also help you to get the same environment that is in the main certification exams so that on the exam day, you will be familiar with the environs.
It is not necessary that the VCE to PDF files are only for those who are preparing for certification in IT, as it has a variety of information; it is also useful for school students or for normal people who are interested and looking forward to learning.
Some corporate companies also use VCE files and software to test the knowledge of their employees. also, teachers also use these types of files and test the knowledge of their students.
See Also: CleverPDF Review | Best Tool for All Your PDF Needs
Software Used To Open/View VCE Files
The developer of the VCE software is an "Avanset". You can purchase the Visual Cert Exam software to view the .VCE files from the developer itself, recently VCE to PDF exam simulator are made available for PC, Mac OS, and Android devices as well.
But, they are not open source; you will have to purchase the software to view VCE files as official simulators can open them only, which can charge you a lot of money.
The Alternative
Now you know that in a VCE file, you will get all the information and questions that you can practice for getting good marks in the exam. You will have the best-in-class material provided in the VCE file format, but you will need to purchase the visual cert exam engine to view these files.
But if you do not wish to invest in purchasing software to view VCE files and you just want the questions and information that is provided in such files, you can just convert your VCE file to a PDF file, and you will get all the information which is in the VCE file in a format of PDF.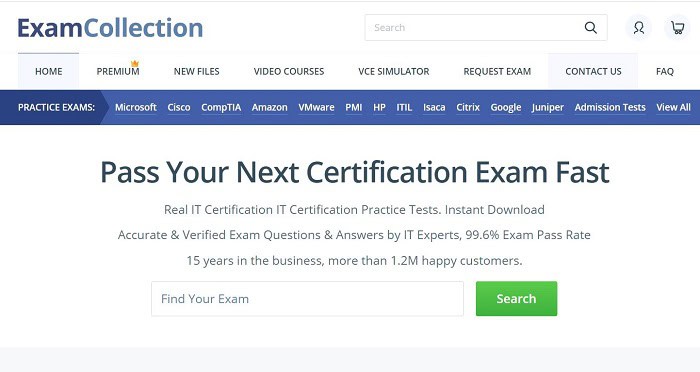 So you can search for the VCE file regarding the course that you are doing or regarding any subject that you want to study. You can easily find VCE files on the internet one of the websites that provides the VCE files is examcollection.com, and then get it converted from VCE to PDF.
5 Tools For Conversion Of VCE To PDF
VCEconvert
So for converting the VCE files to PDF format, here is some information about a trusted and reliable tool that will help you know how to open vce files in pdf.  The "VCEconvert" is dependable software, and you can have your faith in it for all the conversions.
The 'VCEconvert' allows you to convert a maximum of three files with each file size less than 70 MB from VCE to PDF at a minimum price of $5. Also, some of the exams are offered for less than $4, so check out offers to avail before the final submission.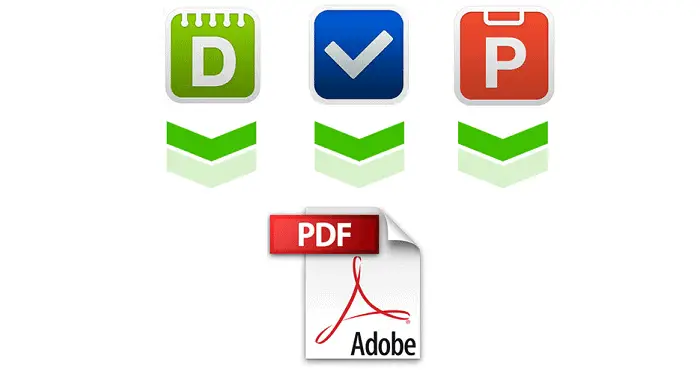 Here, you can convert various exams of Amazon, Microsoft, VMware, IBM, Cisco, Oracle, Citrix, Juniper, HPE, etc., into PDF files to get access to all the selected and important questions for the preparation of the certification tests.
Along with the PDF version of your VCE file, you will get additional benefits like a 'Landscape PDF' version. This allows a clear and better view of the graphs and screenshots that are attached to your VCE file. Also, you will also get a 'Questions only PDF', which will include all the questions that are included in the VCE file.
Visit: VCEconvert
See Also: Top 11 Ways to Convert PDF to DOCX Easily [2023]
VCEPlus
VCEPlus is among the top VCE to Pdf file converters in the market. This website authorizes you to transform your VCE file to pdf files effectively, but this site works slowly. So until the file changes, grab yourself a coffee. The steps to transform your file are really simple. Initially, import your file on cloud storage. Share the file URL to the admins of the website. It will transform your VCE file and send back the pdf.
The time taken to convert may take 12 or 24 hours, so you must be patient. This site may already contain the pdf you are looking for. So make sure to search it first or request it on the website.
Visit: VCEPlus
DoPDF
Don't want to waste time on online converters, which take a lifetime to transform your file? Then convert VCE file to PDF freely on DoPDF. You ought to download another program known as VCE Designer to work with DoPDF effectively. VCE Designer offers features like altering, printing, and making new files. By integrating this two software, you can easily convert your file offline. This freeware is annoying sometimes while converting the files.
Steps to transform your VCE file to pdf are first, start VCE designer and import your file in it. Go to the File menu and choose Print. Select 'DoPDF' as your printer and hit ok. This will transform your file in a fraction of a second.
Visit: DoPDF
CutePDF
CutePDF is like the counterpart of DoPDF but is more effective. This software is much more hassle-free than DoPDF. The steps of making your VCE format to pdf are the same as DoPDF. First, import your VCE file into the VCE Designer. Click Print and finally select CutePDF as the printer. Voila! You are done transforming your VCE file to pdf in the blink of an eye.
It has fantastic reviews, so you must definitely try this.
See Also: [Updated] 14 Best Free PDF Annotator Software for Windows
VCE2PDF
VCE2PDF is one of the finest vce to pdf converter tools present online. It comes with a price of less than $5, or you can choose the Question only Pdf option for less than $2.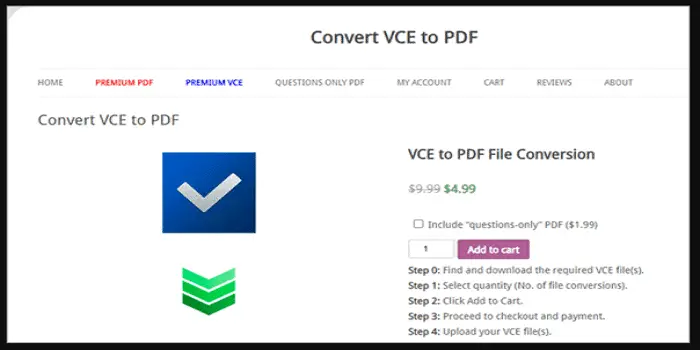 To metamorph your file, you must first login on this site. Then import your file and let this site do what its best at.
See Also: [Updated] 11 Best Free File Viewer Software for Windows
If you are looking for a solution on how to convert vce file to pdf then consider this last tool of our list. PDFTool is another veteran website that quickly transforms VCE files to Pdf format. This site is straightforward and changes your file in seconds. You can convert daily at most 100 MB. This user-friendly tool comes with very efficient customer support.
This is not a free website but promises to refund your money if the conversion fails. You can convert your VCE in Landscape, Regular or Text-only style using the features of this site.
Visit: VCE2PDF
See Also: PDF Unlocker Tools for Windows
FAQs
Are there apps that open VCE format for free?
To open your certificates in the VCE format for free, you could follow these few simple steps: Open your browser to the avanset site. Either log in to your account or sign up for the same if you do not have one. Now you can download the VCE Exam Stimulator installer from the website. Once, downloaded as a zip file on your device, unzip it. Then you must install the Exam Stimulator for VCE and then you will have to run it on your pc. Now, in the desktop app, enter your login details(email and password) of the avanset account You are all set up! All you need to do is click on the VCE file and avanset will open it. Then you can have access to all your certificates.
Is it possible to Use a VCE player for free?
Just like you do not need to pay for opening formats like PDF, Word Docs, powerpoints or excel sheets, even the VCE format can be opened for free only. Sure, it needs a little more work than just clicking on the while as it is with others, but regardless you can still do that for free.
Which is the latest possible version of the VCE players and how is it better than the previous ones?
The latest version of the VCE player that is on the market is version 2.4. It was launched around July, 21. You can run it on any OS that has its own version of 10.10 or higher. You can run it the app in the demo version if you wish for the first few times to check it out, and then later upgrade to a full version.
What do you mean by a VCE Stimulator?
VCE Stimulator is a novel idea required for preparation for various certificate examinations. It is the best-suited answer to what used to be the Visual CertExam Suite. Because that had a plethora of issues and wasn't very user friendly, VCE Stimulator is the modern-day solution to that. Here, the participants can sit for practice sets, even create and edit the papers according to what is best suited for them. The software is available in both Basic and Pro versions.
What is the best way to access VCE files on iPhones?
VCE Mobile is the one-stop solution to accessing x.vce files on your smartphone. This technology from the home company of avanset actually supports both Android and iPhone.So you do not have to worry in case you are using either. The app has now updated itself with new bug fixes and extensive features that allow an even smoother experience to opening and accessing VCE files on your phone. The new upgrade for iOS especially is a milestone because not only can you use it on your iPhone now but also on your iPad. It supports all previous versions of the iOS and the latest one as well.
Conclusion
The 'VCEconvert' has a very fast processing speed, and it takes less than 15 minutes to convert any file from VCE to PDF. Also, it supports most of the VCE files till version 2.4.2.
You can trust this software as it has risk free automatic process. The company refunds you the money in case a glitch occurs and the software has not created a PDF file from the VCE format. You can also get a comprehensive look at PDFBear Review and how it is a one-stop solution to your PDF problems.