Wingdings or wingdings are a series of fonts that are in the form of letters and symbols. They comprise various icons, stars, arrows, etc. The font that we use in all the versions of Microsoft Windows has a variety of characters. Thus, you must know about the finest Wingding Translator out there.
Earlier, pictures and icons were very popular as fonts. People found them more convenient to use than a collection of small images. Now the digital world uses new fonts. There is a limitation to them as to the number of characters that they could include.
Slowly and steadily, the access to the dingbats curbed as people adapted themselves to the new digital fonts.
Wingding is a great invention, keeping in mind the problem of limited characters in digital fonts. We now generate entirely new and different fonts with the perceived notion that they would have all the symbols that normally did not exist or fit in the fonts prevalent these days.
It would include the dingbats and, thus, would help you use them as and when you needed. You would only have to press the keys on your keyboard, and you would be seeing them on your computer screen. It is as simple as that, no strings attached.
Various wingding translator tools came into being to translate this font for the people to understand the meaning. The sole purpose was the convenience of the people and to make it easy for them to access these lost symbols that were of yore.
They were brought to light so that the people like you could taste some of the elements of the metal age and relish them as such things are becoming extinct and can only be found in museums. They have lost their value, and that is what the wingding translator tools strive to revive.
List of 6 Best Wingding Translator Tools
Some of the best wingdings translation tools are as follows:
Wingding Translator
Wingdings Translator helps you convert text to wingdings. You only have to copy-paste the text or file you want to translate into the dialog box on the site and leave the rest to the website.
Within seconds, you will get the translation in the dialog box beneath it. The translation takes place in English.
The best part about this tool is that it is easy to use and free, is that it can be used 24/7, anytime, anywhere. It would help if you had a stable Internet connection to use this translator.
Lingo Jam
Lingo Jam is a wingdings translator that converts text in English to wingdings and vice versa. There are two boxes present on the site, one on the left and one on the right. To generate wingdings text, you should enter or upload the text in the left dialog box, and you will get the result in the right one.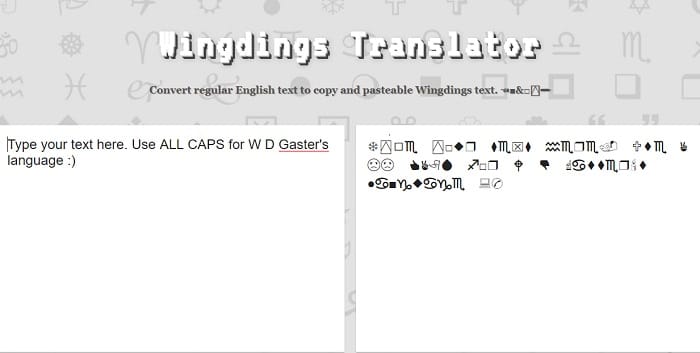 To receive English text, you need to upload your data in the right dialog box, and you will get the translation into English in the left one. It is a very useful tool and is used by many people.
A suggestion or feedback dialog box is available on the website, which shows how much the site values customer satisfaction.
It would help if you always filled in such suggestion boxes addressing any problems you are facing with the site or any additional element you want. The administration can look into it and provide you with better service.
Decode
Dcode serves as a wingdings translator tool that lets you know the meaning of the symbols used in the Wingdings font.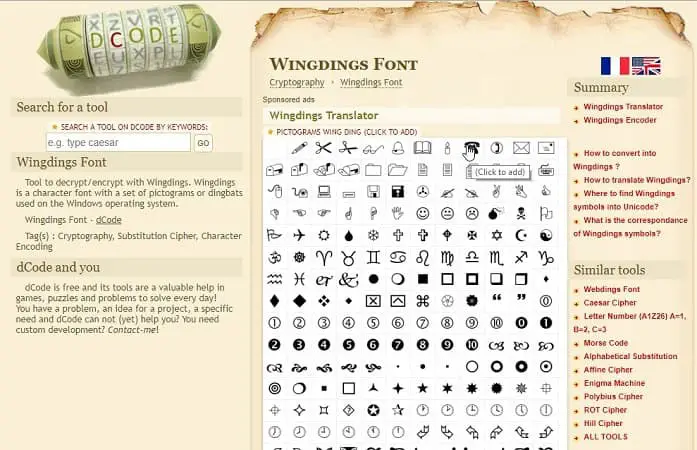 Dcode is a valuable help as it is free, and it helps in solving problems, games, and various puzzles that you come across. All you need to do is paste the text that you want to decode. It will be done automatically within seconds.
Grompe
It is another useful wingdings translator that you can use whenever you have to translate the wingding symbols into English text.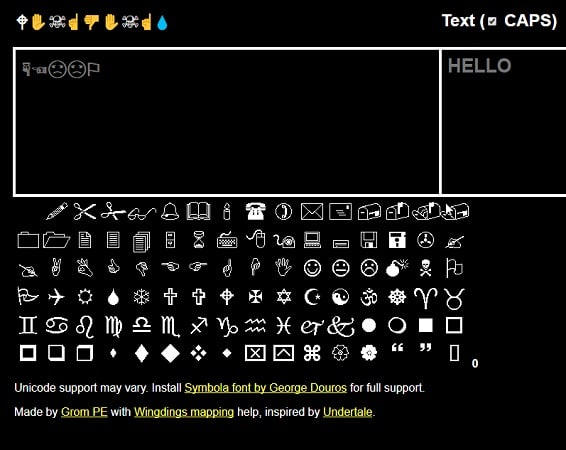 Various symbols are present on the site, and you can click on any of them and their translation into letters and numbers as shown in the corresponding dialog box. Grompe is very convenient to use and is a free tool. So, hurry up and use this wingding translator.
Fan translations
To translate or decode the English or plain text into wingdings another good option is this site, as it enables you to get the winding's font of the data you have entered.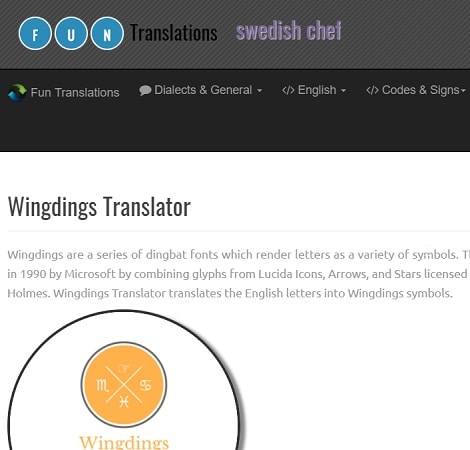 You can use it further as and when required. FunTranslations is a convenient tool and acts as an excellent wingding translator tool that you can use whenever you need a wingding translator.
Fonts
There are various fonts available on this site, and it translates text into all of the fonts available and not just wingding. Fonts is a multi-tasking website, and it provides numerous options when it comes to fonts and does not restrict itself to the conversion into only one font.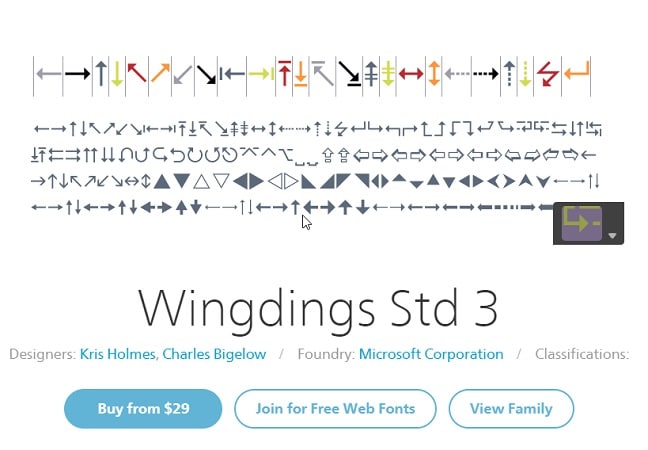 There are free web fonts available, as well as a paid version. You can subscribe to its newsletters for further updates about the site and various fonts. It even offers two options, desktop and web front, to give you a better experience. Easily convert wingdings to English right away.
Templatelab
In case you feel that the above premium tools may not be worth your time and dime, then Templatelab is a website where you get pretty much 45 free Wingding translator tables to view and download.
The website's name is template lab, and the scheme of the site is pretty straightforward. On this website, you get free wingding translator charts to download, but you also get instructions on how to implement them in web designing through icons wrapped in HTML or content generated as CSS files. You can get that undertake font or aster font that you always wanted.
You can click on any of the individual images to enlarge them, and for your reference, you can download them as a docx file. There are direct download links, and you can also view them in your native text editor/word processor as well.
In the last section of this website, there is also a dedicated paragraph. It will tell you about the various uses of using a wingdings chart. These wingding symbols are obviously for decorative purposes. Since you cannot decipher it indirectly into plain English language as it is.
Make sure you give it a message and check out the available tables there. You can also combine multiple characters from different tables and all, so go ahead. Go Nuts!
These are some of the most common wingding translator tools. You can freely use any of the tools mentioned above with ease. They are very convenient and provide you with excellent results.