Microsoft Paint is the software tool I have known since childhood. It is the only tool I am 100% comfortable with, and I'm sure I am not the only one who feels this way. I have used MS Paint many times more than any other photo editors, even though it is not meant for editing photos for your blog! Thus, you must know how to Combine Two Pictures.
Almost all of us have used MS Paint to draw some random crap and then giggled over it. I know I have! But like I said before, you can use it to edit photos too easily. You can make a micro-collage of screenshots to create a convenient copy chit for the exam (yup, do it!) or just join together a bunch of photos as a memories wall. So in this article, we will go over how you can do some cool things with MS Paint, like Combine Two Pictures.
Why Should You Consider Using Paint?
For starters, it is as comfortable as binge-watching your favorite shows all night long. One never realizes it until it's over! One fires up Paint on their PC, and that's it. You are greeted directly with the canvas where you can let your imagination fly. You may not know this, but many content creators use Paint to get things done quickly and easily.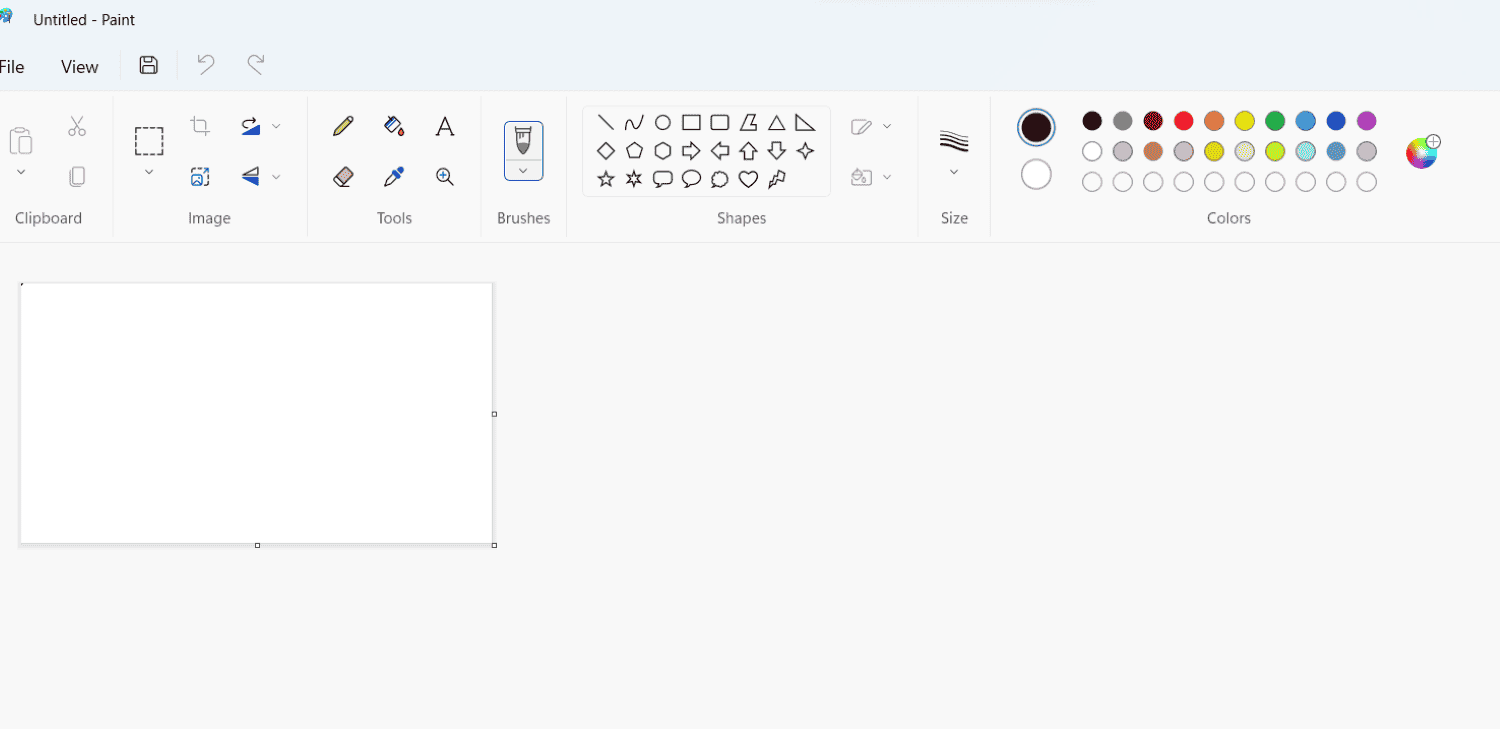 One of my all-time favorite YouTubers,, GradeAunderA,, uses only MS Paint in all his animated videos. Sure, they won't win any graphics awards anytime soon, but that's not the point. He has over 3.2 million subscribers and still uses Paint for his video animations.
Do you see? MS paint is not just about being only used for kids' drawings; it is about the convenience and the overall ease of use. So if you think it's childish to rely on MS Paint to do your "professional" editing for a WhatsApp profile pic, it's not. It would be best if you considered using it for making some colleges and other essential things such as combining two pictures, and I can almost guarantee you won't have to look elsewhere. Also, read this article if you want to combine photos in android.
How To Combine Two Pictures In The Paint?
Alright then! Here are the simple steps: you can combine two pictures into the same frame and save it as a single image file.
Open MS Paint from the start menu or search for it from the Windows search bar. Just type Paint, and it should pop up among the top results.
2. In the paint window, click on File->Open. Select one of the images that you want to Combine Two Pictures. Alternatively, you can right-click on the image you want and select open with-> Paint.
3. if the canvas (the white background) is not big enough, take your mouse pointer to the bottom right corner, where you see small white squares. Click and drag the court to increase the canvas size and allow the following photo to enter.
4. paste the second image by selecting the paste option in the Home tab. On clicking Paste from the opportunity, you will get a pop-up window from which you can choose the second image you use to Combine Two Pictures.
5. Alternatively, you can drag and drop the second image to Combine Two Pictures to the canvas from its location or copy it from there using Ctrl+C and press Ctrl+V on the canvas. Whichever makes you look more relaxed in front of your family, follow it.
6. You can now begin to adjust the borders of your two images on the canvas. Click on each one, and the same tiny white squares appear on 8 points of the image's border. Click on any one side and drag it to resize it as you wish.
Merge And Paste Photos From Your Phone On MS Paint
For merging photos on a mobile phone and then pasting them in MS Paint, do the following steps:-
Open your phone's gallery and choose any pictures of your choice.
Go to the create option and then click the collage option.
In case your phone has the option to directly make a collage just by choosing photos, then opt for that.
Once the collage is ready, adjust it as per your choice and do the necessary editing as you like.
Once the collage of your choice is ready, transfer the photo to your laptop or PC.
To transfer the same image to your desktop, do it through Bluetooth or via any other system to the desktop.
Then copy it and paste it into MS Paint, and it is done.
Also, note that this way of combining photos has a significant drawback; that is, you have to keep the picture as it is. You cannot edit the merging further in MS Paint.
Alternative Methods 
As we have mentioned above, there are few alternative methods other than doing it. Read more to find out.
Method 1
If you want to crop or take cutouts from the second image and add it to the canvas, you can do so by selecting the whole picture and then accessing the drop-down menu under the Select tab. You can crop and rotate it using the options next to the select account.
An alternative to the above set,p if you find it confusing to use the (extremely straightforward) crop and rotate options, you can do everything manually by just using the select option.
To crop the image, select the part you want to cut and drag it aside using your mouse. It will come out as a separate part of the picture from which it was selected.
Now you can choose the remaining part of the picture and press the delete button from your keyboard.
To rotate the image, click on it so that you see a border around it again. Now right-click on it, and you will see the rotate option. You can rotate it at various degrees, and you can also flip the image vertically or horizontally.
6. The flip option is helpful, I imagine, if the person you cropped out of is leaning the wrong way and you want them to count towards the first picture, which probably is you. (I won't say anything more than that!) I hope now you're able to Combine Two Pictures easily.
Method 2
One can also edit or combine two pictures on mobile. Also then, they can paste the image wherever needed. Editing apps can be a great replacement, too; these editing tools are easy to use and very convenient. You can use any editing app, paid or unpaid both should have these features. 
I am combining photos in MS Paint versus in mobile phones.
MS Paint Advantages:-
Merging or editing is free here
You can edit the pictures as many times as you want.
You can merge more than two pictures in MS Paint.
Disadvantages
Editing or merging pictures is a complex process as it includes a lot of copy and paste.
Merging may not be desirable 
Mobile Phones Advantages:-
Merging and editing are free here 
You can edit multiple times
You can edit up to 10 pictures of your choice together.
Disadvantages
As mobile screens are a lot smaller as compared to laptop screens, therefore the visibility of all ten images together is not possible.
Price Of Photo Editing Apps
Adobe Photoshop- 20.99 US dollars per month.
Lightroom- 19.99 Us dollars per month.
Acrobat Pro –19.99 US dollars per month.
Creative Cloud all apps- 4.99 US dollars per month.
See also: – How to Make Background Transparent in Paint.NET – TechWhoop
But Beware!
All is not well with the Paint, and it has some issues dealing with high-resolution images. One of the things I found recently was that if you resize an image from its original larger size down to a smaller size, it is okay. But it does not restore complete clarity when you repeatedly stretch it back to its earlier size.
I imagine it is because of the way MS Paint treats these files. When you resize a high-resolution pic to a smaller size. The resolution obviously changes, and so does the effective PPI of the image.
So, to avoid creating a huge file upon saving, MS Paint recalculates the image pixel density to match its new size, which you set yourself. So necessarily, it is now a lower-resolution version of itself. Obviously, if you try to stretch a lower-resolution image, it will not have enough details to still be sharp and crispy upon zooming. I am not sure about this, but this is my theory, anyway.
FAQs
Is combining two pictures in Paint possible?
Yes, combining two pictures in Paint is possible, there are two options one can combine two photos together, one is through collage, where you choose the option collage and click on any random pictures you want to merge together will be merged automatically, other is using any photo editing app available in the windows store.
How to add images to the paint?
One can add images by opening the paint app then you can minimize the paint screen, copy an image then paste it on the paint screen. Viola! There you have your image added to the paint screen.
How do you merge images into one?
For best results, one can use paid apps to merge 2 photos into one, use apps like Canva, or one can use Adobe Photoshop, these apps are hassle-free. Just clicking the images you want to merge the apps will do the rest.
How does one open two pictures in paint?
Open the paint app then go to the select menu, then select all images you want to select by clicking to select all options with the help of the mouse, then copy those images by clicking the ctrl and c button together and then paste it by ctrl and v thus you can open two pictures in paint.
Final Words
That said, MS Paint is still an excellent choice for merging decently sized photos like smartphone camera shots, which are only a couple of megabytes at most. Using the above steps, you can use it as a photo joiner to Combine Two Pictures or even more than two on a single canvas.
Just be careful when you shrink them down because they may not be the same quality if you decide to zoom the same copy back up. I suggest deleting that image and pasting another copy from the source again. Assuming that you did not cut it from there. Enjoy Combine Two Pictures on MS Paint. You can always use other photo combiner apps for easier use. Cheers.