Using a fake phone number is often safer than disclosing your real one. They may be used in social media, classifieds, shopping sites, job portals, dating sites, etc. Thus, you must know about the best Fake Phone Number Generator tools in 2023. All these websites require a phone number, but it is not always safe to provide it due to many issues, such as spam, promotional calls, unknown callers, or even misuse of your mobile Number.
There are a few ways to use a fake phone number for calls and texts, like a virtual phone number or a temporary burner phone. Some messaging apps also let you operate a username instead of a phone number. Always prioritize your privacy and safety.
Using a fake number can help protect the safety of your phone number. However, it's essential only to use false numbers for good or security purposes. Using them for illegal activities can result in legal consequences, so please refrain from using them for any unlawful purposes, even unintentionally. Similarly, you can generate fake receipts from Walmart. You can also learn how to quickly get personal information from a phone number by clicking here.
See Also: How To Pull A Fake OTP Sender Prank?
List of Best Fake Phone Number Generators
Many websites provide the function of a fake phone number generator for any use. We introduce you to the ten best phoney phone number generator tools here. These include online websites as well as mobile applications.
As we all mostly use smartphones today, it is the best medium for all purposes, including creating a fake phone number. You can even use burner apps to reroute calls from your fake Number or mobile phone. Here is our list:
SMS-Man
SMS-Man is a service for buying and renting fake phone numbers cheaply. There are phone numbers in more than 180 countries and many benefits. All you need to do is register on our site and charge your balance with any suitable payment method. Detailed instructions on writing services and exciting news can be found on the blog.
You can use a website or Telegram bot to buy temporary phone numbers. Use their own Windows app to purchase numbers in bulk. Use their API to write your program to buy disposable phone numbers.
Visit: SMS-Man
Fake Number
This is a fake phone number generator website that helps you to create random US phone numbers.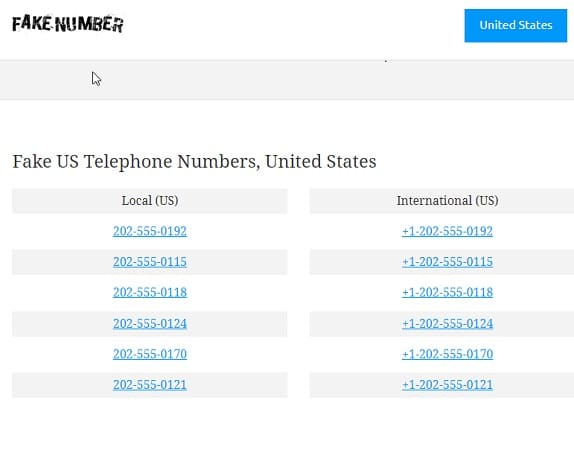 Fake Number enNumberthat all the made numbers are not in use and, therefore, safe to be used by us.
Visit: Fake Number
See Also: 9 Best Fake Social Security Number Generator Tools
Fake Phone Number
Using this website, you can create fake phone numbers based on any state or city. You can enter which state or city you want to select and will be provided phone numbers based on that.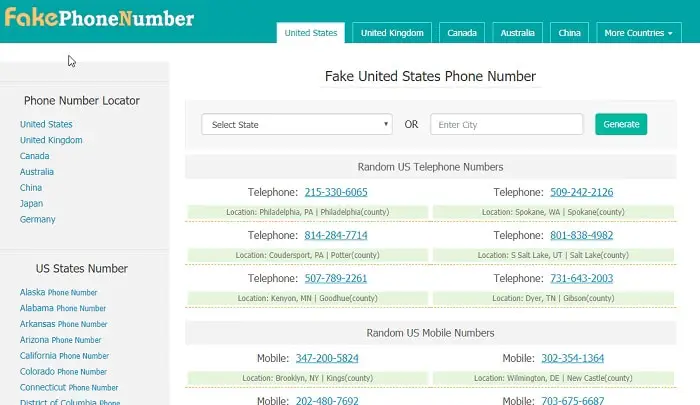 All the provided phone numbers conform to US phone number formats. The fake Phone Number website also ensures all the numbers are simulated and nonexistent.
Visit: Fake Phone Number
Get New Identity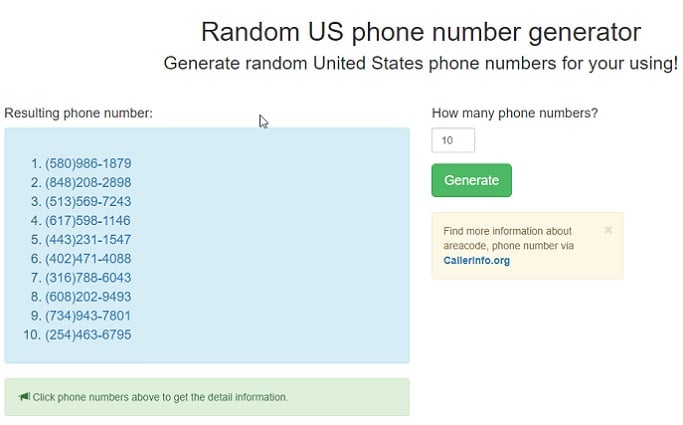 Get New Identity provides ten fake phone numbers for our use. The supplied phone numbers are affected, but they can be verified. And there is a minimal chance that sometimes the provided phone number is actually by accident.
Visit: Get New Identity
Get Fake Data
This is another Indian fake phone number generator tool that can list counterfeit Indian Phone numbers.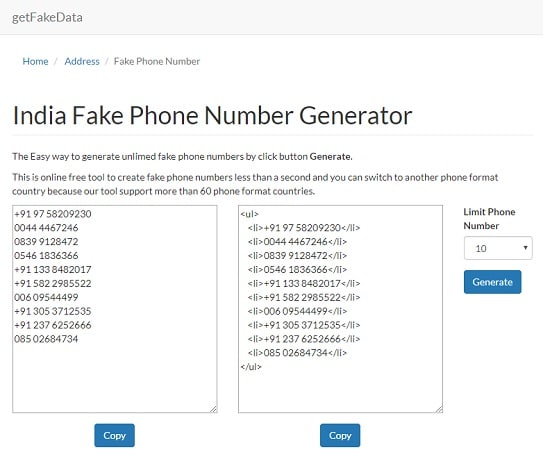 Get Fake Data also has the option to create phone numbers in formats of more than 60 countries.
Country Code
This is a website that creates virtual phone numbers based on your country. You can select the country, and a fake phone number will be provided based on it.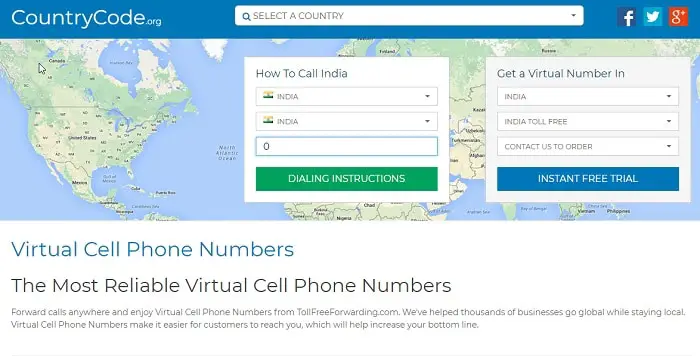 You can use the Country Code website to create Toll-Free numbers for your business. With the offering of a 3-minute activation of fake phone numbers, this artificial phone number generator tool can help build your business.
Visit: Country Code
Burner App
This is a famous and professional fake number generator smartphone application. The Burner is a mobile app that provides you with a phoney number you can give anyone. All calls to that phone number were routed to your Number.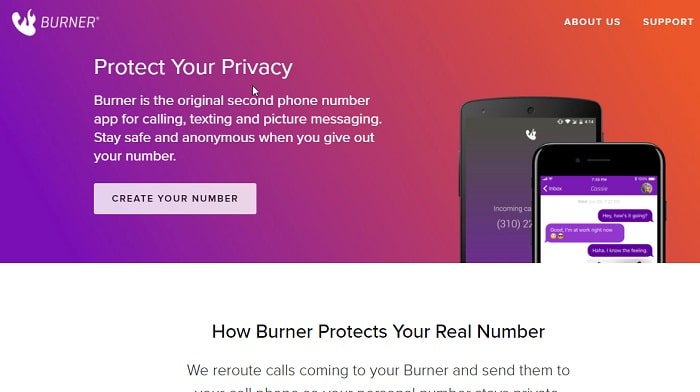 TNumbereps your number others. Burner App can be useful for dating, business, online purchasing, promotions, etc. You have only to provide your Number toNumberew people you trust. For everyone else, you can use the burner number.
Spikko 
Spikko is a fake virtual number generator application available in the Play Store. This app provides you with a phoney number. The Number was collected from a list of more than 50 countries.
You can get one or even more fake phone numbers using this app. This app creates numbers that can be called, and the call will reach your smartphone with the help of this app.
Visit: Spikko
Dollar Digits
You can create unlimited fake phone numbers on your smartphone using Dollar Digits. The phone numbers can be selected based on area codes.
You can choose an area code, and a fake phone number will be provided based on it. The phone number call service is $1.99 per month.
Hushed
Hushed is another fake number generator or burner application for your smartphone. Available on both the Play Store as well as Apple Store.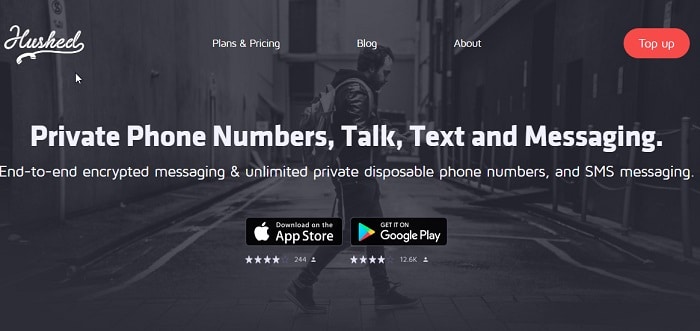 This application has mobile numbers from more than 40 countries. This app uses WiFi or mobile data connectivity to make a call rather than using your carrier. You can even set it up so that the calls to your fake Number are forwarded to your Number.
VNumberHushed
Line2
This fake phone number generator application is more focused on business purposes. Like the other applications we mentioned here, Line2 also produces a second number to give others to contact you.
You can even keep the fake line 2 number permanently. Line 2 can also be used to create Toll-Free numbers for your business. It is also available as a desktop app for Windows and Mac.
Visit: Line2
Randomlists
Randomlists is an online fake no. Generator, which not only generates a false negative. But also a name, email address, area code, and more. You can use this US to get a no. That is not yours, so you zero. Remains safe.
Random lists can be a great way to get a fake identity quickly. You can use it according to your requirements. All these numbers are entirely false and can be used to prank someone. You can use this for registering into online portals. It can generate up to 1000 numbers in a few seconds.
Visit: Randomlists
Cover Me
Cover Me is an application that can be downloaded on both IOS and Android devices. It has end-to-end encryption, which helps your data to be safe.
Cover Me has six unique features: Private Texting, Private Calling, Private Messaging, Private Vault, and Disguise and Hide. Private texting has end-to-end encryption so that all the data you send and receive is secure from the prying eyes of hackers.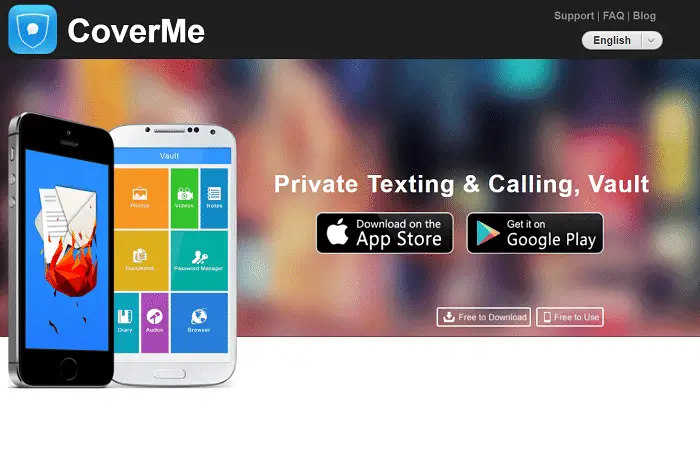 Private calling has military-grade encryption; no one can listen to your conversation. It has a self-destruct, so you can set a timer when all your messages get automatically erased from your phone.
A private vault stores your images and other data from hackers and anyone who doesn't have the password for your locker. Disguise and Hide enable you to mask the Cover Me app as a standard news reading app so that no one would ever know such an app exists on your phone.
Visit: Cover Me 
See Also: 14 Best Free & Paid Secure Password Generator Tools
Phone Number Generator
The Phone Number Generator is a platform where you can generate many fake numbers to test your software. The creators intentionally tailored this to meet the requirements of software developers. You can use these numbers to test your software; this platform generates the no. Quickly and easily.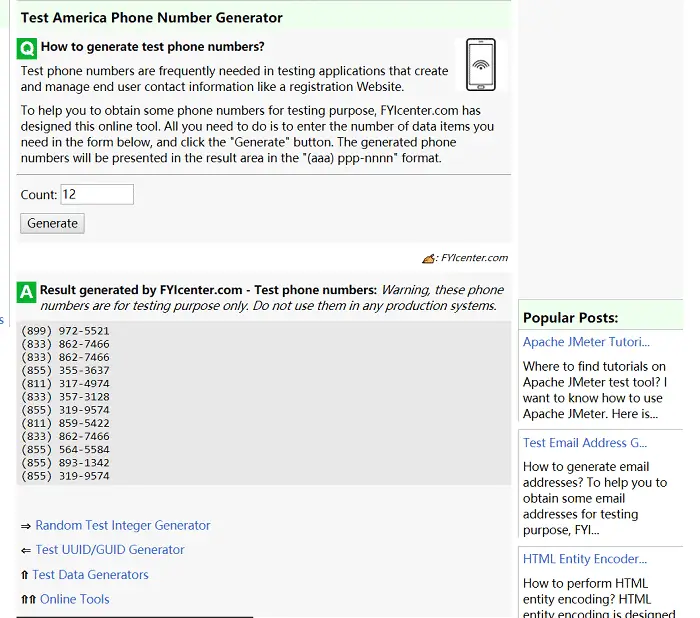 These numbers are only for testing; you should not use them for anything else. It has an easy interface, where you must enter the required numbers and click generate; you have your results.
Visit: Phone Number Generator
Fake Person Generator
Fake Person Generator is a platform where you can generate loads of fake numbers within seconds. Its user-friendly interface allows you to create and customize a no.
If you're looking for a fake number in a particular area, you can create one using this platform. The Fake Person Generator not only gives you a number but also a street code, address, and even the longitude and latitude of the Number.
VNumberFake Person Generator
FAQ'S
How to find a fake number?
Finding a fake number often involves unethical activities and can lead to privacy and legal issues. It's crucial to utilize social media networks carefully and respect others' privacy. Instead, focus on genuine and respectful interactions online.
Can fake numbers be traced?
Fake numbers can be challenging to trace, as they are often used to conceal identities. However, law enforcement and authorities can investigate cases involving harassment, fraud, or illegal activities. Using fake numbers for malicious intent is against ethical and legal guidelines. Always use communication methods responsibly and respect others' privacy.
Can someone use a fake WhatsApp number?
Yes, individuals can use fake WhatsApp numbers to maintain privacy or for other reasons. However, misusing these numbers for illegal activities or harassment violates WhatsApp's terms of service. Use these numbers responsibly and ensure they do not serve harmful purposes while respecting the platform's guidelines and the rights of others.
Can someone fake my mobile number?
Yes, it's possible for someone to spoof or fake your mobile number using certain tools or services. This may result in deceitful conduct, con games, and privacy violations. It's crucial to safeguard your personal information, use strong security measures, and be cautious when sharing sensitive data to prevent unauthorized use of your number.
Conclusion
These websites and fake number generator tools ensure you get safe and nonexistent phone numbers usable for your business or personal purposes.
Using a fake number is safe because exposing your Number causes you to lose the privacy and safety of your Number. YNumberld cannot know what kind of person you are talking to on the other side of the phone.
It may be a client, a potential employer, an employee, a girl or boy you want to date, or you are receiving an OTP code from a website, etc.
Whoever it may be, you never know their intentions. So always keep the Number number of people you trust in your life. And for the rest, try out these fake number generators.
See Also: 15 Best Reverse Phone Lookup Services [Updated for 2023]