A fake phone number will be of use in multiple situations. Mainly because it is not always safe to disclose your number. They may come to be of use in social media, classifieds, shopping sites, job portals, dating sites, etc. Thus, you must know about the best Fake Phone Number Generator tools of 2021.
All these websites require a phone number, but it is not always safe to provide your personal number because of many issues such as spam, promotional calls, unknown callers, or even misuse of your mobile number.
So using a fake number will reduce the risk of your phone number's safety being compromised. But one thing you have to keep in mind is to use false numbers only for good or safety purposes. Using them for the wrong purpose can get you to be legally punished.
So do not use them, even unknowingly for illegal purposes. Similarly, you can generate fake receipts from Walmart. You can also learn about how to get personal information from a phone number easily by clicking here.
List of Best Fake Phone Number Generator
Many websites provide the function of a fake phone number generator for any use. Here we introduce you to the 10 best fake phone number generator tools. These include online websites as well as mobile applications.
As we all mostly use smartphones today, it is the best medium for all purposes including creating a fake phone number. You can even use apps called burner apps to reroute calls coming to your fake number into your mobile phone. Here is our list:
SMS-Man
SMS-Man is a service for buying and renting fake phone numbers at a low price. There are phone numbers of more than 180 countries and a huge number of services. All you need to do is register on our site and charge your balance with any suitable payment method. Detailed instructions on registering services and interesting news can be found on the blog.
You can use a website or Telegram bot to buy temporary phone numbers. You can also use their own Windows app to purchase numbers in bulk. If you want to write your own program to buy disposable phone numbers you can use their API.
Visit: SMS-Man
Fake Number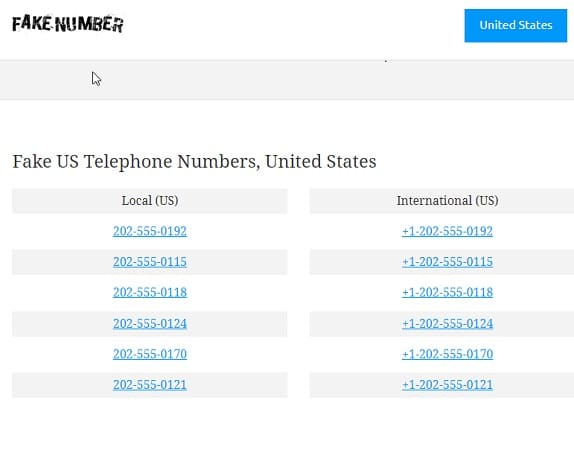 This is a fake phone number generator website that helps you to create random US phone numbers. Fake Number makes sure that all the created numbers are not in use and therefore safe to be used by us.
Visit: Fake Number
See Also: 9 Best Fake Social Security Number Generator Tools
Fake Phone Number
Using this website you can create fake phone numbers based on any state or city. You have the option to enter which state or city you want to select and you will be provided phone numbers based on that.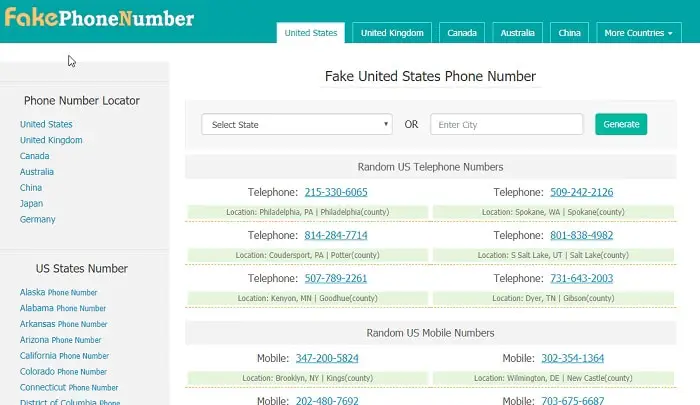 All the provided phone numbers conform to US phone number formats. The fake Phone Number website also makes sure that all the given numbers are fake and non-existent.
Visit: Fake Phone Number
Get New Identity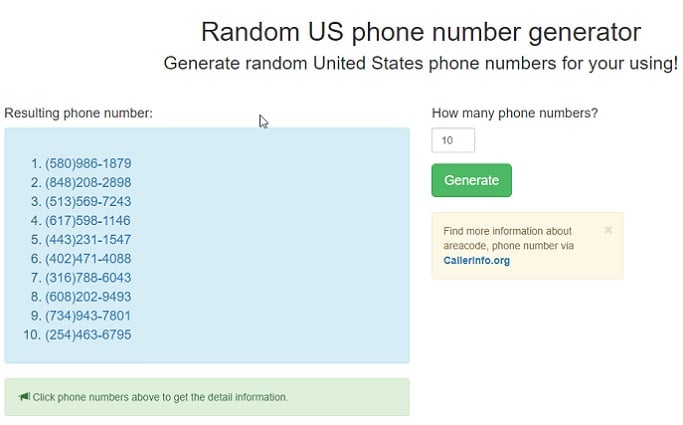 Get New Identity provides ten fake phone numbers for our use. The provided phone numbers are fake, but they can be verified. And there is a minimal chance that sometimes the provided phone number is real by accident.
Visit: Get New Identity
Get Fake Data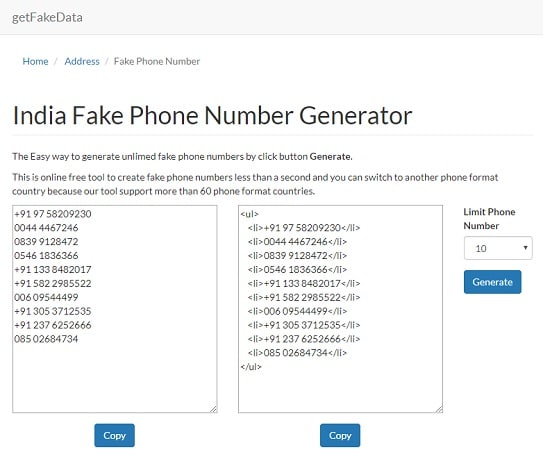 This is another Indian fake phone number generator tool that can provide a list of fake Indian Phone numbers. Get Fake Data also has the option to create phone numbers in formats of more than 60 countries.
Country Code (Fake Phone Number Generator)
This is a website that creates virtual phone numbers based on your country. You have the option to select the country, and a fake phone number would be provided based on it.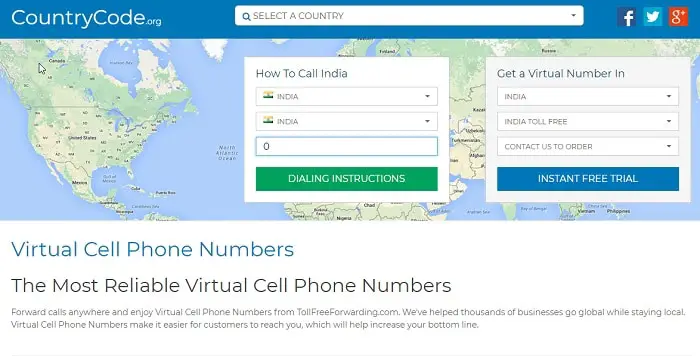 You can use the Country Code website to create Toll-Free numbers for your business. And with the offering of 3-minute activation of fake phone numbers, this is a fake phone number generator tool that can surely help to build your business.
Visit: Country Code
Burner App
This is one of the most famous and professional fake number generator smartphone applications. The burner is a mobile app that provides you with a fake number that you can give to anyone. All the calls coming to that fake number will be rerouted to your personal number.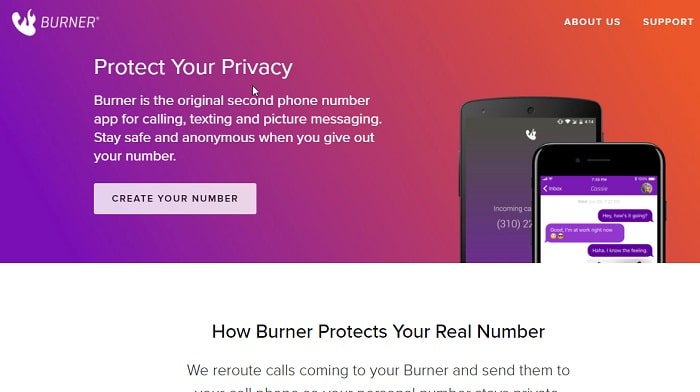 This keeps your personal number safe from others. Burner App can be useful for dating, business, online purchasing, promotions, etc. You have to only provide your number to the few people you trust. For everyone else, you can use the burner number.
Spikko (Fake Phone Number Generator)
Spikko is a fake virtual number generator application available in the play store. This app provides you with a fake number. The number can be selected from a list of more than 50 countries.
You can get one or even more fake phone numbers using this app. This app creates numbers that can actually be called and the call would reach to your smartphone with the help of this app.
Visit: Spikko
Dollar Digits
Using Dollar Digits, you can create unlimited fake phone numbers on your smartphone. The phone numbers can be selected based on area codes.
You can choose an area code, and a fake phone number would be provided based on it. The fake number call service is $1.99 per month.
Hushed (Fake Phone Number Generator)
Hushed is another fake number generator or burner application for your smartphone. Available on both play store as well as apple store.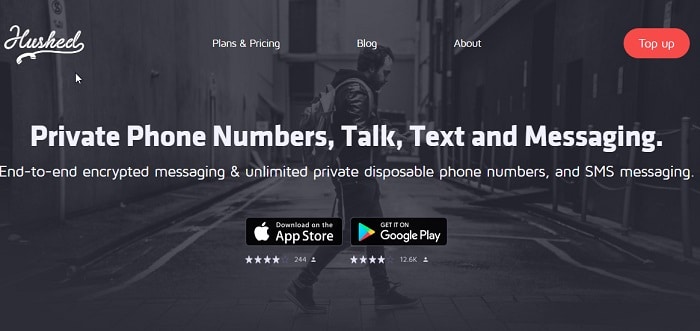 This application has mobile numbers from more than 40 countries. This app uses WiFi or mobile data connectivity to make a call rather than using your carrier. You can even set it up in such a way that the calls coming to your fake number would be forwarded to your personal number.
Visit: Hushed
Line2
This is a fake phone number generator application that is more focused on business purposes similar to the other applications we mentioned here, Line2 also produces a second number that you can give to others to contact you.
You can even keep the fake line 2 number permanently. Line 2 can also be in use to create Toll-Free numbers for your business. It is also available as a desktop app for Windows and Mac.
Visit: Line2
Randomlists
Randomlists is an online fake no. generator, which not only generates a false no. but also a name, email address, area code, and much more. You can use this US to get a no. that is not yours so that your no. remains safe.
Randomlists can be a great way to get a fake identity quickly. You can use it according to your requirements. All these numbers are entirely false and can be used to prank someone. You can use this for registering into online portals. It can generate up to 1000 numbers in a few seconds.
Visit: Randomlists
Cover Me (Fake Phone Number Generator)
Cover me is an application that can be downloaded on both IOS and Android devices. It has an end to end encryption, which helps your data to be safe.
Cover me has six unique features, Private Texting, Private Calling, Private Messaging, Private Vault, and Disguise and Hide. Private texting has an end to end encryption so that all the data that has been sent and received by you would be secure from the prying eyes of hackers.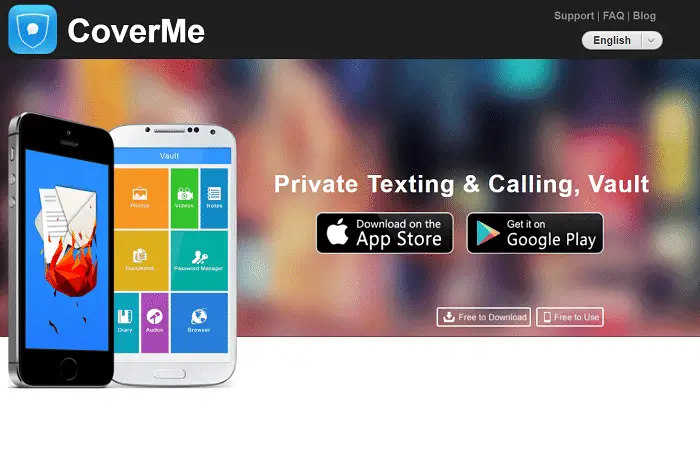 Private calling has military-grade encryption; no one can listen to your conversation. Private messaging has a self-destruct so that you can set a timer when all your messages can get automatically erased from your phone.
A private vault stores your images and other data from not only the hackers but also from anyone who doesn't have the password for your vault. Disguise and hide enable you to mask the cover me app as a standard news reading app so that no one would ever know such an app exists on your phone.
Visit: Cover Me 
See Also: 14 Best Free & Paid Secure Password Generator Tools
Phone Number Generator
The Phone Number Generator is a platform where you can generate a bunch of fake numbers to test your software. It was explicitly built with software developers in mind. You can use these numbers to test out your software, and this platform generates the no. quickly and easily.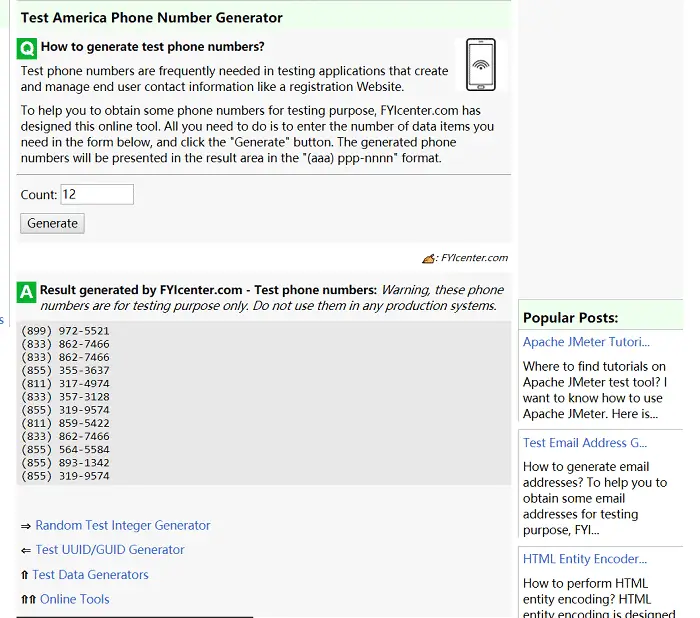 These numbers are only for testing purposes and you should not use it for anything else. It has an easy interface, where you need to enter the number of required numbers and click generate, and voila, you have your results.
Visit: Phone Number Generator
Fake Person Generator
Fake Person Generator is a platform where you can generate loads of fake numbers within seconds. Its user-friendly interface allows you to create a no, and even customize it.
If you're looking for a fake number in a particular area, you can create one using this platform. The Fake Person Generator not only gives you a number but also a street code, address, and even the longitude and latitude of the number.
Visit: Fake Person Generator
See also: 10 Best Fake GPS Location Spoofer Apps
Final Words (Fake Phone Number Generator)
These websites and fake number generator tools make sure that you get safe and non-existent phone numbers that are usable for your business or personal purposes.
Using a fake number is safe because exposing your number can cause you to lose the privacy and safety of your number. You would not be able to know what kind of a person you are talking to on the other side of the phone.
It may be a client, a potential employer, an employee, a girl or boy you want to date, or you are receiving an OTP code from a website, etc.
Whoever it may be, you never know their intentions. So always keep your personal number for a few people who you trust in your life. And for the rest, try out these fake number generators.
See Also: 15 Best Reverse Phone Lookup Services [Updated for 2022]