Bored now? Looking for entertainment sites over the internet? Not able to find out the right one? Here is your destination where you can find out many interesting sites. The Internet is a plethora of things. Nowadays people are also saying Internet Of Things. This means that you can get anything from any corner of the globe on the internet. You can get various entertainment sites and also watch many videos, movies and all stuff related to education entertainment and also technology on the internet.
There are numerous sites that you can surf while you are bored and be entertained and also feel refreshed. Get some time for entertainment out of your busy schedule and express your emotions after surfing through these sites. You can also gain knowledge by some of the sites and also share the knowledge you have by answering to some easy questions.
There are many questions and answer sites that help you gain and share knowledge. You can ask a question and also answer a question in your way. One of such site is QUORA.
It allows you to ask and answer questions. It also has some interesting facts and some life hacks that would be very useful for you. You can apply them in your personal life and get benefited.
Bored by scrolling feed on Facebook, sending messages to friends on Whatsapp and fed up of all boring stuff. Fed up of scrolling and liking photos on Instagram. Now it's time to stop all that boring stuff and get into some entertaining and hilarious comedy and also some good stuff so that you don't get bored.
Best Interesting Sites on the Internet
TED
This site has gained very much popularity from every corner of the world and is rocking with the interesting stuff in it. It has motivational videos as well as educational videos which will be very much helpful to build your career, and also you gain more and more knowledge.
Ted also has made a part of it named as TEDxTALKS in which the people who have achieved success in small time talk about their success and also the challenges they faced in their life during the struggle time.
It also has been organizing many events, and the videos are also made available to benefit its users. This was a short description about TED. Hope you liked it.
Hacker Typer
The name itself tells that Hacker Typer is a hacking website. But it is not for hackers as it just provides the coding name for any word you give in it. I mean that you can just type a random word in the address bar and it gives you the coding form of the word.
Isn't it interesting? This kills your boring time and also you can enjoy doing this stuff.
This is Why I'm Broke
This site brings you with some interesting stuff that you didn't notice till now. You couldn't have ever imagined that even this kind of stuff would have existed to date. There are many unknown facts and things that you would like to explore and know.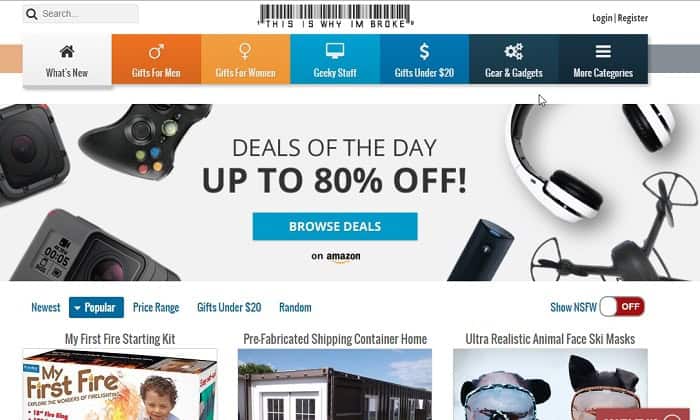 In this site, you may see an iPhone turning into a bottle opener or a sandal that is like a keyboard and also some boats from World War 2. These are some examples of the things you might get a chance to explore once you visit the site.
Life Hacker
Life Hacker brings some interesting life hacks. These life hacks are very simple and one-minute hacks. These hacks are interesting and also worth learning.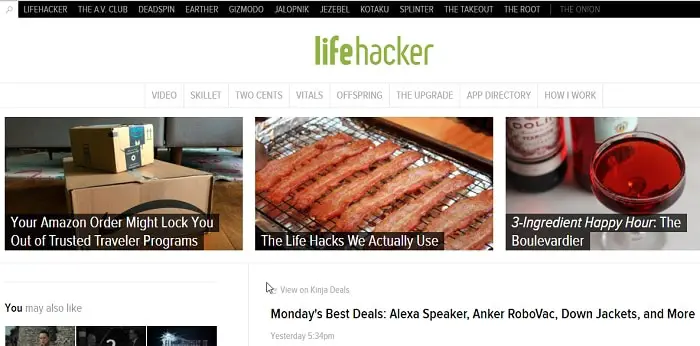 You can execute them in your daily life and get great results as well. These life hacks are based on in life experiences by the users, and they try to give solution for the small interesting problems you face in your daily life.
Brain Pickings
Brain Pickings is a blog written by Maria Popova who gives some informational and educational blogs and shares the knowledge with people who have subscribed to her blog.
The time when you feel boredom doesn't tell you that you should only watch some entertaining videos you can also expand your brain and also your knowledge by reading some blogs about information, technology and other happening's and also watching some technical or educational videos that help you grow in the day to day life.
9GAG
This site may be known by all of us mostly, but it's time to discuss it. It is such a humorous website with great humorous content, and you would just roll on the floor laughing by watching the videos and the images on the site.
It may also contain some good stuff but 90% of the videos and images and funny and it would allow you to pass your time in the best way. This is one of the world's best funny site and is loved across people across the world.
Mental Floss
Mental Floss tells you about the secrets about the happenings in each corner of the world. You can check this site to know about every small information, and you will get it.
You can also get information about science, history, arts, culture, information technology, biology and many other streams. The streams that you have an interest in. At the end, the website is one of the interesting sites out there.
A Good Movie to Watch
A Good Movie to Watch is one of the most Interesting Sites to watch a movie online. It gets you a movie based on your mood and also based on your taste in movies.
You can select whether you want to watch a latest movie or old movie or just a random one. It also tells you the site on which you can watch the movie. It is also an interesting site to check out when bored.
These were some interesting sites that you may look out for when you feel boredom. Not only these there are 100's of sites that you might look out for when you feel boredom and get some entertainment.
In my list, I have only included those who are most useful and also they are very useful in entertaining and also in getting information.