If you have ever used a Kindle, or have been using one for a while, there is a high possibility that you might have encountered the problem where the device does not turn on at all or gets locked up while using it.
Although its mostly an error in the boot-loop of the device or something stuck in its code during the restarting process, figuring out how to get it back up and running can prove to be a daunting task.
It is a marvelous gadget when it works, but when it keeps getting locked up, it starts to get frustrating. Amazon and other websites have appropriate antivirus programs checking the various books and apps that get filtered through their servers.
Despite all of this, I have concluded that some of the free content with advertisements or trial programs may be the culprit because whenever I downloaded one of these programs, the Kindle Fire seems to just lock up on me at a given point in its near future.
Which brings us to the conclusion that some of the freebies may not be void of malware, viruses, etc. that can be the cause of these lockups preventing your device from being used correctly.
Luckily enough, in most of the cases it can be quickly resolved, but for those experiencing the problem right now; here is your guide to some tips and methods you can put to use to get back on track with your favorite eBook!
Note: – Some of these methods/tricks may involve wiping your Kindle's memory clean, so make sure that your problem isn't due to physical damage caused by yourself or due to tweaking the software/settings as this directly voids any warranty of your device.
Here are some of the most common solutions known to fix Kindle Won't Turn on.
How to Solve Kindle Won't Turn On Issue
Charge the Battery or Replace Faulty Battery
If the reason for your Kindle won't turn on on is the battery (in case you didn't consider this), take a sigh of relief. The device will naturally not turn-on unless you recharge it.
If the green light is on or the battery icon shows it as being charged, it is unlikely that the battery is the problem for your Kindle locking up.
If this turns on but locks up, it should still show the clock running. When the battery drains down, it will usually cause a lock-up, so try to use the Kindle only for a short period when away from a power source.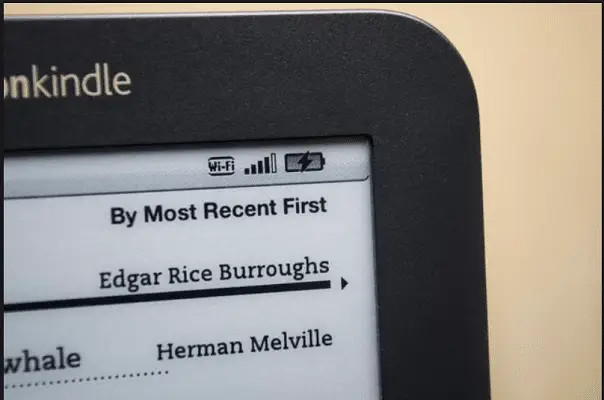 Try plugging the device in and wait for at least 30-45 minutes and then try to turn it on once again. It may occur that the device still doesn't turn on, and in the event of this happening you have to consider one of the two possibilities.
One is that the cable you received along with your Kindle is broken or damaged, or the other being that your battery has reached its limit and can no longer sustain any charge.
See also: – 10 Ways to Fix PS4 Won't Turn On Error
See also: – [Solved] This Site Can't be Reached in Google Chrome – TechWhoop
If you own an Android device, you can try using the USB cable for the same to try and charge your Kindle device. Technically any Micro USB cable should work along with your Kindle. Before jumping to the next conclusion of a 'faulty' battery (very likely in the case of an old device) read the other sections below and see if they work for you. This should fix Kindle won't turn on error.
Kindle stuck on boot-loop, screen of death/freeze error
If you are sure that the device is not broken due to physical damage, this is your next best bet. It doesn't mean that your device necessarily has a permanent problem as such.
A bug in its code or something it caught from one of those free apps or games you downloaded may be causing the device to just hang during startup or get locked up very often (forever, if you happen to be reading this post.)
Any unknown errors related to software are corrected if you just factory reset the Kindle device but before you come down to this, try to restart your Kindle.
You can do this by holding down the Power button for 7-10 seconds until the Power dialog box appears, and then press on Restart.
If the Power dialog box doesn't appear, then press and hold the Power Button for 30-40 seconds until your device turns on again.
If the soft reset didn't work for you, and the device remains locked up, you can try rebooting the Kindle into its factory settings using the following steps:
Quick Settings>>More>>Device>>Reset to Factory Defaults.
Alternatively, on some devices, the option may be available under a different section like:

Menu>>Settings>>Menu>>Reset Device.
Disclaimer: – Resetting to Factory Defaults means that it will delete all data saved/downloaded on your device. These can later be re-downloaded from Amazon Cloud since you have already purchased the apps/books once you log in using your ID.
Contact your Customer Care
If all else fails, you should consider contacting Kindle Customer Service to get help via their official help page. You can also visit their Facebook page, where it may be easier to get quick responses from the community regarding similar problems being faced by others.
You can also try visiting your nearest local repair shop and see if they can help with the problem you are facing.
Bonus Solution
Resort to this only if you are entirely sure about what you are getting into. Contacting the customer care should be your first option if other remedies do not work.
But in case they do not respond on time or are not helpful you can try these additional solutions that have been attempted by several others in the community but remember that there is always risk involved and you will be performing these at your discretion. You have been warned!
The following has been tried, on a 3rd Generation Kindle Fire:
Slip a sharp knife in the slit where the case splits and take the back off.
Slip the connector for battery out of its receptacle.
Slide the metal knife edge across the metal contacts on the battery plug and plug it back in.
Turn on the device, viola!
Hope, at the end you found your solution for Kindle won't turn on.