A good music player can add volumes to your music listening experience. Each major operating system has music players that have been built to be compatible with them. For devices like the Mac, Apple offers its own music player too. That being said, there exist several third-party alternatives that offer their users more functionalities than an average music player. Now, iTunes, which is a Macintosh music player, works fairly well. However, the functionalities offered by it come with several limits. Therefore, if you're attempting to figure out which is the best music player for mac, then you've come to the right place.
Moreover, you can also freely download your favorite music from torrent sites.
Criteria For Best Music Player For Mac
We made this list based on the some prerequisites that an music player must have. For starters, you should expect a good music player to provide the following features-
Ability to handle various audio formats

Allow you to build and personalize playlists

Ability to fine-tune multiple audio files

Has a Built-in equalizer for audio

Local file-streaming to various devices
Read Also: 6 Best Audio Enhancer Tools
6 Best Music Player For Mac
Keeping these pointers in mind, we have devised a list of the best music player for Mac to render you the ultimate music listening experience. So without further ado, let's get into it.
See also: 8 Easy Ways To Fix The Mac Freezing On Startup Issue
Vox
Vox is by far the best music player for mac for a wide array of reasons. The application has a simple yet intuitive interface, therefore, heightening user experience. The mac music player supports almost every sort of audio format. Additionally, you get admittance to various radio stations and a chance for playlist customization.
The application is free of charge. However, the developer has a premium version as well. If you're someone who loves listening to music, then subscribing to their premium version is highly recommended. Vox's premium version offers gapless playback, limitless cloud storage, and an option to sync your playlists. Overall, it is a great mac music player with varied functionality at a reasonable price.
Download: Vox
See Also: Best Chinese Music Apps to Download
Colibri
This music player for macs though a paid application is worth the money. It offers high resolution and a lossless playback experience. The application can handle numerous audio formats like AIFF, FLAC, ALAC, etc.
The application is lightweight, and it contributes to minimal CPU as well as battery usage. Colibri constantly updates your audio library and deletes corrupted files too. It is overall a great choice if you're seeking a premium quality music player. Read about TuneFab Apple Music Converter Review In Detail.
Download: Colibri
See also: How to Clean MacBook | Top 9 Methods (Both Air and Pro)
Clementine
This music player for Mac has been around for quite a while and, till today, is used by several mac users. It is entirely free of charge to use and offers various features. You can search your local music library, make playlists, and import and export multiple audio file formats.
Moreover, you can also convert different file formats with the help of their converter. You can also stream content from major streaming platforms like Spotify, Soundcloud, etc. The only drawback with this app is that its last update was back in 2016. Therefore, its interface is very outdated.
Download: Clementine
Elmedia Player
In terms of streaming music, Elmedia Player is by far the best music player for mac. The features given by Elmedia Player are endless, and each better than the next. Elemdia Player offers a free and paid version. With the free version, you can build playlists, play audios and videos of varied formats, and stream content to other devices. This includes devices like Chromecast, Apple TV, etc.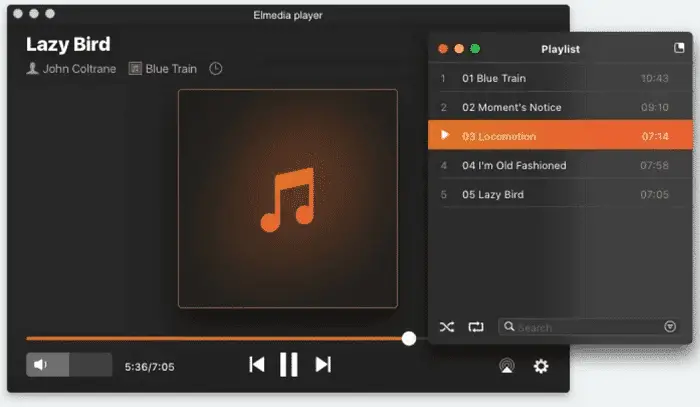 However, streaming can only do this for one minute. If you seek unlimited streaming, you need to get the premium version of Elmedia Player. Another feature that Elmedia offers is watching content off of youtube and other similar platforms without advertisements. Overall, it is a brilliant media player, even though it isn't entirely free. If you wish to know more on Elmedia player, click here.
Download: Elmedia Player
See Also: Download the iMovie App for Android For Free
VCL Media player
VCL media player is a cross-platform multimedia player via which you can play various multimedia files and DVDs, CDs, VCDs, etc. Although predominant use of this app is for playing video content, it works seamlessly as a music player as well.
Just like with videos, VCL can handle multiple audio formats too. You get to formulate playlists and a music manager to ensure that your audio library is well kept and organized. VCL Media is also completely free for use, making it the best music player for Mac. You ought to give it a try if you're searching for something simple and not too over the top.
Download: VCL Media player
See Also: Top 10 Best Free Karaoke Apps for iOS
Pine Player
Pine player is a music player specifically designed for the MacOS. Like the rest of the music players on this list, it supports many varied audio file formats. The player provides an Over Sampling Filter that helps heighten the music listening experience.
It does so by converting your MP3 files into high-resolution 32-bit, 768kHz. What makes this player the best mac music player is that it runs no ads, so you are promised a smooth and intuitive music listening experience. Now, Pine player is free of usage charge. However, it does consume more memory in comparison to other music players. Also, the application's configuration and layout don't receive the best score in terms of user-friendliness. Wanted to know about TuneFab Spotify Music Converter? Click here
Download: Pine Player
See Also How to Hook Up a CB Linear Amp For 2023 – Latest Update
IINA
The application features a one-of-a-kind and outstanding design, making it one of the best audio player for mac. The sound quality and format compatibility are on par with comparable rivals. You may listen to any format with excellent sound quality, but the only advantage this product has over others is its attractive user interface. The application only offers basic functionalities that cannot be updated to advanced, so this is not the correct macOS music player for you if you need advanced features.
IINA makes extensive use of trackpad motions, the Touch Bar, dark theme, and other macOS system capabilities, which is uncommon for MP3 players. With IINA's uncanny precision, the user feels completely immersed in the Apple ecosystem. While it's not usual for applications to try to "blend in" into macOS, IINA does it in an interesting yet entertaining way.
Download: IINA
Audirvana
Audirvana, just like every other Mac's music player, provides the user with the greatest features that they search for in every media player for Mac. This software's design is straightforward, and you can locate all of your favorite songs in the suggested playlist. Aside from that, you could quickly search for favorites and filter them according to your needs. Standard functions are included, as well as sophisticated Hi-Fi system support.
It could be used as a Hi-Fi source and can change little details like DAC thresholds and oversampling settings. Furthermore, users could utilize a mobile extension––such as a remote––to operate the desktop software. If you have a high-quality sound setup and aren't bothered with the UI, it's an excellent MP3 player for Mac. However, the software requires a membership, so it cannot be called a free music player for Mac.
Download: Audirvana
5k Player
Then there's 5KPlayer, which is on the list of top music apps for Mac. This application has a lot of functions, such as internet music streaming, song downloads, and so on. Songs may be easily downloaded from various websites, notably YouTube, Facebook, Vimeo, and others.
You may even listen to the radio because the application has a dedicated section for satellite radio channels. The application allows you to transition from Mac to iPhone playing simply. It is one of the finest audio players for Mac because of its functions and offerings. This application may be used to get the finest sound quality.
Download: 5k Player
Tiny Player
iTunes is overrated. Install Tiny Player for Mac if you just want to hear some playlists like you used to. Drag the file to Applications and launch it. (If your Mac refuses to launch this "unknown" software, use the right-click submenu to do so.) Tiny Player lacks many of the capabilities found in iTunes and even VLC.
There is no equalizer, cover art, or "related music" on it. It just runs your audio files in the sequence you want, shuffled or not, with and without repeat. Not only can you play music files using Tiny Player for Mac, but you can also use it to read FLAC, AAC, AIFF, and WAV files. Of course, you should have macOS High Sierra updated to play FLACs; else, they would not play.
Download: Tiny Player
Conclusion
So here's our list of the 6 best music player for Mac out there. Each application on this list features its very own unique feature. Now, it is for you to decide which one suits your requirement the most!
Also, if you are a music creator or wish to create, we recommend checking out these virtual instruments to bring out your creativity.