A good music player can add volumes to your music listening experience. Each major operating system has music players that have been built to be compatible with them. For devices like the Mac, Apple offers its own music player too. That being said, there exist several third-party alternatives that offer their users more functionalities than an average music player. Now, iTunes, which is a Macintosh music player, works fairly well. However, the functionalities offered by it come with several limits. Therefore, if you're attempting to figure out which is the best music player for mac, then you've come to the right place.
Moreover, you can also freely download your favorite music from torrent sites.
Criteria For Best Music Player For Mac
We made this list based on the some prerequisites that an music player must have. For starters, you should expect a good music player to provide the following features-
Ability to handle various audio formats

Allow you to build and personalize playlists

Ability to fine-tune multiple audio files

Has a Built-in equalizer for audio

Local file-streaming to various devices
Read Also: 6 Best Audio Enhancer Tools
6 Best Music Player For Mac
Keeping these pointers in mind, we have devised a list of the best music player for Mac to render you the ultimate music listening experience. So without further ado, let's get into it.
Vox
Vox is by far the best music player for mac for a wide array of reasons. The application has a simple yet intuitive interface, therefore, heightening user experience. The mac music player supports almost every sort of audio format. Additionally, you get admittance to various radio stations and a chance for playlist customization.
The application is free of charge. However, the developer has a premium version as well. If you're someone who loves listening to music, then subscribing to their premium version is highly recommended. Vox's premium version offers gapless playback, limitless cloud storage, and an option to sync your playlists. Overall, it is a great mac music player with varied functionality at a reasonable price.
Download: Vox
See Also: Best Chinese Music Apps to Download
Colibri
This music player for macs though a paid application, is worth the money. It offers high resolution and a lossless playback experience. The application can handle numerous audio formats like AIFF, FLAC, ALAC, etc.
The application is lightweight, and it contributes to minimal CPU as well as battery usage. Colibri constantly updates your audio library and deletes corrupted files too. It is overall a great choice if you're seeking a premium quality music player.
Download: Colibri
See also: How to Clean MacBook | Top 9 Methods (Both Air and Pro)
Clementine
This music player for Mac has been around for quite a while and, till today, is used by several mac users. It is entirely free of charge to use and offers various features. You can search your local music library, make playlists, and import and export multiple audio file formats.
Moreover, you can also convert different file formats with the help of their converter. You can also stream content from major streaming platforms like Spotify, Soundcloud, etc. The only drawback with this app is that its last update was back in 2016. Therefore, its interface is very outdated.
Download: Clementine
Elmedia Player
In terms of streaming music, Elmedia Player is by far the best music player for mac. The features given by Elmedia Player are endless, and each better than the next. Elemdia Player offers a free and paid version. With the free version, you can build playlists, play audios and videos of varied formats, and stream content to other devices. This includes devices like Chromecast, Apple TV, etc.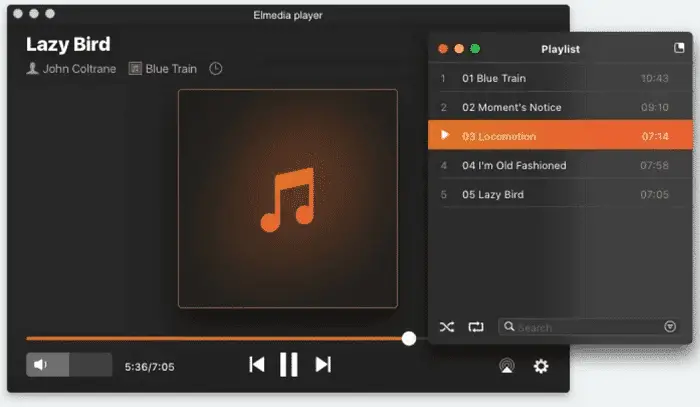 However, streaming can only do this for one minute. If you seek unlimited streaming, you need to get the premium version of Elmedia Player. Another feature that Elmedia offers is watching content off of youtube and other similar platforms without advertisements. Overall, it is a brilliant media player, even though it isn't entirely free. If you wish to know more on Elmedia player, click here.
Download: Elmedia Player
VCL Media player
VCL media player is a cross-platform multimedia player via which you can play various multimedia files and DVDs, CDs, VCDs, etc. Although predominant use of this app is for playing video content, it works seamlessly as a music player as well.
Just like with videos, VCL can handle multiple audio formats too. You get to formulate playlists and a music manager to ensure that your audio library is well kept and organized. VCL Media is also completely free for use, making it the best music player for Mac. You ought to give it a try if you're searching for something simple and not too over the top.
Download: VCL Media player
See Also: Top 10 Best Free Karaoke Apps for iOS
Pine Player
Pine player is a music player specifically designed for the MacOS. Like the rest of the music players on this list, it supports many varied audio file formats. The player provides an Over Sampling Filter that helps heighten the music listening experience.
It does so by converting your MP3 files into high-resolution 32-bit, 768kHz. What makes this player the best mac music player is that it runs no ads, so you are promised a smooth and intuitive music listening experience. Now, Pine player is free of usage charge. However, it does consume more memory in comparison to other music players. Also, the application's configuration and layout don't receive the best score in terms of user-friendliness.
Download: Pine Player
Conclusion
So here's our list of the 6 best music player for Mac out there. Each application on this list features its very own unique feature. Now, it is for you to decide which one suits your requirement the most!
Also, if you are a music creator or wish to create, we recommend checking out these virtual instruments to bring out your creativity.