drum Machines are equipment that can be used for producing drum beats. You do not need to have a full-fledged drum set anymore to create some fresh beats. Drum Machines are electronic equipment that can be used to generate sounds of drums, cymbals, percussion, etc. There are different buttons for different sounds. Most musicians prefer these over traditional drum sets nowadays because of the ease and convenience that these machines provide. Here are some online drum machines to help you with your music.
If you are a budding musician or just an amateur, buying it is not feasible. This is because their cost is high. So, what can be done instead of buying it?
You can go for online Drum Machines instead. There are websites and even apps related to music that can be used for generating and downloading drum beats of your choice. This is an excellent option for beginners and amateurs who do not want to spend any money on buying it. Most of these online Drum Machines are available for free and do the job of an electronic drum machine well. You do not have to download any software on your PC. There are many online machines to build beats out there, following are some of the best's to produce beats.
Top 11 Virtual Drum Machines of 2023
The virtual Drum Machines allow you to quickly and easily create realistic-sounding drum tracks using samples and grooves.
One Motion
This is one of the best online machines to build beats. The best part about this website is that it is free. The UI of this site is very user-friendly. Even beginners and amateurs can quickly figure out how to generate beats using this website. You can choose from the default and techno drum sets on this site and use the number keys on your keyboard to create various beats.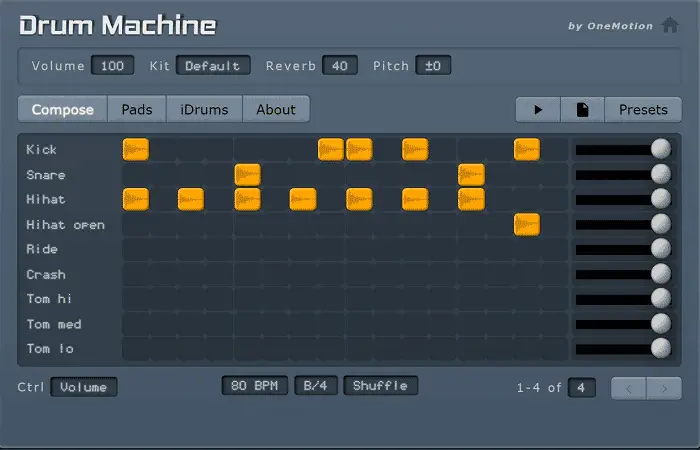 You can also compose beats using this website. It is also possible to adjust the volume and pitch of the beats. You can also set the BPM from 1-200. This site has all the essential drum beats like the snare, kick, Hi-hat, Ride, crash, etc. You can save the beat to your PC after creating it. This website is straightforward to use.
Visit: One Motion
Chrome Music Lab
Chrome Music Lab is an excellent website for creating drum beats and relaxed rhythms. If you are a budding music producer or if you just enjoy making your irregular beats, this website is the ideal website for you. The layout of this website is stunning, colorful, and professional. On the home page of this site, you can see different sections like rhythm, chords, spectrogram, etc. Not only can you create drum beats, but you can also create keyboard chords on this website.
This website is a paradise for music lovers and enthusiasts. If you want to make drum beats, you must click on the rhythm section. Along with building and listening to the beats, you will get to see hilarious animated animal figures playing the drums and other percussion on this website. Overall this site is enjoyable to use.
Visit: Chrome Music Lab
Pattern Sketch
Pattern Sketch is another HTML5-based online drum machine that is compatible with all modern web browsers. It is a JAVA Script sequencer. Roland TR808 and TR909 influenced it. This drum machine allows you to create your beats as patterns, and adjust their volumes and tempo. You can also alter the drum kit and even play your design back.
The software allows you to save export and even lets you collaborate with your peers. You can position your beat anywhere between the 16 to 64 steps. You can create effortless or complex loops using nine unique kits.
Visit: Pattern Sketch
Splice Sounds
This is one of the best online drum machines to build beats. The layout of this website is beautiful. This online machine is more advanced than the above-mentioned online drum machines. You can also play and edit the beats of famous DJs like KSHMR and Lex Luger. This website has all the necessary drum sounds like kick, Snare, Hihat, crash, etc. You can adjust the BPM according to your choice on this site.
It is also possible to add keyboard chords and audio tracks to your beats using this website. You can download or share the beats that you created on this site. This website is not as easy to use as the other websites mentioned on this list. If you want to create professional beats or tracks, this site is definitely for you.
Visit: Splice Sounds
HTML 5 Drum Machine
This is a basic online drum machine. You can use this website to create some basic beats. You can adjust the tempo and the BPM on this website. This site is very complicated to use for beginners and amateurs.
See also: Top 12 Free Sound Booster For Windows 10
If you are a person with some prior knowledge in this field, then you can efficiently use this website to create some fresh beats. You can save the beat that you create on this website to your PC. The layout of this site is fundamental and not at all attractive.
Visit: HTML 5 Drum Machine
Sampulator
Sampulator is a complete HTML5-built software. You can hit the keys on your keyboard to create tracks and record them. It doesn't require any plugins It utilizes your keyboard to make beats by converting each row into a drum segment.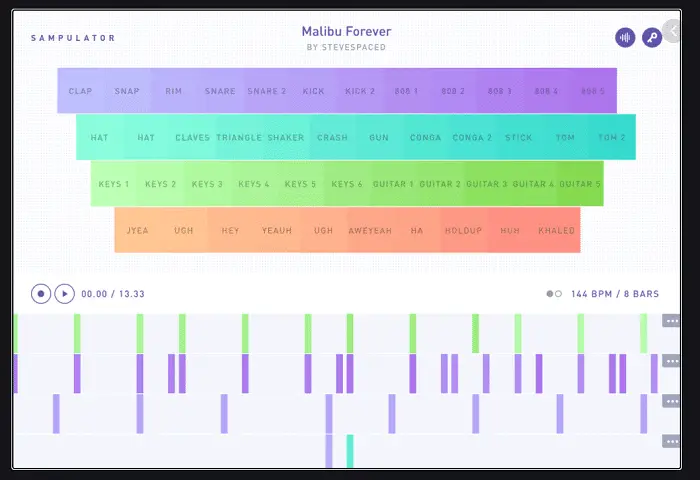 It is like a garage band sequencer for your browser. The pre-loaded loops in this online drum machine are really intuitive. You can save and distribute your creation by logging in with Twitter. The tracks made in the sampulator are usually catchy but complicated. As you playback the recording, you can see the keys being hit in the order you hit them on your screen.
Visit: Sampulator
The Infinite Drum Machine
This online drum machine website is a pretty basic online music creating website. The layout of this site is beautiful and colourful. You can add various beats and create your track on this website.
The process of creating beats on this website is not too hard. You can use this site from any browser. You can choose from hundreds of different audio filters to create a beat in the genre of your choice.
Visit: The Infinite Drum Machine
Drumbit
Drumbit is an online drum machine software constructed using HTML5. It can adapt to any contemporary web browser. It is client-friendly software with a colorful graphical user interface. Neon shades of each color are dominant on the interface. You can easily alter the volume of the individual component. Drumbit allows you to add room effects and excellent-sounding filters.
You can select from a variety of drum kits and can also change the left-right panning. After you are done making a rhapsodic beat, you can save your file for future editing. If you are satisfied with your work, you can save it as an audio file too. There is also a Drumbit plus edition for Chrome. This online drum machine is extremely easy to use and helps you make a drumbeat from scratch in an error-free procedure.
Visit: Drumbit
Drumbot
This is another one of the online drum machines which can be used for creating beats. This website can create drum beats by adding primary drum sounds like the snare, kick, crash, etc.
You can also add different drum loops. This is website is not easy to use for amateurs and the UI of this website is not that user-friendly. You can save the beats you create using this site to your PC effortlessly.
Visit: Drumbot
Io808
The io808 is an online virtual Roland TR-808 drum machine emulator. It is designed to execute on your laptops, computers, or smartphone's browser. It isn't as good as other online drum machines, but it's free. Just open your browser, and you are ready to create your own drum beats. This drum machine also integrates all the vintage features introduced in the first 808.
The io808 web page utilizes React, Redux, and the Web Audio API to recreate this virtual 808. So, make some beats instead of wasting time on Facebook.
Visit: Io808
Web Audio Drum Machine
The Web Audio Drum Machine API is the latest way of dealing with audio on the internet. You can create your own beats with simple clicks. It provides a simple way to create new sounds or playback pre-recorded audio. It also helps us control the pitch of the drum beats accurately. You can change the tempo maximum up to 180 beats per minute. This online software incorporates 15 drum kits and 26 effects.
Web Audio is also free-to-use software available for your web browsers. To generate beats using Web Audio drum machine API, your browser should be aware of the sound-producing devices available on your computer.
Visit: Web Audio Drum Machine
See also: 10 Best Free Music Promotion Sites You Must Try
FAQs
How to use an online drum machine?
Using an online drum machine is simple. Choose a website with a virtual drum machine, select the drum sounds you want, and start tapping the virtual drum pads using your mouse or keyboard. Experiment with different rhythms, adjust tempo, and explore various preset patterns to create unique beats.
Can you play drums online?
You can play drums online using virtual drum machines available on various websites. Such online tools simulate real drum kits, allowing you to produce beats by pressing virtual drum pads with your mouse or keyboard keys. It's a fun way to experiment with rhythm and create music digitally.
How do you play drums on PC?
You can use virtual drum software or online drum machines to play drums on your PC. Download and install drum software like Hydrogen or GarageBand, connect a MIDI drum controller if you have one, and start creating beats. Alternatively, explore online platforms offering virtual drum kits to play using your mouse or keyboard.
What is the best drum machine for live performance?
The best drum machines for live performances often include the Roland TR-8S, Elektron Digitakt, and Arturia DrumBrute Impact. These drum machines offer versatile sound, real-time control, and portability, making them ideal for enhancing your live music setup with dynamic beats and rhythms.
Conclusion
Precisely, it is not necessary to learn the traditional drum these days. Thus, the above online drum machines are the best software one could use for creating music. Surely, no one can stop you from becoming an online sensation with par excellence. We'd be happy to know your experience if you downloaded any of the online drum machines above.