A computer is a machine; and like all other machines, computers too are prone to issues and might need repairing now and then. The first and foremost step of repairing the computer is identifying the problem with the computer. If you are a technician, who repairs computer, identifying the problem with the computer that you are about to repair is the first thing you want to do. The second step would be to repair the issue that you just identified. There are a lot of Computer Repair Tools available for identifying and fixing various issues with the computer easily.
A computer might have various problems; some problems might be hardware related while some might be software related such as outdated drivers, virus, malware, etc. If the problem is hardware related, then there is not much which can be done except replace the damaged hardware part. There is much software for detecting and fixing issues in your computer. Following are some of the best computer repair tools to fix issues.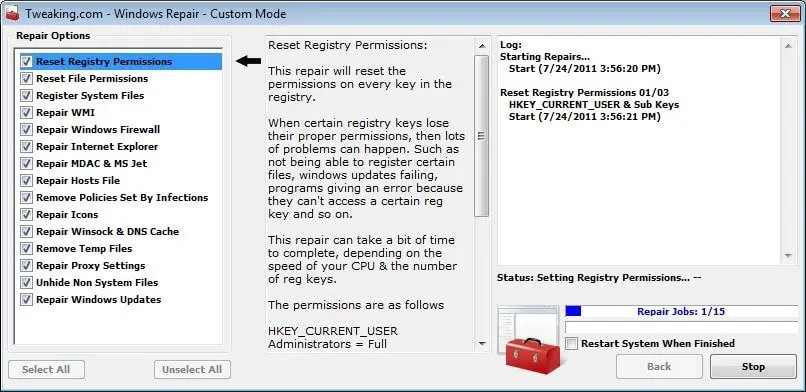 This is a Windows repair tool. This is a product of Tweaking.com. It is a very useful tool for searching and fixing problems on your PC easily. It solves almost all common problems. Technicians across the globe use this tool for fixing issues with computers. The best part about this tweaking windows repair is that it is portable and can be used from a USB drive or a pen drive. The cost of the pro version of this software is 19.95 USD which is very reasonable because technicians use this software for earning money by fixing computer issues. This utility has a lot of quick fixes of hundreds of small problems.
C Cleaner tech edition is another software used widely by technicians across the globe for fixing and repairing issues with the computer. It removes data and files that are unnecessary and are taking up space on the computer making it slow. You can fix various issues with the computer using C Cleaner within few seconds.
C cleaner is a portable software- this means you can carry it around wherever you in a USB drive. This software effectively extends the life of a computer by freeing up space in its hard-drive. It is also used to remove malware from your system. One of the best features in this software is the data recovery which can be used for backing up your data safely.
The simple, yet attractive UI of this PC repair software makes it favorite among the technicians. It has a dashboard where you can check the problems and issues with the computer. The dashboard has four widgets:
Maintenance
PC performance
PC health
Rescue center
All these widgets can be used for scanning, repairing and fixing the issues and also can be used for undoing the changes made by you on the computer. AVG is a trusted brand; its anti-virus is quite famous amidst computer users. By using AVG PC tune up, you can keep your computer free from crashing now and then. AVG PC tune up is one of the best PC tuning software.
Also see: 10 Best Paid DVD Burning Software – TechWhoop
SpyBot Search and Destroy, is a software that scans, finds and eliminates all kinds of issues from your computer. The price of the pro version of this software is 13.90 USD. There is a free version of this software too. The free version does a pretty fair job; but, if you are a technician, you should go for the pro-version. The technician can run SpyBot search and destroy in expert mode for repairing computers easily.
The easy UI of this software makes it easy for the technician to find and solve problems in a computer. The best part about availing the pro-version of this software is that the technicians get good service from the company. The technicians can mail their doubts to the management of SpyBot search and destroy, and the company will solve their doubts on a high-priority basis.
Revo uninstaller is a software that has been very useful for technicians. What makes it so helpful is the fact that Revo uninstaller helps the technician in keeping the computer clean by removing unwanted programs from the computer easily that are otherwise hard to remove. This software uninstalls even tough to remove programs from your computer with relative ease. This clears up space in the computer and helps it in performing fast.
This is another one of the Computer Repair Tools for fixing issues with computers. This software is really helpful for detecting and solving hundreds of small problems that you might have on your computer. The user-interface of this utility is very simple. This software is portable and not very large. This does the job of keeping your PC safe and fast by solving various issues in your computer. This software is capable of converting FAT files to NTFS files. You can also convert logical partition to primary partition and vice-versa. The recovery feature in this software allows you to recover lost files on your PC.
These were some of the best computer repair tools to fix various kinds of issues on your computer. There is much more software that is available for the same; but, these are the most used and most trusted software available.
Also See: Top 6 Best Free Adware Removal Software (2017) – TechWhoop