In today's world of NVIDIA Titans and Intel i9s, many people without all these buffed-up computers still have to face issues with performance, memory, and, most of all, sound in Windows. Many innocent consumers are victims of bland and unsatisfactory laptop audio output. In this situation, all they need are audio enhancer tools.
Audio Enhancer Tools for Windows In 2023 are BOOM 3D, Wondershare Filmora, Aissesoft Video Enhancer, FxSound, Equalizer APO, Audacity, FxSound, LLC, Adobe Audition, WavePad Audio Editor, Sound Forge, Voicemeeter, DFX Audio Enhancer, JetAudio, jetAudio HD Music Player and etc.
A good and clear sound production is necessary for any person of any age. For this, we have Audio Enhancer Tools, and we are going to look at the best audio enhancer tools for Windows 10
See Also: How to solve 'No Audio Output Device is Installed' Error – TechWhoop
6 Best Audio Enhancer Tools for Windows 10
We did the hard work for you and present the best audio enhancer tools for Windows 10 on the planet right now. 
 Let's dive in without further delay.
BOOM

 

3D
BOOM 3D is developed by the Indian company Global Delight. It was released earlier for iOS and has received multiple awards, including Best of App Store 2014. It released its Windows version in 2018 and is probably the best pro-audio enhancement app. Its patented 3D Surround Sound. Technology delivers a surrealist experience typical of some of the most expensive audio enhancer tools. You can play all types of content in 100% Surround Sound on any headphone, player, media, or streaming service. The equalizer comes with superb presets, or you can make your own.
B

est

F

eatures
Windows

 

10

 

compatible

Incredible

 

3D

 

Surround

 

Sound

With

 

such

 

technology

, 

you

 

can

 

hear

 

literal

 

silence

.

Spectacular

 

Audio

 

Effects

Very

 

simple –

It

 

needs

 

no

 

prior

 

experience

 

with

 

audio

 

managing

and is 

very

 

user

–

friendly.
Visit-BOOM 3D
Wondershare Filmora
Wondershare has been a trusted and widely popular platform for editing softwares, and video enhancement is no exception. Using this video editing tool, one can find features like no other. Most graphic enhancement and quality-maintaining conversions are possible with this tool.
You can convert your videos to extremely good quality (even 4K!) without worrying about lossy conversions and degradation of current quality. You can optimize the videos by working frame by frame and controlling the speed and segmentation. 
The visual and audio quality is wonderfully maintained and can be enhanced even more. Filmora is an excellent option for any video editor, whether a beginner or a professional, thanks to the extremely specific and advanced tools provided. The UI is simple and friendly; you can get the free version with the most necessary features.
Visit: Filmora
See also: What Is 8D Audio & How To Create One [Easy Guide]
Aissesoft Video Enhancer
If you are looking for a professional tool to help you enhance your videos to the next level, then Aissesoft has this new video enhancer made just for you. Using this tool, one can upgrade the quality of their videos to great resolutions. That's right. We can do it all, be it 1080p or even 4K!
You can control the speed, adjust the frames, and optimize the contrast, the colors, and the brightness accordingly. You can also remove the background noise from the audio with noise reduction features. 
If you want, you can also personalize your videos by adding watermarks and using other editing tools. You can get this software utterly free on Windows for the trial version. 
Visit: Aissesoft
FxSound
This is a speedy and easy fix to your audio problems. The jukebox connected to your computer sounds like JBL. One of the best audio enhancer tools for Windows 10, This software can be altered to work with any hardware output type, making it a perfect companion for instrument players like guitars to connect to their amps. FxSound boasts a powerful yet straightforward EQ to modify the sound how you want and need it.
See Also: 10 Best Windows 10 Password Reset Tools to Download
Best

F

eatures
Best audio enhancer for

Windows

 

10,

and it is

compatible

Available

 

on

 

most

 

versions

 

of

 

Windows

Fully

 

optimized

 

EQ

 

with

 

custom

 

effect

Incredible

 

presets

 

and

 

spectrum

 

settings

are 

available

Boost

 

volume

 

with

 

zero

 

distortion

Not

 

many

 

apps

 

can

 

provide

 

an

 

algorithm

 

for

 

distortion

–

free

amount-boosting
Visit-FXSound
Equalizer

 

APO
It is an open-source equalizer built for Windows. You can change the way your software works any time you want. The complete version of this EQ is accessible at a low cost. The only drawback is that the interface of this app is a bit daunting for first–time users since it has all the high–level technical terms used for audio management.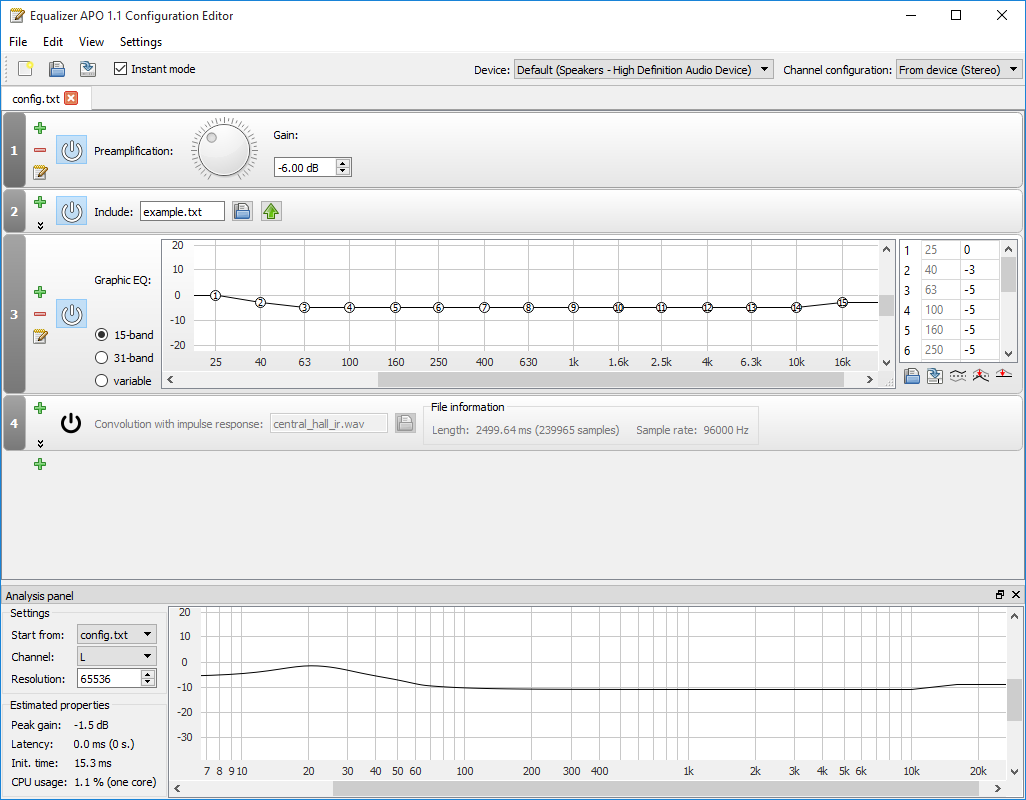 Best

F

eatures
Built

 

for

 

Windows

Windows

–

friendly

 

software

Open

–

Source

 

Software-

Makes

 

it

 

accessible

 

and

 

easy

 

to

 

modify

Extremely

 

lightweight

Puts

 

almost

 

zero

 

strain

 

on

 

your

 

computer

A huge

number

 

of

 

filters

Innumerable

 

extensive

 

features

Low

 

latency

, 

support

 

for

 

VST

 

plugins

, 

voice

 

meter

, 

etc

.
Visit-Equalizer APO
Breakaway

 

Audio

 

Enhancer
Pro–level audio management is possible on Breakaway. It improves your audio–visual files in real-time before they hit your speakers. It raises low-level audio and keeps loud noises in check. Only sweet sounds reach you!
Best Features
State

–

of

–

the

–

art

 

audio

 

processors

·

Wizard

 

setup

Incredible

 

output

 

quality
Visit: Breakaway audio enhancer
Forensic VideoCleaner
If you are looking for software that is very detailed and specific about its working and methods, then this is the tool for you. Forensic Videocleaner lets you enhance the quality of your videos by proper brightness and lighting adjustments, stabilizing the camera motions, providing perfect and better focus options, etc.
Professionals mainly use this software because of the details it covers, and is an excellent option for advanced high-level editing and enhancement. The interface isn't very friendly to beginners, but you can work it like magic once you get the hang of it. 
Like other audio enhancer tools on the list, you can also work on frames for better clarity and make fixes along with proper resizing and cropping features. It is a paid platform but worth every penny if you invest in it! It is only available for Windows systems.
See Also: 8 Note Naming Games To Help Students Learn Music Notes Easily
Clipchamp
Looking for an application for enhancing your videos that is simple and hassle-free to use? Clipchamp would like to help you out with that! A simple and easy to work with the tool using which you can enhance the quality of your videos and use the noise reduction features to make them as clear as they can get!
Various necessary tools are present in this enhancing tool, and conversions of sizes and formats are extremely easy and quick. Not only this, but there are several video templates available, too, so you can get your work done at a very fast pace. You can use this tool for free and make your videos way better immediately. 
Visit: Clipchamp
Bongiovi DPS
This is one of the most straightforward audio enhancer tools on our list. Nonetheless, it is mighty. It is dynamic in the real sense; it continually adapts the sounds depending on computer capabilities. It segregates sounds essential to the user and makes them more audible than regular volume. The Digital Power Station (DPS) Technology adds incredible depth, clarity, bass definition, and enhanced stereo field imaging to your computer audio output. Bongiovi DPS is one of the Best audio enhancers for Windows 10.
See Also: NVIDIA Control Panel Won't Open Error | 3 Ways To Fix
Best Features 
Content selection audio for gaming isn't the same as for cooking videos on YouTube. Automatically alters settings for different situations.
DPS Technology-Powerful DPS processors do the job for you. You have to turn it on.
Bass and treble management
Intelligent and easy-to-use bass and treble controls for the tone best for you
Visit–Bongiovi DPS
Fidelizer

 

Audio

 

Enhancer
Fidelizer is an independently developed software and one of the best audio enhancer tools. It provides modern touches to your sound output and provides a profound experience. It will change your computer's audio into a perfect sound oasis using its optimization technology, as it is one of the best audio enhancer tools for Windows 10. Fidelizer is compatible with significant audio apps like YouTube, Spotify, etc.
Best

F

eatures
Core

–

affinity

 

isolation

 

of

 

non

–

audio

 

processes-u

ses T

his

 

technique

ensures 

sound

 

processes

 

are

 

unhindered

Easy 

to

 

use

User-

friendly

 

and

 

easy

 

access

 

to

 

enhancement

 

options
Visit-Fidelizer Audio Enhancer
See Also: Best Music Player For Mac To Try in 2023 | Top 6
FAQS
Can an audio enhancer tool remove background noise?
Some audio enhancer tools have noise reduction features that can effectively remove or reduce background noise from audio recordings. These tools use algorithms to analyze the audio and suppress unwanted noise, producing cleaner and more focus sound.
Do audio enhancer tools work with all audio formats?
Most audio enhancer tools are compatible with various audio formats, including popular formats like MP3, WAV, and FLAC. However, it's always a good idea to check the specifications and support forms of your specific audio enhancer tool to ensure compatibility.
Can I use an audio enhancer tool in real time during playback?
Some audio enhancer tools offer real-time processing capabilities, allowing you to apply enhancements to audio on the fly during playback. These tools may work as standalone applications or as plugins within audio players or digital audio workstations (DAWs), providing immediate audio enhancement.
Are there audio enhancer tools specifically design for specific genres of music?
Some audio enhancer tools are design with specific music genres in mind. For example, devices are optimize for enhancing bass-heavy music like electronic or hip-hop, while others may focus on improving clarity and dynamics for classical or acoustic recordings. These tools cater to specific genre preferences and audio characteristics.
Can I use an audio enhancer tool to improve audio in videos?
Yes, audio enhancer tools can be use to improve audio in videos. These tools allow you to process and enhance the audio tracks of videos, adjusting parameters like volume, EQ, spatial effects, and dynamics. This helps to create a more balance and immersive audio experience for video content.
Conclusion
This is the end of our article. There are many music sites for downloading music and using audio enhancer tools. Also, you can bring a change to your regular Windows player sound. We hope your computer finds its best friend in the list of the best audio enhancer tools for Windows 10. If you liked our list of audio enhancer tools, then let us know about it in the comment section. 
Keep visiting us for more articles!