Pinterest is also one of the social media platforms that are emerging in today's era. For the ones fond of pictures, this is the ideal place. As a Pinterest user, you can create your boards how you wish them to look. One of the problems that people face with Pinterest is how to find someone on Pinterest. It seems challenging but is not impossible. If You want to know how to unhide pins on Pinterest, click here.
Here are six simple steps to help you locate individuals on Pinterest:
Launch the Pinterest app on your device and log into your account.
Tap on the search icon at the bottom.
Enter the name or Pinterest username of the person you want to find in the search bar.
Tap the search button to initiate the search process.
Look for the "Profiles" option, usually displayed as a filter, and select it.
Please browse through the list of profiles and tap on a profile to view their pins and choose to follow them.
Suppose you don't find someone on Pinterest. That's probably because they might have a fancy username. There can be multiple reasons why people have such usernames. One of them is keeping their Pinterest boards private to themselves. The app has this inbuilt feature of hiding pins without needing any additional app. But some people like to stay private.
See Also: 2 Ways to View Private Facebook Profile
How To Find Someone On Pinterest
There is no need for you to get into a matter of worry if you cannot do this task. Here are a few of the easy ways that will help you resolve the dilemma of how to find someone on Pinterest. Stay glued to know more.
How To Search People On Pinterest Using The Desktop
The mandatory step is first to launch the official website of Pinterest. Get into your account by logging in. The top of the page will have a rectangular box; that is, t: the.
Once you enter a name in this search bar, you will find many results in front of you after the enter key has been hit. The right-hand side of the search bar will have something written as All Pins.
Alter that to People so that you will get the list of people with the name that you have entered. The profile picture of those people will be put up there. This makes it all the easier for you to understand to whom the profile belongs.
Once you hit the follow button, you will get an update on the latest change to their board. This is how to find someone on Pinterest using your desktop or laptop.
See Also: Funny Username Generator Websites
How To Find Someone On Pinterest Using their personal information
This is one of the most common methods to find someone. When you type a name, you will see a box on the right side. The easiest way is to change it to the 'People' option. You need to know that there is more to this, and it is not limited to the first option itself.
But, if you can't find it after that, you can also check boards (people sometimes save the boards in their name), videos, and hashtags.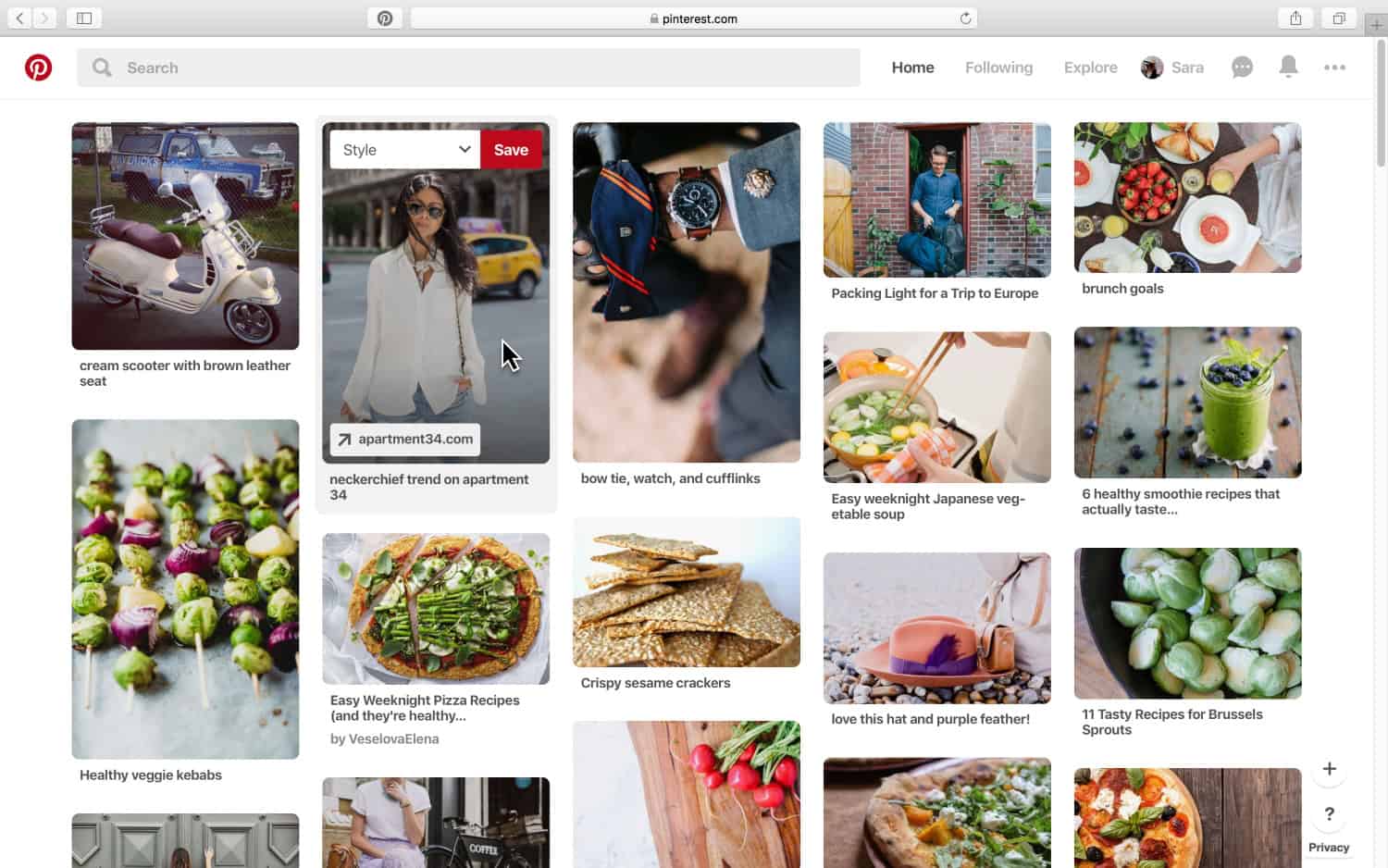 The option on the app to 'write a little bit about yourself here' provides more information about the user. This option, however, is valid only if you know them personally.
Some people add their Pinterest website URLs to their other social media bios. This could be a significant help for you. You can always confirm with your friends after following them.
One additional feature of Pinterest is to ask for location while you set your profile, so finding people is not rocket science now. To make your friends easily find you, go to 'Settings' and click the 'Privacy and Data' option.
Check the Personalization bar. You can use this to share your activity for better performance and make your content readily available for Pinterest to find better recommendations like boards, ads, and friends.
How To Find Someone On Pinterest Using Email
If you know your friends' emails, it is much easier and more convenient for you to find them from this.
So, type the email and check the profiles. Use both Facebook and  Google accounts to log in to Pinterest to find a better list of suggestions.
How To Find Friends On Pinterest iPhone App and Android App
There is not much distinction regarding friends on an iOS or Android application. Get into the Pinterest mobile application and ensure you have logged in there. The difference between mobile and desktop applications is that the search bar is at the bottom of the screen. The magnifying glass icon that you see is the one that will help you search out your friends.
Enter the name you want to look for and hit search from t, the keyboard. You will witness three options that appear directly – Top, People, and Boards. All you need to do is shift to the People's tab here and look for the person you are looking for.
Just scroll through until you find who you are looking for. Once you verify the person, following them will let you see their pinboards!
See also: Top 10 Apps for Sharing Photos for Android and iOS (2023)
How To Find Somone On Pinterest Using Facebook
If you and your friend use Facebook, it becomes easier for you to search for them.
Sign in to the Pinterest application as a primary step. Head to the top-right corner, where you will find the Profile icon.
A pencil-type option will be there next to the + icon. Here, you will have must profile's Account Settings and shift down a little.
Once you do that, you will get an option to Use Your Facebook Account To Log In. As soon as you click OK, Pinterest and Facebook will get linked.
You will be redirected to the home screen, where you need to go mustSearch icon.
There is a choice that you can enter the Facebook name or username or the name on Pinterest. This is how to find someone on Pinterest by connecting your Facebook account.
Other Easy Options on How to Find Someone on Pinterest
You can also use Categories to search for people. This will show you the list of people's interests, and you can click on it to check their profiles. Now you can start following them to find their boards on your feed.
Are all your friends as like-minded as you?
Have you tried syncing your phone contacts with this highly visual media? Sync your contacts from your Android or iOS phone to find your friends faster whom you already know.
If your friends delete the Pinterest profile, make a new Profile using the same contact number. Then, it won't be impossible to find them again. So, store your contacts and allow Pinterest to view them and customize your experience.
FAQ's
How to find someone on Pinterest?
Finding someone on Pinterest is straightforward. You have to open the Pinterest app and log in to your account. There will be a search option at the top where you can provide the username of the person you are searching for, and you will get the result.
Why can't I find a profile on Pinterest?
Cannot find a profile on Pinterest, there is a high chance that you are misusing the username. Another possibility is that you have not enabled the profiles-only option.
Are all profiles on Pinterest public?
Yes, there are no private accounts on Pinterest.
How do I search privately on Pinterest?
If you are using the correct privacy settings, your search cannot be viewed; it will be in one else. Also, try hiding your profile from search engines.
Conclusion
It is easy as pie now for you to search for people on Pinterest. No need arises for you to obtain any technical knowledge. You must have already comprehended that all you need to do is follow the steps in the prescribed manner. It will not take ample time for you to conduct the process. Reading the article properly is the first step to avoiding errors while completing this process.
It is mandatory to note that you can search for people on your mobile application and your desktop website too. Probably after you perform this once or twice, you might become an expert at it.
Sometimes you might be unable to find a person on Pinterest, which is okay. There are a few possible reasons, the first being that they must have blocked you. Although, there is also a chance that they have not been using Pinterest in a while, so their account does not exist. You may misuse the name, which causes a problem when you want to know how you find your friends on Pinterest.
See also: Simple Steps to Print Pictures at Rite Aid.