VLC Media Player is set as the default player for a large number. If you do not know what VLC is, you need not get into a dilemma. The VLC Media Player is a platform to play music or video.
VLC may not always be appealing to everyone. Sometimes, there might be a lot of glitches. In certain cases, you can also miss out on some amazing features.
If you desire to wish for something new, you can try to cast VLC to Roku. This is an extremely renowned method used by many people to watch downloaded movies. Most Android and Windows users have this freedom.
See also: 10 Best Pushbullet Alternative Services To Use In 2021
You must note that VLC refrains you from a direct download on Roku. However, there is still a way that can help you to enjoy this.
In this article, you will get an insight into how to stream VLC to Roku in an extremely easy manner. The bare minimum that needs to be done is that you only need to follow the steps in the manner they have been put forward. 
It is strongly advised that you must first read this article with proper concentration. This acts as a basis for you not committing any errors. Once you know what the process is, you will not skip any step. If you skip something, you will find yourself stuck and will not be able to proceed. If you want to know how to install Kodi on roku, click here.
See also: How to Clear VLC History in 3 Simple Steps | Best Method
How To Cast VLC To Roku
You need to understand that the only way that can make it possible for you to cast VLC to Roku is by mirroring. The best part is that you can do it not only on your mobile phone but also on your laptop. The catch is that you cannot use this on any Apple Device (at least as of now).
In order to make this work, you need to verify that you have allowed the screen mirroring on your Roku device. It is extremely simple to do so. 
The VLC Media Player must be downloaded and installed on your Windows device or your Android device (well, this is obvious).
Once both of them are in place, you can proceed to the further instructions that have been mentioned. 
You will now learn how to get VLC for Roku on your Android or Windows device. There is a choice where you can do it on both too.
See also: How to Install Kodi on Chromecast [Latest Guide]
VLC Player For Roku – Windows Device
Firstly, the Windows device should have VLC installed. The next step would be to go to the Notifications icon that you will locate at the bottom of your screen. In case you are unable to view the icons, you might want to Expand. Click on Connect when you find it.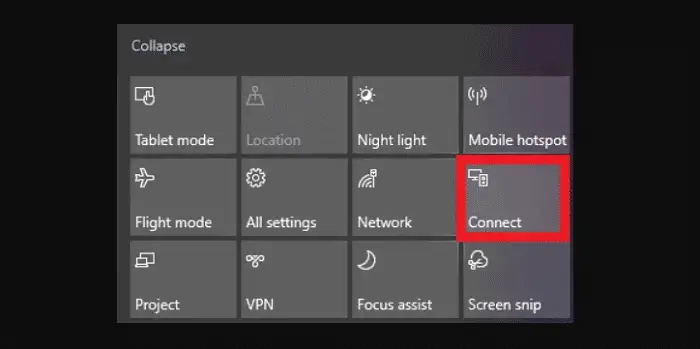 There will be a thin window that will emerge from the right side of your screen. Your Roku device needs to be selected after this pops up. The use of the remote is to hit Allow from your television. 
As a result, your desktop would get mirrored to the Roku. Now on, Roku VLC Player will be demonstrated.
See also: Unpair Fire TV Remote Or Pair Amazon's firestick [Easy Guide]
Cast VLC To Roku – Android Mobile Phone
A mandatory thing to be done is that VLC Media Player should be installed already on the Android that you have. Ample of the devices out there possess the feature of mirroring. The only difference would be the name of the feature. As soon as you swipe down your screen from the top, you will see an option of Connection and Sharing. This will be in settings too. If you cannot see the option of screen mirroring, you might want to look for similar words that depict the same. The type of Android device acts as a reason for the different names. Immediately after you get any similar name, click on it.
An important thing to do is to enable the casting. Instantly after Roku appears in the list of devices, tap it. There is a chance that you might have to confirm this action. You will have to go to your television to allow the streaming on Roku. Unless that is done, there is no way you can proceed.
As a result, you will see the screen of your Android phone over the Roku on your television. The VLC Media Player can now be launched, and you can stream any video on the television screen!
See also: How to Install Maverick TV Addon on Kodi [Latest Guide]
Conclusion
There is no worry now if you wish to cast VLC to Roku anymore. The Windows and Android devices would be as easy as pie for you to run this on. The baseline rule is that you need Roku and VLC in your device. If that already exists, you can perform the steps without any issues.
Failures can go down the drain if you have your devices updated to the latest versions of the software. This will make sure that no driver is causing any problems. Furthermore, your device should not be a very old one. Old devices lack a lot of features, and that will be the major cause of you not being able to cast VLC to Roku. Click here if you want to know how to connect roku to xfinity wifi
Lastly, you must not skip or jumble any of the steps. The reason for asking you to read the article first is to avoid such a problem. It hardly takes five minutes of your day. Rather than committing an error and then learning it the hard way, avoid the problem completely. 
See also: How to Turn Off Roku Express and Other Roku Models