The increasing popularity of digital devices in the new generation offers numerous benefits, with minimal manual effort compared to traditional methods. This presents new opportunities for manufacturers to develop innovative solutions. Roku, a sustainable device, is highly sought after by users who prefer online streaming and can control it from PCs or compatible devices like computers and tablets. You can also see How To Cast VLC To Roku – Easily Explained.
First, access the action center to connect your Windows device to a Roku. If you need assistance locating it, refer to the Microsoft article.
Once in the action center, select "Connect."
Wait momentarily while a list of wireless display and audio devices appears.
From there, choose your Roku device and follow the instructions on your screen.
Wirelessly mirror Android or Windows smartphone display onto TV, transferring web pages, movies, images, music, and more using screen mirroring to Roku® streaming player or Roku TVTM. Hence, this guide contains all the information you require to easily control Roku from your laptop and Mac. Also, see, How to Install Kodi on Roku: The Complete Edition. We will be sharing some tricks that will get the job done. Therefore, please don't skip any section of the guide, as it can create an error in the method.
See also: How To Use Twitch On Roku | Simple Stepwise Guide
What is Roku?
The first thing that we need to understand is the concept behind Roku. Roku, an American brand, manufactures a lot of devices.
They mainly focus on developing digital media hardware that can provide several online services. Thus, there is a massive demand from users for these devices. Moreover, many users are unaware of the correct procedure to use them. Several features of Roku can make the overall experience quite enjoyable.
See also: Can You Use A Fire Stick On A Roku Tv? Complete guide
Control Roku from the PC
The most crucial aspect of Roku devices is controlling Roku from your PC. It might seem a bit weird, but it is possible to the most extent. The method for the same allows you to control various aspects. Further, the user interface will be similar to a remote control for the device. Also, you can use this method to control Roku from Mac. Thus, the steps to control Roku from PC are as follows,
Step 1
First, you need to visit the official Roku online website platform to download the software.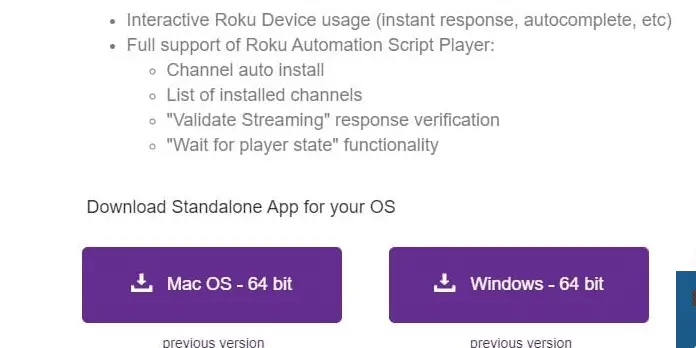 Select the device type from Windows or Mac as per the requirement.
Step 2
Once the software gets installed successfully on your system, open it.
The user interface will ask you to connect your Roku device accordingly.
Step 3
Next, you must click on the Select Device option on the screen.
It will open the Device Manager.
Step 4
If you want to connect your Roku, tap the Add New Device option in the manager box.

Step 5
In the next step, connecting the Roku and PC to the same WiFi network would be best. It will ensure better compatibility between both systems.
Step 6
Fill in the accurate details in the dialogue boxes, such as device name, model, and IP.
Moreover, if you fill in the IP first, the rest will get filled automatically.
Step 7
Once you fill in the details, click the Add button to complete the process. Thus, now you can control Roku from PC without any issues.
Roku Remote for Windows as Chrome Extension
Earlier, the Roku app was directly available in the Microsoft Store for Windows 10. However, the application did not remain for long and got removed. But users can still use the digital Roku remote through Google Chrome. There is no doubt in the fact that almost every Windows operating system has a Chrome internet browser.
See also: How to Install Mobdro on Roku | Everything You Need to Know
Further, you can install a specific extension that will allow you to control the Roku devices. You can use it as an alternative for Windows users. Therefore, you can get the Chrome extension by the steps,
Step 1
First, make sure that you have a perfectly working Chrome web browser.
If not, download the latest version and install it in the system.
Step 2
Search for Chrome Extension online or directly visit the browser's extension store.
Step 3
Look for Remoku, which is the name of the extension used to control Roku from a PC.
Moreover, this is an entirely free-to-use application for the users.
Step 4
Click on Add to Chrome button, and it will take a couple of minutes for the process to complete.
Make sure that you have an active internet connection with stable speed.
Step 5
Once the previous step is complete, you can see an 'R' icon on the top bar of your browser screen.
Click on it, and a small remote screen will open.
Step 6
Next, click on the Settings option and further fill in all the corresponding details of your Roku.
It is better to add the details manually as it will avoid any potential errors.
Step 7
After completing all the details, save everything. Thus, now you can use this virtual remote to control Roku from your PC.
Also see: How to Turn Off Roku Express and Other Roku Models
Roku Remote for PC (Mac)
The last method consists of the details that will help you download the Roku remote for your Mac devices. It is a proven way to access different settings of your device from a remote host. The best way to conduct this process is by downloading the Remote for Roku app. Moreover, you can easily find it on the Mac App Store by searching it accordingly. It will enhance the overall settings of the system such that you can control Roku from a Mac.
However, users must pay a minimal $4.99 to use this application. Further, ensure to Add a Device correctly and be assured to connect to your specific device.
See Also: How To Play Wii On Roku TV? Step-By-Step Easy Guide
FAQs
Can you control Roku from a computer?
Yes, you can use Roku from your PC; the only thing you need to notice is that the Roku App and the PC should be connected to the same WiFi network.
Is there a Roku app for PC?
There is no separate App to run Roku on your PC. You can run the App in the BlueStacks App player, which can be done on Mac and Windows.
Is Roku compatible with Windows 11?
Yes, Roku can be run on Windows 10, 11, and Android since it works with MiraCast open standard.
How do I find my Roku IP address?
A WiFi connection is required to find the Roku IP address. Open the Roku App and find the dropdown menu with three dots. There you can find the IP address in the System Info.
Conclusion
We hope this guide for controlling Roku from PC will serve the purpose. Also, if you face any difficulty, contact Customer Support. If Roku is not connecting to your local network, then Roku Won't Connect To Local Network | Top 10 Fixes you can read.
See also: How To Add Plex To Roku | Explained Easily With Images