Roku is among the top names when it comes to hardware digital media players. You can directly connect it to any screen and stream endlessly.
However, users often complain when their Roku won't connect to the local network and face several issues. Users can actually troubleshoot it by following our detailed guide, which we are going to discuss.
Read till the last, and you will get solutions to every issue which you are facing.
See Also: How to Install Kodi on Roku
What Does 'Roku Can't Connect To Local Network' Mean?
Error specifics beneath the error name, Roku cannot connect to your local network or roku network setup troubleshooting. The creator of the product or program that malfunctioned can decode the numeric code beneath the error term. Here are more details, including why and what systemic substance or application led to this problem.
The error data this numerical code carries in the error name may appear elsewhere. Thus, it is easier for users to identify the error and solve how to fix roku network issues with adequate technical knowledge and appropriate software.
For more control over your Roku, learn how to control your Roku from your PC by clicking here.
Error codes on Roku and suggested fixes:
Error code 009
Your Roku device connects to the network if you receive this code but cannot access the Internet. If there is no connection, ask your ISP for assistance.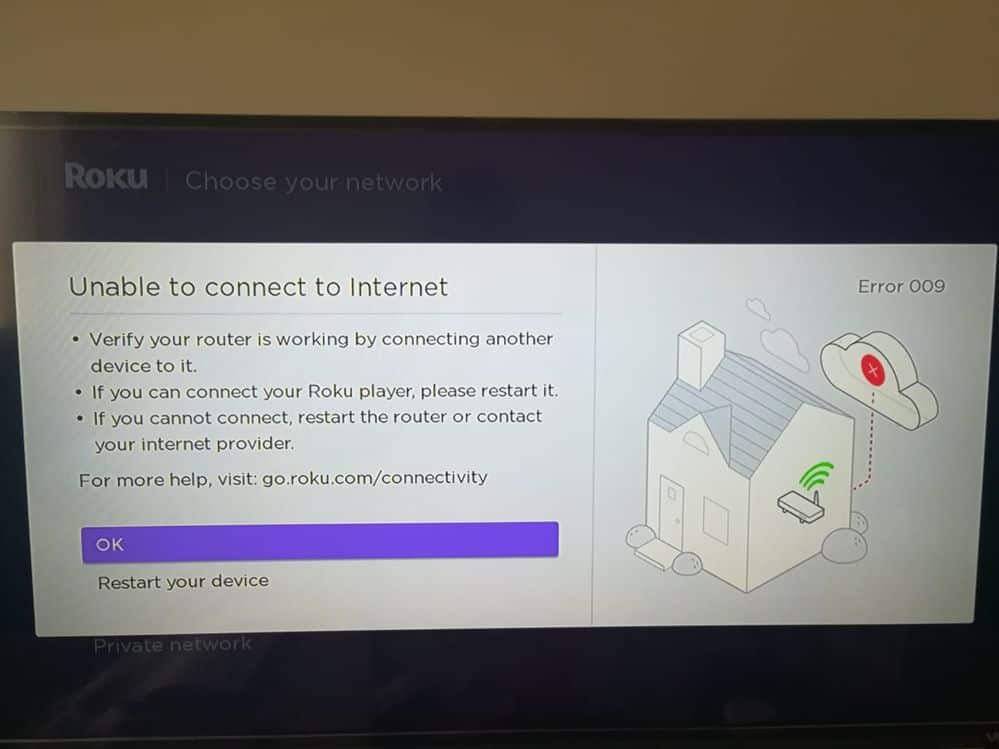 If your PC has an internet connection but Error 009 persists, restart the Roku device.
Error code 012
This particular fault connects to Ethernet. Ensure your Roku device and router are firmly linked with your Ethernet wire.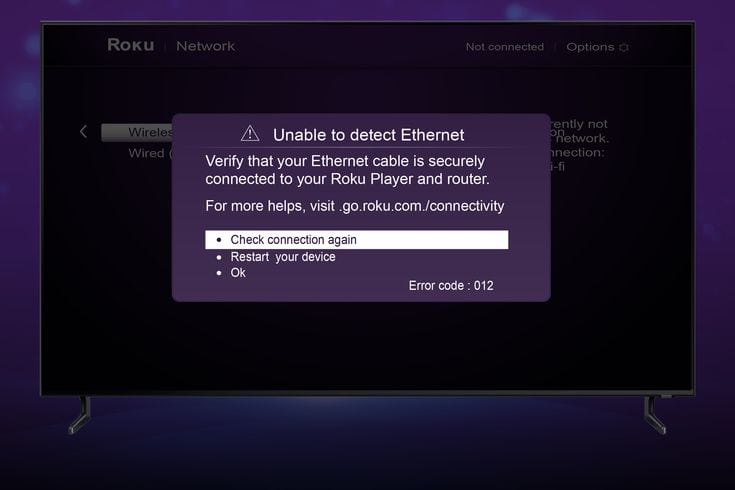 If feasible, use a different Ethernet cable for testing. 
Error code 013
This exact problem has to do with Ethernet. Make that your router is operating properly. Restart your Roku device if you can access the Internet on another device.
Try unplugging and replugging the Ethernet wire if you cannot access the Internet from another device. Before contacting your ISP, reboot your router if the issue persists.
Code 014.40 or code 014.41
The wrong network password brings these on.
Check to make sure you've selected the right network and that you've entered your password correctly. 
Error code 014.50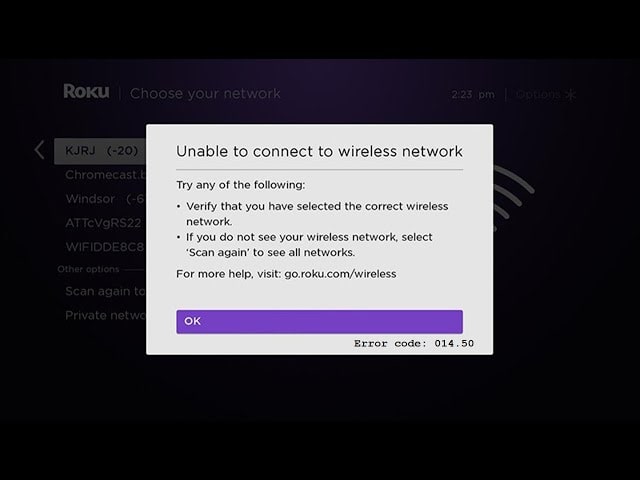 Restart both the Roku device and the router.
Codes 14.62 or 14.64
Make sure the signal is strong enough. Your Roku player may be too far from the router.
Start your router and Roku again.
Error number 016
The wireless signal can be too weak if the behavior persists. This will occur if you are trying to build a channel, but the network or internet connection has been lost which means roku not connecting to internet.
Select Set up Connection and follow the on-screen directions to access your Roku device's network settings.
Error code 017
This error code appears when your Roku device detects a weak wireless signal or roku wireless connection troubleshooting.
Try relocating your router and Roku device closer to one another by following the on-screen instructions. 
Error code 018
Your Roku device detects sluggish internet speeds, which results in this error code.
To find out what speed connection you subscribe to, check with your ISP. 
Why isn't my Roku able to access wifi or the Internet?
Media playback can be halted by connection issues, which can also occasionally impact the functionality of the Roku device.
Some of the most typical Roku wifi connection problems include the following:
Playback can freeze or have performance issues with poor wifi signals.
A power or router outage may momentarily disrupt service.
Other network devices like PCs or game consoles may consume the network bandwidth.
For wired devices, the Ethernet cable might have unplugged itself.
Occasionally, the Roku device may malfunction or fail.
How to Fix Roku Won't Connect To Local Network [2021]
Here are some of the fixes that will help you to establish a strong connection with your router.
Check Internet Speed
You may probably be aware of the fact that Roku makes use of the online compatibility of the internet to function properly. Therefore it is important to regulate the connection speed of your service provider. Moreover, checking the internet speed using various applications and software is advisable.
Therefore, in case Roku won't connect to local network, you can detect a possible problem in the device. The best way is to connect another device with the same connection and test for internet speed.
Reboot the Router
In case you find any disturbance in the connection while connecting to Roku, you should restart the router device. This will give enough time for the connection to stabilize and create a strong internet speed.
Moreover, the router reboots the configurations and start with the default settings. Also, look for any other problems in the router, such as a power failure or defective device.
See also: How to Recover Username and Password of Your Router
Correct Credentials
It is always a good habit to connect your Roku with a trustful internet service provider like the one at your home or office. You should not combine it with public sources as they can corrupt the internal settings of your device.
Hence, there can be several connections with a similar name, and it can be a problem for the device. Therefore, you must carefully fill in the exact name of the router you want to connect.
Restart Roku
If Roku won't connect to local network, sometimes the problem is related to Roku itself. In case you own Roku Express, you can refer to this guide to turn it off properly. It can be a possibility that Roku needs a restart for a stable connection with the WiFi. The steps to restart Roku are quite simple:
You will find a restart button, click on it and Roku will take a couple of minutes to restart.
Therefore, you can solve the problem when Roku won't connect to a local network without any potential interference.
See Also: Best Screen Mirroring Apps On Android For Roku | Top 5 Picks For 2023
Use Ethernet Cable
It is a common trend to see users connecting their Roku with a wireless connection such as WiFi. This is not a reliable internet source as there can be several connectivity issues.
In some cases, Roku can't connect to a local network without using the ethernet cables. These cables directly attach to your device and provide a much faster internet connection.
Enter Correct Password
Also, ensure that you fill in the correct details like router name and password in the device. Roku cannot connect to the local network until the credentials match the correct combination. If you are unsure about the password, you can always reset the password for your router. Follow these steps to reset the password,
Use a pin or toothpick and keep holding it for around 20 seconds while the router is on.

Finally, use the default password to connect to the device and change it later on.
See also: How To Install Kodi On Fire TV / Stick | Simple Methods
Reconnect with the Screen
There is also a possibility when Roku stick won't connect to local network due to internal factors. One of the most common reasons is an irregular connection between the stick and the device itself.
You have to reconnect both the gadgets as it can further hinder the internet connection. Hence, you should regularly check the status of internal connections for a better experience.
Comprehend DNS Status
There is no doubt that DNS settings are responsible for maintaining a sustainable internet connection coming from the router. Roku will not connect to local network before all the settings are properly fixed. The steps to correct the DNS settings of a router are as follows,
First, you have to login into the router from any browser by filling in the IP address and the correct credentials. After that, l

ook for the DNS settings menu and click on it.

Further, there will be two different DNS variations. Make sure to change them accordingly. For DNS1, put 8.8.8.8. and for DNS2, put 8.8.4.4

Save the changes made in the menu and restart the router.

Finally. Connect Roku and you can use all the functions without any error.
HDMI Connection
HDMI cables are required to connect Roku with the TV screen. Sometimes the loose connections can make the device to stop functioning. That is why you should check the wires properly and replace any broken piece.
Users should carefully insert the plugs into the correct sockets. Also, refer to the instruction guide for connecting Roku with your TV.
See also: How to Get Spectrum App on Vizio Smart TV [Complete Guide]
Contact Customer Services
At last, if your Roku won't connect to local network or have any other issues, it is better to call customer care. The experts will provide you the best solution for the problem.
Moreover, it would help if you got an expert to look for any damage to the device itself. Also, you can replace Roku if it is under the warranty period after the purchase.
Conclusion
We hope all the points in this guide will solve your issue. After all, no one would want to experience any connection lag while streaming on Roku. Hence, you can enjoy a seamless internet connection and stream various items.
See also: How to Turn Off Roku Express and Other Roku Models