Mobdro is one of the most widely used apps for streaming videos. This multimedia app streams video from the internet in various languages on Android devices, tablets, PCs, Macs, and TV screens. But recently, the government blocked stream access due to copyright infringement. You can find a list of the top Mobdro alternatives in this article.
The best alternatives to Mobdro Sling TV
Sling TV
Pluto TV (Free)
Xumo TV (Free)
Oreo TV
Tea TV
Live Net TV
VUDU
AOS TV
Mobdro was one of the most well-liked third-party live television streaming providers. But recently, it shut down, and it's unclear if it will reopen. It's no longer functional. It may be sad for Mobdro fans, but no worries. Many alternatives exist to Mobdro, like KODI, PLUTO TV, SLING TV, PLEX, VUDU, TVCatchup, etc.
Other Mobdro alternatives offer comparable services with additional capabilities, including Android handsets, Windows, and Firestick. You can review the Mobdro alternatives listed below.
Top 12 Mobdro Alternatives for Free Online Live TV Streaming
Here are some of the best mobdro alternatives you can consider using.
OREO TV
For Android devices, Oreo TV streams content from international sources. You may view live TV stations from India, the US, and the UK. A dependable internet connection would be beneficial for the program to work correctly.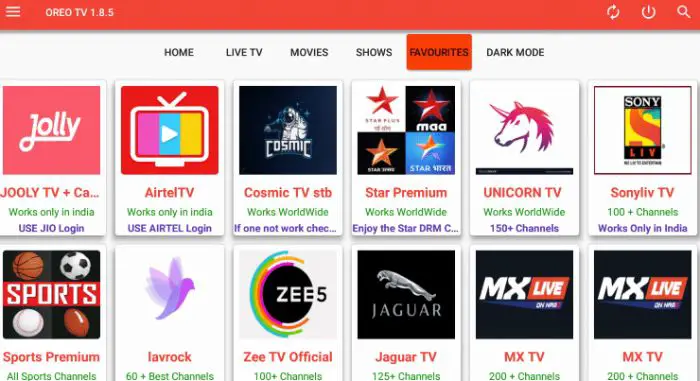 The Oreo TV App has a lot of choices and is free; there's no subscription. You can view all the popular streams for free on your mobile device. That is just unmatched, especially in terms of entertainment.
Visit: OREO TV
KODI
Kodi is one of the most popular video player apps. It is one of the great Mobdro alternatives. This free media player can stream various content, including sports events, web series, and TV shows. And it is one of the Best Free Movie Apps For Android. Most commonly used operating systems, including Android, Windows, and iOS, are compatible with it.
The user interface is smooth and straightforward. You can install any add-on for Kodi to see your preferred content. Additionally, you can utilize Kodi as a mobdro alternative for the Firestick by installing it.
See Also: How To Install Kodi On Chromebook
Visit: Kodi
Pluto TV
Pluto TV offers over 100 live stations and thousands of on-demand movies and TV shows. It is a free streaming service. All widely used systems, including Chromecast, Android, Roku, and Amazon Fire TV, have access. We can purchase it via accredited merchants like Amazon, Apple, and Google Play stores.
You won't require a subscription, even though it is an authorized service. Pluto TV is, however, a platform that relies on advertisements. That implies that you will see advertising while enjoying your preferred material. Pluto TV offers a user-friendly interface and buffer-free live TV viewing. Sports, news, and children's content are each given their section. 
See Also: 6 Simple Steps To Remove Pluto TV Virus Today!
Visit: Pluto TV
AOS TV
One of the most excellent IPTV Android applications is AOS TV, which supports over 1000 live channels from various genres, including news, sports, entertainment, movies, religion, and cartoons. One of its best features is that this program offers TV channels worldwide and allows you to watch them without a subscription.
This software is simple to use. To start, look for the information you wish to view. If one of the links is broken, further links will appear; if one is broken, the other link will take its place. 
Visit: AOS TV
Live NetTV
Live NetTV is one of Google's verified Mobdro alternatives. It offers 150+ live channels in 7 categories—sports, news, entertainment, music, food, kids, and religion—all available on Live NetTV. 
The best feature of this straightforward streaming app is that it streams content from any genre without any pop-up ads. Its user interface is simple, and prompt user support is available to add your preferred channels. 
See Also: 7 Best Match Live App Choices To Watch In India [2023]
Visit: Live NetTV
Sling TV
Sling TV is one of the US's most well-liked live TV streaming services. With this subscription, you'll access many US cable TV channels, including CNN, TLC, Fox News, AMC, History, TNT, Cartoon Network, Discovery, FX, and many others. Sling TV should be considered if you're looking for a paid Mobdro substitute.
Find out about the plans and included channels, and sign up for the service. After signing up, you may download the Sling app directly on your FireStick from the Amazon Store. Additionally, the software is available on the Apple Store and Google Play stores.
Visit: Sling TV
TEA TV
Tea TV is a free streaming website featuring the best live TV and TV shows. There is a good selection of television series, and the information is played in high definition. The software that functions as a mobdro TV streaming substitute also offers several highly sought-after movies.
Tea TV is a good option for Mobro if you're seeking a streaming app; it supports multiple players. Millions of users worldwide have downloaded the program, although no advertisements exist.
Visit: Tea TV
PLEX
According to an announcement, a live TV area has been added to the Plex Media Server's service. You don't need gear to watch live TV on Plex anytime. There is a channel for everyone with action, humor, movies, news, and more streaming around the clock.
Plex has over 14,000 movies, TV programs, and documentaries. They included more than 80 free live channels. We advise viewing our complete Plex guide below to learn more about the service.
See Also: How To Add Plex To Roku | TechWhoop's Guide
Visit: Plex
Tubi TV
Tubi TV is one of the best Mobdro Alternatives. Millions of people use the free movie streaming service Tubi TV each month. The streaming service is legal and free. Viewers can easily use the platform because they do not publish copyrighted content. Over 20 million people use the site monthly, with over 20,000 movies and TV episodes. TubiTV has a collection of classic Japanese Anime that you can dive into.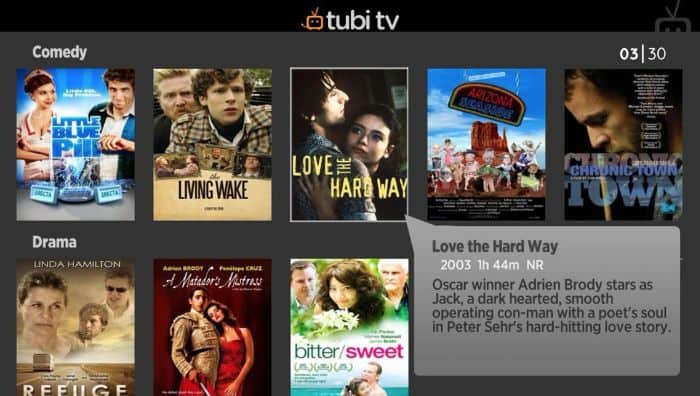 Fox Corporation has expanded its content offerings since purchasing Tubi TV for a staggering $440 million. Users looking for device compatibility can play Tubi on more than 20 different devices. To know about more Online Video Watching Apps For Android Phones.
Visit: Tubi TV
XUMO TV
You might want to try Xumo TV if Mobdro ceased functioning for you as well and you're seeking a substitute. This service is still a solid option even though it offers fewer channels than Mobdro and no premium channels.
Xumo is a recognized platform. Consequently, you may purchase it from the Amazon Store on your FireStick. Additionally, it is accessible through other official outlets, like Roku, Google Play, and the Apple Store. This service makes popular channels like Bloomberg, NBC News, etc., available. You can access a ton of on-demand movies and television series as well. Xumo is entirely unrestricted. However, it is ad-supported, just like Pluto TV. They make money this way. 
See Also: How to Install Mobdro on Roku | Everything You Need to Know
Visit: Xumo TV
VUDU
In 2007, Vudu debuted as a set-top box called the "Vudu box," becoming the first on-demand service to provide digital movies in HD and being one of the first to offer clients 4K UHD with Dolby Vision/Atmos quality, founding partner of Movies Anywhere, and the only platform that transforms physical discs into digital.
Vudu is a popular platform for millions of users to watch free and paid movies online. The site offers 4K and full HD streaming, which enhances the quality of the viewing experience. Vudu offers paid and free content as a platform for streaming movies and TV shows. The movie streaming service features a large selection of produced films and television programs and a separate section for free movies and programs. 
Visit: Vudu
TVCatchup
Watch live UK television whenever it suits you. Free channels from TVC include news, sports, movies, music, shopping, and children's television—a free live-streaming app, the official TVCatchup, in the UK.
This program can be used to watch TV when someone else is taking up the main screen while you are driving, traveling, cooking, or doing anything else. This app is excellent, and I suggest using it to watch live streaming of British television. It is also one of the best Mobdro Alternatives. 
Visit: TVCatchup
FAQs
Is there a free live TV app?
A large selection of live TV stations worldwide is available on the free live TV streaming software Live NetTV for Android smartphones. The app's straightforward and user-friendly layout makes it simple to navigate and locate the channels you're looking for.
Is Peacock TV free?
All of Peacock's television programs and motion pictures are pay-to-view unless you are eligible for a discount. Peacock formerly provided a free subscription tier to access tens of thousands of hours of TV, movies, sports, and original content.
Is Pluto TV available at no cost?
Pluto TV is a free television service. It offers hundreds of live channels with programming from internet sources and collaborators. While other regions have fewer channels, the US has well over 200.
Is free streaming on the internet forbidden?
As long as the website you visit has the rights to the video you view, streaming movies at no cost online is lawful. In truth, dozens of secure and completely legal websites offer free movies.
Is Mobdro legal?
Yes. It is legal to install and set up the app on your smartphone. However, Mobdro disclaims liability for any third parties that stream illegal video content.
Is public streaming permitted?
The location of the live stream will be necessary since it will show whether or not there is a legitimate expectation of privacy. To broadcast the venue space lawfully, if you're not on corporate property, you'll need to secure a location available from the owner.
CONCLUSION
These are your top options for the best Mobdro replacements. The applications on the above list are all fantastic options for watching live TV on your mobile, and you can also stream Mobdro to TV. One of these applications will feature the channel or genre you're looking for. Most apps provide high-quality content, while some may be free and others cost money. Examine each to determine which is best for your requirements. You may access all the content on these applications without geo-restriction using a VPN.