The increasing popularity of Best Free Dating Sites and apps proves that single girls and boys are searching for love. Modern technologies have changed the dating game, making it more fruitful. Many dating sites are ready to help you find your perfect match, but there are also pitfalls to be aware of.
Best Free Dating Sites to Use Without Getting Scammed
Match.com
OkCupid
eHarmony
Zoosk
Tinder
Bumble
Coffee Meets Bagel
Pure
You should be aware that not all the Best Free Dating Sites are reliable, and you can take the bait of a skilled scammer almost everywhere. Keep your eyes open and use sites where the possibility of becoming a part of a scam story is reduced to a minimum. Keep reading to have a compiled list of all the dating sites you can use without getting scammed.
See Also: How To Get Unshadowbanned On Tinder? Complete Guide!
Best Free Dating Sites to Use Without Getting Scammed
Help yourself to find your 'The One' for the lifetime.
Match.com
If you have already joined a dating game, you might be familiar with this universal dating site, which appeared much earlier than most famous applications. It has become a foundation for all subsequent Best Free Dating Sites since 1995. Of course, like any other successful company, match.com has changed under the influence of modern technologies over time, trying to keep pace with new requirements and users' expectations.
For example, here, you will also find "stories," initially a feature of Snapchat.
Every day, this site gets 25,000 new members. Here you can feel safe, searching for a soulmate with the same interests. That is, Select the most suitable people depending on your profile. A subscription costs $20 monthly, but a free trial period exists.
OkCupid
This one of the Best Free Dating Sites allows many people to find their beloved ones and determine the mood of strangers. You are offered an extensive list of questions, for example, on political and public topics. On the one hand, these questions give you a reason to reflect on various issues and determine your position.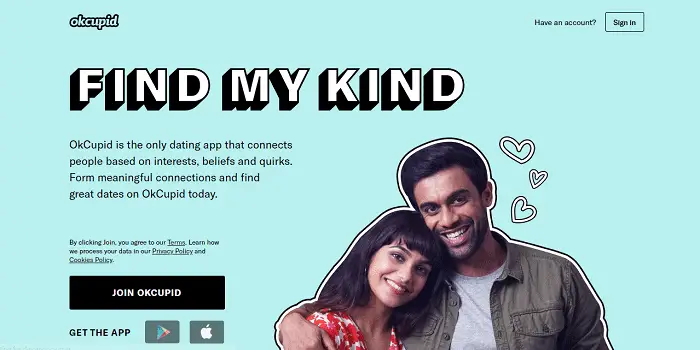 On the other hand, you can see other users' responses. While you figure out how many people on the site love fluffy cats, OkCupid is looking for someone with similar interests. The site is mostly free, but some features, such as anonymously viewing a person's profile, are paid.
eHarmony
Can you believe that this site has been successfully existing for 18 years? It is suitable for finding a serious relationship because your profile is protected reliably. According to creator Neil Clark Warren of Best Free Dating Sites, about 54 million people are using eHarmony, and the site is "responsible" for about 5% of marriages in the US.
Of course, you don't necessarily have to think about the wedding right away, but you can be sure that this site is full of those looking for committed relationships and not just one-night stands.
Zoosk
It is an excellent option for foreigners searching for a partner from another country. Of course, this is not a mandatory rule, but if that's what you're looking for, you will be exhilarated to discover that this site has an advanced anti-scam protection system. Zoosk is more suitable for a young audience.
This one of the Best Free Dating Sites is not as severe as eHarmony and does not offer to answer many questions. It pays attention to the people whose photos you like and then selects a suitable match based on your preferences. A nominal membership fee will be applicable for some premium features, and more than 4 million users visit daily.
Tinder
Tinder: One of the most well-known apps for meeting new people. If you're here to meet new people, you've come to the right place; meet locals when you're traveling, expand your social network, and live in the now. Matched. Chat. Date. Tinder is easy and fun—use the Swipe Right feature to Like someone and the Swipe Left feature to pass.
They invented the opt-in so two people will only match when there's a mutual interest. So no stress for rejection. Simply tap on the profiles you're interested in, chat online with your matches, step away from the phone, meet up in the real world, and spark something new.
Bumble
Bumble to start building relationships, discovering friends, and making connections.
Creating a new meet has never been easier. Bumble is working to lift dating stigma by employing unprecedented standards for respectful behavior. With this relentless dedication, millions continue using Bumble to have valuable daily relationships.
Bumble is a matchmaking technology that provides an app that allows users to foster more than romantic connections and the Best Free Dating Sites.
Coffee Meets Bagel
Made for people who love chatting, making new friends, and finding their perfect match! An exciting way of meeting new people and expanding your social circle.
If they like you back, it makes it a match!
View photos and check out everyone to decide who deserves alike! Access to a collection of people looking to make new friends without fearing rejection. Once you get a match with people, chat using texts, voice messages, pictures, and videos. Your match better by following their life moments.
Interact only with the people you match with and never receive messages from random people. You will not be seen on coffee meets bagel by people you already know; share your contact list. The ice-breaking feature is the best and different from the other apps, where you can use ten playful questions to understand your match better.
Pure
Pure is one of the relationships-focused dating apps imagined all over the world. It has become an excellent community for all nationalities, like Southland Asians and Desis, from all over the world, connecting online to go on meaningful offline dates. Consider as one of the best Free Dating Sites.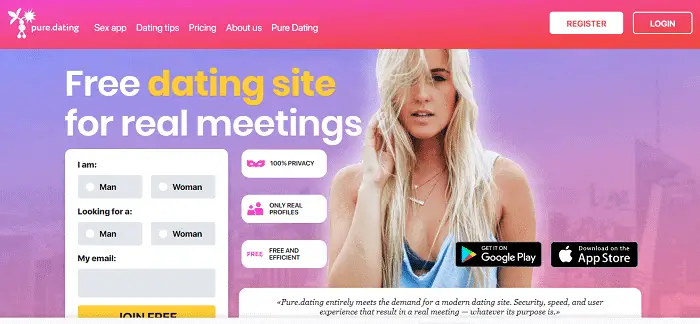 Pure is free to download and use. However, one can subscribe to a VIP membership for the best premium features.
FAQS
Are these dating sites completely free to use?
No, not all dating sites are completely free to use. While some dating sites offer free basic features, many require a subscription or payment for advanced features or to unlock full functionality. It's essential to research and check the terms and conditions of each dating site to understand the costs and limitations before using them.
How can I avoid scams on dating sites?
To avoid scams, follow these precautions. Be careful when people ask for money or financial help. Do not rush to provide personal or confidential information. Use a proven and reputable dating site. Trust your intuition and be wary of suspicious or overly flattering profiles.
Can I find genuine and serious relationships on these free dating sites?
You can find genuine and serious relationships on these free dating sites. While some people seek casual encounters, many users genuinely enjoy meaningful connections. To find a compatible partner, being clear about your intentions and communicating openly with potential partners is essential.
Is there an age limit for using dating sites?
Dating sites often have age rules to ensure everyone follows them and to keep things safe and protected. Specific age limits may vary, but generally, users must be at least 18 to participate in these platforms.