Are you tired of writing addresses on envelopes every time you need to post something? Have you ever tried exploring ways to make your work easy? Don't worry! We have the best solution. Give your tired hands some rest and try these fantastic softwares that can work on your behalf and save your time, energy, and money. Wondering how Envelope Printing Software can save these important things?
Well, using these software, you need not write those tedious addresses every time, thereby saving your time and energy. It autosaves the addresses you have used in the past, so you can simply select the address without inputting the addresses which you have already fed into the software before. You need not go to a store to get some designed envelope to show your attachment in the envelope, thereby saving your money. You can create your envelope yourself using the software.
See Also: – 10 Best Free Image Viewer Software to Download – TechWhoop
Top 14 Envelope Printing Software
Here, we have listed the 14 best envelope printing software that may help you ease off your extra burdensome work:
Quick Envelopes
Now customize your envelopes for free with this envelope printing software. It efficiently and quickly prints a variety of envelopes. This software doesn't restrict you to sizes and printers. It has a special editor that will offer you to see the preview before you will print your envelope.

This software has around 25+ designs for envelopes. You can either choose from the sizes mentioned there, or you could make your envelope of dimensions of your choice. There are different alignment styles for both addresses. Now personalize font, style, color, etc. Explore this software more by clicking on the link provided below.
Download: Quick Envelopes
See Also: How to Find Printer IP Address I 4 Easy Ways To Find It
Easy Envelopes
Easy Envelope software is another envelope printing software that is as easy as its name. You can use logos in your program too. This envelope printing software offers you two choices. Either you can alter envelope sizes or their text style. You can easily import your addresses and print a USPS scanner for your employees.

Get professional-looking envelopes quickly. This software prints a single envelope effortlessly. Neither do you have to do batch processing or mail merging, just some elementary steps, and you are good to go. The link to download this software is given below.
Download: Easy Envelopes
Print Envelope
This envelope printing software comes for free with a lot of features. Just fill in the inputs like font size, font style, and numerous effects. You can change the alignment or paper size the way you want to.

Although there are various options available for the free version, some are available only on a paid account. For example, you can add images only in the paid version and not in the free version. Check out the link provided below to know more about this envelope printing software and download it too.
Download: Print Envelope
OpenOffice Writer
This envelope printing software is free. The interface is more or less the same as words, but unlike word, this envelope printing software lets you print envelopes too. Initially, open a new document from the file Menu.

Click on the envelope option, which can be found in the Insert menu. Create your envelope. Once you do the designing, using the insert option, you can effortlessly print it.
Download this creative, easy-to-use, and adjustable envelope printing software from the link given below.
Tweaking Envelope Printer
Tweaking Envelope Printer is an easy way of printing and designing your envelopes. Just input your address once and use it multiple times only by a click. You can use various font styles and format your text as you like and make it look formal or informal as per your purpose.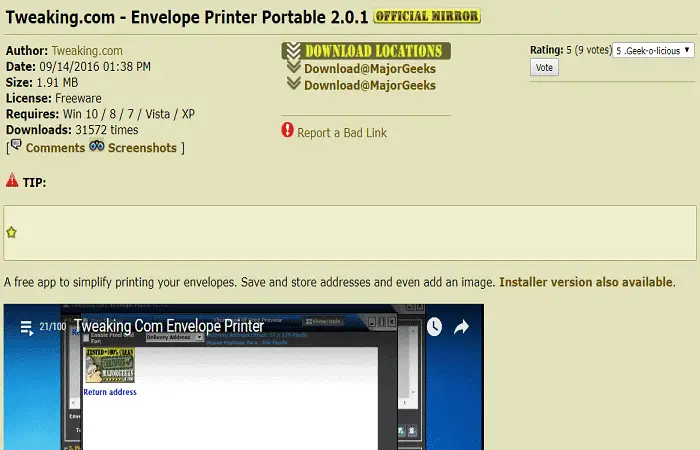 Design it in your way by dropping pics on the envelope, giving it an exciting look rather than a regular everyday look. The address book helps you save the addresses you may need.
Download: Tweaking Envelope Printer
Envelomat Envelope Printer
Envelomat is not just an envelope printer, but it's much more than that. You can print letters or labels using a filtering enabled address book. It contains inbuilt templates that make your work even easier.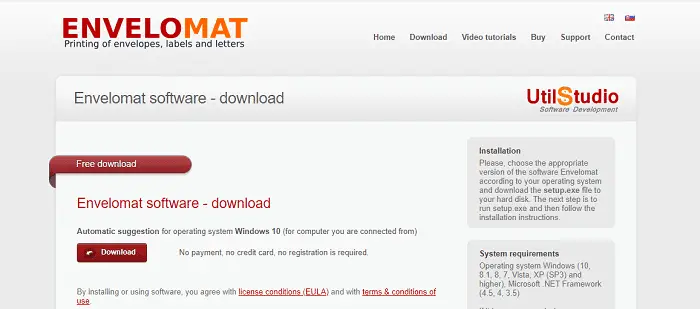 You can print your content in international formats as well. You can import the address from your file system of various file formats. It supports XML, CSV, TXT, DBF, FDB, MDF, MDA, GDB and DB file formats.
Download: Envelomat Envelope Printer
See Also: – Top 5 Best DVD Creator Tools to Download Right Now – TechWhoop
Envelope Printer
Envelope Printer allows you to print envelops with just a single click. It has an inbuilt address book that saves your addresses for future use. The address book is always sorted, letting you search your address quickly by following the order.
Zipcodes are automatically loaded as per the cities. Not all font styles and sizes are available for the free version.
Download: Envelope Printer
SSuite Free Office Software
Ssuite Envelope Printer is an easy and portable way of designing and printing your envelopes. The user-friendly interface eases off your burden in printing. You can select an envelope size, input type, and print your envelop accordingly.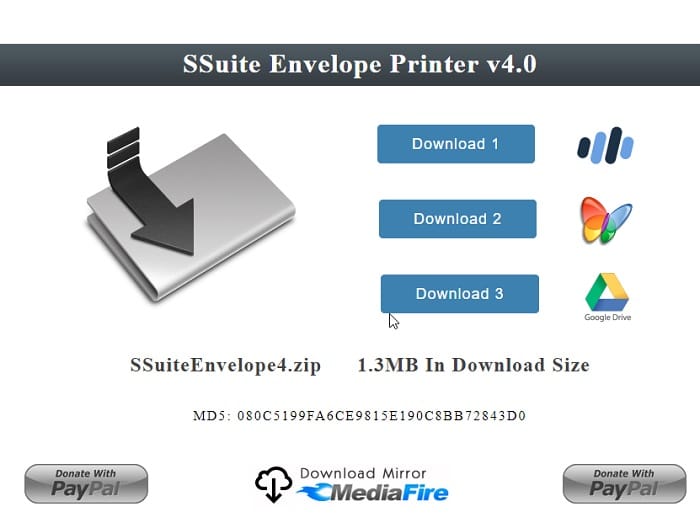 You can preview how your envelope looks before printing and make any modifications if required. An address book is embedded inside the software to help you save your addresses and use them efficiently when needed. You can also use this software for informal purposes like printing greeting cards, etc.
Download: Ssuite Free Office Software
See Also: – 8 Best BIN File Opener Software for Windows – TechWhoop
The most predominant software from Microsoft is Microsoft Office. It serves almost all the purposes that a professional or a common man needs. Among all those purposes, envelope printing is one such. MS Office is a trusted application that has achieved many users worldwide.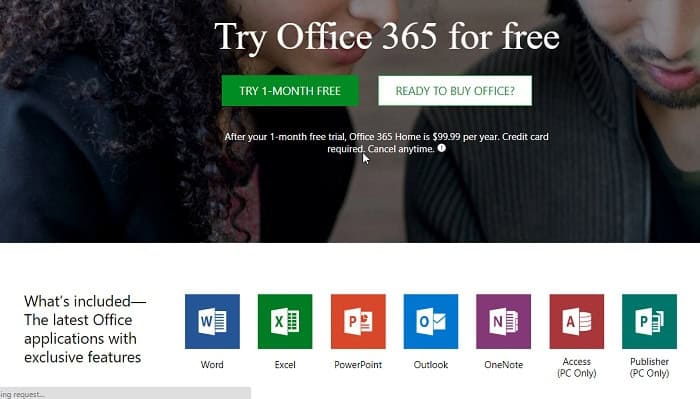 You can turn your MS Word into an envelope printing software by selecting the Mailings tab and clicking on Envelopes icon. You can enter the recipient address and the return address and print the envelope.
Download: Microsoft Office
goEnvelope
goEnvelope is a simple envelope printer that does not require any installation procedure. Enter the recipient address and your address in the respective text areas and print by creating a standard PDF. If you enter a recognized address, then a barcode is added to your envelope.

You can save the PDF in your file system and print the same whenever required. This application is available for all your devices, thereby enabling you to print your envelope from any of your devices.
See Also: – Top 6 Best Free Adware Removal Software (2023) – TechWhoop
Duckware
Duckware Print Envelope is an easy and straightforward interfaced software. Just input the addresses, and the software saves them automatically for future use.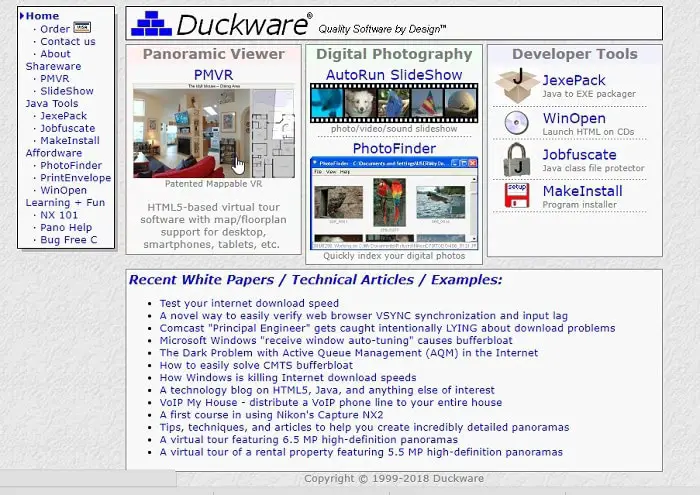 It filters your address book while you are typing an address and displays all the relevant addresses to ease off your search in your address book. It supports any envelope size, and new envelope sizes can be added.
Download: Duckware
Dataware Envelope Printer is a quick way of printing envelopes. Just add the address and print. No interruptions and disturbances in between. It is so easy to print your envelopes. You can add images to the envelope to make it look exciting and fun to make.
You can use various types of font styles to make your envelope look formal or informal as per your desire. Do not hesitate to use all the available features. It supports six types of envelope sizes to work upon. Make sure you meet those size limitations before printing the envelope.
See Also: – Top 6 Best Video Capture Software (Best of 2023) – TechWhoop
EZ Envelope Printer lets you print smoothly and efficiently. You can add an Intelligent Mail Barcode to your envelope. It stores all your addresses in two different databases, one for the recipient addresses and the other for return addresses.
You can use logos and images of this free envelope printing software to make it look personal or company-based. It is also possible to add individual messages on top of the envelope to raise excitement in the recipient to open your envelope. You can backup your data to your hard drive to ensure lossless data.
Download: EZ Envelope Printer
LibreOffice also helps you in printing envelopes. You can specify the addresses of the recipient and the sender and thereby select the envelope size and print it. This Envelope Printing Software is as simple as that.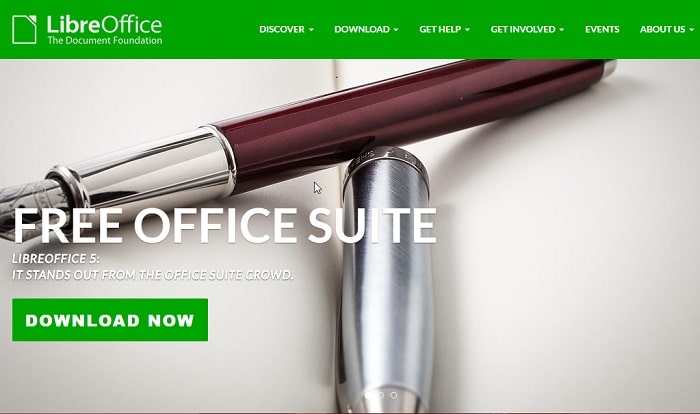 You can quickly add or delete envelopes with ease.
You can format your text in the style you like and make it look exciting and clean with font styles.
Download: LibreOffice
See Also: – 10 Best Free MP4 Joiner Software for Windows – TechWhoop
Conclusion
So these are some Best Advanced Level Envelope Printing Software you must try in the upcoming year 2023. Le us know which one you liked the best in the comment section given below.
See Also: 10 Best Facebook Spy Software To Track Your Friend