Are you and your partner seeking free tools to stay accountable and achieve your goals together? Are you curious about the best accountability apps explicitly designed for couples? Discover the top free accountability apps for couples that can help you strengthen your relationship and accomplish more as a team.
Here are some of the best accountability partner apps available: Flown for group focus sessions, GoalsWon for personalized coaching, FocusMate for virtual coworking, Tability for business goal tracking, Supporti for goal tracking and communication, Accountable2You for digital accountability, Boss as a Service for virtual motivation, and StickK for financial consequences. Hence, to know more about these apps, keep on reading.
Accountability apps for couples are gaining popularity as a rising trend. These apps allow partners to track each other's activities and locations. Thus, couples embrace these apps to foster trust, transparency, and communication in their relationships. By using these apps, couples feel more connected and secure, knowing they can monitor and support each other responsibly and accountable. To learn more about free accountability apps for couples, keep on reading.
See Also: How To Get Tweaked Apps For Free on IOS and Android
Benefits and Advantages of Accountability Apps
The couple tracker app review offers several benefits that can strengthen relationships and provide peace of mind for couples. Here are three significant advantages of using these apps:   
Strengthening Trust:

 

Couples tracker

 apps promote trust by allowing partners to see each other's activities and locations. It creates a sense of accountability and transparency, reducing doubts and suspicions. Besides, by sharing this information voluntarily, couples can build trust and feel more secure in their relationship.

Ensuring Safety and Peace of Mind:

 With a couple of tracker apps, partners can monitor each other's location in real time. This feature can help ensure safety, especially during travel or emergencies. Thus, knowing they can quickly locate and reach out to their partner brings a sense of reassurance and peace of mind.

Enhancing Communication and Understanding:

 These apps can improve communication between couples. Sharing their activities and whereabouts allows partners to have more meaningful conversations about their day-to-day lives. Moreover, it facilitates a better understanding of each other's schedules, commitments, and interests, leading to more effective planning and coordination.
While a couple of couple tracker apps offer these advantages, it is essential to establish clear boundaries and mutual consent. In particular, open communication about privacy concerns and expectations is crucial to ensure both partners feel comfortable and respected.
See Also: 5 Hidden Cheating Apps For Android You Should Know About
Top Free Accountability Apps for Couples
Let's see some of the best free accountability apps for couples.
Flown
Flown is an accountability partner app that offers group focus sessions. It creates a virtual coworking space where you can work alongside others striving to achieve their goals.
The sense of community and shared productivity can motivate you to get things done. Flown offers a 30-day free trial and membership plans starting at $25 monthly.
See Also: 13 Best App Lockers Android To Protect Your Data
GoalsWon
GoalsWon connects you with a professional coach who provides daily support and guidance to help you achieve your goals. Further, it goes beyond automated reminders and offers personalized coaching tailored to your needs.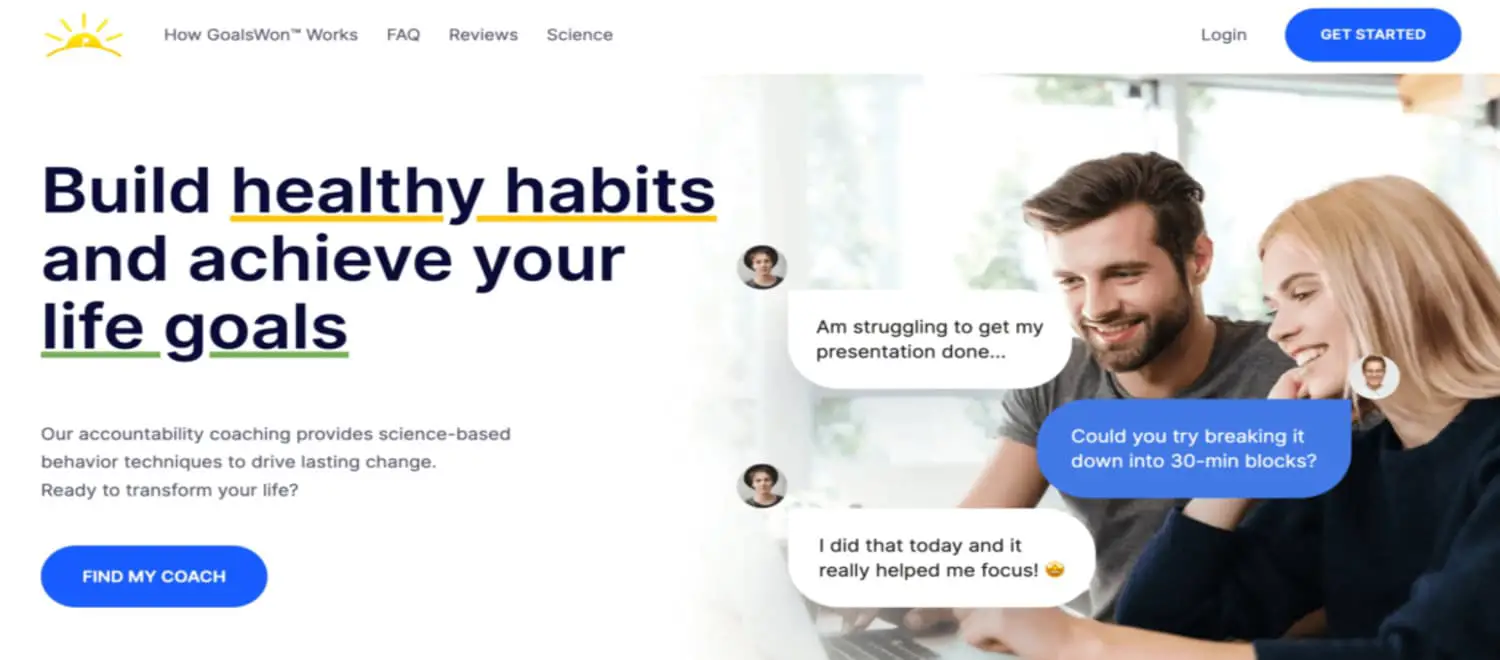 With GoalsWon, your coach becomes your accountability partner, tracking your progress and offering constructive feedback. In addition, the app costs about $90 monthly and offers a 7-day free trial.
FocusMate 
FocusMate is an accountability app that provides a virtual coworking space. Additionally, When you schedule a work session, you're paired with an accountability partner focused on productivity.   
Knowing someone who works with you can boost your motivation and help you stay on task. In addition, FocusMate offers free sessions and a premium plan for unlimited access starting at $9.99 monthly.
Tability
Tability is an accountability app designed for setting and tracking business goals. It allows you to break down your objectives into actionable steps, set timelines, and visualize your progress.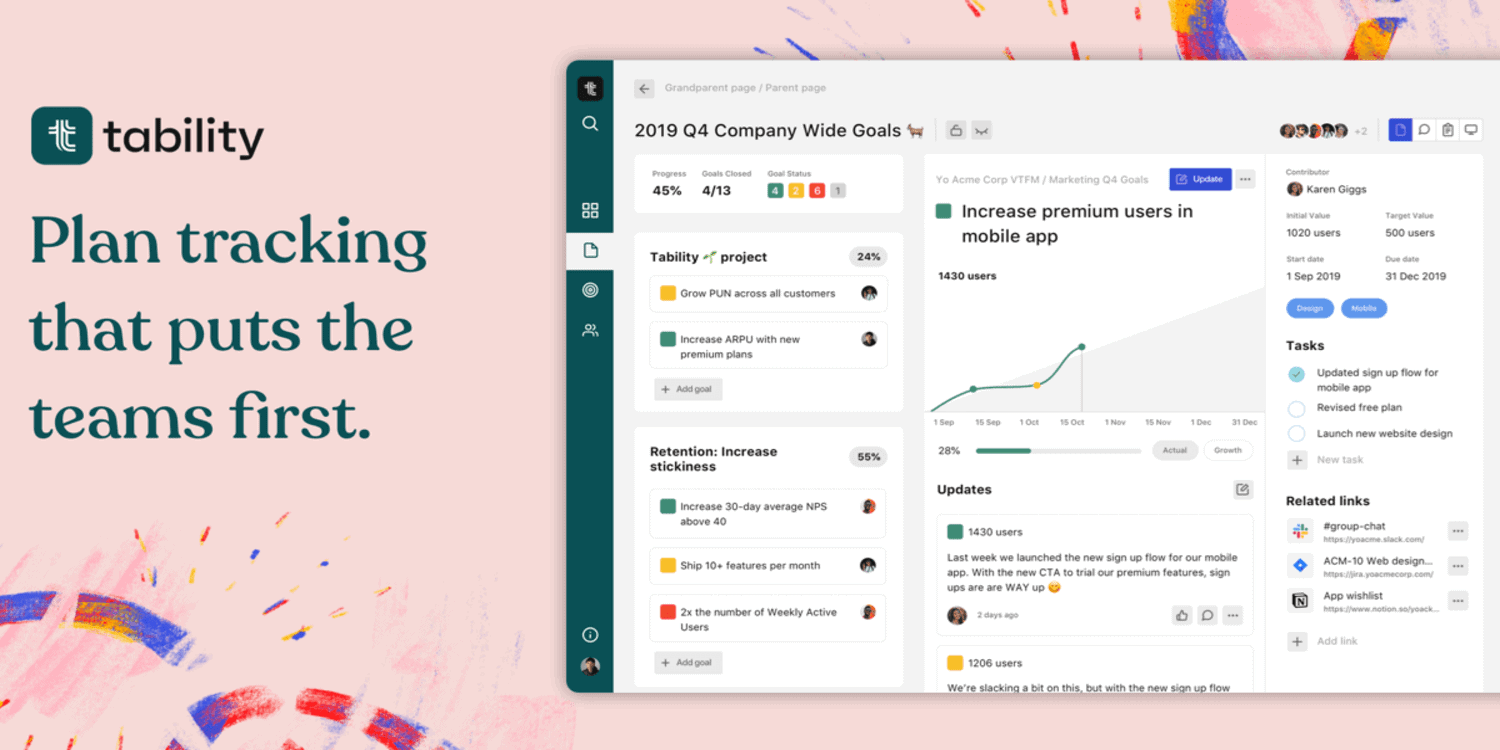 With features for project management and automated reports, Tability helps you stay accountable and provides valuable insights. Besides, it offers a free forever plan and paid plans ranging from $4 to $8 per person monthly.
See Also: The Top 10 Best Face Morphing Apps in 2023 You Should Know
Supporti
Supporti is a couples phone monitoring app that matches you with an accountability partner with similar goals. Furthermore, it fosters a sense of community and mutual support, allowing you to set goals, track progress, and communicate with your partner in one place.
Supporti ensures you have a productivity pal, cheering you on and holding you accountable. Also, the app operates on a subscription-based model.
Accountable2You
Accountable2You focuses on digital accountability by monitoring your online activities and reporting them to an accountability partner. Encouraging ethical internet usage and promoting openness helps you stay focused and prevent being sidetracked. 
The app offers various monitoring features and customizable reports to keep you accountable in your digital life. Accountable2You offers different pricing plans based on the number of devices and users.
Boss as a Service
Boss as a Service is an accountability app that acts as a virtual boss to motivate and push you to work harder. Additionally, it provides a structured system where you set goals, receive tasks, and report your progress.   

The app simulates a boss-employee relationship to help you stay focused and accountable. Boss as a Service offers different subscription plans.
See Also: 5 Best Apps To Watch Telenovelas For Free: Dive Into Drama
StickK
StickK is an accountability app that holds you financially accountable for your goals. You can set goals and commit to achieving them; if you fail to meet your commitments, you may face financial consequences. Further, the app utilizes the concept of loss aversion to motivate you and keep you accountable. The StickK app is available for free. 
With the help of these accountability partner apps, you may maintain accountability in numerous areas of your life while staying on track and achieving your goals.
Criteria to Consider When Choosing an Accountability App
You must consider several factors to choose the best accountability app. Here are four crucial considerations to bear in mind: 
Compatibility with devices:

 To understand what other users say about the app, read reviews and ratings. Check reviews to see how reliable, simple, and successful it is. Additionally, consider both favourable and unfavourable comments to gain a fair picture.

User opinions and rankings:

Read reviews and ratings to learn what other users say about the app. Check reviews to see how reliable, simple, and successful it is. So, consider favourable and unfavourable comments to gain a fair picture.

Features and functionalities:

 Analyze the app's available features and functions. Goal-setting, progress monitoring, reminders, habit tracking, and reporting are common aspects of accountability applications. Select an app that meets your unique requirements for accountability.

Privacy and security measures: 

Pay attention to the privacy and security settings of the app. Additionally, Verify if it needs access to private information, such as identifying or geographic information, and ensure that it has strict security procedures to guard your data from unwanted access or breaches.
Hence, considering these criteria, you can make an informed decision when choosing the free accountability apps for couples that suit your requirements and preferences.
See Also: Top 14 Free Voice To Text Apps Android (2023)
FAQs
Why do couples need accountability apps?
Couples can benefit from accountability apps because they can help them focus on their goals, provide mutual support and motivation, and enhance communication. Thus, these apps create a sense of responsibility and shared commitment, strengthening the bond between partners and promoting personal growth.
Are these apps safe to use?
Yes, most accountability apps prioritize user safety and privacy. They implement security measures to protect personal information and ensure secure communication. However, it's essential to review the app's privacy policy, terms of service, and user reviews to make an informed decision about using the app.
Can these apps help in long-distance relationships?
Absolutely! Accountability apps can be especially beneficial in long-distance relationships. Moreover, they provide a platform for setting and tracking shared goals, staying connected, and offering support despite the physical distance. Moreover, these apps can help couples maintain a sense of togetherness and work towards a shared future.
Do accountability apps replace the need for personal responsibility and communication in relationships?
No, accountability apps support personal responsibility and enhance communication. While they provide structure and motivation, couples still need to take ownership of their actions. Also, maintain open communication to build a healthy relationship based on trust and understanding.
Conclusion
While accountability apps can be valuable tools for couples, it is crucial to prioritize trust and open communication in relationships. Therefore, these apps should be used as aids to support personal responsibility and enhance connection. Also, we hope this article has helped you know everything about free accountability apps for couples.