You might also utilize Course Hero for your assignments and homework if you are a student. You might also be familiar with the registration provided by the website – standard and premium. The features are unsatisfactory in the free account, and you must wonder how to download documents from Course Hero for free. Well, here we have some solutions.
Upload documents with your free Course Hero account. Log in to your account and select the blurred copy. Click "View Full Document" and then "Continue to Access."
Using three main methods, you can download the e-resources available on Course Hero's official website. You can bring to use the Course Hero Downloader. You can try the CHDL extension method. In addition, you will see some other resorts do the same. This article will discuss all three ways to download documents for free step-by-step. You should read further if it interests you to know how each process is carried out in detail. 
How To Download Documents From Course Hero For Free- A Complete Guide
Let us look at the three methods to download any documents for free.
The Course Hero Downloader
A straightforward solution for downloading documents from Course Hero for free is using the online website Course Hero Downloader. It allows you to use the e-resource URL to save the files on your device.
Open Course Hero's official website and find the document to download.
Open the document and copy its URL link.

Now, you open the 

Coursehero Downloader

web page. You will see an in-page Search Bar with the instruction, "Please input document URL." Now, paste the document link that you copied here.
Press the 'Get Link' button.
The methods here vary according to the document type. So, you must follow the instructions that the Coursehero downloader provides you.
The CHDL Extension
For many, their favorite solution for downloading documents from Course Hero for free is the CHDL Extension method. The CHDL extension is a third-party supplement available on the online hosting service GitHub. To process this extension, I prefer to use the Google Chrome browser.
1. In the first step, you must download the CHDL extension on your device. It will be a zipped file. Unzip this and extract the files as you do for others.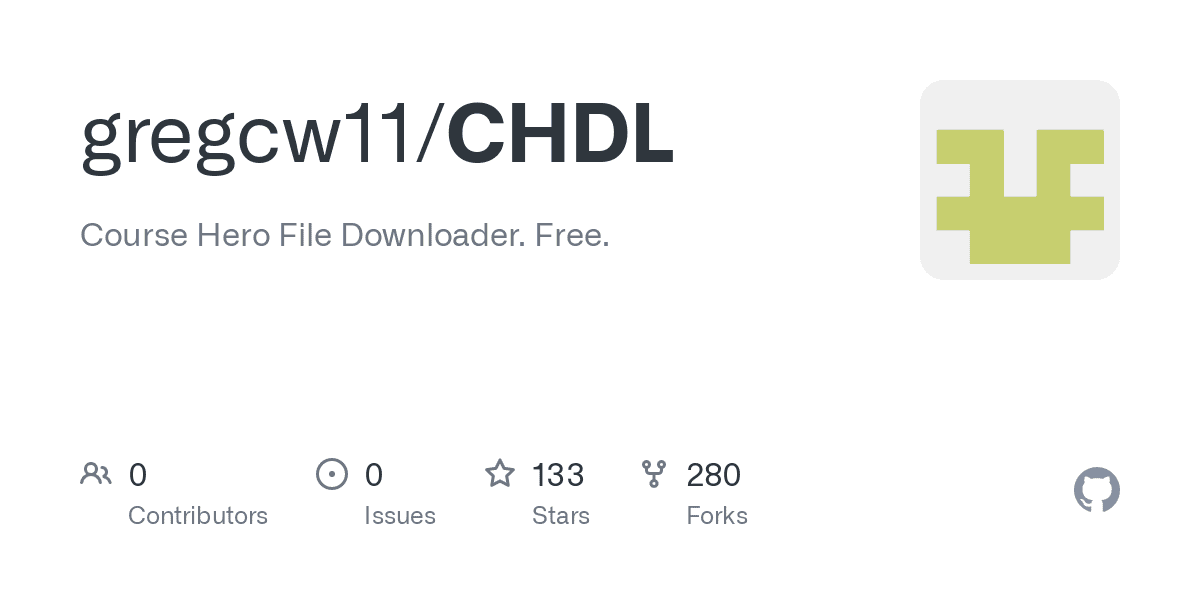 3. On your Chrome browser, type: chrome://extensions/
4. From the result page, slide to enable the 'Developer Mode' at the upper right edge, alternatively, for steps 3 and 4. Find the three-dot icon on the top right corner of your Chrome browser. Select the option 'More Tools.' Now choose 'Extensions,' and from there, slide to enable the 'Developer Mode from the top right corner.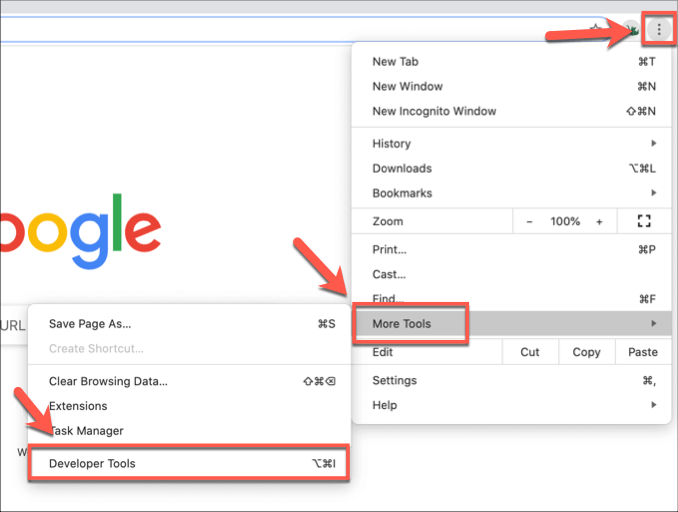 5. Once you complete Step 4, many additional menus will appear on your screen. You will find the option 'Load Unpacked' on the top left. Click on this.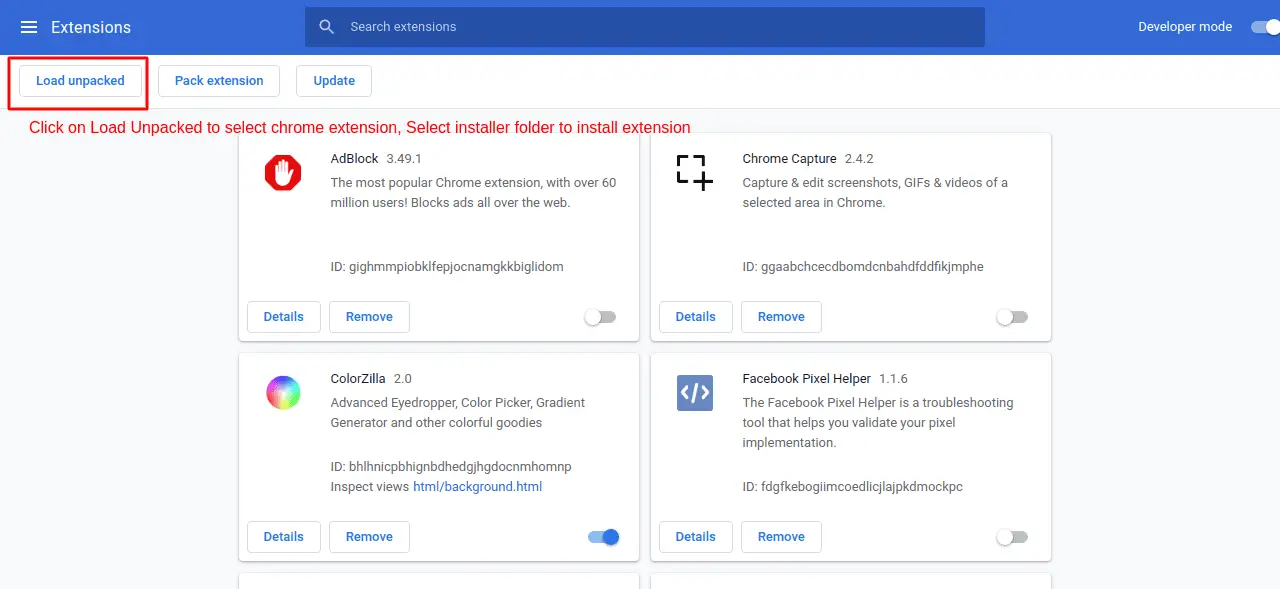 6. From the dialog box, search for the 'Min' folder, choose it, and click 'Select Folder.' A notification will pop up after some time, informing you that the CHDL extension is now successfully set up. You will also see the CHDL extension on the 'Extensions' page. You will revert to the 'Extensions' page. After this, open the Course Hero website.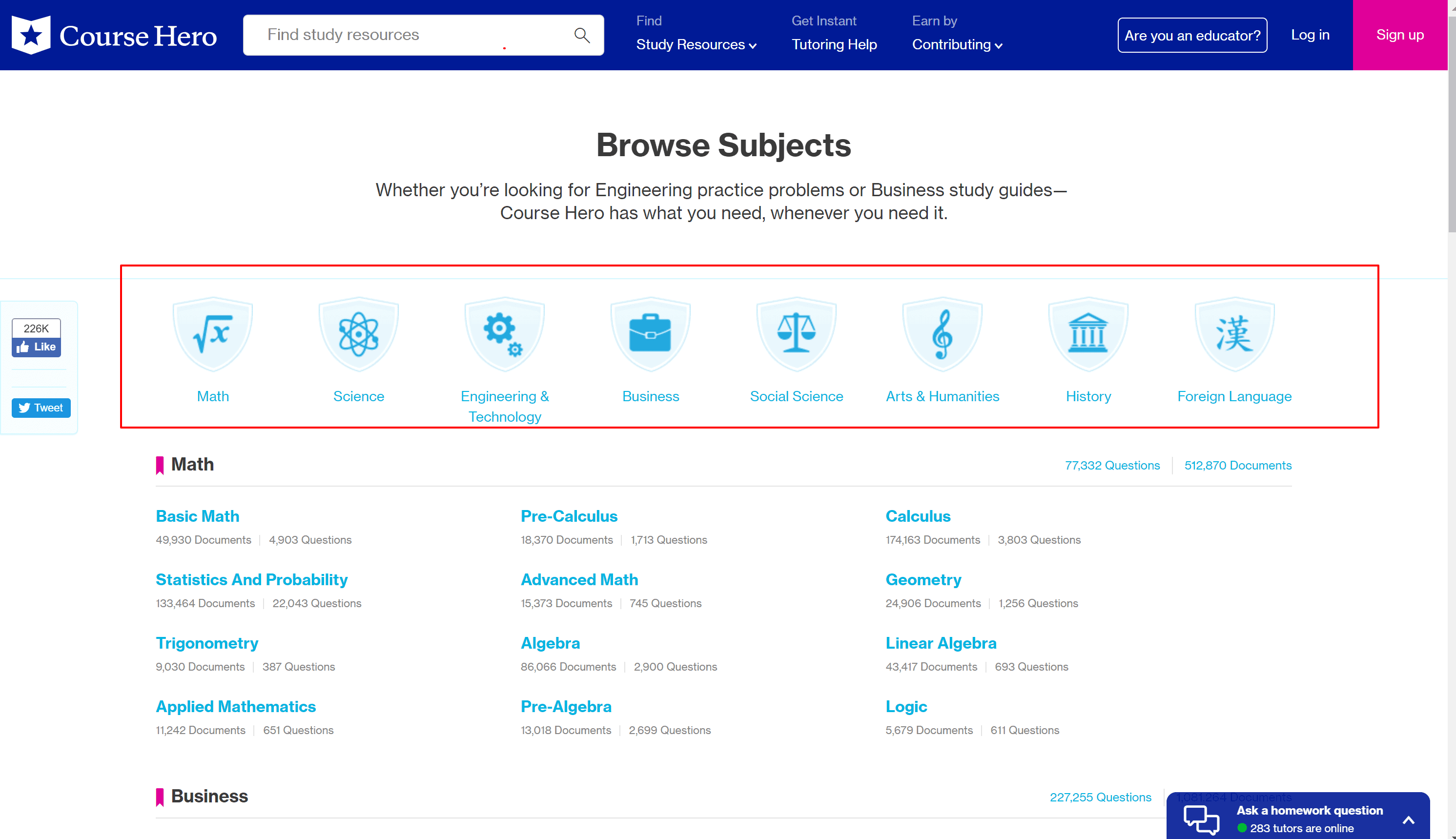 9. Please search for the document you want to download and open it. On the opened document page, right-click anywhere on the page. Choose the 'CHDL' option, then select the 'Download this File' option.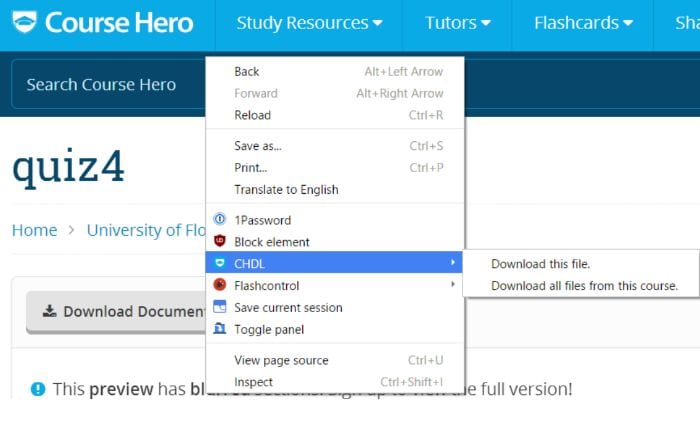 12. Your document will now be downloaded to your system.
Follow the above steps to download documents from Course Hero for free.
The Course Hero Website
Have you ever wondered how to free download documents from Course Hero using the platform? Course Hero has several documents that are available for free download. However, only a partial amount of these study files is available to save for free. What is best is that this is a legal download process.
1. Open Course Hero and sign up for a Standard (free) account. Log in if you already have one.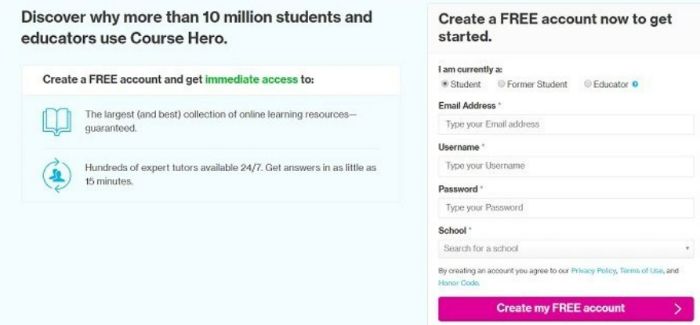 2. Search the document you want to download and open it.
3. At the open document's bottom-right, you will see the option 'View All Pages.' Click on it. From the pop-up that appears, choose the 'Download' option from the top-left corner. Your file will be downloaded.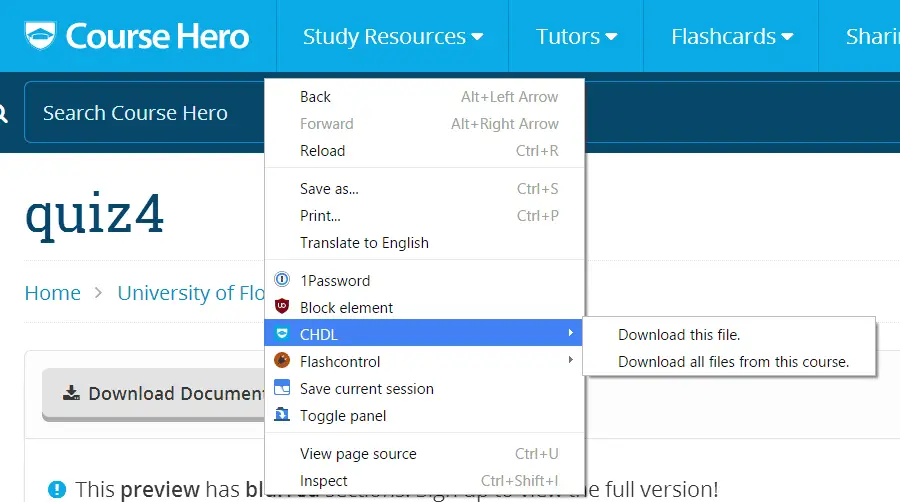 In case the file you want to download is premium, it will not display the 'View All Pages' option in the first place.
Other Methods
Uploading a document on Course Hero is free for all account holders, irrespective of the subscription type. So, the platform rewards its users for uploading these files. If you submit ten documents to the website (from your single account), you will earn either 05 document unlocks or permission to ask 03 questions and get their solutions. This is a great way to 'earn' the premium documents for free.
Another way to download documents for free is the Course Hero discount offers and coupons. Several discounts are available for a premium subscription (sometimes as high as 50-60%), and coupon codes to earn you unlock points.
These points and certain coupon prizes allow you to access documents that are otherwise paid for.
See Also: Best Study Apps For Class 10th Students
FAQs
Is it possible to free download Course Hero content?
Yes, you can very much download Course Hero content for free. You can use the CHDL extension or the Coursehero Downloader. You can also download the Course Hero content available for free from the platform itself.
How to do a free Course Hero account login?
You can register for a Course Hero account using your Gmail or Facebook. Then, you will be asked to choose a subscription type for your account. It would help if you went for the Standard Subscription for free account login.
What are the formats of documents uploaded and downloaded from Course Hero?
The study documents for Course Hero are uploaded and downloaded only in text formats. The file extensions allowed are DOC, PDF, DOCX, XLS, and XLSX.
The document I want to download shows blurred text and no 'View All Pages' option. What to do?
Blurred text appears for any content available only for premium users. Such compositions can only be downloaded using the CHDL extension or the Coursehero downloader. So, there is no legal way for you to download such documents without a paid subscription.
Can I use the CHDL extension method through any browser?
No, the CHDL extension method always functions best with Google Chrome. If you cannot use Chrome, go for the Opera browser. These two are the only browsers for this extension.
Conclusion
We discussed in detail how to get Course Hero for free in this article. You saw a step-by-step guide on three different methods to save your documents without cost. 
The CHDL extension allows you to save documents directly by opening it on Course Hero. You can use an online downloader like Course Hero Downloader to use the video link to generate a downloadable file. You also learned about the free files already available on the official platform. 
I hope this article on downloading documents from Course Hero for free will be helpful to you in future tests and assignments.
See Also: Why Won't Adobe Open? Top 10 Things To Fix It Instantly