Social media accounts are getting reported for a variety of reasons. The many causes include violence, harassment, and many others. You might wonder how to report an Instagram account that exhibits any of these problems after discovering one. Read on if that is the case! Remember that unless you report a copyright infringement, your complaint is anonymous. Who reports the account will not be visible to them.
Open the Instagram app to request the removal of someone's Instagram account. To get their handle, check a post or story of them, or use the search bar. Tap the name of the person. Tap Report, then decide on the kind of account you wish to report, and then adhere to the on-screen instructions.
This post will bring you through a step-by-step process for reporting an account that is impersonating or assaulting you on Instagram or if you want to report a fake Instagram account. This guide will demonstrate to you how to make a good report and have the account removed as soon as possible.
See Also: How To Change Your Region On Instagram? Complete Guide
How To Use Their Profile To Report Someone
Social media should be a haven for users. By enabling a user to report an Instagram account impersonating or harassing someone, the creators of these social media platforms have developed a way to minimize this crime.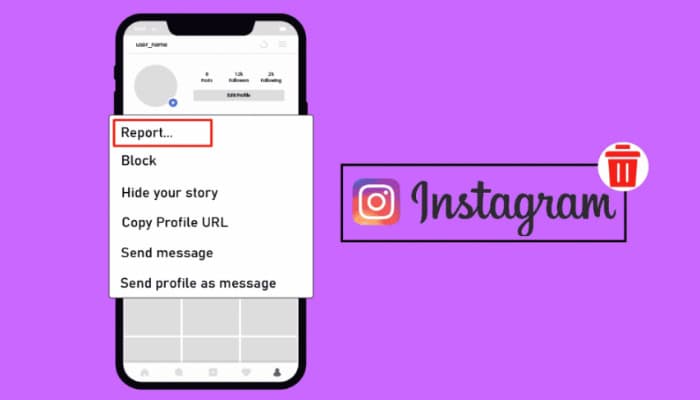 How? You have three options for reporting them: through the app, the desktop, or the support center. Never before has reporting these accounts been so simple.
Using A Mobile App To Report
.
Imagine you are attempting to use the app to report an Instagram account. All you got to do is implement the following actions:
On the bottom, click the search symbol and type the username you want to report in the search button at the top.
In the list of results, tap the desired account.
 At the bottom, click "Submit Report."
You have complained to Instagram by submitting. Instagram reviews and responses to your complaint in roughly three days. Upon completion, they may delete the account.
See Also: 10 Websites To Generate Instagram Names | Instagram Name Generator
Using The Desktop Version To Report
On the desktop version of Instagram, follow these steps to report an Instagram account:
Go to Instagram using your preferred browser.

 

Select "Submit report" from the menu.
Using The Instagram Help Center 
You can still report someone spoofing you on IG even if you do not have an Instagram profile or cannot log into one. Take these easy actions:
NOTE: Instagram has grown to be a popular social networking tool, but it can also become a quagmire of offensive language, repulsive images, and inappropriate content.
You have the right to expose accounts you believe are being used unethically so that Instagram may take them down.
Currently, many motives are there for you might want to report an Instagram account:
Spam

Nakedness or sexual behavior

Hateful language or actions

Threatening behavior or groups

harassing or bullying

selling regulated or prohibited goods

breaches of intellectual property

Both suicide and self-harm

Fraud or scams

erroneous information
Specific Report Format: A Must-Read One
If someone posts a personal picture of you on Instagram without your consent, we want to support you in finding resources and taking appropriate action. This list of things you can do and organizations you may contact for support and information was created in collaboration with the Cyber Security Civil Rights Initiative.
Take Action
If you decide to take additional action, you might need a record of the post.
For reporting, we advise you to take a screenshot of the post.
Report the post
You can report photos that violate Instagram's Community Guidelines anonymously. Please report those accounts to Instagram through the built-in reporting methods if someone is attempting to share anything that you want to remain private, such as messages, images, or videos, requesting you to give money, or asking you to do anything else that makes you uncomfortable. You can report anything using this Instagram report form, whether you own an Instagram handle or not.
After reporting a post, specially trained members of our Community Operations department will analyze the image. If it violates the Community Guidelines, Instagram will remove it. Then, we employ photo-matching technology to assist in thwarting further efforts to post the image on Facebook, Instagram, and Messenger.
Block or unfollow the user who posted it. Remember that even while these options can prevent you from seeing a post, the person who uploaded it and other Instagram users might still be capable of viewing it unless it got deleted.
See Also: How To Know Who Unfollowed You On Instagram? (7 Ways)
Get Assistance
These organizations offer assistance and resources to the targets of internet abuse or harassment.
To find out if posting something like this is prohibited in your state or country, you might want to contact your local police authorities. You may require a screenshot and other proof of the post if you file a lawsuit.
Make Contact With A Representative
Speak with a social worker or victim advocate in your main metropolitan area. Victim advocates can assist you in gathering proof, determining how to stay safe, and in addition to that, obtaining a civil security or anti-stalking injunction against the harasser.
If you are a teenager, think about speaking with a trusted administrator or school counselor.
See Also: How To Gain More Instagram Followers | Top 5 Trusted Methods
FAQs
Are reports on Instagram anonymous?
Remember that unless you report a copyright infringement, your complaint is anonymous. Who reports the account will not be visible.
What if someone made a fake account of me on Instagram?
You report it to the Instagram support center if someone made an Instagram account purporting to be you. Do not omit to offer all the vital knowledge, along with a picture of one of your government IDs.
How can I report a fake Instagram account?
To get their profile, tap their handle name from any of their posts and story or search for it. Tap the name of the person. Following the on-screen prompts, select report, then choose the kind of account you need to report.
How can I find an Instagram impersonator?
You may identify fraudulent profiles on Instagram by searching for your identity or the company's name. You can see every account that shares your name on the web page or Instagram app. Keep in mind that just because someone shares your name, it does not necessarily indicate they are posing as you.
Conclusion
Finally, there is the Instagram safety and help feature. App developers created these techniques to safeguard your online privacy.
This article covered how to report an Instagram account in many ways, whether or not you had an Instagram account. You may rest easy knowing that, if your report is accurate, the offending account will get deleted if it violates Instagram's rules.