Craig Newmark is the one who established this advertising website in 1995. It carries information like jobs, personals, sales, community, services, housing, resumes, and several discussion forums. This service is available in several countries, present in various languages. So, here we have compiled a list of the Best Craigslist Posting Software for you. I hope it helps!
You do not need to pay money to view the ads, but it is necessary to pay for the site if anyone wants to post the job and details of the company. Nearly 70 countries have this site for their advertisement enhancement. It is a popular site that has almost 49.9 million visitors to the site.
Let's See Some of the Best Craigslist Posting Software
Craigslist Auto Poster
Craigslist Auto Poster by CrayZilla supports Craigslist, easy to use to post ads. It is automatic software where you no need to create accounts manually. In just simple clicks, it provides you with the accounts for emails and your advertisement sites.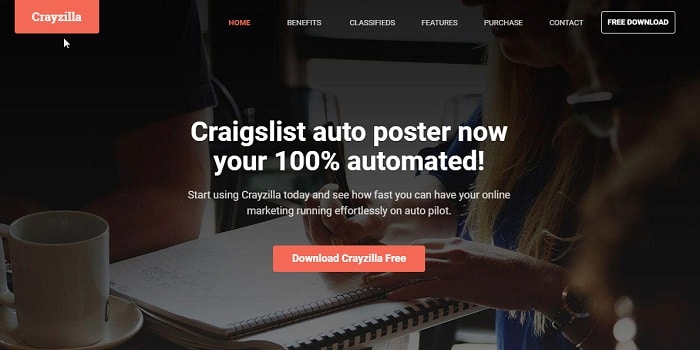 It creates nearly 1000's variations in your ads which feature is not available in any other Craigslist Posting Software. This makes each ad unique and new. You can easily search all of Craigslist with ease. It is software that works hard to advertise online successfully, and it is best for ad management.
CL AD Blaster
CL Ad Blaster is in the top position since it posts your ads in multiple cities on the Craigslist site. This craigslist poster is automatic software to post your ads, where you no need to spend more time establishing your advertisement online.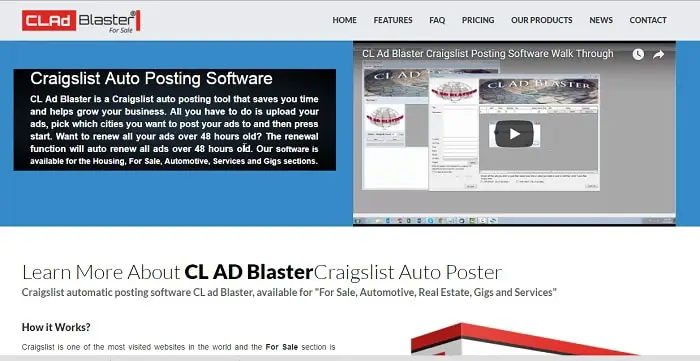 You do not need to worry about the expiring date of the ads. This software helps you by automatically reposting the ads as soon as they reach their expiry date.
This is one craigslist ad posting service where you can renew your ads within 48 hours, which is done automatically. To explore this software before buying it, try the trial pack to experience it yourself.
Craigslist Auto Posting Software
This software allows you to post your ads on top classifieds, which autopostingtools.com designs. Still, wondering how to post on craigslist? You can create more customers and enhance the number of clients for your company by posting various ads via this software.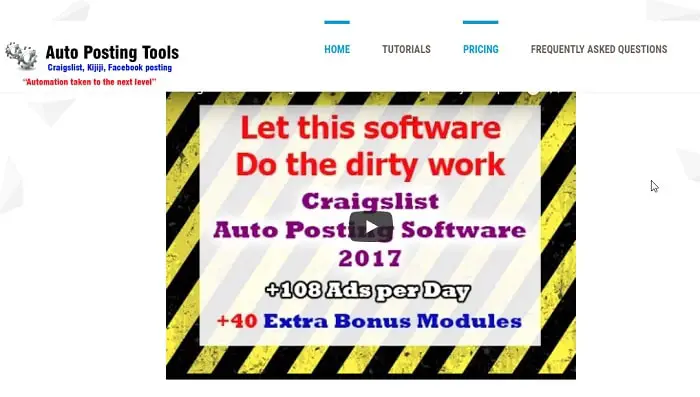 Craigslist Auto Posting Software compiles various softwares where you can post your ads in Craigslist posting, Craigslist Flagging, and several features like Facebook posting, fiver scrapping, etc. It can auto-renew the post—certainly a deserving spot on our list of Best Craigslist Posting Software.
Craigslist Bot Pro – Best Craigslist Posting Software
It helps you to get rid of the worries about the work for posting the ads. Craigslist Bot Pro helps you in advertising your personal and business needs online.
This is the craigslist software where you can manage your posted ads every day. Few simple clicks in the software automatically allow you to post multiple ads. Recruiters, real estate dealers, Marketing companies, and auto dealers can easily download this software to reach clients.
ESC Ad Poster
If you wish to post your ads on various electronic boards, then download ESC Ad Poster. It allows you to add contact information which will be an advantage for you which provides easy access to clients. It is very easy to handle. Just add the content and sit back to relax till it is posted.
CLAD Genius
Similar to the name, it works like a genius to develop your marketing throughout the world. CLAD Genius has the option of custom marketing to promote your products to the place where you wish to reach them. This genius can multiply your one ad into infinite different ads. So you know to think about different concepts for posting one ad.
ASN Auto Posting Tool
It is a comprehensive tool. An advantage of the ASN Auto Posting tool is that you can easily view where and when the ad is visible. You have to set the time and the cities where the advertisement should be open.
Then other works are easily done by the software itself.
This tool is more advantageous for those who want to improve car sales. Because it posts the ad of every car you have in the showroom easily, try it for $29.95, and it is the platform where you can change the format of your ads.
Craigslist Quick Poster
Craigslist Quick Poster is the auto poster software for startup companies to establish their business via craigslist.org. It follows the way of One click, one ad. Here you no need to take any risk of advertising through the website.
Craigslister eAssistant
Just give the details of the ad and click on the Save button. Within a fraction of seconds, your ad will be ready for posting on several sites. Craigslister eAssistant even helps you to post ads on YouTube. Here you can choose how many ads you need to post.
It works as an assistant for you during ad posting online—certainly, one of the Best Craigslist Posting Software. Credits will be afforded for posting. It will cost you one credit for plain text ads, while you need five credits for YouTube ad posting.
AdPlotter
For those who wish to secure your market online, this is the right software to get help. AdPlotter will help you by posting your ads on multiple free high traffic listing sites.
Here you need to create a single ad for your product. Ad Plotter will convert your single ad into multiple ads on multiple sites. It can add your posts to more than 400 classified advertisement sites. It helps in maximizing the customers for your product.
Ad Plotter will convert your single ad into multiple ads on multiple sites. It can also add your posts to more than 400 classified advertisement sites. Ad Plotter helps in maximizing the customers for your product.
Admissile
Admissile is one of the best ad posting tools that you can use for posting ads on websites such as OLX, eBay, and even marketing places such as Craigslist.
The full version of this Craigslist Posting Software is premium, but currently, it is in beta, so it is available for free. The official website advertises itself as a Craigslist auto posting Powerhouse. They promised to help you get more leads and thereby increase the traffic to your business.
Even though you can post Ads for many online platforms, as mentioned earlier with this Craigslist Posting Software, admissile is mainly focused on generating ads and Posters for Craigslist. It is a great dedicated tool built into it by which you can track, repost, and renew your ads. The service encourages you as a business person to focus on your business instead of sweating at the little things.
There are many other useful features in this Craigslist Posting Software, such as reposting and annual service for your ads in case they get flagged. Getting here at camp in flood is one of the worst things that can happen to your ad promotion. You will appear less often in search results, and your campaign or post shall not be recommended for matching keywords. So in case any of that happens admissile has got you covered. So go ahead, start beta testing now!
Crayzilla
Crayzilla is a 100% automated ad poster on Craigslist. It is a free Craigslist ad posting software service for craigslist, which offers great features such as multi-site management, renewal, and scheduling, a craigslist account creation, ad spinning service, to name a few.
It also offers additional handy features such as automatic scheduling and captcha bypass using optical character recognition (OCR), which is pretty cool.
If you don't know why this is important, you have to fill a captcha every time you post an ad campaign to Craigslist, Wi-Fi that you are not a bot trying to spam users because Birds cannot read text or characters written on an image. This saves you the hassle of manually and ring those weird letters Yourself by using enhanced optical character recognition Technology each time you want to post a genuine ad on Craigslist, saving you a lot of time and patience.
There is obviously a free trial version and a premium version of crayzilla, each with its own feature set. The free version is a trial, allowing you to create ads and set campaigns for it. You can also build accounts choose the time of posting them, and you get standard support with everything for the free version. However, if you get used to getting the paid version for about $100 per month, you get unlimited ads and unlimited posts with high-priority support.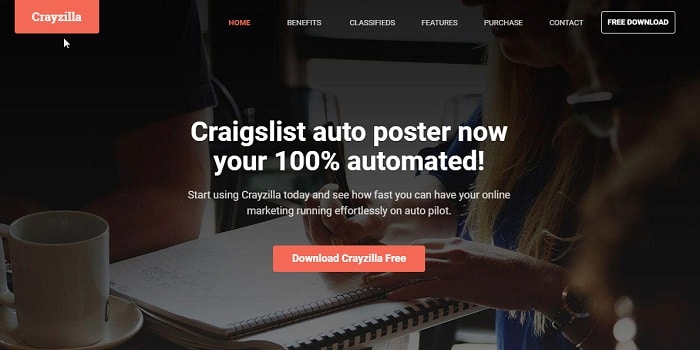 Whether you choose to upgrade or not. This will depend on how badly you want your craigslist gig to touch the sky. If you are happy with the results, you will be better off with the free trial version. Otherwise, you don't want any limitations on it. And you are making a ton of money already. Maybe those hundred bucks a month is worth your investment.
The binary installation file is only about 11 megabytes in size. If you have decided that you are ready to go with the features mentioned above of the service, then download Crayzilla for yourself.
Conclusion
So, these were some of the Craigslist Posting Software that you can use to build campaigns for your business on Craigslist.
Choose the one you like and go ahead with the same. But be aware of the issues you will have to face if you decide to put your ad campaigns on Craigslist compared to other ad posting sites because Craigslist is notorious for flagging and deleting your campaigns out of the blue sometimes for no genuine reason at all.
That's what happens with all the big online organizations when their user base gets bigger. The probability of them screwing over smaller or usually innocent members increases by that much. There is a genuine need for Craigslist Posting Software. Damn, it feels like I'm describing YouTube! Oh well, that's the price we have to pay for doing business on craigslist, I guess.
To conclude, here is a little business tip for you from a non-business man's vocabulary. Work hard, play fair, and pay the right people! Best of luck.