Games are an important part of our life. Often we tend to choose hard-hitting, multiplayer games with great graphics and cool effects. To make it all possible, software like Uplay is installed on our PC. However, often the case when you double-click on the game icon, Uplay won't launch.
The inability of Uplay to launch is primarily due to issues such as third-party applications interference, corrupted cache, and antivirus software conflicts.
Such issues are with many users worldwide every day. While some of the issues get resolved with a simple fix of restarting the computer, some issues require admin rights or, even worse, when users have to approach the support team. So, if your play won't start, this will help you. In any case, to get the most out of the least effort, follow the steps below and try to resolve the issues yourself.
How to Solve Uplay Won't Launch
The steps below explain every possibility that Uplay won't launch.
Task Manager > Delete tasks or End Tasks.
Often when Uplay doesn't launch, the issue can easily get solved by deleting or removing unwanted tasks running in the background that might be blocking functions for the running of Uplay.
Go to the Task Manager. End all the tasks which relate to graphics or video or audio playback. Stop all the running instances of Uplay. It will ensure Uplay starts afresh the next time it connects online.
Another way of removing or deleting tasks is using the Run Command and typing MSConfig. Disable all the tasks except Microsoft System tasks. It will prevent all the issues pertaining to the problem of Uplay won't launching.
Run as Administrator
Sometimes the applications on our PC are, by default, run with some other user rights than the Admin. It depends on the user mode for a particular session if your uplay won't launch. To fully use the features and access rights, you should run all your programs as an administrator.
Right-click on Uplay icon and run as administrator. It will give you admin rights and make any system rights issue solved.
See Also: – 10 Ways to Fix Microsoft Edge Won't Open Error
Check if Ubisoft locked you out by logging into the website and companion app.
Most of the time, when Uplay won't launch, you need to check if Uplay has locked you out of the server. Visit the Ubisoft website and try logging into your account. You can also use the Ubisoft companion app and try logging in to verify if you can access your account.
If you can access your account, Ubisoft hasn't locked you out of the servers. However, you need to contact the Ubisoft support team if you cannot access your accounts.
See Also: – How to Fix Google Chrome Has Stopped Working – TechWhoop
Reset & Restart your PC
Once all the tasks are stopped from functioning, delete all the running instances of the same.
Press Alt + F4 and Restart your PC. It will clear away any temporary files stuck in the system and release any empty slots for the system to function smoothly again.
Once the system is back up and live, run Chrome OS as administrator.
Reinstall Uplay
If you can't find the solution with any of the above methods and everything looks good with your Ubisoft account, try reinstalling the Chrome OS.
You can do this by uninstalling Chrome from the control panel. Once uninstalled, you can check any remaining folders or files pertaining to the system. Clear everything and install the Chrome OS again.
Recheck Username and Password
One simple reason which often gets missed is the incorrect username or password issue. Recheck your username and password, or use the forgot password links.
Log in again using the new or recovered password. It will help your login and launch Uplay.
It Might get Minimized; Right-click and Choose to Maximize:
Sometimes the Uplay window is minimized or looks like Uplay won't launch, and it doesn't seem as if it was open. The task manager seems to display the running Uplay files, but the actual window might not be visible. Right-click on the window and click Maximize. It will open the Uplay window.
Check if Ubisoft Service is Unavailable at the Moment
One of the rare occasions could be when Ubisoft services are down for a certain period.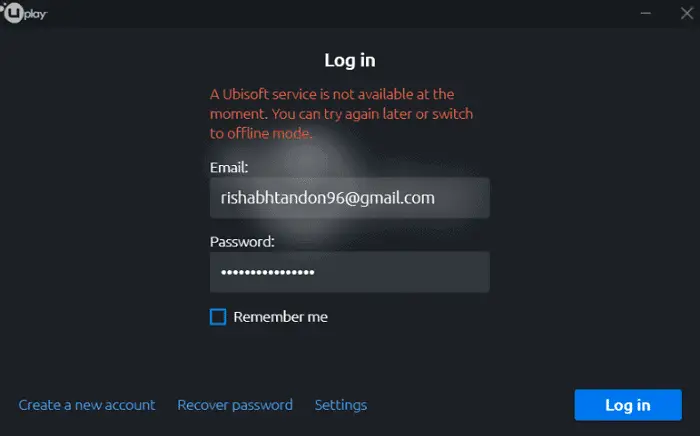 To check if the services are down, log in to their websites and try connecting from the app before launching Uplay. If everything works fine, then try the other solutions. However, if the Ubisoft services are down, you must wait before the server returns online.
See also: – 16 Ways to Fix Steam Won't Open Error in Windows.
Update your Uplay PC client:
Uplay PC Client receives regular Ubisoft updates from the official company. These updates make many security and software changes if your uplay won't launch. Many such changes to the core either improve the software or introduce specific bugs that stop the updates.
As updates help the software better, you always have to ensure that your Uplay updates the latest terms and installments. Update your Uplay PC Client, which should solve the problem that Uplay won't launch properly.
See also: – Fix Critical Error – Start Menu And Cortana Aren't Working in Windows 10
Contact the Uplay support team or call the team.
Suppose none of the above solutions worked for you.
We suggest you contact Ubisoft's support team or the Uplay support center.
FAQs
Is Uplay not Ubisoft Connect?
Massive Entertainment conceptualized and developed Ubisoft Connect, previously known as Ubisoft Game Launcher and later as Uplay. This platform is a comprehensive hub, integrating digital distribution, rights management, multiplayer capabilities, and communication services. It aims to provide gamers with an experience comparable to the achievements and trophies offered by other prominent game companies.
Why is Uplay unavailable?
The A Ubisoft Service Is Currently Unavailable error notice denotes an issue with the particular Ubisoft service you are attempting to access. This situation can arise due to various factors, ranging from a momentary service disruption to an authentication issue on your part. Notably, this error can have an impact on several Ubisoft services.
How do I activate Uplay?
Initiate the process by clicking on the key symbol situated at the top right corner of the Uplay client interface. This action will unveil the Activate A Product option, which you should select. Then, enter the unique code showcased on the Order page of your CDKeys account or accessible via the confirmation email link, particularly if you completed a guest purchase.
Conclusion
Address your issues properly, and your problems will be dealt with accordingly. We hope you get the correct solution for your problem where the Uplay won't launch.
See also: 5 Ways to Fix Fallout 4 Won't Launch Error.