Google is the leading search engine portal that controls uncountable online pages and websites. Undoubtedly, the programmers working at Google need to keep their users engaged. So programmers develop things like some of the best Google Gravity tricks. Google is not the only one to do this. There are also other developers trying out stuff to keep people engaged.
Use the Google Gravity technique to see the webpage collapse. Google "Google gravity" to find it. Regardless of the autosuggestions, select "I'm feeling lucky." The entirety of the Google page is visible upside down.
Moreover, people find it entertaining to interact with their favorite search engines. Google needs to develop something extraordinary for this. Some third-party developers also put their input into this journey of inventing gravity tricks. Here are the top 10 best Google gravity tricks that are interesting and easy to use. It is necessary to have an active internet connection for these tricks to work on your system.
See also: 13 Twitch Chat Tricks Every New Streamer Should Know
What is Google Low Gravity?
Like many regular internet users, you must wonder what a Google low gravity trick is. We are here to explain some basic concepts and work behind the feature. It was first launched in 2009 when the usual search engine became interesting.
The entire page's content will drop once a user types Google Gravity in the search bar, and presses enter. Similar to a situation where there is gravity, and everything lies at the bottom of your screen. Moreover, users can easily drag anything with the mouse pointer and toss it across. Although, it will again fall back on the ground and stay there until touched again.
Best Google Gravity Tricks
However, we see many more Google gravity tricks after the initial launch. More developers try to bring new tricks to make an interactive search engine for users. Therefore, we have some tricks that you can try on your computer or laptop. Here are some of the best Google anti-gravity tricks present in 2021,
Gravity Fall
It is the most familiar gravity trick, which is quite popular among Google users. You must only type in Google Gravity and press the "I am Feeling Lucky" button.
All the content bars on the new page will fall as if they are in zero gravity. Users can quickly grab any tile and move it around the screen.
Visit: Gravity Fall
Google Mirror
As the name suggests, everything on your screen will mirror the original page's image.
And the text that you write in the search bar will also be displayed in the opposite structure. It makes reading what is written on the screen difficult and can be an ideal time killer in many situations.
Visit: Google Mirror
Google Terminal
This is one of the best Google gravity tricks for users who want some nostalgic touch to the search engine. The entire screen will turn into a bwhere only the keyboard input work.
Thus, you won't be able to control anything using your mouse or touchpad. However, you can have a great time reliving old memories about using computers.
Visit: Google Terminal
Recursion
People with an engineering background will already know what will happen in this Google gravity trick. Whenever you type 'recursion,' Google will prompt you, "Did you mean recursion?"
It will always give the same output. Hence, it resembles the actual meaning of the recursion algorithm.
See also: Fix "Unfortunately Google Search Has Stopped Working" Error
Google Sphere
Google Sphere is quite different from others of low gravity Google trick as it is based on gravitational properties. Once you enter this mode, every text will start revolving around the Google icon at different speeds and angles.
Users can also control movement by changing the direction of the mouse pointer. The screen will zoom into it when you click on it.
Visit: Google Sphere
Google Loco
Google Loco will tremble the entire icon like an earthquake in the search engine. It might look simple, but it can easily amaze your kids.
Also, the webpage might fall in some time after the earthquake is over. Hence, you can wait for the same or enjoy your screen shaking.
Google Barrel Roll
One of the best-known Google gravity tricks, you will make the entire screen and the Google search results barrel roll on the axis. You only need to search for "Do a barrel roll" and hit Enter.
However, it will only do it once and stop after completing the spin. You can try new things by saying, "Do a barrel roll 1000 times."
Visit: Google Barrel Roll
Google Space
You can easily comprehend that it will have the opposite effect of the Google zero gravity trick. The entire page will fly away as if in space, along with other tabs and text on the screen.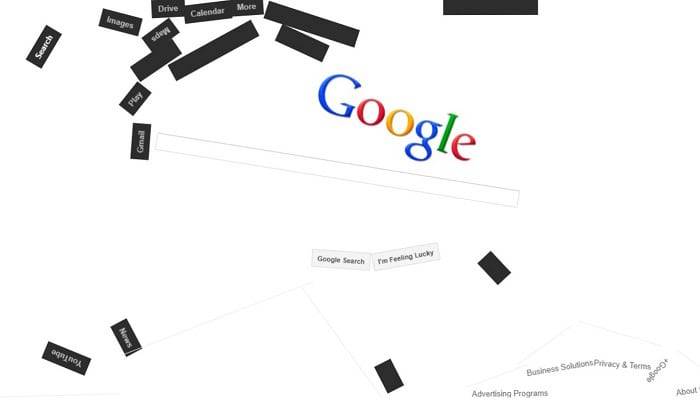 Also, you can try using alternate texts and experiment with different movements of this trick.
Visit: Google Space
Google Underwater
It is one of the best Google tricks you can perform on your PC. Open any browser and search for it online.
You will find several results that will lead to the underwater page. Moreover, it will contain various fish species that you can increase or decrease accordingly.
Visit: Google Underwater
Google Pacman
Pacman is undoubtedly the best arcade game that everyone is aware of. Google did a brilliant job in bringing it to their search page.
Players can control their Pacman without downloading or installing the game. Further, challenge your friends and try to create high scores.
Visit: Google Pacman
FAQs
What is an Easter egg in Google?
Easter Egg is an unexpected feature in Google search or Google products. It is mainly found out by accident.
Does Google have zero gravity?
Zero Gravity is an exciting feature of Google. It shows a website when suddenly the page falls as if in zero gravity.
Is Google Gravity a game?
Google, in partnership with other companies, does bring in gravity games. The Georgia Gravity Games is such a game that can be played quickly and is interesting too.
How do I tilt Google?
Google certainly is an exciting platform. There are many tips and tricks that many do not know and maybe not even discovered yet. To tilt the Google, press the shift key and drag it down to adjust the tilt.
Conclusion
This is all about the best Google gravity tricks you can perform and surprise your children and friends. Don't forget to use alternate inputs to have unexpected results.