The release of Windows 8/10 saw some issues arise. Further updates helped solve some of them, but there were still many such errors which were not solved. One of these is the error with the hex code 0XC000021A. While updating windows, one common error is 'preparing to configure windows', here is the fix for that.
Problem:
When you start your computer, it shows a Blue Screen of Death. It displays the failure report "Your PC ran into a problem and needed to restart." The error persists even if you restart your PC. There may be some serious issues damaging the Windows OS internally. Doing a System Restore doesn't work too.
So, let us know the reasons behind this error 0XC000021A.
Causes:
There are two files, namely:
Winlogon.exe: Used in handling the login and logout processes.
Csrss.exe: Is a part of Microsoft Client or Server 'Runtime Server Subsystem'.
It happens so, that when these files are damaged, that the error occurs. These files may get damaged due to the mismatch of system files, installation of incorrect device drivers or a third party software is missing some files.
See also: 3 Ways to Fix Overwatch Console Error LC-202
Fix Error 0XC000021A in Windows 8 and 10
Booting Windows Manually
Booting Windows manually generally solves the problem. Doing that in safe mode doesn't do the work most of the times, so we need to use force drivers to have a signature disabled option inside the Advanced Boot Options.
Follow these steps:
Restart your computer by simultaneously holding down the Shift key and clicking on the Restart option. In case the Restart option is not accessible by you, then you might need to use a Windows bootable USB to boot.
As for next step, you will find yourself on an option screen. Out of the options given, select Troubleshoot. This will permit you to access the advanced tools.
In the next screen, choose Advanced Options.
On the Advanced options screen, plenty of options will be available to you. Out of all these options, you need to click on Startup Settings.
There would be some options to select from in the Startup Settings screen. They would be labeled with Function keys from F1 to F9. Press F7 which is labeled as Disable driver signature enforcement.
Now your PC will restart with your chosen option. There would be different selections offered. You can select any of them and adjust your computer until you find the right one which works for you.
See Also: Boot Windows 8 In Safe Mode from Bios? | Easy Guide
Let Windows repair itself
Windows can automatically scan your computer and locate the problem. How?
Hold down Shift and click on Restart to restart your PC. This is similar as in the previous method.
Choose Troubleshoot out of options given.
In the next screen, choose Advanced Options.
Now you have the important tool in the Advanced Options screen. Select Startup Repair.
Windows shall scan for the problem that was causing your computer not to boot and try to fix it automatically.
Reset computer's BIOS
A computer's BIOS can be reset by removing the CMOS battery from its motherboard for a short period. This does not work with laptops as their motherboards are not easily accessible. Try this to fix the error of 0XC000021A.
Shut down your PC.
Remove all power cables, making sure that the computer is disconnected from any electricity.
Open the computer's chassis.
Determine the CMOS battery on the motherboard and remove it.
Wait for 1 or 2 minutes.
Replace the battery back in its slot.
Put the casing back together.
Start your PC and check if it successfully boots.
Replace the Corrupted Hive Files with Backups
When Windows boots, it tries to access some essential registry hive files. But if these files are damaged or corrupted, Windows will be unable to access them. As such, we need to replace these files with their backups.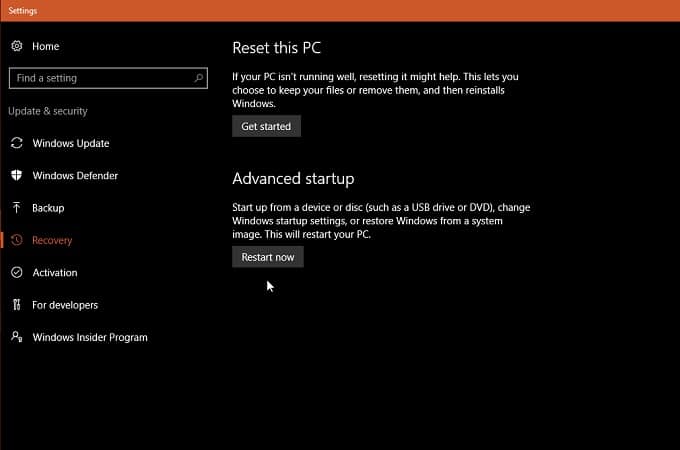 But since the Windows does not start, you cannot do it using File Explorer. You need to get into the Windows Recovery Environment and use the Command Prompt. To get into the Windows Recovery Environment, you will need a Windows installation USB or disc, for the same version of Windows is currently installed in the system.
Now follow these steps:
Insert the installation disc or USB and restart.
As it starts booting up, get into the BIOS settings.
Configure it to boot from installation media instead of HDD/SDD.
Save changes and exit BIOS.
Press any key to boot from installation media.
Select time zone, language, keyboard layout and click Next.
When you reach a screen that has Install Now button in the center, find a Repair your computer button in the bottom left corner. Click it.
You will arrive on Startup Options screen.
Click Troubleshoot and then Advanced Options.
Click on Command Prompt.
Type c: in the Command Prompt and press Enter. Also, if you're having Windows on any other partition, type the corresponding letter for it.
Type cd windows\system32\config . Press Enter.
Type dir and press Enter. This will show all files and folders in the directory.
For each file, type ren (filename) (filename).old and press Enter.
After you have renamed all the files, type cd RegBack and press Enter.
Type dir and press Enter.
Type in the following commands:
copy /Y SOFTWARE
copy /Y SAM
and copy /Y SYSTEM
Now, close Command Prompt and come out of the Windows Recovery Environment. To effect this, type EXIT and press ENTER. Restart your PC and see if the error has been removed.