Geoguessr is a unique and fun game released in 2013. With a rating of 4/5 on Common Sense Media, this game has won people's hearts. However, although it is famous globally, some players are not satisfied. If you are one of those or haven't played Geoguessr yet, this article will tell you everything about the best Geoguessr alternative games. Check out some Civilisation game alternatives here.
Here are Nine of the Best Geoguessr Alternative Games that offer unique gameplay and exciting challenges:
Seterra
PlayGeography
City Guesser
Geotastic
GetLost
Hide and Seek World
World Geography Games
Ducksters
Lizard Point
As previously mentioned, Geoguessr is a geography-based game in which the player has to guess the location by examining five pictures. The player has to pin it on a map, and after submission, they get to know how close they were to the exact location. You should check about some solitaire apps that can be played on Android.
9 Best Geoguessr Alternative Games
Here is the list.
Seterra
Unlike Geoguessr, this game is more educational and provides a variety of game modes. The game also delivers nine ways– show all, multiple, type, choice, pin, pin hard, learn, type easy, and type with auto-complete.
A setter is available in 39 languages, making it one of the best games like Geoguessr. Apart from the games, this game provides other material like maps of cities, countries, etc. You can also avail of three membership levels in Setter at monthly prices of $1, $5, and $10, respectively.
Visit: Seterra
See Also: Guide To Download Ported Games On Android – TechWhoop
PlayGeography
The game is similar yet very different from Geoguessr. TeachMe, the developer of this game, has developed many educational games like TypeRacer, EdShelf, MathGames, etc., with over a million users globally.
Identical to Geoguessr, you can play this game in five different modes. It is a vast game showcasing ten games for each method, mainly consisting of 30 quiz questions.
PlayGeography is a web-based game and is only available online. Along with this, it is entirely free. Thus, PlayGeography is one of the top games like geoguessr, but free.
Visit: PlayGeography
See Also: 4 Best Pokémon Games To Play Online In 2023 – TechWhoop
City Guesser
This game is recognized for its simple, easy-to-understand gameplay. It is a browser-based game like PlayGeography, released in 2020. Although this game is newer, it has already established its name.
There is no randomization in the game. You choose the location, determine the difficulty and begin playing. This game provides four modes: walking, driving, multiplayer, and streaks. 
The outstanding feature of this game is that you can play it with your friends through game rooms. The website is completely free to use and is the best Geoguessr free alternative. You can also Check out how to Get Free PS Plus.
Visit: City Guesser
Geotastic
The dynamic nature sets this game apart. Instead of guessing from pictures, this game allows you to walk in the street and look around to guess your location. It is like Geoguessr multiplayer free.
The game is completely free but is crowd-funded. You are also expected to donate if you play the game. I.e., the server runs on donations. The server will crash as soon as the contributions stop.
Along with single and multiplayer game modes, this game offers a challenge mode. In multiplayer mode, the maker of the game room requires an account. However, others can play without any charge.
Visit: Geotastic
See Also: Best 2D Games To Try On This Winter – Updated 2023
GetLost
GetLost is an additional alternative for Geoguessr. Get Lost is similar to Geotactic and uses a street view to ask about location. You can create an account without any prior verification.
Although the game does not provide multiple modes, its unique gameplay makes it stand out. It consists of locations from all over the world, mainly North America and India.
The point system catches the player's attention. The closer you are to the location, the higher your score points. Every game comprises five rounds, and your total score is the summation of the scores you gain in each round. 
See Also: Every Delicious Game in Chronological Order – TechWhoop
Hide and Seek World
Although the game Hide and Seek were developed with Geoguessr as a reference, it is considerably different from Geoguessr but one of the best GeoGuessr alternative games. This game is rigidly multiplayer.
Traditionally, you and your friends play hide and seek among yourselves. You can also join rooms with your friends and people playing globally. There are two multiplayer game modes: Classic mode and Find Wolly. In the latter method, you and your friends can also strive to find the game character, Wolly. 
The game website displays a leaderboard showcasing the top players in the world. Adhering to the leaderboard, we can conclude that many people play hide and seek.
You can play at most two games in the free version of the game. However, you can purchase premium plans to play restlessly. There are two plans available. One costs $2 and the other $4.
Visit: Hide and Seek World
World Geography Games
This game is more towards the education perspective. It contains maps of over 193 countries. You can play quizzes on countries, capitals, deserts, etc.
The point method is a little different from other games. The number of tries you take to guess the correct answer determines your score. The more attempts you require, the more points you attain.
The World Geography game is available in 7 languages: English, Spanish, Dutch, French, German, Polish, and Turkish. Moreover, you do not need an account to play the game. 
Visit: World Geography Games
Ducksters
Ducksters is another GeoGuessr alternative game. Apart from the location games, you can hang out in other fields, such as history, biography, and science.
This game is available globally and has games covering all continents. You can play different games, such as crossword puzzles. Also, you can quiz about geographical locations and other features like ecosystems, glaciers, deserts, etc.
You have three guesses in each round and will be provided with the exact location if you attempt every guess incorrectly. Also, you can play the game for free and on a premium plan.
Visit: Ducksters
Lizard Point
This is a web quiz platform for geography and subjects like artwork, math, etc. Its name is derived from an area on the Lizard peninsula in Great Britain. 
It was launched to foster fun training, and in contrast to GeoGuessr, the use of Lizard Point is free. The internet site's most effective functions are ads, and users can also donate to help with its upkeep.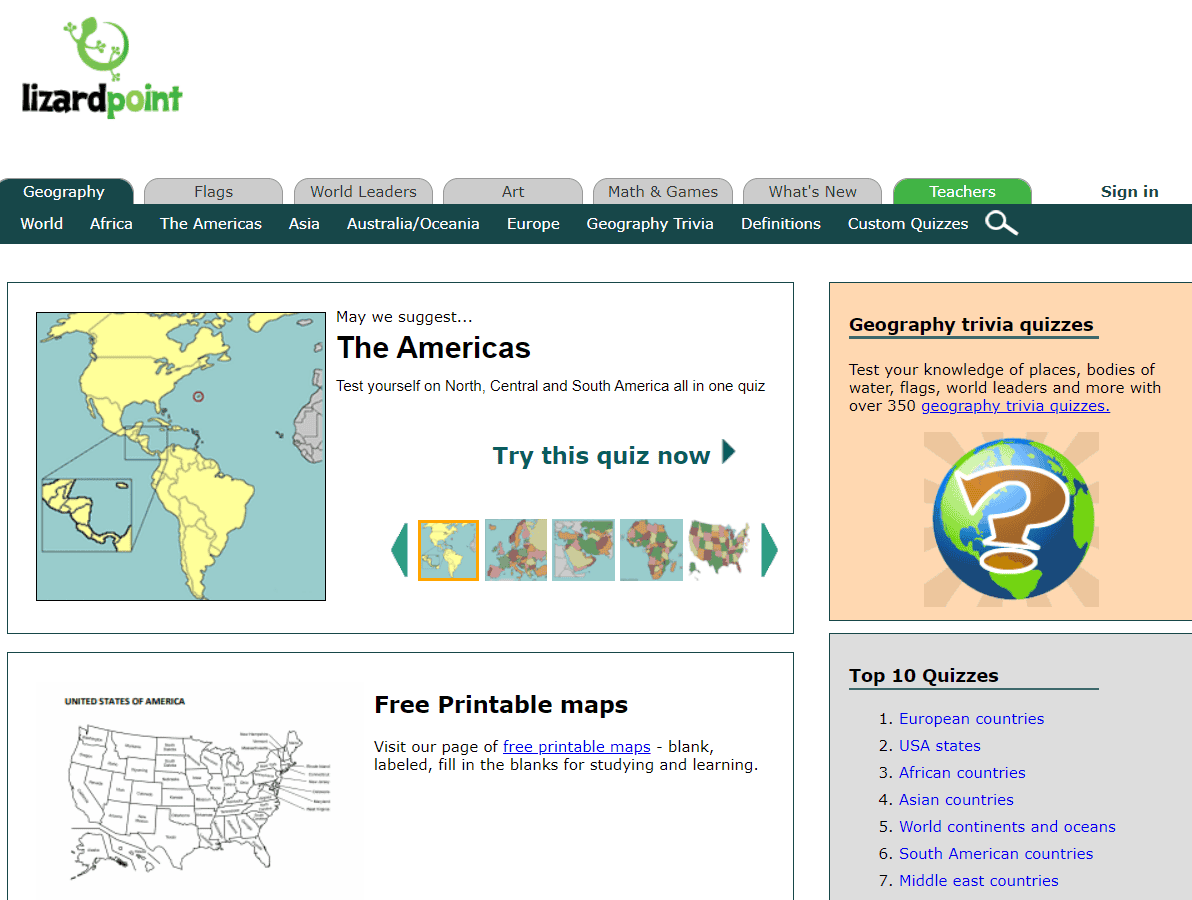 There are various forms of quiz modes you may access on Lizard Point. The most popular one is the Europe Quiz which permits you to pick out European locations on the map.
Just like you may create your maps with GeoGuessr, you also may create customized quizzes with Lizard Point. It's easy as you select questions about locations you're interested in. You can also Check out how to Get Free PS Plus.
Visit: Lizard Point
FAQs
Why is GeoGuessr not free anymore?
The game requires a lot of capital for maintenance and smooth functioning. Thus, the free variant delivers less content and quality than the premium version.
Can you play GeoGuessr Battle Royale for free?
Yes. Irrespective of your game plan (free or premium version), you can play battle royale with the same intensity.
Is GeoGuessr available for mobile phones?
Yes. Geoguessr, along with PC, is available for both iOS and Android platforms.
Conclusion
Geoguessr is a geography-based game played by over a million players worldwide. However, the game recently changed its interface and now provides a limited free and paid premium version with extra features. 
We hope this article helped you know which Geoguessr alternative is best for you. The free version is minimal, so the players do not enjoy it as much and are looking for other options. Check out some golf games here.