Have you ever struggled to find your friend's house's address when visiting them for the first time? I bet you have! It's such a frustrating and irritating job. And if your friend lives in a colony with lots of similar turns, finding their house quickly is seldom. You would have to take several wrong turns. And ask many people for directions to reach your friend's house finally. That's a lot of work! This tedious process of finding an address is made more accessible by the top-rated application called Google Maps.
We'll talk about Google Maps Alternatives. Google Maps is an application that uses satellites. It uses satellites to provide the shortest route to reach the desired location. It also offers audio assistance for giving instructions. But is Google Maps the only solution for location-related problems? No. Ample other applications and services can be used to locate an address effortlessly. What are these alternatives, you may ask?
Let's go and take a look at the 12 best Google Maps Alternatives. We will take you through these six best alternatives in detail. They are also providing you with all the essential information needed. So, without any further ado, let's get started.
Google Maps Alternative Services
We will be giving you details and attributes of the alternatives of Google Maps. They are as follows:
Bing Maps
Microsoft produces Bing Maps. It offers similar search engine resources like Google Maps. Bing Maps contains great user-friendly and robust features. It makes it one of the most reasonable Google Maps alternatives.
Bing maps provide real-time transport direction, driving, and cycling. In this application, locating directions from one place to another is effortless. Bing Maps is supportive of any web browser. Alongside Android and iOS mobile platforms.
Attributes:
Success history of about 14 years.

Includes features like venue maps, 3D maps, StreetSide views, birds-eye view, road view, aerial view.

It can be embedded on other websites.

Frequent updates.
Visit at: Bing Maps
See Also: Transparent Google Search Bar Widget I How To Customize It
MapQuest
MapQuest is free of cost American web mapping application. It started its journey in the year 1996. MapQuest was the first commercial web mapping service.
The unique feature of MapQuest is that it is multilingual. It provides searches like hotels, food, shopping, coffee, and gasoline. MapQuest is supported worldwide.
Attributes:
It provides street-level details of a variety of countries.

MapQuest includes gas price details.

This application allows one to create custom maps, print maps, and embed custom maps.

It includes collaboration with third-party services.

Sign-up is optional for MapQuest.
Visit at: MapQuest
OpenStreetMap
The specialty of OpenStreetMap is that a user like you and me creates it. The US developer Steve Coast, an ordinary user like you and me, created this service in 2004.
This is a free application under open licenses. It has become a big collaborative project because of its editability. Now, it is one of the best Google Maps alternatives because of its extraordinary features.
Attributes:
It shows data in the native languages of the respective countries.

This collaborative project supports 93 languages.

The users of OpenStreetMap provide data to the application.

The data can be edited using any web browser.
Visit at: OpenStreetMap
See Also: How To Save A Route On Google Maps [Complete Guide]
GIS Cloud
GIS Cloud is a cloud-based platform that provides web mapping services. This application is based on a unique analysis. It supports real-time mapping. It comes with three modes, i.e., online, offline, and on-premise service.
This Google Maps alternative collects data from the field. It supports data, and team management and can edit maps and share them.
Attributes:
A stable mobile data connection makes it easy for the application to collect lines, points, and polygons.

Using this service, one can convert their map into a cloud-based GIS app.

With this application, awareness of geo-heritage can be raised.

You can show support for the swim marathon using an interactive map portal.
Visit at: GIS Cloud
Here WeGo
Nokia developed a web mapping service. Here WeGo was released in the year 2013. It was mainly designed for Windows mobile. The application was incorporated for Android in the year 2014. And then later for iOS.
This application provides traffic data, location service, and satellite views. It updates itself automatically after 2-3 months. It is a great Google Maps Alternative. This map app has a carsharing feature that other Here WeGo users can use to carpool and save fuel. It is rated 4.4 on Android while managing a 4.1 on the iOS' store.
Attributes:
It provides turn-by-turn navigation, including destination, landmark, business name, and approximate time to reach.

Here WeGo offers public transport data with full navigation. It is also available for countries like Switzerland, Denmark, Singapore, and Germany.

This application provides traffic information for more than 63 countries.

It does not need an internet connection for navigation.

This is supportive of Android, iOS, and Windows alongside any web browser.
Visit at: Here WeGo
See Also: 8 Best Kik Spy Software to Track Your Friends
Geoportail
Geoportail is one of the best Google Maps alternatives in France. This France government provided a web mapping service. This service offers aerial photographs provided by more than 90 sources.
This service was launched in the year 2006. As per the French people, they have many differences. However, it is a great Google Maps Alternative.
Attributes:
It is a French language-based web mapping service.

This application was for the Ministry of Ecology, France.

Geoportail provides aerial photographs, complimentary maps, and old maps.

It is supportive of Windows, Android, and iOS platforms.
Visit at: Geoportail
Maps.ME
This is one of the apps loaded with features that keep you informed about various road statistics. You can stay informed about all the various footpaths, cycling, and hiking route. It has no trouble with accessibility and is compatible with all your devices. It makes location navigation so much easier for you mainly because it goes beyond poor internet connections and helps you navigate offline.
You can also be on the lookout for leisure or productivity facilities nearby with MAPS.ME. You can even get specially curated guides with this app. To figure if you like that feature, you can use the free guides for a few days. You will need to install this app as it does not have any web-based support.
Attributes:
With paths and routes, you can find many intriguing locations that you can't find with conventional maps.

Worldwide maps are available for review and download.

Instant offline map searching is possible.

Even the traffic in more than 30 nations can be checked.

By categories, locations are arranged.
Visit at: Maps.ME
Waze
Waze is another excellent alternative that enables you to navigate or plan routes rapidly. It has several cool features, such as customizing maps you desire. A fun feature of Waze is that you can be socially helpful by listing the warnings you've seen or places you've visited.
It alerts you of any red flags on your commute. These include any roadblocks or accident sites and lots more. It's quite easy to use, and it has a good interface. This app has abilities to integrate with your music apps too. This way, you never have to get bored during navigation. With the omnipresence of Android Auto, you can also use it on your car's display. Consider yourself miserly or eco-friendly; this map app locates the cheapest available gas stations near you, the motive being to pay less for gas.
It has a 4.6 grade on the Google Play with a whopping 4.8 on the iOS' App Store. Even if the ratings lie, you will reach your destination safe, sound, and smooth if you use this map app.
It's free to use and is one of the good alternatives.
Attributes:
Waze can track your current location if your device has GPS.

You may use the app to map out a path in any direction.

It displays various options and picks the most suitable one for you.

Waze's user interface is simple and fun, with a white background and vibrant icons.
Visit: Waze
CityMapper
Are you struggling to navigate through the roads in the city? CityMapper's got your back. It takes a while to get the hang of the city's different streets, subways, and routes. CityMapper is equipped with multiple good features. Including real-time departure timings for trains, offline maps, transportation options, and much more.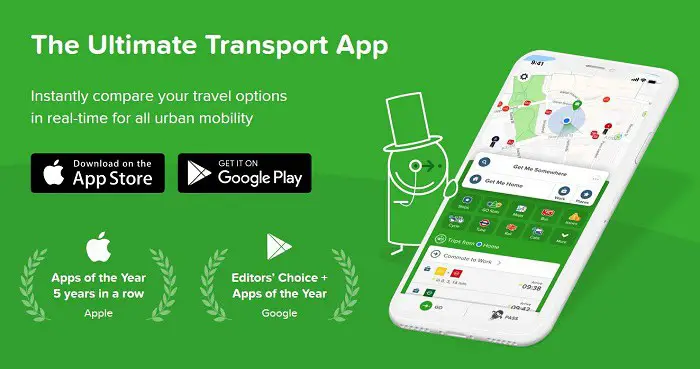 To top it all, it has add ons like suggestions for the most efficient option for having an incredible journey. It increases your convenience by presenting your transit options to you all at once. The Get Me Home button is a lifesaver for most. You can say that this app is perfect for you if you use public transport regularly. This application is rated at 4.5 on Google Play and 4.4 on the App Store (iOS).
Attributes:
Options for Reliable and Timely Navigation

in-depth how-to manual

Free app
Visit at: CityMapper
Sygic
If you're looking for an alternative to google maps with better offline features, this is the one for you. Among the many delightful features is its ability to stay focused on traffic. It regularly updates its data to make sure you use the best route. Its voice guide helps you navigate if you're in the middle of driving and cannot look at your screen. Moreover, not just in a single language, but in several different languages.
Like maps.me, it supports offline maps. One thing people love avoiding on the roads is getting pulled over. Besides that, it provides tremendous support for pedestrian navigation and junction views. Sygic ensures you're alert about the speed cameras and speed limits en route.
Attributes:
World maps that can be viewed offline from TomTom and other vendors

free of charge yearly updates

GPS voice guidance with clear instructions and spoken street names

Countless Interesting Locations 
Visit: Sygic
Navmii
Navmii is another great alternative for Google maps. It keeps you updated on accidents and construction sites. It also integrates additional data from apps like TripAdvisor. Google Maps, on the other hand, don't get any third party to provide its information. With Navmii's cartoon icons and a fun interface, Google's design looks quite old. Cartoon icons on the screen represent your current location and other Navmii users' too. Navmii is completely free. It hosts features like voice–guided navigation and smart rerouting.
However, its updates are a little slower than Goggles. But maps will be supported offline and clever auto-rerouting when circumstances change. Navmii has a built–in Open Street Map on your device, so you don't require an internet connection. You will have to use data when you are using connected services. Try Navmii while traveling to prevent expensive roaming fees!
Attributes:
real-time voice guidance
Road and traffic conditions in real-time
Uses GPS; no internet requirements.
Driver Scoring
Visit: Navmii
OsmAnd
A good perk of this strong Google Maps alternative is offline maps, which means anyone can route no matter where you are on the earth– regardless of phone signal. The maps are exact, evoking the appearance of Ordnance Survey maps, and you'll never be out of date thanks to frequent updates. It even shows POIs (Points of Interest) in and around a select locality. If you love a good Ski, this map app sees the skies and determines safe and proper skiing routes. If you want to skip leg day at your gym and want simple cardio, it shows hiking and jogging paths.
You may also drill down into the details of what you see on your map, from toll roads and street lighting to more granular factors like road surface and road quality. You can choose which highways to avoid and how many stops you want to make; everything is responsive once you're on the road. The user interface isn't particularly attractive but is extensively customizable, allowing you to fine–tune which items take precedence during navigation.
Attributes:
Marking the map with favorites and markers

Moving from one place to another

Creating notes in audio, video, and photos

GPX track recording is initiated and terminated.
Visit: Osm And
Geo Tracker
An excellent map app for those who love going the extra mile, too. This map app only has several features of maximum and average speed while moving. The differences in altitude, height, vertical distance, slope, and other cool charts on elevation, are just a significant part of it.
It is rated 4.5 on Google Play and is not available on the iOS family yet.
You can download it here.
MapFactor
This map app features free offline maps which are updated every month. In case you were interested in preserving data bits on the same basis. Speaking of preferences, this map app offers intuitive voice turn-by-turn navigation in different languages, speed limits, camera warnings, and many other useful features.
4.5 on Android and a swashbuckling 4.7 on the iOS store makes this a genius map app. While you can download it here on Google Play, you can grab it here if you are an Apple user.
Maptive
Last but not least, Maptive is an app that essentially builds on the functionalities of Google Maps but enables a host of new and specialized features.
For example, with Maptive, you can create custom maps tailored to your own needs. You can take your existing raw data and transform it into maps. You can visualize excel addresses, create a driving radius map, and much more.
What Makes a Google Maps Alternative Considerable?
Google Maps may not be the best location-based tool for you, even if it is the default app on Android. We are aware of your current thoughts. When Google Maps has worked flawlessly for you for many years, how can it not be the best navigation app? We'll explain why.
Google Maps' offline features are bare bones in comparison to the other substitute applications. You can only utilize it to search driving routes when it's offline. Offline, optional apps have more functionality, such as traffic data and updates, map category selection, driving statistics, etc. Most use maps and additional information, such as hiking maps or real-time navigation.
Even though Google Maps is the best at mapping and GPS navigation, it can conflict with some hardware or operating systems. It's possible that some of the data offered by Google Maps are incomplete or inaccurate. Location data occasionally contain errors and ambiguities, such as incorrect routes.
Additionally, it doesn't provide immediate information about odd events or traffic conditions. It cannot inform you whether the road ahead is not functioning due to bad weather, is being built on, or is impassable due to a street fair. On Google Maps, you might need help locating a remote area. Because Google Maps is so convenient, criminals can profit from the data it offers. They can find wealthy neighborhoods or properties using Street View and satellite photographs.
Google Maps' accessibility issues can be rather frustrating. The application depends on downloading large photos, which could shorten loading time, especially if your connection is slow. It may not correctly load in some browsers as well.
These limitations may lead you to look for a different mapping and navigation program.
FAQs
Is Google Maps Free?
Yes, Google Maps is free, irrespective of the platform.
Does Google Maps integrate with music apps?
No, it does not. You can use alternatives such as Waze for music integration.
How good is the Bing Maps service?
Even though it isn't accessible on Android, it is as good as or better than Google Maps as a desktop app. There are traffic updates, a map of traffic cameras, and the street view. Bing Maps' directions have also proven to be a viable competitor to Google.
Is Google Maps legal in India?
Companies that provide maps or imaging services, such as Google Maps, are prohibited by law from doing so without first obtaining a license. Only when the maps and related services have been validated by a Security Vetting Authority (SVA) established under the Union home ministry will the licenses be issued.
Conclusion
We believe these were the best six alternative services for Google Maps. We hope this article helped you select the best Google Map alternative according to your requirements.
Along with an application for web mapping, we also need to monitor our phone's GPS location.
Please don't forget to give feedback which keeps us motivated to write more for you. Stay tuned for more such content. You can use these apps for your travels too. Happy traveling! Adios until next time!