In a continually changing world, streaming websites and Kodi Add-ons, Primewire has been a constant, and a 1Channel add-on for Kodi has always been equally good. The 1Channel Primewire Kodi add-on contains media stored in hosted files on the internet. Thus, you must know how to Install 1Channel Primewire on Kodi right now!
We have provided two guides to install 1Channel PrimeWire on Kodi. Follow these steps to install 1Channel for those running Krypton and higher:
Click File Manager in the upper left corner under System Settings (Gear Icon).
Click Add Source on the left. Where it says NONE, click.
Name it glive in the box below and press OK.
Click Add-ons on the main menu by returning there.
Install from the zip file by clicking.
The installation will start, and you will receive a notification once done—no need to worry if you use Kodi Jarvis. We have mentioned the steps below to install 1Channel on Kodi Jarvis. 1Channel Primewire is not officially supported by the XBMC or Kodi Team Foundation. Therefore, please refrain from posting questions related to this add-on on the official Kodi forums.
See Also: Watching Korean Drama Online Free [Top 7 Websites]
Steps to Install 1Channel Primewire on Kodi Jarvis
Download the k3l3vral repository from here and save it to a location you can find easily.
Now, open your Kodi Jarvis application and then select "SYSTEM."
Go back to where you downloaded and saved the zip file in the first step and select it (General path is Home>>Downloads or External>>Downloads etc.)
Once you have done that, wait for the "Add-on" enabled notification to appear. Do not disturb the installation process, as this may cause corruption or loss of data inside the application.
Press "Install" and wait for the Add-on enabled notification to appear. Do not interfere with the installation process and wait a minute or two.

Your 1Channel Primewire is now successfully installed on Kodi Jarvis and ready to use.
How to Install 1Channel Primewire on Kodi Krypton
Default settings in Kodi 17 keep Unknown Sources disabled. To proceed with further steps, we need to enable this first. This is a one-time action; you will not need to repeat it once done.
You can scroll down to the installation process if you have already enabled unknown sources inside your Kodi Krypton.
How to enable unknown sources before you install 1Channel Primewire on Kodi Krypton:
How can you Download 1Channel Kodi Add-on Using SuperRepo
According to the official website, where they described the super repo technique to download the channel Kodi add-on, it is comparable to the traditional manner when people directly download it from the website. The instructions for using super repo to download are as follows.
On the left of your screen, choose any Kodi Add of your liking.

Select the Add-ons icon from the drop-down on your left.
Click on Install from the Zip file menu.

Go to the Superrepo that you downloaded

Await addition Activated Notification.

To install from a repository, select from the options.

In Superrepo, go, a repository named SuperRepo Category Video [Krypton][v7] can be found. Please put it in.

Enter the repository after installing the SuperRepo Category Video [Krypton][v7].

Click on Video Add-ons.

There is currently a 1Channel Kodi Add-on available.

Please install it and wait for the notification that add-ons are enabled.

Your most recent installation of Kodi, Krypton 17.3, is now ready for use once you receive the Add-on Enabled Notification.
1Channel Primewire Settings
The website
Domain: – Check inside the web browser if you can access the domain. If you can't access it, then change this option and test it again until you find a working link. Please remember that the add-on will not work if you can not access their website in your country. If this happens to be the case with you, you may be required to use a VPN to access their website in your country.
Try using HTTPS (Kodi Krypton exclusive): – If you happen to be using Kodi 17 and above, enable this option to view secured links.
Enable the Custom Domain: – If your website provider has changed to another domain, enter it under this section.
Its User Interface
Set Default Views: – Gives you the ability to change default views in the 1Channel Primewire add-on if you know what you are up to.
Video Playback Options
Automatically Play Sources: – Enabling this option allows you to play links without selecting the file host.
Source Selection Method: – This option changes how the Primewire add-on displays results.
Automatically Mark Videos as "Watched": – The Primewire add-on adds an indicator next to a link to denote that it has been watched.
Enable Sorting of Sources: – The sorting option allows you to set your sorting order by preference.
Users of Kodi could run into several issues that stop the 1Channel Kodi add-on from functioning. Below are the problems and their solutions.
1Channel Kodi is Blocked
It is possible that you won't be able to view some movie or TV show URLs for a variety of reasons. Although it might seem broken to you, only Kodi users who reside in countries where the uploader has granted access can view these links.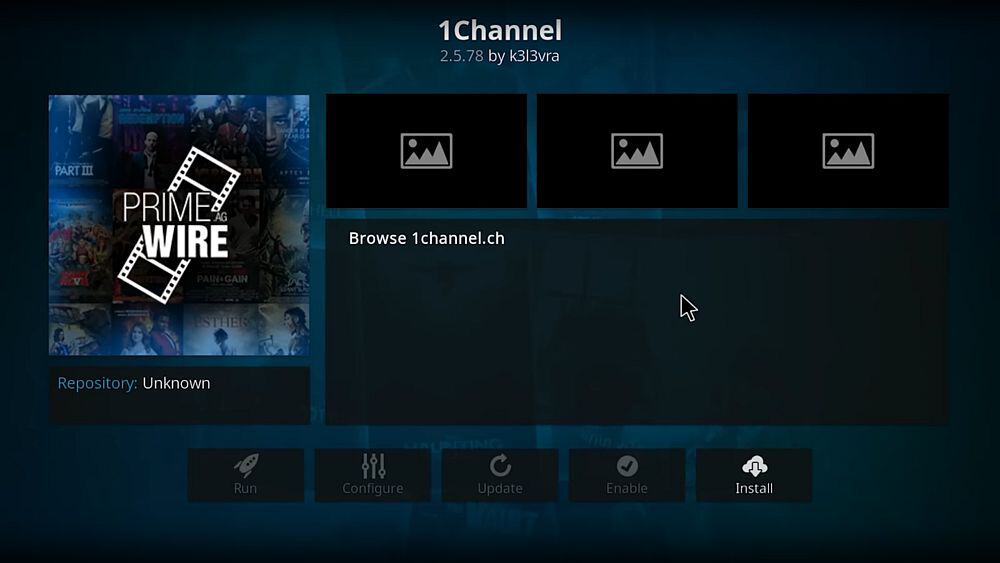 This implies that some of the media content posted in the US region could not be accessible to Kodi users who reside in Asia. We refer to this as geo-blocked content. Nevertheless, having a Kodi VPN will keep you from panicking.
No matter where you are currently located, a VPN will enable you to access geo-restricted content, allowing you to see any media content that Kodi add-ons offer.
1Channel is Continuously Hanging
After installing the 1Channel Kodi add-on, customers attempt to utilize it. Still, they encounter numerous issues and challenges, such as the add-on hanging for a time, closing abruptly, or just ceasing to function.
Solution
You might have installed the 1Channel Kodi beta version, so the issue still exists. The user is asked if they want to install the new beta version or the previous version after clicking the "install" button on the 1Channel add-on.
This version is still in the developmental stage and is being tested for Beta use. To solve the issue, try downloading the full version of the 1Channel Kodi add-on.
If the Hanging Problem Persists
Users may still suffer the same fate even after installing the previous, full version of Kodi.
Solution
The issue will continue to occur since you're still using Kodi Jarvis Version 16, an outdated software version.
Your issue might be resolved by installing Kodi's most recent version, Kodi Krypton Version 17.
See Also: CrashPlan Unable To Connect To Backup Engine [Solved]
Conclusion
We hope you can install 1Channel Primewire on Kodi using the steps above. Please help us improve the article by telling us about other methods that helped you download 1Channel Primewire on Kodi.