Sandboxie is a great tool that helps you to test various third-party applications that might affect your PC. It creates a virtual environment that acts similarly to the original host server. However, the installed application will not be able to detect any personal information from that. Therefore, we bring you the top 10 Sandboxie alternative tools you can install on the computer.
Visit: 14 Best Sandbox Software For Windows
List Of Sandboxie Alternative
Let's look at the 10 Sandboxie alternative tools to use in 2023:
Shadow Defender
The first name on our list of Sandboxie alternative tools is the Shadow Defender, which lets you restore the original PC conditions. Also, the overall user interface is simple and provides complete app security. Moreover, users can safely surf the internet without the risk of a data breach. This is because it creates a duplicate copy of the same operating system environment within the computer. Therefore, if an attack occurs, it only remains in shadow mode, whereas your PC stays safe.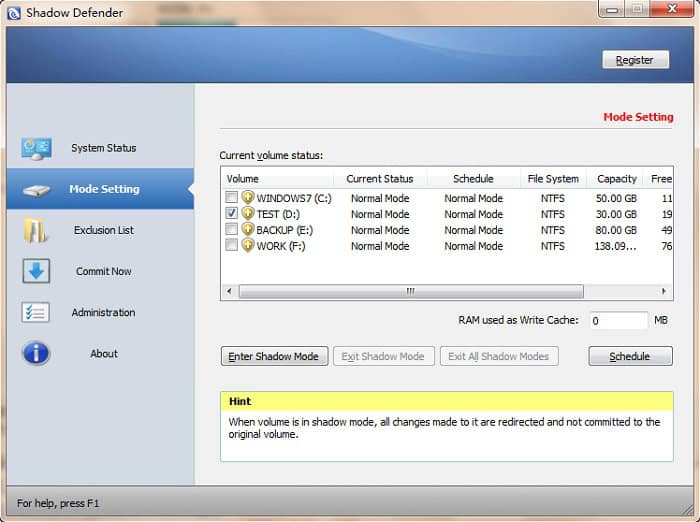 Visit: Shadow Defender
Cameyo
Cameyo is one of the most popular software that allows you to test any application without installing it. Moreover, you can run every online program directly from the web browser into the virtual environment. In addition, you can use the architectural visualization feature to combine various programs. Further, the application is pretty sophisticated and doesn't take up much space. Users can also connect their Dropbox accounts for a better experience. The free version of Cameyo can work on 49 machines, along with premium subscriptions for increased usage.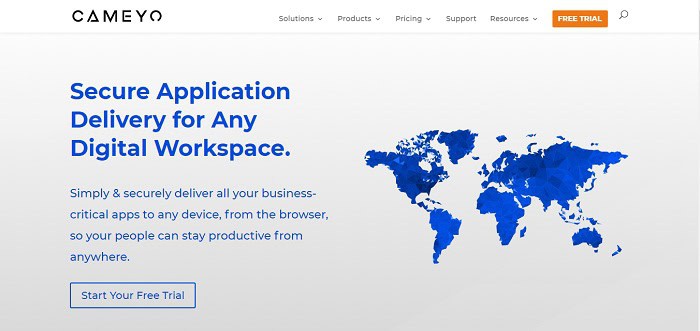 Visit: Cameyo
FireJail
The name of this sandboxie alternative might make you reluctant to use it, but the software is quite effective. The application is suitable for Linux users who want to minimize the threat to their systems. Moreover, it prevents suspicious software from making authorized PC changes. FireJail can also record other computer factors like CPU usage, memory, and bandwidth. Therefore, users have more flexibility while running a new app on their computers with different protocols.
Visit: FireJail
Buffer Zone
It is another sandboxie alternative that comprises features to protect your computer and browsing experience. Buffer zone saves you from malware attacks and tracks malicious email attachments. The software isolates any potential threat to safeguard the user's data. The best part is that it doesn't block viruses but instead contains them to avoid their spread. Ensure to use the browser after a green signal from Bufferzone indicates the protection status.
Visit: Buffer Zone
Comodo Internet Security
If you are looking for something with even more features than Sandboxie, Comodo Internet Security is the name for a Sandboxie alternative. It provides features like a VPN, firewall, and a custom antivirus. However, the user might need to purchase the premium version to enjoy all the perks. Moreover, it completely removes the malware from the application and gives you total security. On the other hand, there are some issues regarding Comodo that it can't read particular samples. Hence, it would help if you read the detailed software comparison before purchasing it.
Visit: Comodo Internet Security
Cuckoo Sandbox
This is one of the open-source sandbox alternatives that you can install on your PCs. Like Sandboxie, it enables you to run restricted software in the virtual environment. Further, the software automatically detects any suspicious activity during the installation process. Thus, the actual data is kept safe and secured. The interface runs smoothly, and you will understand the basic functioning quickly. It also generates an error message for any activity being processed in the application.
Visit: Cuckoo Sandbox
Microsoft Application Virtualization
There is no doubt in the fact that Microsoft is a known brand in the field of software development and management. Therefore, this tool is highly recommended by admins for better security protocols. It serves the primary purpose and provides additional benefits to the user. Moreover, the local environment is kept from the virtual platform for installing different applications. Further, you can update different versions of the same application per the requirement.
Visit: Microsoft Application Virtualization
Deep Freeze
Faronics create deep Freeze to help users change the PC without affecting the natural environment. It works on the default settings you need to specify initially. Therefore, the user can control the Sandboxi alternative and perform actions accordingly. However, make sure to avoid rebooting it, as the software might end up clearing the hard storage of the computer. Also, don't store essential files in the folder; you will lose data.

Visit: Deep Freeze
Shade Sandbox
This is one of the software that does not depend on any hardware visualization support to work. It will also give you access to all the online websites that the advisor for enhancing the experience blocks. You can trust the software to protect any critical data on the PC from malware attacks. In case of suspicious activity, it will not run beyond the virtual environment. Thus, your OS is completely safe, and you can work without the fear of attack.
Visit: Shade Sandbox
Spoon
In the last, we bring you Spoon software that acts as a testing platform for new applications on your computer. It might seem slightly different from Sandboxie, but it works almost the same to give you the best results. Users can also test various internet browser options within an isolated environment. Hence, you can execute different drives without touching the actual interface of the PC. You can download any three versions of Spoon- Browser Sandbox, SQL Sandbox, and Selenium Sandbox.
Visit: Spoon
FAQs
Can I run malware with Sandboxie?
No, you cannot run malware with Sandboxie. Thanks to Sandboxie, you are safe from risks like viruses and malware. Sandboxie does not require heuristics, viral database signature updates, or other mechanisms. If a virus infects your sandbox, you can remove its contents and continue.
Can I trust Sandboxie?
Since Sandboxie is very safe to use, you may put your trust in it. It is important to note that Sandboxie occasionally has flaws, unpatched holes through which harmful malware might still access the system. It is uncommon and simply fixed by plugging the attack vector's hole.
Can VPN detect malware?
A VPN cannot detect malware. It won't be able to protect you if you willingly provide personal information on a fraudulent website. It is because they aren't designed to recognize or block phishing sites. Regular VPN software cannot replace antivirus protection since it cannot guard against unintentional malware downloads.
What advantages do sandboxes offer?
Sandbox prevents harmful malware from accessing an organization's critical infrastructure since it works in a different system. Furthermore, it enables IT to review risky code in a controlled setting to understand better how it works and to spot malware assaults more rapidly.
What is Sandboxie Plus?
Sandboxie Plus is a freely available OS-level virtualization tool for Microsoft Windows. A sandboxing method establishes a separate operating environment where programs can operate without fundamentally altering the local system.
Conclusion
We hope you get an overview of different Sandboxie alternatives to protect the virtual environment on the PC. Make sure to follow the user manual of every software to avoid any issues in the future.
See Also: Top 11 Grammarly Alternative Tools That You Can Use Now!