In the modern era, privacy has become a predominant issue in the world. Cybercrime rates increasing tremendously over the past few decades. None of our data is secure when we connect to a network. Thus, you must know about these amazing free Sandbox Software that we have for you.
The worst part of it is, that our data gets exposed without our consent. This data can be either Personally-Identifying Information or non-Personally Identifying Information. Privacy is our human right, and we need to protect our data from online intruders.
See Also: Best Free Mouse Clicker Software for Windows – TechWhoop
To secure your data from falling into the wrong hands, you need to barricade your system with some measures to ensure no unauthorized access. Sandboxes act as one such barrier to defend your system from intruders.
It is a virtualization technique that provides that applications that run on sandbox do not have direct access to the device or OS or your file system. It is a protective shield that safeguards your PC from malicious applications.
There are numerous sandbox browser applications available for free for Windows operating system. To protect your system and data exposure to cybercrimes, you should install one of these best sandbox software and extend the life of your data.
See Also: 10 Best Free MP4 Joiner Software for Windows – TechWhoop
Top 14 Freebox Sandbox Applications To Get In 2023
Here we have listed the top sandbox software you can use in 2023.
Turbo.net (Sandbox Software)
You can use this sandbox software to create, educate, and transform everyone around us. It is capable of deploying numerous apps on our desktop or device's screen and private clouds as well.
With the help of this sandbox software, you can run Chrome, Explorer, Firefox, and other browsers efficiently. Not only this, it allows you to run eclipse, VS code, and other IDEs online.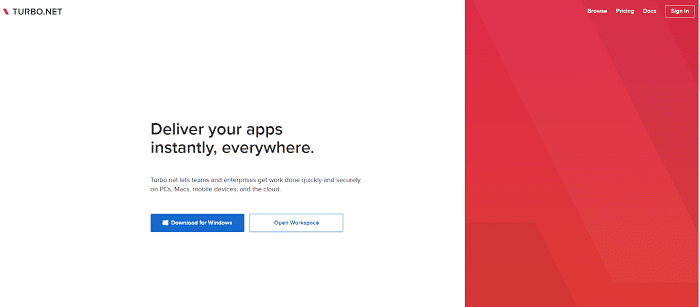 One more thing about this software is that you can make use of your SQL techniques. Run SQL Server, MySQL, and different similar databases. You can chat, view media, use servers, and much more under the Browse the Hub option.
Resources like Turbo Studio, Turbo CI, Turbo Server, etc. are also available. Check out the link below to get this sandbox software.
Visit: Turbo.net
See Also: Best Android Emulators for PC | Windows XP/7/8/8.1/10
ToolWiz Time Freeze
OMG! I must say that ToolWiz Time Freeze Software is going to blast your mind with its super-engaging interface. The moment you will visit this website, you will witness it. If you don't want the unwanted changes to your PC or laptop, you should download this software without thinking twice.
Just a single click on freeze and no changes will apply on your PC. If you want to quit this mode, a simple restart or shut down will help you with it. You can use this software on various Windows versions.
It implements virtualization so that your operating system, and essential applications are saved on an unmodified OS. It allows you to enhance efficiency by enabling switching between various OS on the same PC.
You can build an efficient and responsive IT infrastructure by making maximum use of our system's resources. The easy restore and recovery option makes this a fantastic, flawless sandbox software. Download it by visiting the site link provided below.
Visit: ToolWiz Time Freeze
See Also: Best Underwater Drones You Can Buy
Sandboxie
It separates applications or programs from the operating system barricading viruses, malicious software, worms, or any other defecting phenomenon. Sandboxie even monitors your web browsing and blocks any suspicious applications or malware to access your file system.

It protects your data from any external modifications. Using Sandboxie, you can install and check any software for safety without any risks. It supports Windows operation of versions 7 to 10.
Visit: Sandboxie
See Also: 10 Best Free XML Software for Windows
GeSWall
GeSWall is a security wall that protects your system from online intruders. You can safely surf the net or use any of your applications without being frantic about being exposed to intruders. You are safe in the walls of the GeSWall.
It isolates your applications from the operating system and your file system, preventing unauthorized access to your data. It applies an access restriction policy that prevents, rootkits, keyloggers, backdoors, intrusions, and malicious software. The software is interactive with its policy notifications and attack notifications.
Visit: GeSWall
Shade Sandbox
Shade Sandbox works like an antivirus, locking the virus inside the sandbox. It virtualizes the applications and detects any suspicious behavior and blocks it from reaching the underlying operating system. You can easily drag and drop the programs which you want to protect under the Shade.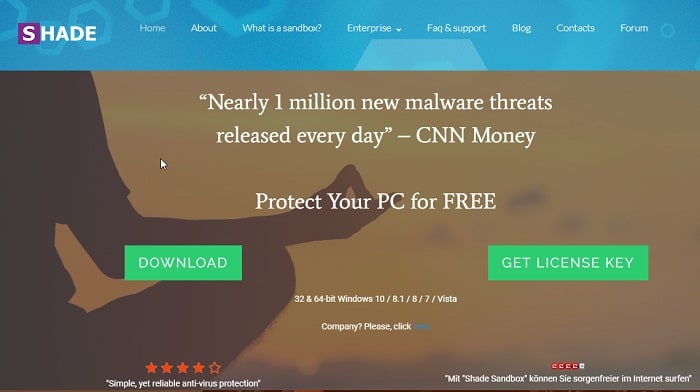 You can safely open any website without any fear of losing safety to intruders. Your data and operating system remain safe under the Shade Sandbox environment.
Visit: Shade Sandbox
See Also: 10 Best Free P2P File Sharing Software for Windows – TechWhoop
BitBox (Sandbox Software)
BitBox is an acronym for 'Browser in the Box'. As the name specifies, it monitors your browser and its content and ensures no malicious threats enter your PC zone. The BitBox reliably prevents the upload of files from the browser to protect your files on the internet.
It smartly tackles privacy, security being the primary concern. Its virtual interface separates the OS from other applications to block the application to penetrate into the OS.
Visit: BitBox
See Also: 9 Best Free Keylogger Software for Windows 
R&S Browser
Sandbox box provides a virtual environment where you can run new software without the fear of malware or adware. But what if a sandbox is designed for a Federal office? Well, that means ultimate care has been taken to develop this software.
One such software is R&S Browser, which was originally used by the German Federal Office for security concerns. This reputed tool was designed and developed by one of the worldwide technology leaders, Sirrix AG security Technologies. They specialize in securing operating systems such as windows, securing communication infrastructure, etc.
Moreover, this tool is fabricated around the principle concept of 'Browser in the Box.' This software has been utilized by federal authorities and is now available for public use. With this solution, you can surf online courageously with confidence.
Often we receive advice to proceed with caution when it comes to online browsing, but with this utility, you may leave that caution behind.
In this concept of 'Browser in the Box,' your browser is wrapped inside a safe space. This covering protects your browser from undesired malware and adware. Moreover, it will return to its original state with every start of the web browser, thus eliminating all damage.
Furthermore, this activity of the R&S browser can be reviewed by the users. Thus making it a dependable browser for maintaining online security.
Visit: R&S Browser
Windows Sandbox
In this list, we certainly cannot ignore the sandbox service constructed by Microsoft for Windows. We often want to run software of our interest but get skeptical because of malware attacks. At such times we need a trustworthy instrument that can protect our Windows devices from potential harm.
For this reason, Microsoft developed Windows Sandbox. They built a system that temporarily isolates the test software, and after the system closes, the sandbox system deletes all files and data related to the software.
This way, you will know whether the tool of your interest is safe or carry any threats to your device security. Moreover, with this technology, you can scan any doubtful software without any fear.
Since the software is a part of windows, you do not need to install a Virtual hard disk drive.
Another praiseworthy property of Windows Sandbox is that it cleans itself every time it is shut, and thus whenever you open the sandbox, it is brand new.
Other than these, it is completely secure and efficient. However, you might consider taking a look at its prerequisites before installing the app. You will find the needed information in the link below.
Visit: Windows Sandbox
Comodo Firewall (Sandbox Software)
Another popular cybersecurity company known for its free security solutions is Comodo, located in New Jersey, US. Their product Comodo firewall is particularly of high value. It is bundled with sandbox security and antivirus protection.
Comodo offers an isolated sandbox system, where you can run and scan doubtful applications. You can also run software downloaded from suspicious sites. In this program, the test application is completely isolated from your real system, thus preventing unwanted malware from penetrating your system.
This way, no new software can hamper your system security or perform any malicious activity with the system data. Like other software in the list, this sandbox agent will protect your device from all potential harm that can be caused by unwarranted app installation.
Visit: Comodo Firewall
Bufferzone
By sandboxing your application, you can reduce the impact of external factors working on your computer. Bufferzone is one such sandboxing software application that provides a sandbox environment that blocks the viruses and other worms from accessing your PC and performing any modifications.

Once you install the sandbox, the default programs and processes in the sandbox go immediately to prevent the central intrusion-prone data from falling into trouble. The program displays the ongoing processes and programs.
Visit: Bufferzone
Shadow Defender In Sandbox Software
The Shadow Defender runs your PC in 'Shadow Mode' and applies every change made in your PC to a virtual copy of your system, and thereby your real OS remains the same. A single restart restores your system to eliminate any malicious activity that has affected your system.
Furthermore, it maintains your system privacy and eliminates system downtime and maintenance costs. Also, your PC is safe under the shade of Shadow Defender with its high-security algorithms that the program implements.
Visit: Shadow Defender
EvaLaze
EvaLaze is application virtualization that runs your application on a virtual interface keeping your system clean by blocking access to your original OS. Also, these virtual applications can run locally on your PC, or from USB sticks, network drives, etc.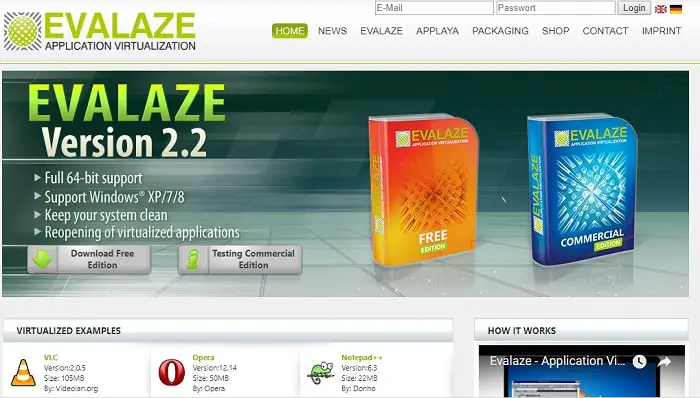 EvaLaze also assigns an application virtualization assistant to work along with the software. The software takes a snapshot of the system and takes another photograph after the setup of the application is complete.
Nonetheless, you can easily convert the setup files into a .exe file and can execute it from anywhere.
Visit: Evalaze
Deep Freeze
This is another sandbox app. Not to mention, Deep Freeze helps you in extending the life of your computer by restoring your PC to its original state after every restart.
Moreover, if you ever feel like troubleshooting, just restart your system, and you do not have to troubleshoot and fix any issues. The software does this for you before you command it.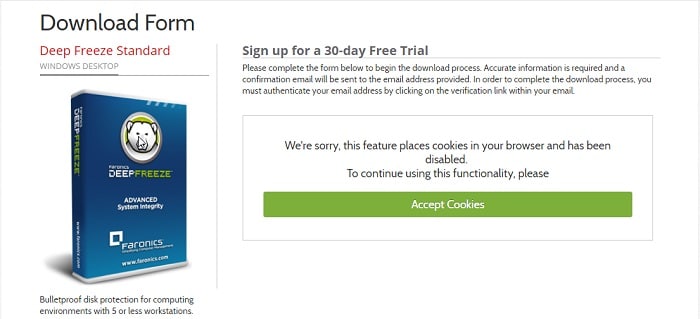 Also, this Sandbox Software protects you from phishing sites and other viruses to enter your computer. You can freeze a few instants of your system and later restore your PC from those freeze points.
Visit: Deep Freeze
Create your Virtual Machine In Sandbox Software
If you are into designing and want to make your sandbox software, don't hesitate to do it. You have to keep a few points in your mind while creating it. You should keep in mind all critical points like light virtualization, accessible storing, and recovery. All the apps that you will be testing will be tested in a limited way.
In the sandbox software, all the programs are isolated from the host OS. You can get full virtualization by making your virtual machine using VMware or Virtual Box. Moreover, there are a lot of things and changes you can make to your sandbox software by exploring VMware more.
See Also: 20 Free & Paid Video Stabilizer Software For Windows