A popular multi-platform messaging app, WhatsApp is especially popular among iPhone owners. Most smartphone owners immediately think of WhatsApp if they need to communicate with friends and family, exchange media with friends and acquaintances in other countries, or share documents with coworkers. What if you find that WhatsApp won't connect on an iphone?
Many iPhone owners have complained about various WhatsApp difficulties, such as failing to connect, preventing them from sending or receiving messages, delivering alerts on iOS 15, and crashing unexpectedly. This troubleshooting guide can assist if you're having problems with WhatsApp crashing, connecting, or functioning on your iPhone.
There might be several factors for WhatsApp malfunctioning on your iPhone, so before we get to the list of solutions, let's check them.
Refer to this blog for simple Steps to Delete WhatsApp Contact Permanently.
Why Does My WhatsApp Keep Saying Connecting On iPhone?
Weak internet connection (Mobile data or Wi-Fi), outdated applications, an earlier version of iOS, and system failures are major causes of WhatsApp's inability to connect, notifications not showing, stopping suddenly, or causing other issues on your iPhone. It's also conceivable that WhatsApp servers are undergoing maintenance, and you cannot use the app because of this.
Now that we've established the most probable reasons for WhatsApp won't connect on an iphone, we can move on to a list of potential fixes.
See Also: 10 Best Free Fake WhatsApp Chat Generator Tools (2023)
What Causes WhatsApp On iPhone To Stop Operating, And How Can You Solve It?
Try the below methods to solve the issue of WhatsApp not connecting on an iphone.
Quit And Restart WhatsApp On Your iPhone
This is one probable cause of why WhatsApp won't connect on the iPhone. Fix these glitches by closing and restarting WhatsApp. Close WhatsApp, wait for some moment, and try opening it again if you're having trouble with it after installing the latest version of iOS on your iPhone.
Swipe Up from the Home Screen and hold in the mid to close WhatsApp on the iPhone X and newer. Then, to exit WhatsApp, slide up on the application's logo.
Click the Home button two times to view the list of frequently used applications, and then swipe up to find WhatsApp and close it. Close the WhatsApp preview by swiping your card up.
After a little while, you may access WhatsApp to see if it's functioning properly.
Check out: How To Save WhatsApp Chat On PC [Updated Guide].
Try Restarting Your iPhone
Here's a tried-and-true method that can fix modern technology's numerous glitches. If WhatsApp keeps saying connecting or crashes, this fast and easy hack will save the day. Any software issues can be removed with a restart. The RAM will also be cleared.
Launch WhatsApp when your iPhone has finished booting up to see if the issue has been resolved. If turning off and back on your iPhone doesn't fix the problem, continue to address why WhatsApp won't connect on an iPhone.
Check This Out: LG G4 Keeps Restarting? Here's How to Fix It
WhatsApp Upgrade
An out-of-date version of WhatsApp is also why WhatsApp won't connect on an iphone. Therefore, if restarting your iOS device doesn't resolve WhatsApp issues, you should check for available updates in the App Store. Developers often roll out updates with new features and patches for in-app faults that may slow down your phone.
These are the instructions for updating WhatsApp on an iPhone 8 or later:
Select the Today button (located on the screen).
Your account information will be displayed here.

Find the section containing the updates by scrolling down.
To use WhatsApp on an iPhone6 requires an update. Look at the available app selection. If you come across WhatsApp, click update.
Once you've updated WhatsApp, or if it already is, and you're still having trouble, try the additional solutions provided below.
Check System Permissions
Go into your iPhone's Settings > General > Content Restrictions and see what apps you can't access. You may find that access to some features and applications on your iPhone has been restricted or even removed. It's a terrific method to conceal apps on your iOS device. However, it's important to turn off limitations when they're not in use. This is one of the reasons why WhatsApp won't connect on iphone.
Disabling Content Restrictions on iOS 12 and Later is as follows:
Go to Settings > Content and Privacy > Content Restrictions.

Adjust the permissions to suit your needs.
After you've removed limitations and launched WhatsApp, your iPhone will prompt you to decide whether to allow the app to send notifications. WhatsApp alerts won't appear on your iPhone unless you enable them. All the other applications follow the same principle.
Check if WhatsApp says to connect on your iphone after you've removed any limitations and restarted your iPhone.
Upgrade To The Newest iOS to Solve Whatsapp Won't Connect On An iphone
After upgrading WhatsApp on your iPhone, if WhatsApp won't connect on an iphone, you should upgrade to your iOS version. It's possible that using WhatsApp or other apps that require iOS's framework to launch will be difficult or impossible if you're still on an earlier iOS version. Ensure the most recent iOS version is installed on your iPhone before trying other alternatives.
Navigate to Preferences > General. Select the Update Software option. Updates should be installed if they are offered.
Check WhatsApp Server Status
You should see whether the WhatsApp server is unavailable if you and many of your contacts are experiencing problems. There are times when Facebook, Instagram, WhatsApp, and other popular applications are inaccessible because of server maintenance or a problem. Services are unavailable during maintenance and repair periods.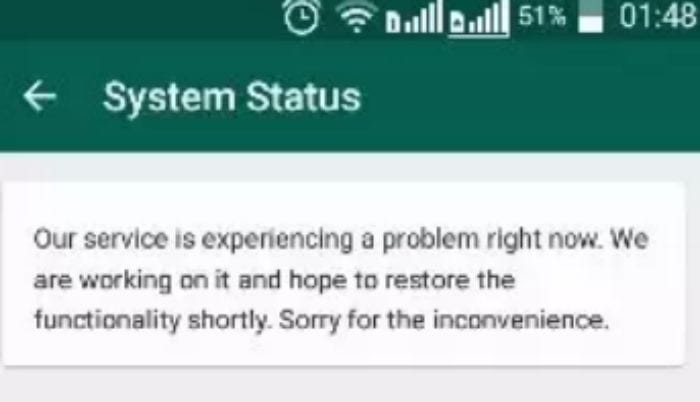 Try these methods to fix WhatsApp won't connect on an iPhone easily.
Don't Forget: How To Use WhatsApp Spy Apps? [Complete Guide]
FAQs
Why is WhatsApp not loading?
If WhatsApp isn't connecting, the service could be offline. If everything else is functioning OK, the problem is likely with WhatsApp's servers. Testing if the issue is on your end or WhatsApp's by switching to a different app or web browser is a quick and straightforward approach to narrow down the potential causes. The website Down Detector is one example of a useful internet utility.
When do I need to delete WhatsApp history?
To access the 'Apps' menu on your Android phone, navigate to the 'Settings' menu. Tap the WhatsApp icon at the bottom of the screen. TSelectStorage (or Memory) and tap on the desired option. To view your app's storage choices - Clear Cache and Clear Data are two options available to you.
Does erasing cache removes all your history?
Delete the app's cache to free up space and (hopefully) restore its proper functioning. Deleted app data, such as account information, will still be accessible after clearing the app's cache.
What is the location of WhatsApp's backup files?
Every day at 2:00 AM, a copy of your phone's data will be backed up locally. Internal storage and primary storage folders may appear if your data is not kept in the /sdcard/WhatsApp/ directory.
Conclusion
If WhatsApp stops working on your iPhone, you might have to consider potential solutions. It's a waste of time and effort. You should back up your device first to prevent any irretrievable data loss. If you're having problems with WhatsApp, such as not receiving alerts, your calls failing, your messages taking too long to arrive, or the service being unavailable, try these steps.
Hopefully, you found this brief tutorial to be informative. Remember to return to this article for the solution the next time WhatsApp won't connect on an iPhone. 
See Also: Boot Windows 8 In Safe Mode From Bios? | Easy Guide