If you aren't living in a cave, chances are you take pictures. WE ALL DO. But not every time we like the background of our photos, as in "okay, I like this balcony, but the Eiffel Tower would be better"! There's a PicWish App to help you in situations like these. PicWish is your one-stop shop for all photo editing needs, and it's best known for its' background removal' feature. We will tell you all the pertinent information about the PicWish app and give you a perfect PicWish review.
Are you tired of your current backdrops and want them to be more engaging and eye-catching? Continue reading because the PicWish app will undoubtedly assist you in increasing the creativity of your photographs. 
See Also: Top 10 Best Picture Morphing Apps To Download
PicWish app | What Is It? 
PicWish is an image processing application founded in 2021 available on google play. Apart from its most prominent background removal feature, it Lets you create and design your pictures with their templates and customized backgrounds, providing significant aid to graphic designers. 
PicWish app is strengthened by its innovative AI technology, giving you a transparent background for nearly every image by carefully removing the ground without any hassle in just 3 seconds, saving you a lot of time and giving it an edge forward today's PicWish Review. 
Features Of PicWish App 

(PicWish Review)
PicWish gives you some fantastic features to look forward to, those are below:
Background Remover
This feature enables you to quickly edit and cut your subject out of the picture's original background. It provides you the freedom to choose any image from the web and paste the subject there.
Undoubtedly, this feature is available on many other softwares, but PicWish App takes the lead because it does this work for you with its AI technology. Read this article if you want to combine photos in Android.
You do not have to manually crop your subject out of the picture and then paste it somewhere else; this feature alone is a significant boost for the app in this PicWish Review. 
See Also: EPS Editor Software for Windows | 15 Top Free Software
Image Enlarger

(PicWish Review)
The app enables you to Enlarge your images without compromising their quality. Most image enlarging apps result in a bit of blur in the resultant pictures.
Although PicWish uses the most recent AI deep learning technology, it calculates and adjusts the lines, colors, and tones for the enlarged image, preserving the image's look. After enlargement, even small photos remain clear and undistorted.
Photo Retouch
The photo retouch feature of the PicWish app lets you cut out any unwanted materials, disturbance, watermarks, etc., very precisely.
You can quickly obtain clean photos using PicWish's AI technology, highlighting the picture's subject and removing any unwanted material.
With the fantastic one-click object removal tool, you will be able to remove pedestrians or tourists who have unexpectedly broken in, leaving the perfect expression and posture for taking photographs, creating beautiful moments and memories that belong only to you.
Image Compressor

(PicWish)
Need to upload a picture somewhere or share it with someone, but the picture's size exceeds the permissible limit? Well, PicWish has got you covered with its brilliant Image Compressor tool.
PicWish employs a best-in-class AI compression algorithm that maximizes photo compression for less distortion to achieve the best image quality and file size balance. Flexible compression options enable you to compress photos in seconds. This feature was a must to add in this PicWish Review.
Face Enhancement
You tried getting your best shot, but the picture was blurred? Check out the face enhancement feature on the PicWish app before deleting the image.
This feature allows you to upload your blur pictures and provides you with the unblurred versions in 3 seconds.
PicWish's advanced AI face enhancement technology is used to retouch and fix the blurry face. PicWish's powerful deblurring feature can help you improve out-of-focus photos, pixelated photos, and damaged portrait photos.
Photo Enhancer
PicWish App's Photo Enhancer, powered by AI enhancement algorithms trained for super crisp results, assists you in quickly perfecting your low-resolution photos.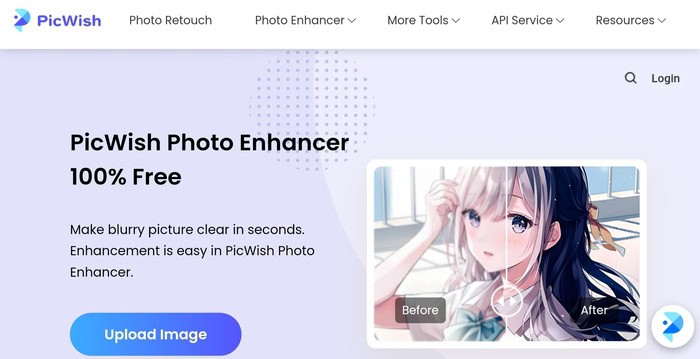 PicWish's enhancement AI is fantastic at increasing the resolution of any photo, whether it's a portrait, product, or graphic. Increase the total pixel count of the image by twice or four times for a brilliant result.
In no time, you can transform a pixelated image into high-definition perfection.
Image Text Remover (PicWish)
Even if you're new to digital photo editing, you can use this platform to remove text from the background.
The process of erasing text without affecting the background is now easier and faster by its simple and user-friendly interface and features.
Image Watermark Remover
PicWish App allows you to remove any watermark from a photo using its three removal tools: a brush tool, a rectangular tool, and a lasso tool.
This tool also includes other basic and advanced features that will undoubtedly improve the quality of your photo. Furthermore, this tool supports nearly all photo formats, including JPG, JPEG, PNG, and others.
All these features on the app receive regular updates. They have been launched after immense training and learning in AI Lab, image cut out, watermark removal, image enhancement, image enlargement, image compression, and other functions.
The app is full of valuable features, and the part that is most praiseworthy in our PicWish review is that most of these features take up just 3 seconds. So, it is safe to mention that in this PicWish review, the app stands tall. 
PicWish App Pros and Cons (PicWish Review)
There are some advantages and disadvantages that the app puts forward to give our readers a comprehensive PicWish review. Read them below:    
Pros – 
Free to Download 

Easy to use 

Filled With Features 

Background Remover 

It saves a lot of time

Precision in editing 

AI technology 
Cons – 
Contains In-App Purchases.
FAQs (PicWish Review)
Is PicWish available for free?
Yes, PicWish is entirely free to download.
How to use PicWish?
This is a significant question in today's PicWish review. First things first, Download the app for free from Google Play Services. Install it on your device and create a free account. Once installed, you can choose from the plethora of services offered by the app. Drop your pictures in the required area, select the necessary tools, and get the magic done. Please note that the step-by-step process for using particular features is available on the app's official website, the link for which is provided at the beginning of this PicWish Review.
Conclusion (PicWish Review)
PicWish offers a variety of features, is free to download, and produces high-quality results in a short amount of time. We highly recommend trying this app.
Hopefully, anyone looking for a PicWish app guide has found the necessary information and reviews after reading today's issue.
See Also: How to Pixelate an Image Using Microsoft Paint [And Other Methods]