Several Users on the Uplay network report this annoying issue while downloading new games or updates in Uplay. Sometimes, partial data gets downloaded, and then suddenly, the download fails to display the error Uplay Failed to Start Download due to network issues.
The "Failed to Start Download" error in Uplay could be due to the chosen directory for the game installation. A quick fix includes changing the install directory or renaming the folder to prompt a re-scan by Uplay.
Seeing the number of complaints, we can conclude that Network connectivity isn't an issue. The reason behind the download failure isn't out yet. Some possible causes and fixes to the error are below.
4 Ways to Solve Uplay Failed to Start Download
Unstable Internet Connection
The games and updates can be significant, reaching up to 15 GB or even more. Hence, a reliable and speedy internet connection is substantial for downloads.
Although downloading might take minutes or hours, some downloads are very sensitive, depending on your internet speed. And if a Uplay Failed to Start Download error occurs, disconnection for even some fractions of a second may lead to download failure.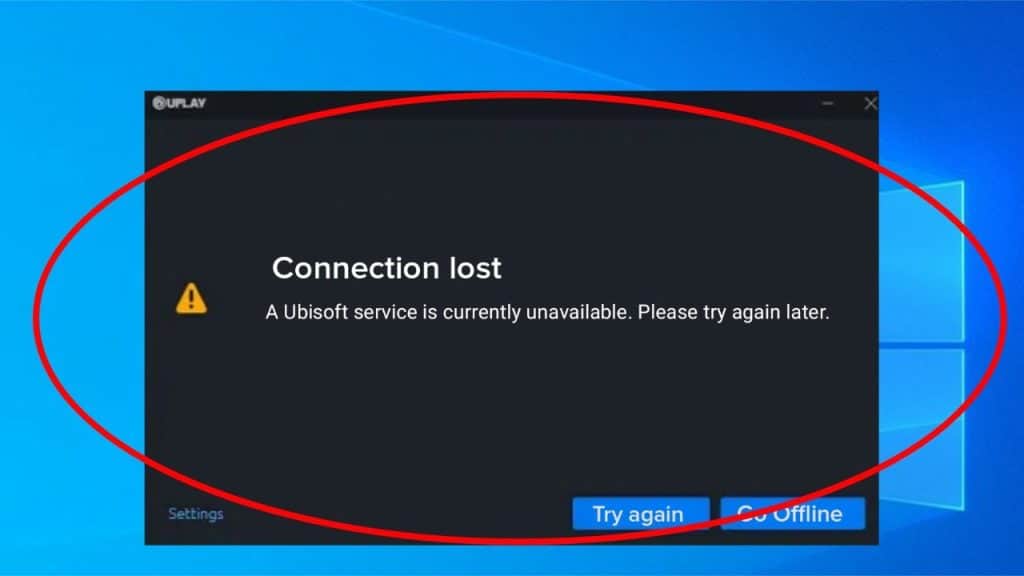 Hence, before looking for further troubleshooting, one must ensure that unstable internet isn't an issue. Following are some tips to check this out:
Run Speed tests of your internet and make sure the speeds aren't extremely low.
If you are on a wireless connection, try downloading using a wired connection.
Disable all other devices on the network and then begin the download.
If the above tips help you eliminate the Uplay failed-to-start download error, then it's good, but if it doesn't, you will be assured that the problem isn't in the network but somewhere else.
See also: – 3 Ways to Fix Overwatch Console Error LC-202 
See also: – [Solved] How to Fix GWXUX Has Stopped Working 
Administrative Permissions
Administrative access may sometimes be necessary to perform internal actions and resolve issues with starting Uplay's download. Uplay might not display it as a reason for the download failure. Try doing the following steps:
Temporarily turn off any antivirus Running on your system.
Initiate the download/Update.
If this does not help, try step 3.
Complex Directories
In some cases, the directory where the file is being downloaded might be the reason for the error. It is observed that not using the default install path might cause problems in the process due to the presence of some unwanted files on the custom directory that you've set.
If you haven't installed Uplay on the default drive (C/ in most cases), try reinstalling Uplay in the default drive and initiate the download. Eliminating the directory problem might resolve the error if Uplay did not start the download.
Even after trying the above solution, if you fail to download the updates, there might be an issue with the files you are downloading. Sometimes, the files to download contain some names with some special characters, which might cause incompatibility even if the default path is set.
Try the following changes to see if it eliminates the error:
When you begin the download, it will ask you to choose the download path. Choose a simple way and then initiate the download. Or
Install play in the most straightforward way possible. (E.g. C:/Uplay)
Then, try to start the download and see if it eliminates the error.
See also: [Solved] Delta 20000984 Error In Tom Clancy's The Division
Enable Port Forwarding
Port Forwarding is an application of NAT or Network Address Translation, which redirects a communication request from one address and port number combination to another. At the same time, the packets traverse a network gateway, such as a router or firewall. This is an alternative to solve the Uplay Failed to Start Download error. If you are using a router, try enabling port forwarding. The ports are 80, 443, 13000, 14000, and 14008.
The aspects above are some possible causes for Uplay's Failed to start download error. If trying all these doesn't help you fix the error, there might be some problem between their servers and your device.
Note: You can visit Uplay forums and contact the support team for further assistance.
See also: How to Recover Username and Password of Your Router
FAQs
Why is Uplay unable to start my download?
This error message can originate from a variety of sources. These include DNS issues, compatibility conflicts, permission challenges, and problems within the installation folder. It's important to highlight that your computer's antivirus software might also play a role by actively blocking Uplay. As a result of all these factors, the occurrence of this error becomes more comprehensible.
Why is the Ubisoft Connect download not downloading?
If your device doesn't have enough available storage space, it will generate an error and impede the game download. To resolve this, you should verify the required storage by consulting the minimum system requirements for the game on the Ubisoft Help website. By adopting this proactive approach, you'll gain a clear understanding of the necessary storage capacity before initiating the download process.
How can I make my Uplay download faster?
If the servers function correctly and your internet connection remains stable, encountering sluggish Uplay download speeds can be frustrating. In such situations, exploring potential solutions to address this issue is essential. Here are some steps you can take: To start, troubleshoot your internet connection thoroughly to identify and rectify any underlying problems affecting the download speed.
Why are my downloads corrupted?
File corruption often occurs due to complications in the 'save' process. If your computer crashes while saving a file, the resultant file will likely become corrupted. Another possible reason could be the presence of damaged segments on your hard drive or storage media. These damaged areas might also be susceptible to viruses and malware.