When you're serious about gaming, you want a serious system. You need enough resources to handle today's gaming graphics, great sound, a large screen, and a fast, reliable connection. In short, you want something that lives up to your potential as a gamer. Thus, knowing how to Optimize Windows 10 for Gaming is a must in today's age.
Unfortunately, if you have a system that's running any version of Windows 10, you're going to need to tweak it to fit your standards. Our goal is to help you optimize your computer to make it an ideal gaming system. Those with vintage or custom installations may already have some of the programs and fixes in place.
In those cases, you can skip that portion of the tutorial.
Best Methods to Optimize Windows 10 for Gaming
Laying the Foundation
The first thing you're going to want to do to Optimize Windows 10 for Gaming is to disable some factory-installed Windows 10 services. The goal is to free up some resources without affecting other elements that are critical for operation. You can view what programs are running, and what percentage of resources are being consumed, by clicking on the Task Manager Processes tab.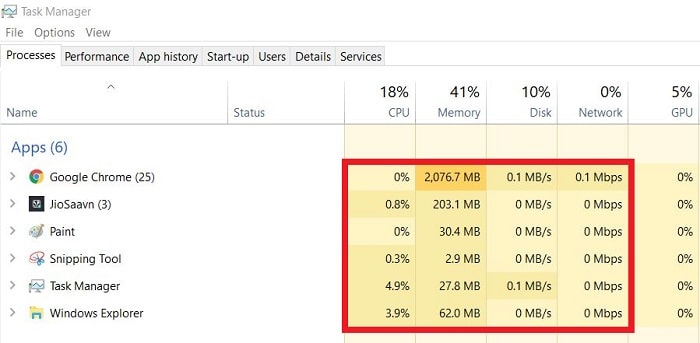 You're going to want to run a scan to inspect your computer for any issues. This tool is highly rated on TrustPilot for fixing common Windows 10 issues. It will also help you optimize performance and protect your system from viruses, data loss, and hardware failures. Just install it on your laptop or gaming PC, click "Start Scan" when instructed, and then select "Repair All" for any issues encountered during the scan.
Now, you're ready to start customizing your Windows 10 system.
It's common for gamers to disable some third=party programs to free up resources while gaming, But there are Windows 10 services running in the background that are easy to overlook. You'll be able to view them all when you open the Task Manager to Optimize Windows 10 for Gaming, but which ones are safe to disable?
See:
For gaming purposes, here is a list of services that you can probably disable without missing them:
Fax

; when was the last time you used that, anyway?

Bluetooth Support services
Windows Insider Service

, unless you're registered with Windows Insider and need a heads up about future updates

Print Spooler

. This program queues multiple print jobs, something you don't need to worry about while gaming.

Remote Desktop Configuration

and

Remote Desktop Services

; any connections you make while gaming will be online.

Maps Manager
Print Screen

; this is one of the easiest, but there are

other ways to take screenshots

if you need them.

Windows Mobile Hotspot Service

, unless you need your hotspot the get WiFi connectivity.

Windows Defender Firewall

. We don't usually recommend disabling your firewall but can get this protection if you use a VPN and/or secure server.

Touch Keyboard and Handwriting Panel Service.
All of these can be disabled via the Windows Services screen to Optimize Windows 10 for Gaming. You can reach it quickly by using the Windows key + R hotkey shortcut. Then, enter 'services.msc' in Run, and type "OK" when prompted.
Your screen should look like this:
Next, you're going to want to double click on each of the services listed to bring it up on your screen. Choose "Disable" from the drop-down menu, and then choose "Apply" before closing and going to the next service. You can customize this option to turn any of these services on the next time you restart your system.
Disabling "Automatic Updates" is also a good idea, unless you want your session interrupted by an untimely download or need to restart your computer. In Windows 10 systems, it's also necessary to disable "WiFi Sense", which is automatically enabled by default. This service allows you to auto-connect to known, previously used networks, but it isn't necessary for gaming.
To turn it off:
Open "

Settings

Select "

Networks & the Internet

and choose "

WiFi

" from the menu

Disable all of the options listed under "

WiFi Sense

"
Next, you're going to want to update your drivers. You can initialize an update within Windows or go straight to the manufacturer's website to download those that are specifically made for your system.
You can find out what drivers are missing or out of date by looking in the Device Manager in Control Panel. Any missing or out of date drivers should have a yellow question mark beside them.
While you're there, you may also want to tweak your mouse to Optimize Windows 10 for Gaming. Choose the "Pointer Options" tab and turn off "Enhance pointer precision". Then, set your pointer speed to the halfway point. This will disable mouse acceleration and stop Windows from modifying your input while you're gaming.
Optimizing power options is essential for gaming. In Windows 10, you can enable the High-Performance mode to dedicate more of your resources. This can be accomplished in a few seconds:
Set "Minutes" to 0. That will disable '

Turn off hard disk

"

Change the

Wireless Adapter Settings

to "

Maximum performance

"

Disable

Sleep

,

USB selective suspend

, and "

Link State Power Management

"
If you need a little extra power, you can install a program like Wise Game Booster. It's free to download, safe, and easy to install. The app tunes up your system for gaming and boosts processor speed.
Hardware and Connectivity
Of course, it isn't just your OS that determines the gaming experience. The machine running it needs the processor speed to handle advanced graphics and plenty of RAM. With a new system to Optimize Windows 10 for Gaming, you'll have a clean Windows 10 factory installation to work with and tweak to your heart's desire.
You should also pay attention to your connections. Online gaming opens you up to the possibility of virus infections, spyware, and exploits. Installing a virtual private network (VPN) on your computer will protect your privacy by hiding your identity, activity, location, and other information from hackers and government agencies. You'll also be able to save money on game software purchases and enter tournaments that are geo-blocked in your area.
However, installing a VPN may also affect system speed, so check out resource availability, uptime, and security before choosing. You'll also want to use a paid service that doesn't save user logs or activity.
See Also: Steam Not Opening On Windows 10? Here's What You Can Do
Final Thoughts
Advanced technology has changed the way we live and work. However, all work and no play is not good for the spirit. We all need a little entertainment in our lives. Whether you game for a living or just as a way to unwind, Optimize Windows 10 for Gaming, customizing your rig and the software that powers it will provide you with hassle-free gaming experience. Also, if you are looking to boost your gameplay and skip the grinding, BDO account can help you elevate your game and bring the best experience without any work!