Ever wondered what the constant whirring and buzzing sound that is always emanating out of your PC is? If yes, then you probably might not be surprised. However, if your answer to the question is no, this is for you. Your PC has a component inside its CPU known as a COMPUTER FAN.
Use SpeedFan to manage fan speed in Windows 10:
Install the app
Click the 'Configure' button
Activate the Fans tab
Wait for the app to list fans
Choose the fan to control
Adjust fan speed using the response curve
You recently purchased a new computer or laptop and believe you know it well. Check out the best Fan Control Software for your PC to ensure you're aware of potential issues. Don't panic if you're unaware of what's ahead.
See Also: Quality Assurance Vs Quality Control | Every Difference For 2023
What is Computer Fan?
A COMPUTER FAN, present inside the CPU of a PC, is a hardware component used for active cooling. The function of a computer fan is to maintain or lower the overall temperature of the internal components of a computer's CPU.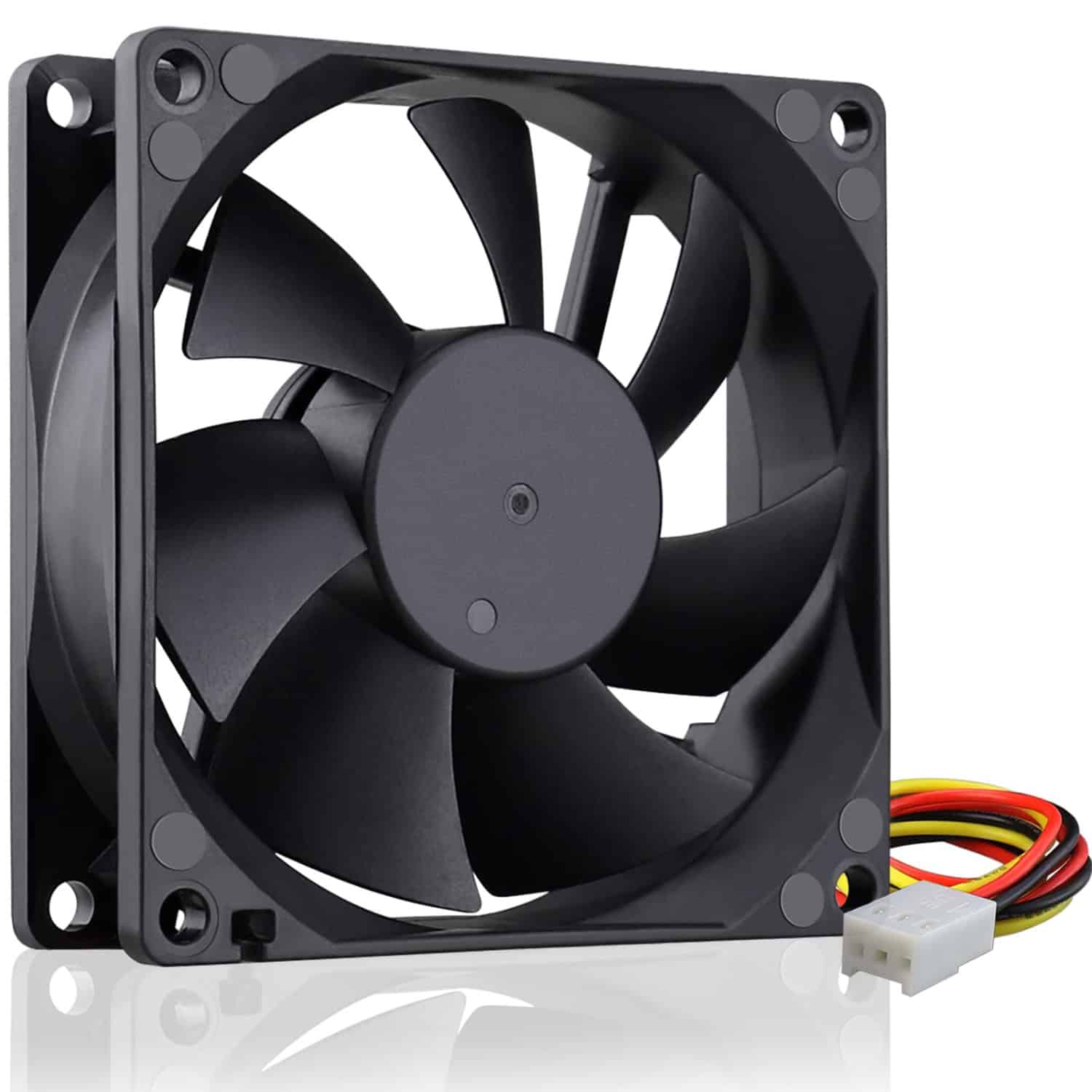 A heat sink passes on the heat generated by an electronic to a fluid medium (a liquid coolant or air). The fan achieves it by drawing cooler air into the case from the outside and expelling the warm air from inside, along with moving the air across a heat sink to bring down the temperature of a particular component.
If you're wondering how the computer knows when to turn on the fan, there are sensors on the motherboard that turn on the fan(s) when reaching a critical temperature.
See:
What is Fan Control Software?
It's all awesome that the computer can sense on its own that the internal components are heating up and that they all need to be cooled down. Thanks to the sensors in the motherboard. But the sensors cannot regulate the speed of the computer fan.
Here's a video tutorial for the same!
We now know what makes a system turn on its fan. As the name suggests, fan controller software can be employed if you wish to control the speed of your PC fan. It manages the rotational speed of the electric fan. A laptop fan control software also helps tell us if there is any problem with a laptop fan when it is too noisy.
Top 19 Fan Control Software To Use on Windows PC
A few computer software are enlisted below that we need to know about before we take control of the fan speed.
AIDA64
Aida64 is another fan speed control software available for free download, a Windows diagnostic and benchmarking software. It helps us to monitor sensor values on Matrix Orbital GTT displays.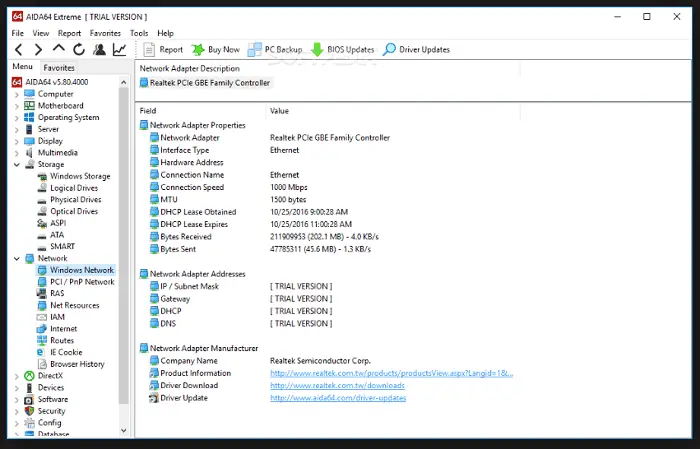 It also provides a spectrum of utilities like assistance in overclocking, which increases the speed of a component, most commonly CPU or GPU, but applies to all. Other than overclocking, it also helps in hardware error diagnosis and stress testing.
Visit: AIDA64
EasyTune 5
EasyTune 5 is a free-of-cost program created for Windows-installed systems. It is an elementary and a Gigabyte program. This software authorizes you to modify the fan pace without utilizing BIOS. This fan alters software allows easy monitoring of your system's health and suggests keeping the fan at 60oS, i.e., full speed.
It comes with a SmartFan option to monitor the Central Processing Unit fan and cooling fan of the NorthBridge Chipset. The user can play around with this software's settings to get the desired fan output.
Visit: EasyTune 5 by Gigabyte
TG Pro
This app is created mainly for Windows users and detects faulty system sensors.
This app is one of the most trustable controllers created for users, with this app's amazing features to get a variety of fan controls. It supports most of the Windows features.
You can easily discover the defects in your fan settings and revert them to normal Without any further problems. If you are new to this, you can try the free version and then go for the premium version. It has come up with new features and fixed the earlier problem.
It has a helper button that fixes your fan settings' preferences and has fan sensors or temperature sensors. 
Visit: TG Pro
Argus Monitor
Argus Monitor is a much more trustworthy program. This software authorizes you to alter the fan's RPM as you desire. It is effortless to use and a lightweight program. This program's only disadvantage is that it is only available for thirty days as a free trial. After that, you will need a license key to continue with its excellent features. This software is the primary purpose of checking the Hard Disk Health and informing about the HDD temperature. It helps you control the system fan very smoothly.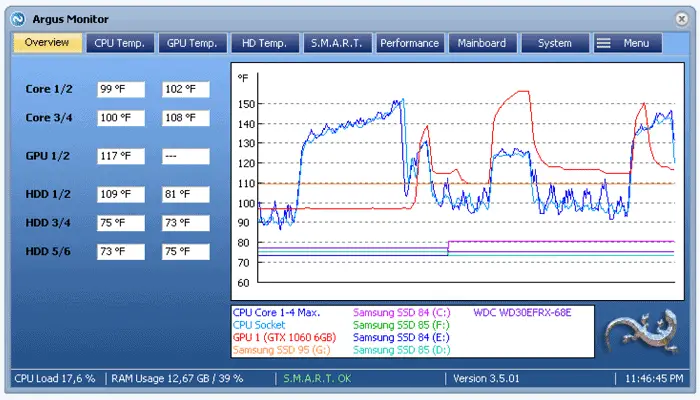 The user interface of Argus Monitor shows graphical representations of the system's temperature. One nifty feature of this software is that it informs you about a hard disk crash so you can back up essential data. This software works fine with Windows 7 and above versions.
Visit: Argus Monitor's Official Website
HWiNFO
HWiNFO is a fan control freeware available for all versions of Windows, including Vista and XP. It is a multitasking software that offers other features besides controlling the fan. Undoubtedly, it authorizes you to adjust the CPU and other cabinets fan.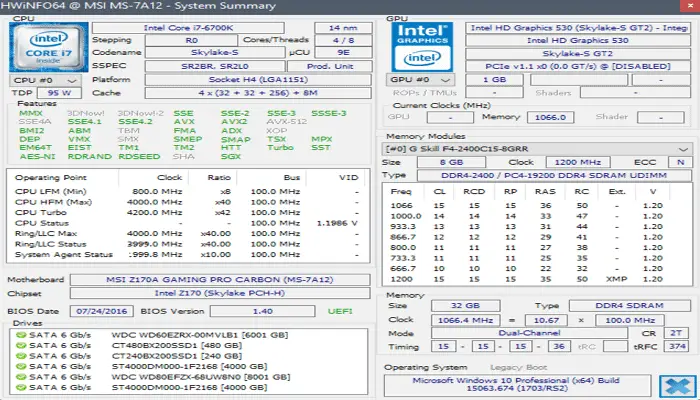 This freeware's unique features include monitoring BIOS, Motherboard, RAM, Clock, GPU Power, etc. It even provides information about your CPU Stress, RAM, Sensors, GPU, etc. It saves all this information in a CSV file format.
Visit: HWiNFO
Gigabyte EasyTune
With this app, you can adjust the system setting and make appropriate changes if necessary. It is easy for the beginner, but you can also use it at an advanced level, even on your work computer.
You can check the performance of your system anytime, anywhere, with this app with fully Advanced features. It also provides you with system alerts. It has both normal operation and Smart Quick boost mode for users. You can check the frequency and voltages of your CPU With its advanced CPU OC  mode. It also allows checking the entire power phase of the system. It gives you access to check the present status of your system. So you can manually adjust your device temperature.
Visit: Gigabyte EasyTune
ZOTAC Firestorm
ZOTAC Firestorm, a freeware developed for Windows, installed a system that authorizes you to control the fan's pace. It is not as advanced as other software but is sufficient as a fan speed modulator. You can modify the RPM of your systems fan using this freeware. This software has a few disadvantages, but they aren't worth mentioning. This software is not exactly as the developers promise it. You can run this software on Windows 7 and above versions.
This freeware is a decent pc fan controller software. It checks your system and provides relevant information like the device's temperature, clock pace, fan pace, etc. As mentioned, you can alter the fan's speed to your liking. It can also integrate with the Nvidia Graphic Cards fan to monitor and change it.
Visit: ZOTAC FireStorm
Open Hardware Monitor
Open Hardware Monitor is a non-proprietary fan speed controller for Windows. Not only can you track your cabinet's fan speed, but you can also track the real-time CPU and temperature of all the hidden core parts of the CPU, CPU clock speed, RAM speed, Hard drive temperature, etc. Surprisingly, if you are into games, you might have a graphics card on your PC.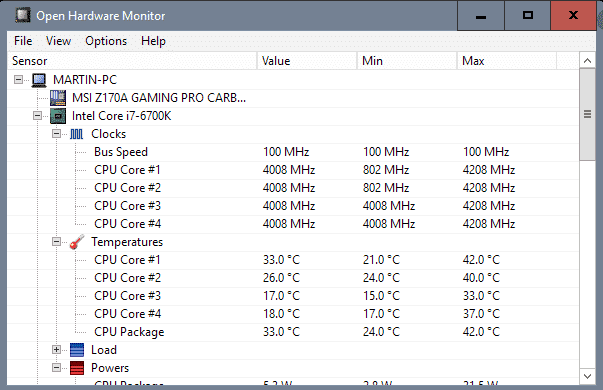 You can also track the temperature of your graphic card with this CPU fan control. However, this software could not measure the fan's graphic card speed. After following the rate of every core part, in the end, you can save your results as a Text file.
This software is easy to use, but it is also capable of working with different current tracking chips used in today's motherboards.
Visit: Open Hardware Monitor
See Also: Top 5 Free Writing Software of 2023 | Create Better Content Faster
Thinkpad Fan Controller (tpfancontrol)
Tpfancontrol is one of the oldest software for controlling fan speed. Like every other fan control, it allows the users to control the fan. It has an embedded fan controller.
If you have any problem with this app, you can use the verified control method To fix it. But it has been made easy for the users.
HW Monitor
Another fantastic free fan speed control software is HW Monitor. This is simple, straightforward CPU fan control software specially designed for your Windows operating system. It allows you to track the speed of the CPU fan along with three cabinet fans. It shows the minimum and maximum recorded fan speed of the CPU mentioned above, the fan, and three cabinet fans.
Like Open Hardware Monitor, you can save your results of the fan's momentum as a TXT file. The most significant advantage of this fan speed controller is that it helps us track the motherboard's voltage, HDD temperature, GPU temperature, and other processor cores.
Visit: HW Monitor
Wise System Monitor
The wise system monitor is also straightforward to use track software that could be used as CPU fan control for CPU's fan speed. Like every other device, the Wise system Monitor has some advantages and drawbacks.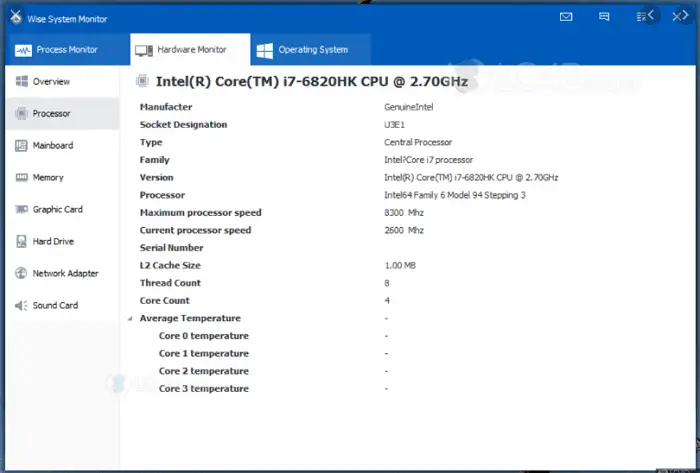 CPU's frequency, temperature, voltage, system processes, etc. The downside of this software is that it cannot control or track the cabinet's fan speed. However, it can be used to track GPU temperature. Not only this, but this fan speed control software is also used to find out the details about Thread count, sound card info, Graphics Card memory, RAM frequency, and many more. Don't think much and go ahead and use this software without spending even a penny.
Visit: Wise System Monitor
CAM
CAM is an unbounded fan speed software that can be used to track fan speed and for viewing various system information. We can view the CPU model, socket type, motherboard manufacturer, chipset name, etc.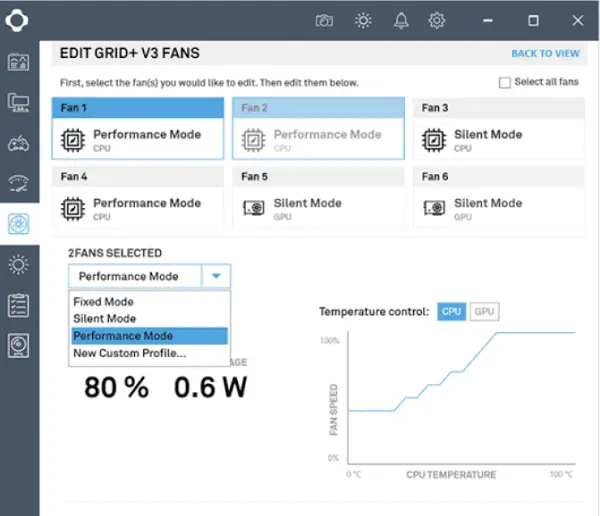 Moreover, to see real-time parameters like CPU speed, temperature, and GPU temperature, CAM can come into use while a gaming session. The parameters that make this fan speed control software different from others are that it provides us with features like a screencast, night mode, etc.
Visit: CAM
smcFanControl
One of the most simple fan controllers for Mac is smcFanControl.
You can make your fan cooler using this app. You can manually increase or decrease the fan's speed when you know the fan is getting heater than Usual. Its alternatives are available for Windows.
It has optimal settings, but some users have complained about the login system. They have to log in multiple times to the same system, although now, this system has been fixed. It comes with settings for Battery, AC control, and charge. But try not to set your fan speed to the minimum, as it affects the system.
Visit: smcFanControl
GPU Monitor
Another crazy fan control software you can always opt for is GPU Monitor. This software is specially formulated for tracking graphics cards. Its numerous parameters like GPU temperature, GPU frequency, GPU load, etc., along with GPU speed. These stats are shown by this software and are refreshed/ changed every second.
The best part about GPU Monitor is it has a very smooth buoyant interface that can be minimized or tagged above our screens while doing other stuff simultaneously. You can also alter temperature parameters from Fahrenheit to Celcius.
Visit: GPU Monitor
See Also : (Latest) 10 Best Facebook Spy Software to Track Your Friend
SpeedFan
The most popular Windows fan speed software is available for free quickly; it has a user-friendly interface and allows you to monitor and control not only the speed of your computer fan but also the voltages and the temperatures in your computer. This software is capable of showing you even the hard disk temperature.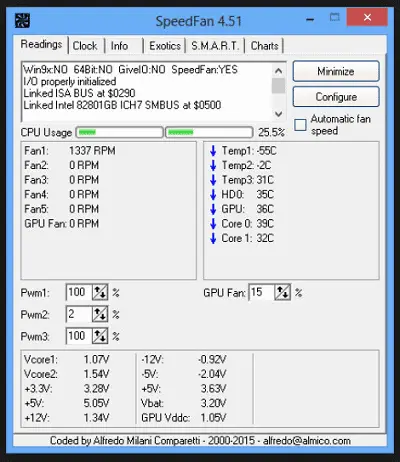 So, if you configure the software the right way, this fan speed control software will allow you to adjust the pace of the fan based on the system temperatures. Additionally, while choosing the value for maximum and minimum fan speed manually. We can also listen to the amount of noise it would make at that speed. The maximum speed of the fan is the rate at which there is no noise at all. So many values mean more control and more power to the computer user over the speed of the computer fans.
Visit: SpeedFan
See Also: 9 Best Computer Diagnostic Software Tools to Download
Corsair Link 4
Corsair Link 4 is another fan control software available as a free download. The software is competent in monitoring and controlling the system sensors.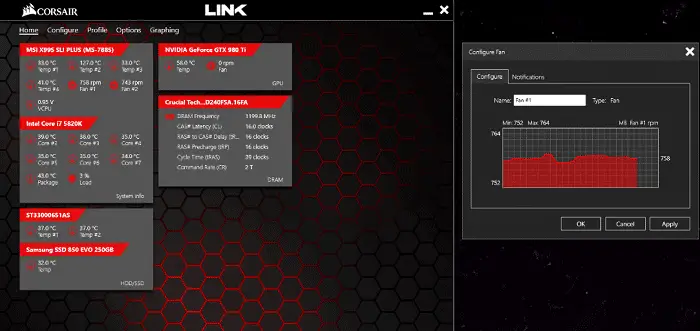 And from there, using the data and information gives you the control to regulate the speed of the fans. The awesome layout of the software is sure to reel you in and keep you hooked.
Visit: Corsair Link 4
Refer:
MSI Afterburner
Another one on the online space is the MSI Afterburner. It shows you all the essential information, like the GPU core clock, memory clock, temperature, voltages, and fan speeds. It has a real-time on-screen display in games and also shows real-time information in the Windows Tray Icon.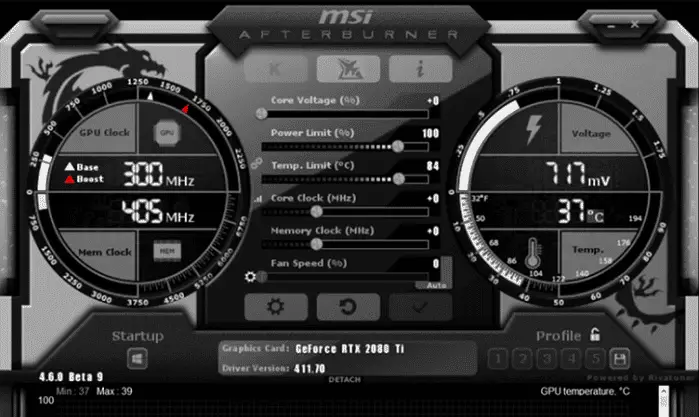 A unique attribute of it is that all your adjustments can be saved as Profiles. If you want a precise set of settings and adjustments under the gaming environment and other settings during normal functioning, these can be saved as Profiles and resorted to with an instant click.
Visit: MSI AfterBurner
Notebook FanControl
Another free and open-source fan speed control software is available for Windows. This software has been designed especially for notebooks of companies like Acer, ASUS, Dell, Fujitsu, HP, Lenovo, etc.

The software has been designed specifically for notebook computers. This is so specific that you need to select the company and the model of the notebook. Before you ENABLE it to control the speed of the fans of your notebook computer, this specialty, along with its simple interface, makes it a dependable fan speed control software.
Visit: Notebook FanControl
Macs Fan Control
Unlike its name, it is compatible with both Windows and Mac OS. And can be used for Windows particularly. This app was mainly created to control the fan on both computers. It has numerous fans, and you can switch among them anytime. To detect the fan speed, it has real-time monitoring. 
It also has fan sensors or temperature sensors. This temperature sensor can control the RPM ( Revolutions Per Minute). It uses S.M.A.R.T., a 3rd party HDD. You can change the presets to auto or customize the preset according to your convenience. You can buy its pro version to get more features. It comes with a basic manual on how to activate the pro version. With this version, get to know the latest update.
Visit: Macs Fan Control
FAQs
Can I control my PC fan?
You can control the speed of the PC fan by installing the software. Generally, the PC fan controls the temperature inside the CPU according to work done, so if you are using many intensive tasks on your PC, it can change the temperature of the CPU. You can adjust the fan to lessen this impact.
What is a good fan rpm for gaming?
The rpm of a good fan depends upon the size of the fan. For a 140 mm fan, it is ideal to use 600 to 800 rotations per meter, whereas, for a 120 mm fan, 700 to 1000 rpm must be perfect.
Is fan-controlled software safe?
Fan control software is safe and also very useful. It can increase the performance of the PC as well.
What software controls my PC fans?
Many software works on Windows and MacOS that can control the fan speed of the CPU. Some top picks are AIDA 64, TG PRO, EasyTune 5, Argus Motor, etc.
Conclusion
So, now that we know quite a few fan control software available at our disposal, it is time to take the steering wheel and control the speed of the computer fan ourselves. All of this sounds well and good. However, with what Rocket Files say, one must remember that reducing the speed excessively could be dangerous. The low speed of the fan may cause the internal components to overheat and become damaged.